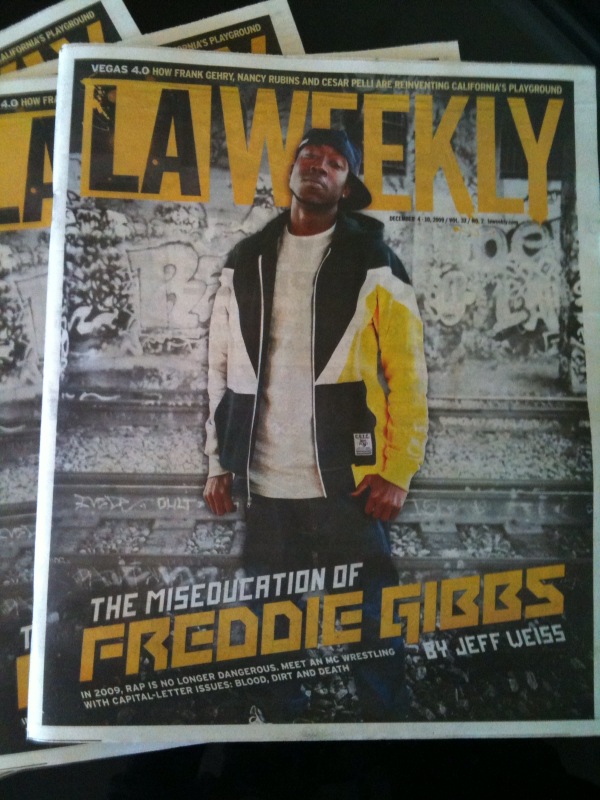 The publication where this was originally published was bought, gutted, and destroyed by right-wing grifters. Support independent journalism: subscribe to our Patreon.
Jeff Weiss has been doing this from the cradle to the grave.
Freddie Gibbs used to rob trains, and not the arcane Jesse James, "your money in the knapsack" stickup trick. But whenever a freight had the misfortune to rest in his hometown of Gary, Indiana, locals looted like a disco-era blackout. The philosophy of Too Short applied in one swift gesture: Get it while the getting is good.
It wasn't only hood kids snatching Air Jordans, electronics, socks and shirts. "One of my teachers was fired for jacking the trains," Gibbs says with the same sullen, blunt-burned baritone he uses to ask one to pass the syrup, barely looking up from the fried chicken and waffles he devours at the Roscoe's on Pico. Then he starts to discuss the pros and cons of robbing ice cream trucks.
That's how it is in Gary. The trite 21st-century symbol of urban decay might be HBO's The Wire, but listening to Gibbs talk about his birthplace makes David Simon's Baltimore look like Pleasantville. Crooked cops. An obscene murder rate. Few good jobs. Trash pickup that costs extra, or else the refuse rots in huge heaps. Schools straight out of Savage Inequalities: few computers, book shortages and astronomical dropout rates. There is East St. Louis and there is Gary, Indiana. Flip a coin.
This is where Gibbs hustled in the aftermath of the crack-addled Reagan years, dope still ravaging the streets. The fantasia of childhood as idyllic dream factory seems absurd in this context.
"My uncle went from a king to a fiend, before he got murdered," Gibbs laments. "I watched him rob to pay for his habit. He was constantly locked up or in rehab. I once asked how he went from selling to smoking it. He said he'd been chasing that first great high for the last eight years."
Though his uncle's death steered him away from crack, it also forced Gibbs to confront concrete realities and left him with a simmering rage. "I learned how easy it was to kill. I developed the instinct that if someone fucked with me, I'd take care of them."
It's that instinct that helps to make him one of the most compelling hard-core rappers in recent memory. In a genre haunted by studio gangsters, Gibbs' integrity is unimpeachable. Like all the consecrated gangsta icons — 2Pac, Scarface, Biggie ­— Gibbs sketches the shadowy interplay of light and dark with a sober eye and clouded head, careful neither to glamorize nor exaggerate, and always wrestling with capital-letter issues: blood, dirt, death, etc. There's an oxidized honesty that makes asking interview questions seem a bit stupid. The answers are there if you listen.
But once asked, the scene shifts back to the chrome warfare and shuttered storefronts of Gary. "I started hustling in early adolescence," Gibbs says the next day at his apartment in Van Nuys, releasing words slowly, as the cumulus clouds drift from a Swisher Sweet blunt. "You start smoking weed and move on to bigger shit to make dollars. It don't matter which drug — heroin, pills, crack."
Temporary salvation arrived when Ball State University dangled a football scholarship in front of the all-conference wide receiver and safety; things went awry once Gibbs realized that college athletics meant total devotion: practice, film sessions, boring classes. So he returned to the same Gary streets: 17th and Pennsylvania, 1631 Virginia St., 842 14th Ave., The Eastside, the Westside and Glen Park.
Back in the 'hood's clutch, Gibbs became gristle for the system. With multiple incarcerations on his record, a judge offered him two options: jail or boot camp at Ft. Jackson in South Carolina. "I preferred the jail time, but mom and pops would rather visit a nigga' in an Army uniform."
So the teenager dealt with drill sergeants and drudgery until being dishonorably discharged for smoking weed and hustling. Back in Steel City, Gibbs faced a crossroads. "I was lost. I wasn't into school or the Army. I needed to do whatever it took to get out of Gary alive."
With friends falling fast, Gibbs started kicking it in the studio of Finger Roll, a producer of local renown. Initially there to sell his wares, he soon discovered he could rap better than anyone coming through. Raised on a diet of Midwest speed-rap — Bone Thugs-n-Harmony, Twista, Texas' Rap-A-Lot roster, and 2Pac — Gibbs commanded local respect. But no Gary rapper had ever signed with a major label, even though Kanye West's star was soaring just 20 miles north, in Chicago.
Nearly five years ago, Ben "Lambo" Lambert, then an intern for Interscope A&R's Joe "3H" Weinberger and Archibald "Archie" Bonkers, discovered a mixtape featuring a cover image of Gibbs rocking a Bo Jackson Raiders jersey and a pair of pistols.
"There were only six songs, and it was unlistenable unless you turned it up loud," recalls Lambert, who co-manages Gibbs. "But his flow was already incredible and he had a powerful voice."
[Impressed, the pair flew him out to New York. "The first time he stepped into the booth, I got chills. We were sold," Bonkers concurs.
Thus began six months of shuttling between L.A., New York and Gary for recording and meetings, culminating in a deal with Interscope. The timing couldn't have been better, with the warfare in Gary constant, including several shoot-outs in which Gibbs narrowly escaped the bullet. Handed a modest $50,000 advance, he settled in L.A. to work on his debut and quickly acclimated to the Cali good life and Biggie's holy trinity of amenities (the weather, the women and the weed). But trouble was never far, with multiple gun charges leading to a stint in downtown's infamous Twin Towers Correctional Facility.
Given a $250,000 budget that allowed him to work with A-list producers like Just Blaze and Polow da Don, Gibbs received praise for his music but ran into apprehensive label executives, who doubted their ability to promote a Gary artist, particularly one who wouldn't be entering the pop marketplace. Nor did the label's fortunes brighten the picture: When Gibbs inked his deal, Interscope had been riding 50 Cent and G-Unit's success. Eighteen months later, illegal downloading and commercial disappointments had left it wary to pay for mixing, mastering and promotion. Even Eminem passed.
When Weinberger left for Warner Bros. in August 2007, Gibbs got his walking papers. After two years of working it, he was left without a college degree or cash. He seemed fated to return home, 25 years old and a victim of the dark side of the California dream.
Struggling for survival on the Gary streets meant more shoot-outs and skirmishes. When his pregnant girlfriend moved to Atlanta, he followed, hoping a new environment would alter his fortunes. But the descent hastened — the girl miscarried, his car was stolen, his grandmother died and drugs consumed him. "I started popping Oxycontin for my headaches, sprinkling pills on my weed," Gibbs says. "I was finished with rapping and just trying to hustle to start a business."
Then a friend, Josh the Goon, started pleading for him to return to L.A. A Venice-based producer and engineer whom he'd met through L.A.-via-New Orleans rappers The Knux (Gibbs' official debut was on the group's "The True,"), the Goon kept calling even though Gibb wouldn't answer. Finally, he accepted a plane ticket back, only to crash on couches for the next six months, still unconvinced of a future in rap.
"I can't imagine getting to taste that life, and returning to where you were. I would've given up, too," The Goon says. "But I couldn't let him stop. If you listen to his music, you know that this is what he's is supposed to be doing."
Reunited with Lambo and Bonkers and chastened after another fruitless period shopping for a deal, Gibbs spent the remainder of 2008 and the first half of this year laying down what became his breakthrough mixtape, Midwestgangstaboxframecadillacmuzik, which followed rapidly on the heels of the similarly stellar Miseducation of Freddie Gibbs. Both efforts showcased the brute force of Gibbs' rumbling Richter scale voice, his superb storytelling and powerful primary-colors poetry.
On "County Bounce," he crafts an elegiac narrative from the perspective of waking up in prison, "shackled head to toe." On "Neverending Story," a track recorded before breaking with Interscope, Gibbs inveighs that "my label don't know what to do with me/I'll go broke before I let them crackers make a fool of me/before I'm a puppet, they'll be reading my eulogy." On "From the G," he describes his hometown as "a land of lost hope, clouds of mill smoke, a community devoured by hard and soft dope."
Gibbs also earned a powerful co-sign from local music impresario, DJ Skee, the KIIS-FM and Sirius XM radio personality and creator of Skee.TV. "He became my favorite rapper," says Skee, whose mixtape series helped to launch The Game's career. "Gangsta rap might not be 'in,' but Freddie is a 50 Cent–type figure to change the model. He's not pretending to be Tony Montana. He's honest and has a relatability that others lack."
Building off the still-fledgling rap blog infrastructure, Gibbs received a torrential wave of attention from tastemakers like Pitchfork and The Fader. The gangster from Gary even gate-crashed The New Yorker, with Sasha Frere-Jones proclaiming Gibbs the "one rapper I would put money on right now."
Yet Gibbs is still walking the line — another gun charge saddled him with an 18-month probation, while the lack of a deal means hustling is necessary to pay the rent. Plus, the rappers du jour are ultrasensitive types like Drake and Kid Cudi, with unabashedly pop instincts. Despite its deafening cacophony, the Web has yet to translate into commercial viability.
"Record sales are still declining. Companies are focusing on acts that already have a big fan base. Whether radio or online, you want to see the phenomenal response to the music," says Max Gousse, senior vice president of A&R, Island/Def Jam Music Group.
Despite the buzz, Gibbs remains very much an underground phenomenon with his MySpace and YouTube metrics not yet on par with recent acts that have attracted seven-figure deals. But he has inspired a devotion rare in the Rapidshare-era.
"Even if Gibbs never becomes a superstar, he can still have that regional success, he can be a voice," says John Gotty, editor of the influential music Web site The Smoking Section, one of the first to break Gibbs. "You can start on the Net, but you need to tour like the indie rockers, meet the people and build a brand. It's bigger than mixtapes."
Though labels have expressed interest in light of his recent acclaim, Gibbs' management team is waiting until they can command the right price. "We're about building a fan base. If you have fans that follow you, you have all the power," Bonkers says. "We can license his songs for TV, video games and movies. We can secure producers. You only need a label to be a pop act on the charts."
With the odyssey of guns and grams momentarily abated, and new material being recorded daily, Gibbs says his purpose is clearer than ever. "Until a few months ago, I never knew what I wanted to do, but right now making music just feels right."
In essence, he's back at the beginning, waiting for the train to stop.