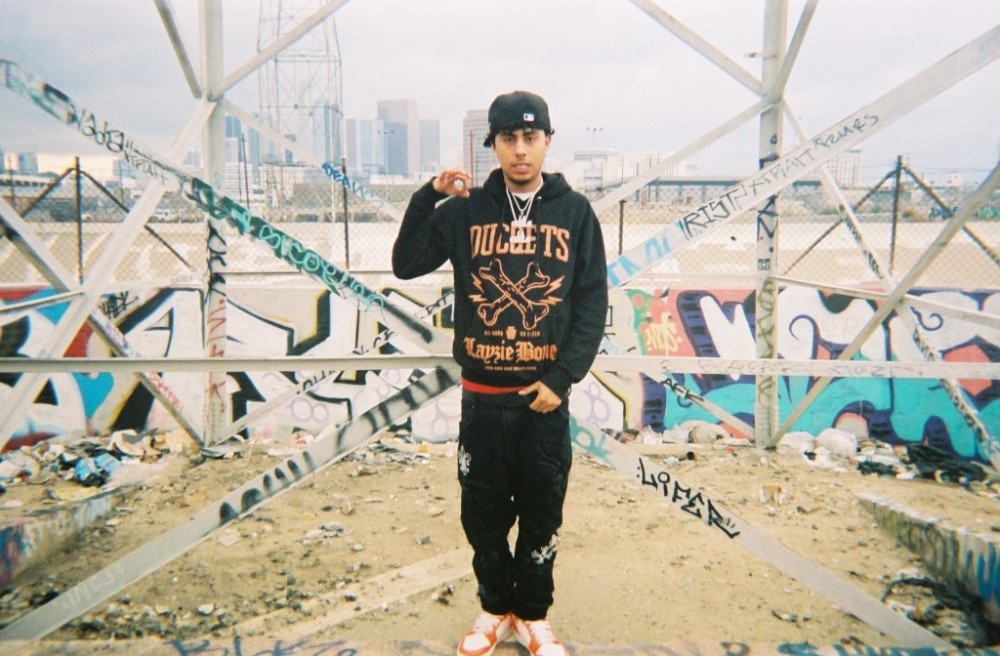 ---
Passion of the Weiss is independent and fully supported by its readers and — subscribe on Patreon to keep us funded.
---
Dario McCarty isn't doing a Milly Rock, this a money dance.
---
If someone were to bring up the city of San Diego, the image you see in your head is likely most in line with areas like La Jolla and Del Mar. The sunny, picturesque beaches, the vacation coastal condos that cost millions of dollars — the areas of San Diego that are, as San Diego rapper KT Foreign puts it bluntly, "beaches and white people."
But if you go inland and eastward, San Diego has another side to it. Neighborhoods in Southeast San Diego and City Heights are cultural and ethnic melting pots, home to large Hispanic, Filipino, and African American populations. These communities are largely underserved in comparison to the city's more affluent coastline. Natives call this part of town 'Daygo.'
Southeast San Diego is incredibly close to the US-Mexico border — so close that if you miss the signs on the freeway on your drive home, you might accidentally end up in Tijuana — and this proximity lends itself to Mexican drug cartel smuggling. According to Customs and Border Protection data, in the 2016 fiscal year Border Patrol agents in San Diego confiscated nearly 83,000 kilograms of marijuana, cocaine, methamphetamine and heroin at the border — the next closest area in terms of drug seizures was Laredo, Texas, where agents confiscated nearly 10,000 kilograms fewer in an area that covers twice as much land.
Sadly, this drug trade is naturally surrounded by violence. Over the last few years, statistics from the San Diego Police Department show that about half of all homicides in the whole city were in Southeast San Diego, a significant figure considering the region's relatively small geographic size and population in relation to the rest of the city.
Inner city San Diego's story remains largely untold by the media and underrepresented in the public's imagination of the region. This is a quality which is strangely true also of the city's small, but vibrant rap scene. For whatever reason — perhaps due to its proximity to the flashier and slightly northern big brother, Los Angeles — San Diego gets virtually zero coverage by rap media when people discuss SoCal rap.
In the late 90s and early 2000s, San Diego's rap scene was buoyed by a few well known names like Jayo Felony — who is maybe best known for getting into a fist-fight with Snoop Dogg — and Mitchy Slick, both of whom got big off their San Diego brand of West Coast gangster rap. These days, the sound coming out of San Diego is hard to finitely outline. It is a patchwork of a number of California rap influences, and the result is a scene that is diverse not just ethnically and culturally, but also sonically.
As such, there are a lot of different rising rap artists to choose from to potentially represent the city. With the necessary caveat that this list is by no means an all-inclusive end-all-be-all, here are five of my favorite rising rappers from San Diego.
---
SieteGang Yabbie
---
SieteGang Yabbie is a rap unicorn.
The rapper hails from the San Diego rap collective SEMGang, a group that was originally founded by SieteGang Yabbie, SieteNameKeek, and KT Foreign, but has since grown to encompass other other members like GFEENI and Gee El. With his snarling pimp raps, Yabbie remains the most innovative and unique talent of the group.
Pimp rap has been on the decline since its heyday, but Yabbie is bringing it back with an updated sonic framework. He cites classic pimp rappers like Suga Free and Keak Da Sneak as some of his biggest influences, and whilst his music retains the unorthodox, rushing flow that was many of these older pimp rappers' trademark, it also adds in more modern components — like Young Thug-esque auto-tune dunked vocals and shrieked, outlandish ad libs that rival Sada Baby's. It's a tornado of a mix that produces an utterly distinct musical style. Songs like "POPE" and "BOWM BOWM" sound like they could be decoded alien transmissions from Planet P.
Of course, like any other eccentric talent in hip hop these days, his raps come with a set of slang and terminology that is entirely SEMGang's own. The cartoonish "Ping Bing" is a money-making phone call. A "foot" or your "feets" is, as Yabbie explains in this interview, slang for your shorties. It's a vernacular that only Yabbie has the charisma to pull off in a way that sounds not only hilarious, but also fly.
A quick sidebar: it's very endearing to hear Yabbie say "foo" over and over again as he talks to the interviewer in the aforementioned interview. Dude is as San Diego as it gets.
---
KT.Foreign
---
KT.Foreign is one of the other co-founding members of SEMGang, and he is the San Diego rapper that has easily achieved the most cross-Californian success. Looking over his catalog, the list of names he's collabed with reads like a who's who of California street rap; the rapper has racked up features from Nef the Pharaoh & Yhung T.O, DaBoii, BlueBucksClan, EBK, Mike Sherm, the late DrakeoTheRuler, Mozzy, & Fenix Flexin just to name a few. Part of this is assuredly due to KT.Foreign's chameleon-esque versatility — whether it be with BlueBucksClan over some familiar LA-style beats, or in a more high-energy Bay Area posse cut, KT.Foreign sounds right at home.
But really, KT.Foreign is at his best on beats with heavy, knocking bass lines. His 2017 breakthrough hit that put him on the map "War With Me" — which features Nef the Pharaoh and Yhung T.O. and has to date racked up almost 10 million views on YouTube — is a perfect example of this. On the song, KT.Foreign's flow bounces on the mind-rattling bassline like it's a trampoline. His verses are flashy, confident, player, all whilst never losing the edge that comes with being in the streets (Steady slidin' on these n****s with these hockey sticks / it's either the Foreign or it's nothin', who you rockin' with?). Prepare your best stank face for this listening experience — you'll need it.
---
Lil Maru
---
In the music video for "On The Block", Lil Maru has on a white tee, white jeans, a pair of white Jordan 12s, ice, and a bottle of henny in hand. It's a classic, timeless fit.
The fit isn't the only thing of Lil Maru's that's classic. He has a knack for tapping older West Coast sounds and traditions in his music. The beat for "On The Block" is a modern take on vintage G-Funk-esque synths; his song "Issues" is a powerful rehash of the iconic EliBeatz beat used on San Francisco rapper Lil Pete's "Never Understand Me"; even his voice, which is high-pitched and nasally, sounds like something you might hear on an old 2016 03 Greedo tape.
This "young kid doing old shit" routine is familiar to Maru. On tracks like "Issues", and "Been 2 Gone", he sounds jaded, blasé — like a wise-beyond-his-years street shaman delivering revelations from beneath a thick cloud of hazy blunt smoke. There is a certain indifference, matter-of-factness to his delivery, as though in every verse he's laying his truths and hardships out on the table, shrugging, and saying simply, "this is just how it is."
In particular, though, my favorite track of Lil Maru's is "Nothing Into Something." Whilst he normally sounds unfazed, laid-back, this track is a departure, featuring a Maru who is bristling with pride and indignance (I got up, and now I'm makin' money / all of a sudden all these b****es wanna love me / why you laughin' brodie? I don't really think it's funny). The result is a song that you can only feel in your gut — the type that makes you want to stand on a chair, beat on your chest, and dismiss all your doubters right along with him.
---
22gfay
---
22gfay's gliding, sung delivery style is just as easily used for classic shit-talking street raps as it is for heartfelt ballads to ex lovers (See: "Wanna Know") — he's an R&B singer with a Laser-Teched Glock, an Opera vocalist donned in Nike Tech-Fleece and MCM Backpack.
The Filipino-American artist is a frequent collaborator of Lil Maru's, and it was the duo's 2020 track together "Choppa" that really kickstarted 22gfay's musical career. Since then, he has been on a run of singles which has produced a number of gems. The trance-like "Faded" sounds like it is meant to be enjoyed under cotton candy skies with a lilac cup of sprite in hand. "Know Me" feels like something you would listen to on a drive through a cold, winter night — 22gfay's sung raps skate over the song's icy production the same way a car skates through lanes on a freeway, and his cold-hearted vows to renounce love dot the track like icicles.
For what it's worth, it seems that the rap powers that be have begun to take notice of 22gfay's talent. The rapper recently linked with OhGeesy in the studio, and the two have an unreleased track together, "Time Goes By", that was previewed this past October at a Bravo the Bagchaser concert.
---
Memo the Mafioso
---
MemoTheMafioso is the best of San Diego's very heavy, striking iteration of LA's traffic rap sound — the rapper sounds like a very deep-voiced, baritone version of Shoreline Mafia. In fact, the paranoiac keyboard loop on Memo's "48 Bars" is so similar to that of Shoreline Mafia's "Bottle Service" that every time I hear the opening of the song and Fenix Flexin's familiar "Bitch I got lean on me right now…" doesn't start to echo through my speakers, I'm always almost half surprised.
But Memo is not just some clone, and '48 Bars' itself illustrates his singularity in the scene. Memo's rough, bassy voice sounds like a hundred Black and Milds, like a black Air Force One in vocal form; it is imbued with disdain, and has a gravitational pull that holds your attention like glue. His flow is precise and incisive, the timing and emphasis of his delivery perfectly aligned to the snares on the beat. Hearing him get punchlines off —all my brothers poppin' out like it's 3D / Feel like John Cena 'cause nobody wanna see me! — releases this cathartic, satisfying feeling, like when you snap a Lego perfectly into place.
The track is one of many collaborations Memo has done with Laudiano, an LA-based producer who's a frequent collaborator with artists like Blueface, the late Bris, Stinc Team, and of course, Shoreline Mafia. The creeping keys and anxious space whistles of Laudiano's production seem to bring out the best in Memo, and other tracks of theirs like Effortless and Fakin are some of the best in the rappers' catalog.