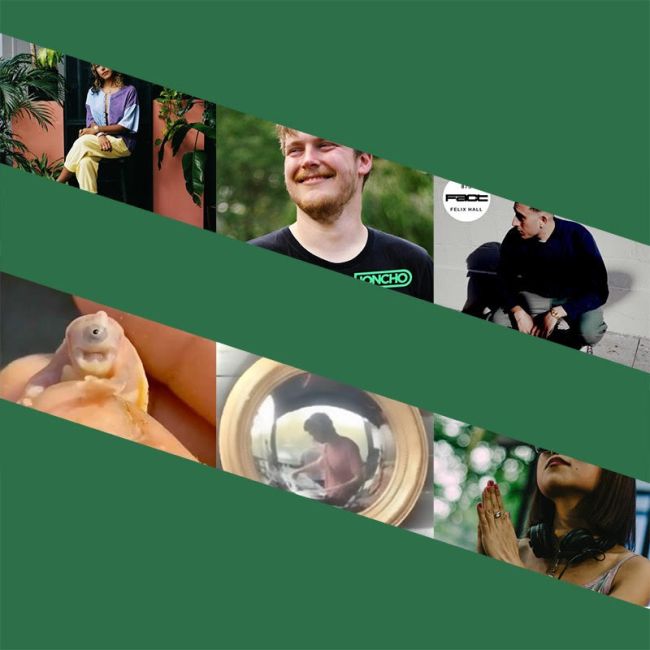 Image via Michael McKinney
Independent rap journalists will recommend you new music until their voices give out. Keep it that way by supporting Passion of the Weiss via a subscription to our Patreon.
Michael McKinney understands the cultural importance of Kreayshawn's "Gucci Gucci."
---
Some of August's best sets saw DJs leaning into the sheer joy of live performance, pushing the crowd—and themselves—into new corners along the way. Facta & K-Lone joined Ayesha for a raucous night out in New York, turning in nearly eight hours of steamrolling dubstep, breaks, and unclassifiable dance music; Sweet Bwoyz released a session of old-school, celebratory, and globe-trotting hip-hop. HMT Hard Cru, London's reigning dancefloor jesters, turned their CDJs off for the last time, but not before blending Paul McCartney with vintage jungle. 'nohup' turned in a set that blurred the lines between deep techno, breaks, and house, and Perko found an intersection between drum-and-bass, hard drum, and electro. Mixing from 2022's Dekmantel Festival, DJ Lag and SHERELLE leaned into their respective lanes of pitch-black gqom and white-hot hardcore, respectively, while Parrish Smith and Yu Su both went deeply weird, with oddball rhythms and audacious selections. JS, an essential name in modern ambient, turned in a zonked-out and spacious blur of ambient and drum-and-bass idioms in a masterful opening set; SSIEGE, performing live from Rome, pulled off a similar trick with bleary ambience, slow-motion IDM, and jangly rock records.
Elsewhere, We Rob Rave kept the energy up with a mile-a-minute set of hardcore breaks, footwork, and jungle, and Homemade Weapons paid homage to a legendary drum-and-bass label with their Samurai Music podcast. Felix Hall and Rosa Pistola showed off their visions of modern dembow: the former put modern-classic reggaetón and dancehall selections in conversation with UK club tools, and the latter looked to the streets for a session of quick-and-playful Latin rap. Durham selector boxofbox looked backwards for an extended run through new jack swing, freestyle, disco, and deep house, and Kiernan Laveaux dug into the mid-aughts for a thoroughly chilled-out session of broken beat tunes. Eoin DJ showed off the sprightly sides of techno and trance, while Nosedrip went deeper and a bit loopier. Jana Rush, a singular figure in footwork, turned in a mix that underlines her ties to the scene, while DJ R3LL and DJ Kiff turned in a decade-old mixtape of Jersey-club chops. livwutang deepened her commitment to left-field dancefloor burners in a set for Cav Empt, and Nick Boyd, a steadfast for New York's modern club circuit, turned in two joyous and unpredictable mixes that throttle between house, techno, breaks, and anything else he could get his hands on. Pretty Sneaky, one of Berlin's best-kept secrets, assembled a mix of oddball grooves and alien lounge music.
Here are some of the best DJ sets August had to offer.
---
boxofbox – 'oh, hey there little one'
---
boxofbox is a deeply skilled curator of histories: their mixes often focus on a specific aesthetic, stretching it as far as it can go. 'oh hey there, little one,' despite its tossed-off presentation, is as studious as anything the Durham selector has put out. At over six hours, it's a bit of a marathon, but it's constructed so tightly as to feel half that. Throughout, boxofbox leans into deep and playful rhythms, finding an intersection between buoyant new jack swing, sweltering acid cuts, deep-cut deep house, and funked-up garage records, turning in a glitter-blasted set that never stops shedding its skin. In both length and style, it recalls last year's SORRYMIX10, which was itself one of last year's most impressive mixes. But little one stands on its own nevertheless: it is the sound of a masterful crate-digger reaching ever deeper into dance-music histories, tumbling them together into an endlessly jubilant stew.
---
DJ R3LL & DJ Kiff – Cuff Yo' Chick
---
It's not hard to understand the appeal of Jersey club. The style is hardly subtle; it's built upon stuttering, chopped-up rhythms and instantly recognizable vocal samples. But that's hardly a knock; sometimes, a brick to the face fits the bill. If you're looking for a solid hit of the stuff, you can't go wrong with DJ R3LL or DJ Kiff, two essential architects of the scene. Cuff Yo' Chick, a collaborative tape which was released in 2011 but disappeared thanks to major-label takedown requests, recently got a fresh coat of paint, and it's as joyous and energetic as the best stuff from the genre. The tape is situated firmly in the age, lacing cuts from the likes of LMFAO, T-Pain, and Nicki Minaj with storming percussion and stutter-stepping basslines. This might make it a bit of a relic, but in a way that works to its benefit—its sample materials have been seared into American popular music at this point, so this kind of recontextualization is a much-appreciated shock. Cuff Yo' Chick is simultaneously a document of early-'10s pop-radio music and a testament to the sheer energy of New Jersey's dance-music underground.
---
Eoin DJ – 93˚
---
Since its inception, rave music has promised eternities. A well-placed kick-drum or properly-calibrated keyboard tone, the theory goes, can rocket a dancefloor into another realm entirely. Eoin DJ's music is shot through with an intimate understanding of this framework, and 93˚—recorded for Brooklyn's euphoria-minded collective pi pi pi—offers a full-on blast into space. He plays it slow and low at first, gesturing towards the stars with a few well-placed synthesizers, but he spends the next hour-plus ratcheting up the temperature. The omnipresent kicks act as a throughline, offering a foundation for an ever-changing palette of sounds on top: an extended run of riotous acid cuts midway through, plenty of blissed-out trance synthesizers tossed throughout, a few spots that threaten to veer into the madcap stylings of breakbeat. The specifics are hardly the point, though. No matter the mode, Eoin DJ keeps the grooves rolling ahead, promising starry-eyed escapism in the process.
---
Facta & K-Lone – Nowadays NYC
---
---
Ayesha – Closing Set @ Nowadays
---
For the penultimate night of her Nowadays residency, Ayesha, a Brooklyn selector who's been rocketing through the club-music scene for the past few years, invited Facta & K-Lone, two prolific names who specialize in a wiggly and off-kilter vision of UK dance music idioms. The pairing makes sense: all three names look towards playful and left-of-center rhythms in their music, and their crates are both wide and deep. In Facta and K-Lone's case, this means a nearly four-hour mix that moves from opening-hours quietude to full-on ragers, touching on styles as varied as IDM, digital dancehall, heads-down techno, and low-heat dubstep along the way. By the end, they're moving fast and hot; in a bit for the rubberneckers, they move from a remix of Bok Bok's "Silo Pass"—a club-night scorcher fueled by its creeping low-end—and cut to Jay Z and UGK's "Big Pimpin'," a blend so audacious that it can't possibly work. That's part of the fun.
Ayesha took the decks afterwards, storming the club into the early morning. She picks up where Facta & K-Lone left off, reaching for high-energy cuts from the jump; as the mix runs on, she only picks up steam. Her typical approach—a wide-and-deep take on modern UK club idioms—holds true here, but her stylistic control is especially notable thanks to the extended run-time. Skip around in the mix and you're liable to find acidic club-rap bootlegs, sweltering garage cuts, billion-ton dubstep, loopy techno rollers, and plenty of sounds that fall between the cracks. But it's easy to mix that range in real time, thanks to her sharp ear for tonal control and ability to crack grooves open. Throughout the set, Ayesha mixes both quickly and precisely, finding the intersections between firestarting rhythms until the amps are set ablaze.
---
Felix Hall – Fact Mix 873
---
Fact Mix 873 opens with a jolt. Ward 21's "President of Hoochie Land" is at once bracingly minimal and undeniably heavy, with a high-pitched synth cutting against a titanic low-end and metronomic rapping. But the next few cuts might be even more startling: Busy Signal's "Mi Deh Yah" is dancehall at its most elegiac, and Architect's "Neptunes Edit" takes the icy minimalism of "What Happened to That Boy" and laces it with a mean dembow rhythm. In the first three minutes of the set, Felix Hall promises an anything-goes approach to dancehall and reggaetón, and he spends the remaining sixty-five making good on it. Throughout, he jumps between all sorts of critical names that span decades and oceans, finding commonalities between scenes and styles from across the globe: Vybz Kartel and Low Jack, Gavsborg and Nick León, Ñengo Flow and Simo Cell. The result of this cross-pollination is a mix that would comfortably play in Medellín or London, combining the clubbing sensibilities of each into an hour of transatlantic dancefloor bombs.
---
HMT Hard Cru – HMT: The Last Dance
---
After eight years, HMT Hard Cru are calling it quits. For their Last Dance, recorded at Horst Arts & Music Festival 2022, the perennially tongue-in-cheek trio pulled out all the stops, throwing a wild-eyed rave-up along the way. Their approach is a high-wire act at the best of times; the strongest Hard Cru sets are full of self-consciously absurd blends that work perhaps despite themselves. (For the best example of this, look no further than the nu-metal dubstep-grime alchemy of twentyfour/seven London.) The Last Dance is full of bits that encapsulate their why-not attitude: a maddening mash-up of Flo Rida's "Low" and DJ Quicksilver's "Bellissima," a smattering of breakbeat-hardcore Missy Elliott, some Christmas tunes courtesy of Paul McCartney, a white-hot Red Hot Chili Peppers edit that imagines them as rave-music stalwarts. It's an all-dopamine approach to blending that works more often than it ought to, thanks in large part to their focus on light-speed drum blasts and old-school breaks. The whole thing may be played as a bit of a joke, but, by the end, that's hardly the point; their selections are downright exhilarating, with an all-out and nigh-undeniable energy. With The Last Dance, the reigning jesters of the UK club circuit forge a fitting end by committing to the bit, nailing every beat along the way.
---
Homemade Weapons – Samurai Music Podcast 54
---
Since its foundation in 2007, Samurai Music has become a vital hub for modern drum-and-bass, with names that span the globe and stylistic gamut but hit with an unrelenting precision. To celebrate its fifteenth birthday, label favorite Homemade Weapons turned in a two-hour session of the imprint's output, showing off their pitch-black and hyper-exacting vision of dance music. They blend over fifty tracks here but hold it all together thanks to a tight aesthetic control, with selections full of quick-and-precise drums and gritted-teeth synthesizers. There's tremendous range in shades of black, it turns out: Clarity's "Sombre" sounds like back-alley proto-dubstep thanks to its gnarly synthesizers; Torn's "Bushido" acts as a mid-session highlight thanks to its whirlwinding snares and scraped-metal underbelly; and Heavy 1's "Millers" combines chest-rattling drum programming with an unsettled top-end, soundtracking a million horror-flick chase scenes in the process. Samurai Music has a fantastically wide and deep catalogue, full of gems for modern drum-and-bass aficionados; Samurai Music Podcast 54 underlines that depth while offering a tantalizing window into their world.
---
Jana Rush – Groove Podcast 346
---
With last year's Painful Enlightenment, Jana Rush, a footwork lifer, threatened to veer outside of the genre entirely. It was a distressingly physical and serrated take on the style, and at its best, it carved a space between juke, IDM, and dark ambience. At this point, her work might be best understood as footwork-adjacent. She gestured towards as much in an interview with Groove, where she said that she has "much love for the music," but that she chooses to "explore other realms in search of an advanced yet palatable rhythm outside the basics." Given that context, the accompanying mix—a mostly-footwork mix from a mostly-footwork producer—might come as a bit of a curveball. But it's a real treat, too: Rush has a veteran's understanding of rhythmic interplay, and she reaches for tracks that are all whirlwinds in their own right, folding windstorms into each other until they turn to something quicker and rougher. She grabs plenty of critical names here: older-school legends like DJ Rashad, Heavee, Traxman, and DJ Clent provide plenty of rhythmic battering, while plenty of Mall Music selections show she's got her ear to the ground. No matter the names, though, Groove Podcast serves as a masterful pile-up of footwork-etc. rhythms from one of the scene's most incisive producers.
---
JS – Opening Set From Super
---
There's a delicate art to the opening set. Often overlooked, it's a critical element in setting a night right; it requires a strong ear, wide collection, and unending patience. In their Opening Set From Super, recorded live at a Motion Ward takeover in Aarhus, JS—the head honcho of Motion Ward, a critical landing pad for new-school ambient music—took up the challenge. Later in the night, a handful of IDM-ambient experimentalists would take the stage, so JS's selections move in a similar vein, all hushed synth tones and pitter-patter drum programming. Through the quiet, though, she finds a zonked-out otherworldliness, gazing towards the stars and zooming in on them until they fill the frame. Early on, that takes the form of vocal ambient-dub records and static-encrusted ambience; later, it's with drum-and-bass played with such a light touch that it threatens to disappear at any given moment. Even at its most roughshod—a bit of corrugated electro here, some elliptical hard-drum there—it still feels a bit alien, with rhythms folding in on themselves in wholly unexpected ways before dissolving into thin air.
---
Kiernan Laveaux – Juanita's Mix 072
---
In the liner notes for Juanita's Mix 072, Kiernan Laveaux describes the mix's focus—broken beat—as a music of communal joy: "The way that broken beat combines & dissolves so many eras of music into new continuums is endlessly inspiring – always focusing on community, personal insight, celestial unknowns, the depths of life & self." That kind of joy, both introspective and collective, comes through in spades on the mix, which is both deeply personal for Laveaux and joyfully off-the-cuff. These tracks are lush and propulsive in equal measure, stuffed with all sorts of microscopic hooks: the horn section that comes crashing into SK Radicals's "Reachin 4 da Farside (Misa Negra Remix)," Sylvia Gordon's spaced-out vocal performance on P'Taah's "Nobody Knows," the slip-slide bassline underpinning Bougie Soliterre's "Something." The set finds a middle ground between nu-jazz experimentalism, hushed downtempo stylings, and tightly honed grooves, resulting in something that's simultaneously propulsive and a bit chilled-out. More than anything, though, it's simply comfortable: even the knottiest grooves are blended with care, showing a level of familiarity with this music that could only come from plenty of heartfelt digging.
---
livwutang – Unburiedness
---
As a DJ, livwutang seems to delight in bobbing and weaving against convention and expectation. Her mixes typically fall underneath a few broad umbrellas—"bass," "dubstep"—but she mixes too broadly to be so easily pinned down. (To wit: previous column appearances have been for dubbed-up bass tunes and a six-hour odyssey with a similarly kaleidoscopic selector.) Unburiedness, recorded for Cav Empt's reliably great mix series, sees the selector pushing against predictability yet again. Here, she's as liable to drop creeped-out dubstep as she is to play some almost-ambient dub records; hypermodern hard-drum records play comfortably alongside ramshackle drum-machine workouts. The seams almost seem to be the point: she flips between microstyles at such a rapid clip that it sounds like she's daring the listener to blink. Over the course of the set, she walks a tightrope between tightly wound rhythms and negative-space bass tracks, blending with unfettered precision to keep the line from snapping.
---
Nick Boyd – Honcho Podcast Series 111 / Closing Heaven on a Thursday Night for Loveless Records
---
---
Between his own DJing and his work at Sorry Records, Nick Boyd has become something of a staple of New York's club circuit. Behind the boards, he pairs old-school house and techno sounds with a more new-school kitchen-sink mentality. He plays with reverence but without idolatry, paying homage to his favorite scenes without tying himself to them. Two mixes from August showcase this approach. With Honcho Podcast Series 111, Boyd gallops between all sorts of dance music scenes, reveling in the sheer joy of a well-massaged groove: in his hands, scorching dubstep-breaks, joyously messy house records, and rickety electro all sit comfortably in the same crate.
On Closing Heaven on a Thursday Night for Loveless Records, he takes that devil-may-care attitude ever farther, blasting between full-throttle bassline, deeper-than-deep house, drugged-up rock records, and a million other styles. In one particularly instructive blend, he grabs an Enya & Flowdan mashup—already a cheeky move on the dancefloor—and blends it into, of all things, an early-career glow-in-the-dark pop tune from A. G. Cook. By the end, when he's playing Leonard Bernstein show tunes and the Steve Miller Band, he's moving with such a livewire energy that just about anything would fly. Each mix is a treat, showing a reliable Brooklyn DJ blending sun-kissed records with a wink and heaps of confetti.
---
'nohup' – 3:00am @ Lodge 2022
---
In a crowded Seattle scene, 'nohup' stands out. Whether behind the decks or behind Illegal Afters Tracks, they showcase a wide and deep taste for club sounds, stretching from hypermodern drum cuts to all sorts of vintage dancefloor styles. 3:00am @ Lodge 2022 shows this range in full effect—while many of the DJ's selections are nominally "techno," they push against convention with each kick-drum thump. 'nohup' jumps between countless modes here but always finds their way back to the foundational rhythms of techno, allowing for all sorts of curveballs along the way. At one point, that means crashing a hefty sub-bass into a flurry of breakbeats, sounding like the intersection of Detroit and London; elsewhere, it means a gradual slide from souled-up deep-house into pitch-black synthesizers; in the set's most manic moment, they reach for the titanic dubstep blasts of TMSV's "Revenge PT2 Henry the Hoover," each bass hit cracking the dancefloor in two.
---
Nosedrip – RA.843 / Kiosk Radio x Dour Festival 2022
---
---
Speaking to RA in 2019, Nosedrip—née Ziggy Devriendt—neatly summarized his approach: "I love to rewrite history." As the head behind STROOM, a critical not-quite-reissue label based out of his hometown, he's made a career out of digging through decades-old records and reimagining them, often changing up the sequencing along the way. Given his practice, it should come as little surprise that he's a well-practiced DJ; he's been lighting up the NTS airwaves for six years now, and spent years on STROOM's own online radio station for years prior. With RA.843, Devriendt turns in a three-hour reimagined history of Belgian trance records, looping fresh faces in with foundational names; throughout, everything is so tightly wound that it's tough to tell when one groove stops and another starts. It's elliptical and hypnotic in equal measure, stretching into infinity along the way.
In a live set for Belgium's Kiosk Radio, he pulled off a similar trick but folded more styles into the mix: blistering breakbeat, progressive house classics, acidic and vertiginous techno. Taken as a pair, they show one of Belgium's most exciting dance-music historians stretching the form into new and thoughtfully trod territories.
---
Perko – @ Ormside Projects
---
Live @ Ormside Projects opens with a jolt: titanic sub-bass kicks and hand-drums that move like a swarm of locusts, with a disembodied organ lending the whole thing a bit of a spooked-out mood. It's both fleet-footed and fearlessly outré, promising a playful and deeply weird hour. Fortunately, Perko follows through. The first twenty-odd minutes of the set finds the DJ-producer deep in his drum-and-bass crates, piling up hyper-precise drum kits with a disorienting speed. After that, though, it's one rug pull after another: busted-amplifier drum workouts and scuffed-up field recordings, quick-and-messy electro and sludged-up vocal samples, abyssal gurgles and hypnotic minimal techno that threatens loop forever. Most impressively, he pulls off all of these acrobatics without making it obvious; he colors between a lot of lines here, but does so so naturally that you'd be forgiven for missing just how many shades he's playing with. What starts as a wigged-out love letter to drum-and-bass slowly turns into something much wider, laying out an expansive range of modern club styles and showing how closely they're linked.
---
Pretty Sneaky – Crack Mix 460
---
Pretty Sneaky keeps a low profile. The project—purportedly based in Berlin—sticks to self-titled and chronologically numbered works, with no track titles to speak of; their astute and function-first aesthetic is countered by the sheer joy (and startling range) in their productions. Pretty Sneaky, their only LP to date, straddles a million lines at once, landing somewhere between ambient, dub, minimal techno, field recordings, and vintage downtempo records. In their mix for Crack, Pretty Sneaky untangle their beguiling aesthetic down to its bones. It's hardly the techno-adjacent stuff that a Pretty Sneaky lifer might expect, though: here, they focus on lush grooves and bargain-bin gems, drawing lines between space-disco B-sides and starry-eyed synth solos. In one particularly instructive segment, they move from the almost-Balearic kind-of-house rhythms of Free Arts Band's "Cool Grey" into Ray Barbee's "Holding Company," a piece that blurs the lines between chilled-out progressive rock and old-school progressive electronic records. Much of the rest of the mix follows suit: Pretty Sneaky cooks up seventy-odd minutes of playful grooves and unusual rhythms here, moving gracefully between conventions and patterns without settling too deeply into any of them.
---
Rosa Pistola – Nite Sport
---
Rosa Pistola has made a name for herself as a don of reggaetón: in a 2019 interview with Dazed, the Mexican DJ said that when she's in the area surrounding Mexico City, people swarm her "like I'm fucking Madonna." Her ascent—as rapid as it is exciting—is no accident. She pushes a street-savvy form of reggaetón, pushing names from across Mexico while staying clued in to developments overseas. (To pick one example of many, a particularly memorable bit from her 2020 RA podcast saw her looking towards Amsterdam.) On Nite Sport, she proves her chops yet again, turning in a tightly mixed session of new-school dembow, setting a veritable rolodex of MCs atop blazing and shape-shifting percussion. The set opens at a satisfyingly laid-back pace, with a hefty low-end offering it plenty of weight as she moves between her own productions, scene superstars, and relative unknowns. As the set moves on, she complicates things by weaving in denser rhythms and upping the tempo a hair, stretching into Autotune-drenched neoperreo cuts and rough-edged rap tracks along the way. It's yet another thrown gauntlet from one of reggaetón's most thrilling names.
---
SSIEGE – @ The Magick Bar
---
There's power in stretching out: given enough time, a DJ can summon and shift entire dimensions. With @ The Magick Bar, SSIEGE demonstrates as much in spades, spinning together nearly three hours of gossamer and alien electronics, slowly turning the world inside out along the way. They devote much of the first hour to new-age synthetics and slow-motion ambient blurs; it alternates between blissed-out chill-out records and disquieting dissonance. From there, SSIEGE deepens that duality, moving between increasingly turgid soundscapes and finding shards of beauty in between; even though they're blending with laid-back sounds, the overall atmosphere is trickier to pin down than any genre names might suggest. Here, beatific downtempo and chilly drum machine workouts might as well be cut from the same cloth, and rattling spoken-word pieces rub shoulders with jangly almost-rock. With each blend, SSIEGE goes ever deeper into a world of their own creation, inviting listeners to explore its dimly lit crags along the way.
---
Sweet Bwoyz – The House Party That Never Happened
---
Sometimes, you just need a classic drum loop. With The House Party That Never Happened, recorded at a private party strictly for those in the know, a few of London's most exciting selectors turned in just under six hours of hip-hop, basking in the joy of a passed microphone and a scratched beat. It's possible to roughly compartmentalize the session—anu opens the night with low-slung and playful Japanese rap records, there's an extended run of slow jams from Bryce's Brother, and Dique closes it out with a healthy dose of party-starters—but that sort of neatness is missing the point. Instead, this is about straight-up elation, about the jumps from well-trodden rhythms to deep-cut gems and back again. Skip to one spot, and they're blasting Busta Rhymes or Missy Elliott at their most manic; elsewhere, it's slicked-up Harlem balladry; elsewhere still, it's old-school Miami-bass, or dancefloor-oriented breakbeat-rap, or madcap flips of R&B radio touchstones. It's a playful and effervescent session, filled to the brim with undeniable blends and a contagious sense of joy.
---
We Rob Rave – SuckPuck Mix Vol. 29
---
In certain corners of modern hardcore, We Rob Rave—a.k.a. Poland's PZG and Dubsknit—are virtually royalty. Each of their seven self-titled LPs races between jungle, footwork, and gobs of hard-and-fast dance-music styles, resulting in a neon-blasted discography that doubles as a document of modern hardcore's umpteen possibilities. It tracks, then, that their mix for Suck Puck Records, an essential hub for fast-and-messy dance music, is composed almost entirely of their own productions: they've got the range and stylistic chops to pull it off. In just over forty minutes, they speed through twenty-five tracks, their quick mixing matched only by the quicker tempo. Along the way, they touch on amp-melting Amen breaks, steamrolling footwork-jungle, joyously messy donk records, old-school piano-breaks stompers, screw-faced almost-techno, and anything else that moves fast, rude, and loud. We Rob Rave hardly need a coronation at this point, but with SuckPuck Mix Vol. 29, they've got one.
---
DJ Lag / Parrish Smith / SHERELLE / Yu Su – Dekmantel Festival 2022
---
---
---
---
One of the joys of this year's Dekmantel Festival—or at least of the artists whose mixes have bubbled up online—is simple: its sheer range. A few of the best mixes demonstrate that in spades, with selectors leaning hard into highly specific and nigh-inimitable sounds. DJ Lag, the self-styled kingpin of gqom, turned in ninety minutes of ice-cold rhythms, juggling a million drum machines in pursuit of a metronomic kind of escapism. Like the best Lag sets, it's both hypnotic and deeply unpredictable, full of rhythms that twist into new forms even as they threaten to play forever. SHERELLE, a critical name on the intersection of footwork and jungle, warned the crowd that it would "get a little bit violent" before blasting into a breakneck session that bleeds into the red with screaming Amen breaks, demented happy-hardcore tracks, and all sorts of hardcore-breaks revivalism.
Parrish Smith and Yu Su, on the other hand, each went a bit weird, albeit in radically different ways. Smith turned in a two-hour set that felt half that thanks to its sheer mania: here, he harnesses the barnstorming energy of big-beat records, thumping techno, and acid-drenched hardcore. It works almost despite itself—every time he pulls the rug out, it's a setup for an even more audacious blend just around the corner, and it's a minor miracle that he keeps up the roughneck energy for a full two hours. Yu Su, by comparison, was downright minimal. Her mix is full of quietly oddball blends, with rhythms that bend back into each other, always landing a measure off from where they ought to; it's both utterly hypnotic and thoroughly disorienting. Over the course of her session, she weaves between fuzzed-up rock records, slippery techno gems, and funked-up jam sessions with ease, making every blend natural no matter the singularity of the source material.