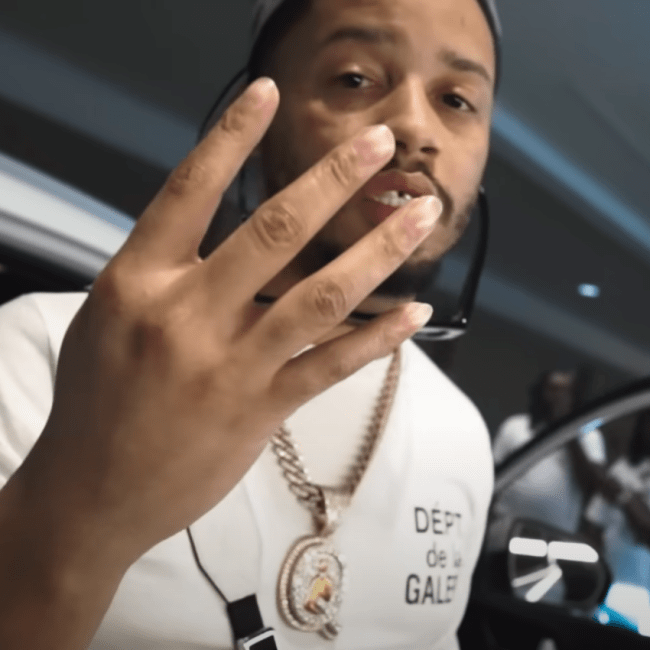 Image via Veeze/YouTube
The Rap-Up is the only weekly round-up providing you with the best rap songs you've yet to hear. So support real, independent music journalism by subscribing to Passion of the Weiss on Patreon.
Harley Geffner knows the truth.
---
Veeze

– "Close Friends"
---
Veeze's firestorm of singles is in its third year now, and I still haven't been able to figure out what makes him so special. Maybe it's that there's no mixtape during this period to dive into his world for more than 2 minute bursts, but the best writers in the world still haven't been able to pinpoint what he is doing that makes his music sound so good. I've tried multiple times in this column, but it still feels like I'm missing a significant piece of the "why."
There's the obvious – his beat selection is riveting, his flows are slippery, his voice buzzes through tracks, and his writing is sharp, but there's an indescribable spark propelling it all towards more than the sum of its parts. It's like trying to explain the spark of life that created our universe using human language when the only way to truly understand it is by feeling it through whatever telepathic or numeric code the gods use to communicate.
Every time a new Veeze single drops, you're immersed in his godly code in a way that shuts out everything around you. You see the numbers scrolling past and creating that barrier around you like the Zach Galafanakis meme, and you don't know any of the Greek letters creating the math, but somehow it all clicks into place. It's inherently understanding the results of a mathematical proof without knowing anything about how it got there. Every phrase, every tick is so satisfying, and it leaves you wanting more.
---
MarijuanaXO x Joe Pablo x ChefDon Juan

– "Crash Victim"
---
DB.Boutabag and his cousin RaniiBoutabag go back and forth so smoothly here you barely register that one picks up where the other left off. If you're not paying attention, you might think by the end there was only one rapper. Crash Victim is an S Tier beat from Smoov and the boutabag boys match the energy. Their casually funny interjections are perfect – like when DB raps about his hefty pockets and starts bench pressing cash, or how Ranii says he's penny pinching off a woman's purse like Mr. Krabs is with him while DB pretends to literally pinch cash out of a bag. And they don't phone in their barbs – they're x-acto knifing broke guys who smoke out of their car or walk out of the house in cheap gear. The song is a perfect blend: royally banging beat, funny and repeatable lyrics, with the natural chemistry of kinship. A song perfect for dancing in group settings.
---
DB.Boutabag x RaniiBoutabag

– "Ruth Chris"
---
Milwaukee has it all right now. One of the hottest scenes in the states, and we're watching the maturation of the city's artists right before our eyes. It has the feel of Detroit circa 2018 where one after another artist would pop up, each more fire than the last, while the ones that popped up first were getting bigger and bigger while their toolkits were sharpening. There's so much happening with rap in Milwaukee right now with Certified Trapper dancing hilariously in front of green screens, Mari Boy Mula Mar still finding new weapons at his disposal, Chicken P, SME Tax Free, RealStasher50K, and too many others to count collecting hits on a bunch of videographer channels. It's been happening since around the same time that Detroit found success in its sound, but now feels like the moment right before the top blows off.
Chicken P's new mixtape and run of singles is some of his best since Fast Cash Babies, Certified seemingly has a song with BabyTron on the way and has been picking up momentum, but my favorite artists in the scene have to be MarijuanaXO and Joe Pablo. On "Ruth Chris," they team up with ChefDon Juan for what reads like a "how to be a drug dealer" manual. First thing – make sure you pay attention in math and chemistry classes in school, the rest are skippable. Find yourself a girl who is willing to stash the drugs on her person when the police arrive. You definitely need a nice car to drive backwards in because you will have repeat customers. You should be able to eyeball weights to save the time of weighing it out. The cupboard needs to be limitless too, of course.
As fun as this stuff is, the sauce is always in the delivery. These guys are as charismatic as hell and have the gruff types of burnt out voices that feel like they've all been through some shit. Vocal cords stepped on, just like the drugs. And the way they tell the stories of their exploits is just straight joyful.
---
Tr3yway6k

– "Tell Me Why"
---
As Tr3yway6K gets rolling into the first month of his 6-year prison sentence for shooting someone on a security camera, he continues to breathe fire on every song coming out of his channel. He's on double time with "Tell Me Why," rapping at a torrid pace to match the gravitational pull of the beat. He's confident as ever as he heads towards the pen, rapping "I'm him, not them when nobody's around n**** / you him, not you when the camera's around n****." He even references the stoicism around the facts of his own life – he's long ago come to terms with the risks associated with the way he lives, so when the judge told him he wasn't going home, he shrugged and hit him with the poker face. Cold facts of a cold life.
---
Mudbaby Ru

– "Gun Class"
---
Hailing from West Memphis, which is actually in Arkansas right across the river from Memphis, Mudbaby Ru is ready to take us to gun class. This song is addictive, starting out with some easy instructions: right foot, left foot, step up, shoot. That type of thing has an easy path to TikTok virality, with its marching beat and the short form instructions. But it's not just a gimmick – Ru spits some real creative gun raps in this one as well as some great basketball comps.
---
Emptying the Chamber
---