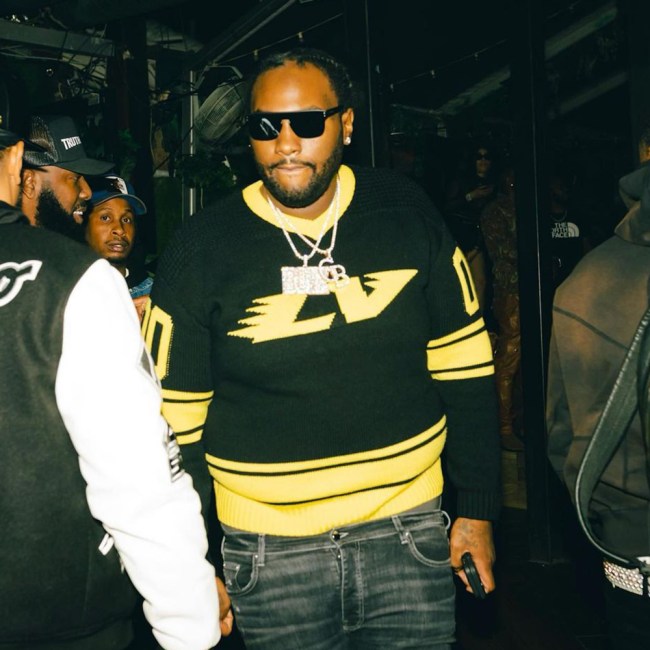 The Rap-Up is the only weekly round-up providing you with the best rap songs you've yet to hear. So support real, independent music journalism by subscribing to Passion of the Weiss on Patreon.
Brandon Callender wants you to remember that LeBron invented the concept of the Deluxe Album.
---
Peezy

– "Long Live Crums"
---
Last year, you could say that any of 10 different rappers from Michigan were having the best year in the state and I (probably) wouldn't argue with you about it. Peezy might not be many people's first choice, but ever since he came home from jail last year he's been on a tear. A solid chunk of his recent output comes with his take on the Flint punch-in style that he broke out on "Rio Flow." If Rio and RMC Mike have their bars rub up against each other like they're trying to get the last word in an argument, Peezy smooths those rough corners out to make it a laidback conversation. It's like watching a bebop player transition to cool jazz. "Bought the new Benz off the lot just to show it off / I told 'em I ain't worried 'bout the top 'cuz Imma throw it off," he raps in a flow that cares more about sounding cool than metronomes.
---
rodneyy

– "rubberbandman"
---
Scrolling through rodneyy's SoundCloud is a treat. He's constantly trying out new styles/voices, or fleshing out ones he's already done with catchier lines and the kind of athletic flourishes and slight adjustments you get from practicing a play over and over. "Rubberbandman" could be a sequel to "Psych Ward" from his tape Afterhours or "tonight." Here, rodneyy's completely unattached to any single voice or rhythm. It makes me think of Carti on "Beno!" or "Die4Guy"—both of them are interested in making songs filled with different textures that prevent their music from becoming wallpaper. It could be him jumping an octave to squeal "anemic," the sneering and cocky one-liners about counting money before he could read, or the hypnotic "rubberband man" chant from the outro. I don't know if anyone else has taken the same lessons from WLR that rodneyy has.
---
Coach Joey – I Still Got You Something
---
With Valentine's Day only a week away, Coach Joey (aka Joseph McFashion, the man behind Michigan rap platform 4Sho Magazine) comes through with a mixtape about modern romance. There's a song for whatever situationship, relationship, dickalationship (shoutout Sahbabii), or entanglement you may or may not be in. And yes—there is a song on here titled "India & Durk." Here's some of the best lines:
"This bitch ain't had a job… the whole summer / Now she ask me for a coat…Bitch, no"
"Hate My Ex"
Can't say Coach Joey is in the right for this, but he sounds so fed up with the world when he says this.
"Don't need a therapist 'cuz I'm the one you vent to / I'm not the jealous type, tell me what you been through / Don't be shy to ask for help when the rent due"
"Fall Asleep"
Duality.
"I stare at you when you sleep, it's kinda weird / But it's cute though"
"I Ain't Gon Lie"
This might be the most relatable thing he says on the entire project for me. I don't think it's that weird.
---
YMC Ant & YMC Tez

– "Dynamic Duo"
---
It's a little funny that Baltimore is late as hell to the sometimes soul-draining Lil TJay/A Boogie style of melodic rap because they have the best spin on it. Starting this blurb off by making people think of their melodramatic Auto-Tune drenched wails and way-too-horny sex bars might scare folks off, and I can't blame them at all. Though YMC Ant and Tez are only borrowing from those guys so that they can inject a bit of melody into their raps to keep them from seeming too stiff. They rap like auctioneers; breathless run-on sentences bump into each other all the time. There's no time to take breathers when you're making plays.
---
BandGang Lonnie Bands & Shawny Binladen

– "Mad Max & Biggs"
---
I'd love to know who linked Lonnie and Shawny because I never would've thought about how they'd sound together. The song is great too: It's two of 2021's best rappers are going crazy on "Victory." What more could you ask for?
---