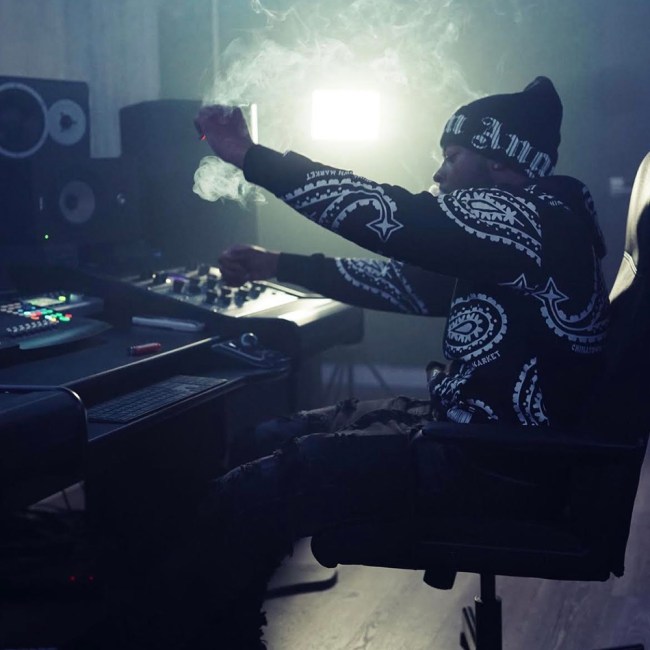 Image via Killer Mike/YouTube
The Rap-Up is the only weekly round-up providing you with the best rap songs you've yet to hear. So support real, independent music journalism by subscribing to Passion of the Weiss on Patreon.
The first time Harley Geffner heard 'Barter 6' it rewired the way his brain processed sound.
---
BabyTron

  – "Prolly Freestyle"
---
These "From The Block" freestyles always feel so raw. A lone metallic mic hangs in the middle of a rapper's hood, creating this stark juxtaposition between the usually dilapidated streets they cut their teeth in and the sparkly type of studio equipment that defines their livelihood now. Many rappers do acoustic versions of their hits, but Tron blasts off here after an introductory burp to let you know this ain't shit with a barrage of if p then "prolly" q style bars. You're probably going to fly if you hit his blunt, little Tron was a bad kid because at any given time he probably had a piece on him, if you take the big shot you're probably going to blow it, and oh yeah, you were probably rocking Abercrombie. Elite shit talking.
---
9

  – "Mind My Bidness"
---
When you think of Pasadena now, you probably think of million dollar suburban homes, the Rose Bowl, or cute restaurants dotting the streets of old town between the corporatized storefronts, but for every upper middle class neighborhood in LA, there's likely a lower/working class one with an underground drug trade flourishing right beneath their noses. Lil 9 hails from that part of Pasadena, and in "Mind My Bidness," he makes sure you know that even though he's a "quote unquote rapper," he won't hesitate to let some bullets go. His style has some heavy Remble influence, with the "Times New Roman," formalized and clear rapping that gives him such a strong presence on the track, but his flow slides off the edges of the table whereas Remble's teleports to the next one. 9 hops into the song ready to go, punching in with "Get low, he didn't move until I said so," before ramping up to stories of the poodle inside the supposed big dogs out there, details on how his car loses its roof, and before he lets off too much information about his doings, he's got to pause to mind his business.
---
2Sauce

  – "Conversations With God"
---
Everyone has different ways to deal with depression. Central Florida's 2Sauce tells the story here of turning to the bottle, before his mom redirects him to faith. The conversation he has with his God is a difficult one – he apologizes for not having spoken in so long and details the pain in his life. He has this look of lostness in his eyes as he holds his head to the sky, Bible in hand, and divulges that being told he was gifted doesn't matter when he's losing people he loves. The photos of him with his lost ones peeking in and out of frame make it that much more visceral. In the end, he lets his faith guide him on the right path – one of putting in the work to make it as a rapper, hopping on greyhounds and surfing couches to hit the stages and pursue his dreams of making it to the top. As he says, the bottom's way too crowded anyways.
---
Jackboy

  – "Pursue My Dreams"
---
This is some truly aspirational shit. Don't you just wish you were living Jackboy's life in this video? Chilling in some green slides in a paradise resort in Jamaica, baddies rubbing lotion on his legs, and thinking about how he can keep cashing in on his talents while staying out the way. This is what he should be doing. Traveling the world, looking for his peace, and planning 5 moves ahead at all times. As he presciently describes, sometimes you've got to burn a bridge to jump on the yacht.
---
Hotboii x Kodak Black

  – "Live Life Die Faster"
---
Hotboii's pained voice makes for extremely sing-able music. Ever since he came on the scene with his heavy "Don't Need Time," his choruses have been the kumbaya spiritual voice of a generation of scarred individuals. This is a great song. The first and most important aspect is how easy it is to sing along. But what sets it apart from all the other songs that are easy to recite the hook with your whole heart in it is the humor injected by Kodak. His short verse includes a moment talking about how his guys have their dreads to the sky as he points to Hotboii who takes his and points them up jokingly. Then Kodak puts on the acting performance of his life, fake crying in the funniest possible way while Hotboii hammers home that he feels like dying. Kodak keeps the act going until the end when the music fades and it's just Kodak fake crying so hard until he starts laughing.
---
Emptying the Chamber:
---