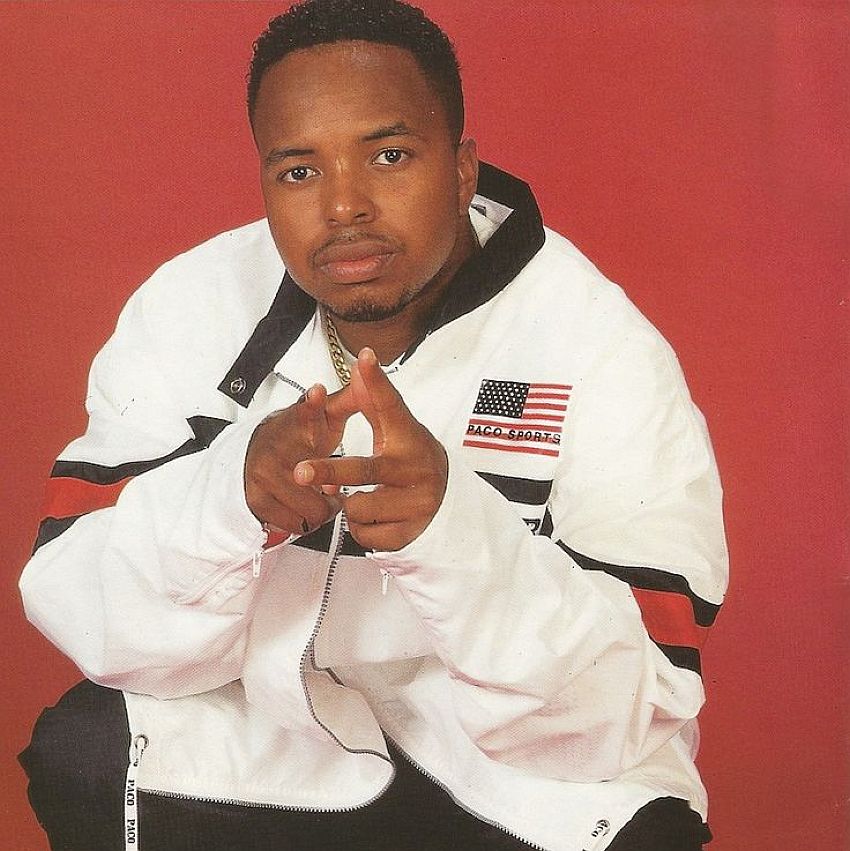 Please support independent rap journalism by subscribing to Pasion of the Weiss on Patreon.
David Ma always rocks the dad bod for Thanksgiving dinner.
Picture being a young Crip from Long Beach and your song, "Getto Jam," is the number one rap song in the country. Imagine it being from your debut and your second single, "Sweet Potato Pie," was also wildly successful. How then would you be overshadowed despite the enormous, quick fame? Well, being that this was early '90s LBC there was a skinny rapper named Snoop Dogg who'd go on to become one of the most famous entertainers ever, a cultural figure with Corona commercials and Martha Stewart appearances in tow.
It's perplexing because Domino, born Shawn Ivy, had debut singles that were bigger than Snoop's; "Getto Jam" outperformed "Who Am I (What's My Name)" on almost every level, charting nationally and worldwide, holding on to its positions longer as well. As a transplant from Missouri, Domino first made his mark on 1993's Bangin' On Wax, an aggressive release that had suburban housewives clutching their pearls. An overt street project, it was credited to none other the Bloods & Crips. The release was actually meant to be a peace treaty, marketed as an attempt at calming tensions through music. The audio-cease fire did well, charting on Billboard and propelled Domino to explore music with one of the project's main producers, Battlecat. "I already had a lot of respect for Cat because I remember liking how he'd sample a lot of funk in his beats. He did a lot for the West Coast sound but people don't talk about it too much. We wanted to be on some Batman and Robin shit."
Despite being from the streets, Domino was eager to jettison the gangster image, claiming he was done with fixating on aberrantly violent clichés. "I lived that shit so I felt that I would make music that was fun and didn't focus on all that stuff," he remembers. With the aid of Battlecat, his debut exploded. The singles blanketed airwaves and key to them both were hidden undertones beneath the catchy veneer. "Getto Jam" was filled with stray hood observations but wrapped in sunny melodies, underscored by a playful, sing-songy delivery. "Sweet Potato Pie" was purely about sex but surely sounded PG to adults not paying attention. "It's straight up a song about getting some ass," he laughs. "It was pop but the street dudes were able to get down with it too."
Earlier this year, the cosmos aligned when a random single with Domino featuring Snoop emerged, bookending their years of friendship and hometown rivalry. The two, decades removed from so much drama in the LBC, connected as elder statesmen on the summery, "Baby So West Coast," a bouncy track about sun and girls that sounds like a conversation among old friends. Says Domino: "It was such an honor to have my brother Snoop join me on a song. We've both been through so much and we have brothers that are no longer around so I'm very grateful for it." Here, we look back on the innocent heyday that was "Getto Jam" and "Sweet Potato Pie."
---
You're originally from Missouri. Tell us how you ended up on the West Coast.
---
Domino:

My mom moved to Long Beach when I was 7 or 8. That's where I got my stripes at. After we moved there, and coming up in the ranks, at the time, everything was about East Coast rap. We of course knew of NWA and I wanted to be apart of that. I was young and just wanted to be a part of whatever was crackin'. But I wanted to do it in a way that others weren't doing. We had streets full of hip-hop dudes and all of us came up doing battle rap shit. But the difference with me is that I wanted to do all of that and wanted to stand out with a style that was obviously different or new. That's why I stuck with the singing, melodic shit. A lot of times, when you do shit different, it takes more time for the public to catch on.
---
How did you link with Battlecat? You two went on to find huge success together. Tell us how that came about.
---
Domino: I originally was involved with Bangin' on Wax. It was a project that the Bloods and Crips was going to do in order give things a break; it was like a peace treaty through music. They picked a Crip from Long Beach and that was me. What's crazy is that my godfather owned the studio where we were to do it at. My godfather is Leon Haywood, he did the original track that Dre sampled for "Nuthin' But A 'G' Thang" and we're walking in and my godfather was like "This is my godson Domino" to Battlecat. And I had of course respected Cat already because his beats were bringing that West Coast funk. Long story short, it became a gold record. So me and Cat decided to keep riding. And as hot as he was, he still wasn't too known. So we had the good opportunity so we just went for it.
---
What do you specifically remember about putting "Getto Jam" together?
---
Domino:

I went to Cat's house and we spent two weeks there and he let me co-produce the record. And that was the beginning of a whole other sound, a whole new era, which would become my debut record. I wanted to take it up a notch and make some jazzy, melodic stuff type. We had a melodic song on Bangin' on Wax but I didn't want to talk about crip versus blood on record all day anymore. So we just wanted to have fun with some singing and rapping. We took the sample that I used a lot in high school, which was the "This Masquerade" sample by George Benson and we just flipped it. It was a no brainer for us.
---
It went straight to number one. But what was the initial reaction to the song?
---
Domino:

The thing about it was, the style was so new and wasn't proven so no one wanted it. We're sitting there and trippin'. The whole thing was, these record labels kept saying it wasn't a proven sound and that everything needed to sound gangster and hard. Ice Cube and Dre's sound was what everyone wanted. So we decided to do the record independently and we would take the song swap meets and play it all day long. All of a sudden, people started to come every Saturday just to hear it.
---
How were you guys able to get it on radio if none of the labels wanted it?
---
Domino:

Stevie Wonder had a radio station he owned in Southern California [KJLH] and one of the DJs was a friend of mine who one day said, "Hey Stevie wants us to play a hip-hop record on air." Apparently it was because they never played any rap on the show before. So they had this "Make It or Break It" segment on the show to see what the response was and if the public was with it. One day they put it on and it won. Then it won another two times! And so on. After that they wanted to add it to the rotation and that's when things blew up. That's when all the labels that had passed on it started to hit me up. We ended up selling the distribution rights to Russell Simmons and that was the beginning of the world knowing about Domino.
---
"Sweet Potato Pie" was also huge, eventually charting at #3. What a follow-up. What do you remember about that one?
---
Domino:

That was the last song that we wrote for the record. It was the last one because we had 9 songs and I told them I wanted at least 10 songs. Everyone had all these fucking records that had 20 tracks but none of them were exceptional. So I wanted to put out 10 bangers. We were thinking what the album was missing and decided it was missing a sexual track. Cat sampled SOS Band for this and was one of his tracks he had sitting around so we decided to put the tracks together. If you listen to the whole record, you'll see Cat was the funk guy and I was the musical guy. And if you listen to Battlecat's music, there hasn't been a song like "Sweet Potato Pie" since. We had a chemistry then and made things from both of our hands and wanted to get clever. And everyone was talking about getting a piece of ass so we wanted to do it using a metaphor everyone could understand. I thought about my grandma out of St. Louis who used to make the bomb ass sweet potato pie and I'd have some every year I'd go back home to visit. So, it rung a bell and long story short, that's what I started calling it [laughs].
---
When you think of those songs, which were your biggest hits, how do they strike you nowadays?
---
Domino:

Out here on the West, it's about who's hot and who's not. It's all Hollywood. So when I hear people still playing it now, just for the love of it, it takes me back to when I wanted to bring a new style to the main stage. Like I said, at first nobody wanted the song. They said the style wasn't proven so we proved it ourselves. And we put it out on the streets not caring what radio would do. We wanted to really try and force the melodic rapping sound onto listeners; but we also knew what the streets liked. We would do ASCAP showcases and win first prize every damn time. So we knew we had something, we just couldn't get the A&R company to support and to see how we viewed things. So we were able to get the song out and distributed and basically did everything ourselves before the majors even came around. So when I hear it now, I just smile because today every record I hear that's hip-hop has some sing-songy thing to it. There's not one big record on the radio charting top ten that isn't rapping and singing.