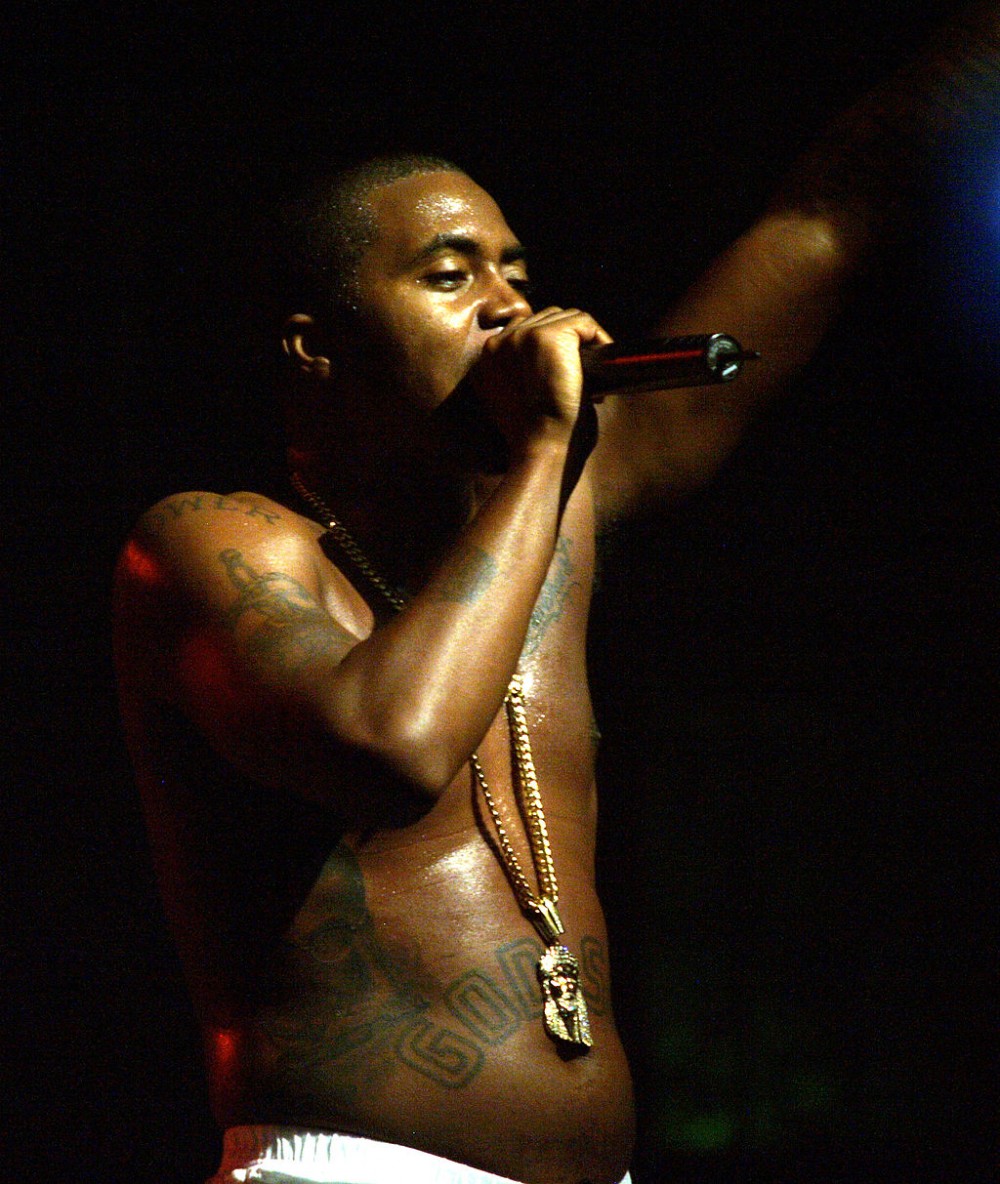 Support the Nas takes you didn't know you needed, but now can't live without, by subscribing to Passion of the Weiss on Patreon.
MobbDeen is laughing at baseheads trying to sell some broken amps.
Magic is Nas' best project since It Was Written and I wouldn't be opposed to any claims that the album is his best since his seminal debut, Illmatic. That statement isn't meant as a slight to every project the rap legend has dropped between now and then, after all, there are a fair number of classics in the bunch, but there's no point in burying the lede.
In 2021, recounting Nas' history with his core fan base probably feels a bit like watching Uncle Ben die at the beginning of every new Spider-Man adaptation, but in order to understand the bold claim above, we need to take (an abridged version of) that trip yet again (I'm so sorry). Nas debuted with his instant classic and the culture at large responded by (rightly) anointing him the Golden Child of the genre. The problem with Golden Child status is that fans seemingly want you to repeat the same trick over and over again, despite the fact that Illmatic didn't go platinum for almost a decade.
In the interim, Nas decided to spread his artistic wings and try different shit with admittedly mixed results over the ensuing decade. The main critique from fans was that "Nas picks bad beats," but what that really meant was "Nas won't make the exact kind of music we want him to make," even if making that kind of music meant Nas had to borrow money for a new outfit to wear to the 1995 Source Awards – a year after releasing a critically acclaimed instant classic.
There's much more to the yarn (Wikipedia is a click away) but it's impossible to argue that Nas made the wrong choice by embracing a more commercial sound on his post-Illmatic efforts. Babies need food. The fact that we're still talking about him 30 years into his career is irrefutable proof of that point. The results varied but ending up as a rap legend and the arguable Greatest Rapper of All Time seems like a result most would've been fine with when they first heard Nas on "Live at the BBQ." After all, many of Nas' talented peers from the era got desk jobs 25 years ago and most of the still active rappers have made largely ignorable music for the last decade or longer.
After the critical misfire of 2018's Nasir, a project fans waited seven years for, it seemed Nas was probably going to quit his day job for another half-decade and focus on his business interests. No one would've begrudged that choice if it meant avoiding more potential legacy damaging efforts like Nasir, but the pandemic struck and Nas managed to connect with the Californian sorta-super producer, Hit-Boy. Their working relationship actually started in the early 2010's when Hit-Boy was making his first major moves in the industry as a GOOD Music signee, but it only resulted in a rumored pair of unreleased and/or lost songs.
In 2020, the pair produced King's Disease, an excellent full length collaboration that resulted in Nas' first and long awaited Grammy award. Hit-Boy's chameleonic approach to production (he's essentially the modern equivalent of Jermaine Dupri) just so happened to suit Nas' restless approach to beat selection and the feedback the pair received suggested that they ought to make more songs. So they did. King's Disease 2 appeared in August 2021 and the general consensus was that they surpassed their efforts on the prequel.
Come to find out that the guy responsible for the mercenary approach to rap album production that has dominated (I'd say "plagued") the genre since would make great albums by just sitting down in a studio with ONE guy! Go figure. Lots of artists in whatever passes for rap's "underground" figured the one producer trick out a long time ago and scores of pre-Illmatic rap classics followed the same formula. Maybe it was the pandemic or maybe it's Nas' relatively recent turn as an involved independent music label chief via Mass Appeal records, but the choice to work with just one producer for the first time in his career has resulted in an artist that sounds revitalized in middle age. Nas was already the standard bearer for "Grown Man Rap" after the largely brilliant, divorce-themed Life is Good, but linking up with Hit-Boy further strengthened his grip on that title, given that King's Disease and its sequel are both better than any of us expected.
The pair pledged to deliver a third entry in the King's Disease series but with almost no notice, they decided to gift us Magic over Christmas. Magic succeeds on an even greater scale than the King's Disease albums by performing a nifty trick: they breezily and casually repurpose Illmatic's iconic sonic approach and general aesthetics on a low stakes affair that finds Nas absolutely shredding nine songs (certainly a deliberate choice) that all fit squarely within his comfort zone. No experiments, concepts, or risky singles. Just Nas rapping at career peak levels over beats he's supposed to be rapping over with no extras included. He just replaces the precocious virtuosity of his debut with wizened omniscience and hard earned self mythologizing. Even the cover art pictures '90s Nas staring out a window. The result is an album that works better than it has any right to.
While making an album like Magic seems simple enough for an artist of Nas' immense talent, it isn't the kind of thing Nas could've gotten away with when he was a cash cow for Columbia Records and Def Jam, i.e., the bulk of his career to date. Between his relatively new independence and his excellent chemistry with Hit-Boy, Nas has finally managed to give his core fan base the album they've been demanding from him since they had to flip their Illmatic tapes back to side A.
Magic is essentially closure for the fans that always wanted Nas to work with Pete Rock again or make that long rumored mythical full length album with DJ Premier. The energy he brings on these tracks proves that fans weren't necessarily wrong to demand this of him, however much he bristled at said demands. Personally, I've never understood the urge to demand anything of an artist (go listen to the old shit), but I'd be lying if I didn't admit that I've long harbored the same wish many Nas fans vocally expressed for eons. That said, I also chose to fully embrace and enjoy the vast majority of experiments and risks and it has been a wild ride. At the end of the day, Nas fans are mostly Nas fans because of his unrivaled lyrical virtuosity and that uneroded skill has comfortably kept my attention for three decades.
Back to Magic: Hit-Boy essentially places himself alongside Nas' best production muses by bookending the album with "original" productions that ever so slightly hint at The Firm-era Nas, while filling the rest of the album with beats that transition through other eras of peak Nas. "Speechless" is an opener on par with "Stillmatic Intro," and "Meet Joe Black" is the hardest and arguably best song the duo have made to date. Both songs find Nas at his most aggressive and braggadocious levels while offering gems and warnings to unnamed threats in equal measure.
"Ugly" is a poetic lament about our current circumstance over a loop that vaguely recalls classic Roc-a-fella soul. "40-16 Building" is Nas at his darkest, a straight up Hit-Boy interpretation of classic Just Blaze (even down to the trademark synth that used to precede the latter's producer tag). Good "Synth RZA" shows up on "Hollywood Gangsta" as Nas bouncily expresses his commitment to staying genuine to himself and his hood (unlike those other guys). "Wu is for the Children" finds Nas explicitly conversing with his fans and their entitlement and engaging in some mild pettiness while dedicating the gift of Magic to recent tragic losses in the Black community.
Then the only guests on the project (another choice that seems extremely deliberate), ASAP Rocky and DJ Premier, show up to talk that jiggy shit over Hit-Boy's Premier impersonation on "Wave Gods." Elsewhere, "The Truth" justifies the existence of this album all by itself by pairing Nas at his most liquid with something I don't recall anyone ever asking for: a funky Easy Mo Bee approximation that Biggie would've wanted to jump on. Different ears might hear Pete Rock but Easy Mo Bee is my choice and I'm sticking to it.
Finally, Nas and Hit-Boy close things out with "Dedication," a song that finds Nas at his most reflective and conscious for the first half, before resurrecting his Escobar and Nastradumus personas over devilish strings that leave us wanting more Magic in the form of Nas' masterful torrent of wordplay, flows, and depth.
Ultimately, as Nas slyly suggests towards the end of the album, he and Hit-Boy aren't performing any tricks on Magic. They haven't reinvented the wheel or made anything other than a typical Nas album. The magic of the affair is in the deliberate aesthetic choices and the dynamism that feels like the result of the chemistry between the pair and the clear allusions to Nas' magnum opus. What more can you ask for? We'll see what other tricks Nas and Hit-Boy have in store on the upcoming King's Disease 3, but Magic will be awfully hard to top because it's the perfect Nas album and I dare anyone to quibble with that assertion.