Ray J was among those expressing concern with Kodak Black after his Drink Champs interview.
Yak appeared to be high during the chat and was even more challenging to understand than usual.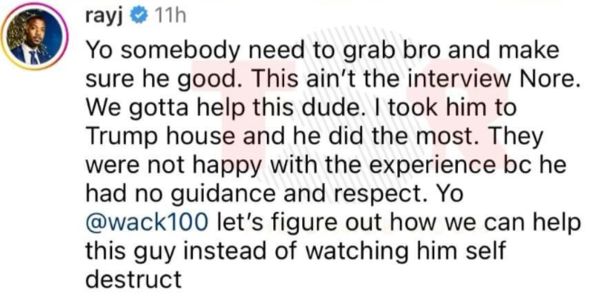 "Yo somebody need to grab bro and make sure he good.  This ain't the interview Nore. We gotta help this dude. I took him to Trump house and he did the most. They were not happy with the experience bc he had no guidance and respect," Ray J typed in the comments. "Yo Wack 100 let's figure out how we can help this guy instead of watching him self destruct."
Last year, Ray was seen at a meeting between Kodak and Trump.
Yak did not appreciate Ray's concern and questioned his memory.
"Ray J your little ass is a bitch, homie. "I don't need your help, pussy-ass n*gga. I'm straight. F*ck wrong with you, homie. Beat your little ass," Kodak threatened.  "You had nothing to do with that Trump sh*t. They be hating that p*ssy-ass n*gga. You just want to go viral. You want to go viral on the street."
Do you think Ray cares about Yak or is this all about clout?