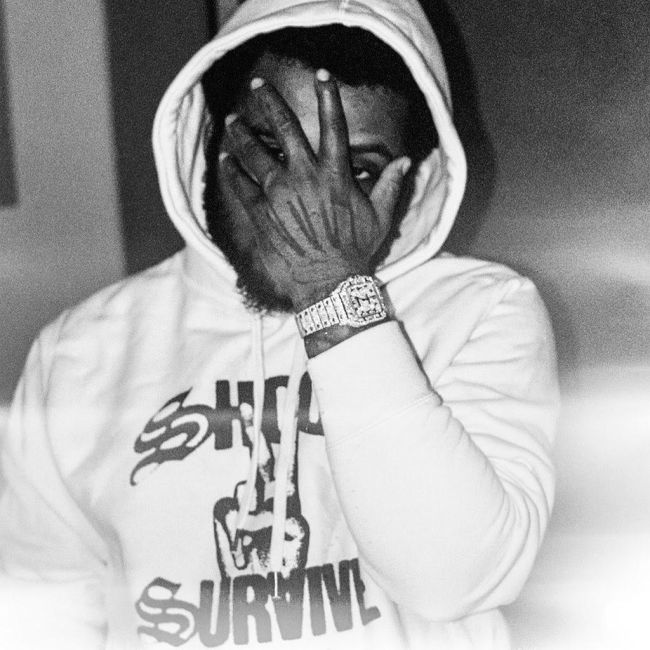 The Rap-Up is the only weekly round-up providing you with the best rap songs you've yet to hear. So support real, independent music journalism by subscribing to Passion of the Weiss on Patreon.
Harley Geffner has declared February 25th RJ Barrett Day.
---
YN Jay

– "Own Yo Life (Off The Porch Live Performance)"
---
This is as intimate as we've seen YN Jay. Dressed in a red tracksuit in front of red brick with red flashing lights, Jay is making direct eye contact with the camera as he emotes about how the system got it wrong when they charged his friend with life. Though we see a mischievous smile or two flash while he's flaming rappers for signing shitty deals and wearing rented chains, and he's still jovial in pulling dice out of his pocket mid-bar, he's spitting with a vitriol here that's atypical. He looks angry when he tells us about how fucked up it is that his friend is still locked up on a pistol charge, he sounds sincere when he's thanking Rio for changing his life, and he looks sad when he tells us about going broke at a dice game trying to be like his pops. This isn't his usual electric punch-in, growling, spilling bars out of their cup style we've come to love from Jay. Many of the tics are still there, as his personality is too large to keep caged even in a live studio recording, but this is taking the style a step further and incorporating it into a weightier performance.
---
Lil Xelly x Iayze

– "Blue Check"
---
One of my favorite things about Lil Xelly is how in-touch he is with any beat he raps on. You can tell he's studied it, felt each kick, every step in the evolution of any beat he touches. On Blue Check, he let's the beat from Landfill (Sybyr's producer name) unfold, and ramps up his flow with each new subtle addition until he's at full force when the final synth touches down to fill out the beat. His voice is low and it rumbles through the verse as he raps about his momma crying about bills, how he looks like Lucario with all his blue hundreds, and flexes his verification check. Iayze is the perfect complement to the Xelly's growl, as he comes into the song mad as hell in the higher register, jumping in to stamp it with an emphatic "BITCH / I'm ridin' round the the TEC," before rapping about his potion from CVS, how he doesn't get into a car unless the windows are tinted, and slaying witnesses.
---
Ralfy The Plug

– "Cyber Beef"
---
As emotional as it must be to lose a family member like Ralfy did, it certainly hasn't stopped him from his grind. He's been prolific since the incident, and continues to find new flows within the off-balance style of rapping that he, Drakeo, and the Stinc team innovated. The conceit of this song is that Ralfy cooks up beef, and is really outside to see it through. It's a fine thematic overture, but as always, it's the bars and his swag that take Cyber Beef over the top. He has so much money, people are asking him if he's got cheats, he's rapping warnings about how difficult it is to be the plug while lifting trashbags full of weed like dumbells, and he's ready to squabble at any moment with some Chanel boxing gloves and a baseball bat. Plus, he still knows how to fuck up Mei Ling's shit, just in case rapping doesn't work out.
---
Bandgang Masoe

– "Its On Me"
---
96 seconds in Bandgang Masoe's monochrome world feels like an eternity. Time moves slowly when you're paranoid, so Masoe peeking through his blinds over and over while rapping about having to keep his firearm on him in church gives "Its On Me" a looping feeling – like you're stuck in that paranoia with him. The paranoia is warranted too – he's making plays with doctors and businesswoman, has 100 pounds in the house (you can smell it from the driveway), and he's so acquainted with the plug, that he's at his son's birthday.
---
Global Babii

– "Live and Learn & Global Talk"
---
Every young rapper is a confluence of their influences until they finally find their own style. Global Babii is only 15 years old out of Hammond, Louisiana, but you can hear Youngboy with clarity, a little bit of Rod Wave, and some Jackboy in him, blended into a melodic stew. Live and Learn is an emotional song about his upbringing that he recorded at 14, and Global Talk is a more recent heater that you might confuse for YoungBoy himself if you heard it in the wild. Kid is going places, and I can't wait to hear how his music continues to evolve.
---
Emptying The Chamber:
---
Drakeo The Ruler x Remble – Threatened
KT Foreign x SieteGang Yabbie x GFEENI – Blade Hot
TC4 x AsmDaBkopster – Out On Bail