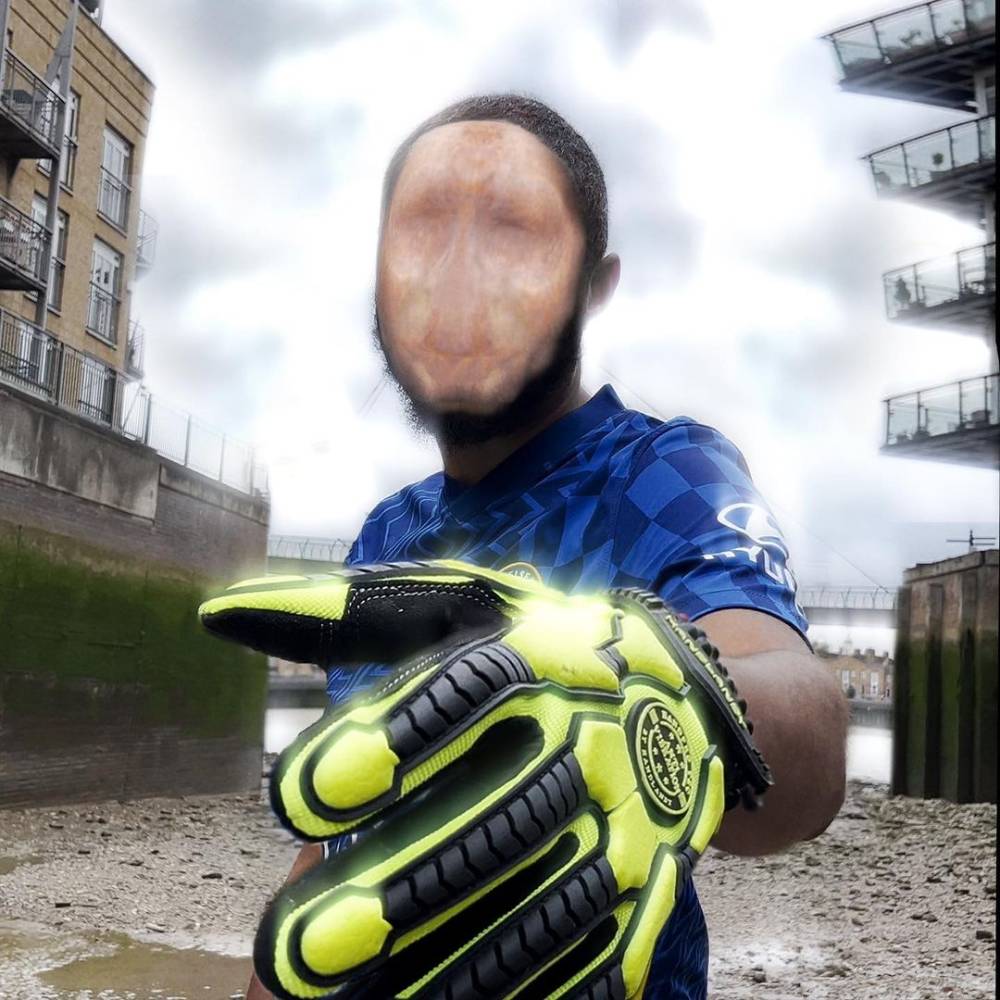 Image via Jawnino/Instagram
Support real, independent music journalism by subscribing to Passion of the Weiss on Patreon.
---
When I saw Jawnino on a sheet grey day in early July, he sounded laconic as he suffered from the hangover blues: "I only had one hour of sleep" he mumbled after a night of performing with Poundshop and COLD at Hyperlocal Festival in Peckham. Along with his friends, we headed to a Shake Shack where I bought an unsweetened iced tea for the smothering summer heat before shooting off to see the History of Grime exhibition at the Museum of London.
There's a fading red star dyed on the temple of his head and he's wearing a pink Supreme hoodie with the logo embossed in camo, navy blue cargo trousers and Nike air maxes. To the average eye, his fit seems pretty everyman for a young creative in the Big Smoke – encompassing the online streetwear styles taking over London – it makes him coalesce in the city he grew up in; the feng shui within is unfettered, the money's coming in and he hasn't changed.
Inside, we walked past spaces detailing London's rich history and a zone dedicated to Harry Kane's football career before we entered the Risky Roadz x Jammer's curated exhibit. The room was covered in graffiti tags and a two-colour palette of bright yellow and pitch black on the walls, with cultural signposts of East London, hoisted on the ceilings. We took our time absorbing the information AND some of the material was familiar, revisiting old Risky Roadz footage of DJ Slimzee scaling the roof of a council tower and MCs with NYC fitted caps and trackies spitting with vim – some without sound – and some could be heard through a pair of display headphones.
Given how clandestine the genre was, there are always hidden easter eggs underneath the grit; new ones include the Eastendurz (2018) documentary, a modernised reflection on gentrification in East London, a mini-doc on Jammer's familial upbringing in Waltham Forest, and a gritty Skepta-directed music video/skit for "DTI" which dated back when he was affiliated with Meridian Crew and known as Scoopa Daniels. It was an informative look at the histories which built the infrastructure; the same cultural ecosystem current tastemakers, artists and enthusiasts interact with to this day.
Also, the exhibition closes in December 2022 and it's free, so yeah, go see it.
"I liked it but I feel like the exhibit left some history out. Remember when BBK used to do those SIM cards? They didn't talk about that." Jawnino can be funny without being goofy or too self-aware; and smart without being obnoxious. He elaborates on his point, speaking with an ancient cool: "There's a lot of sounds in which grime grew from during the internet age and the exhibit doesn't really clock that."
I had to give some mercy to the exhibit, in regards to its size which was pushed into a corner of the bottom floor, it also holds the achievement of being the first grime exhibition in the Museum of London. We acknowledged it does a good job of documenting flag-bearers and familial underpinnings of the movement. Maybe this is something that wrecks most art installers' minds because even with the most excellent curational eye, they run the risk of an artist's fruitful legacy being reduced to a footnote with a "more is more" approach. As we leave the museum, he chimes further, "Who knows, I might get my own little spot in the exhibition."
For Jawnino and other Gen Z grime artists, most of the societal and institutional barriers such as Form 696 have been dismantled but there are still obstacles along the way; perhaps, on an intrinsic level, one that taps into what a grime artist should or shouldn't sound and act like.
This isn't to say Jawnino didn't put in his practice hours and waltzed onto the scene proclaiming to be an iconoclast. The only child in a two-parent household, his father showed him The Smiths, Scritti Politti and Mos Def when he was growing up. With his natural curiosity in music encouraged by his father's adventurous music taste, he grew up listening to grime in secondary school. This fascination morphed into an obsession, as he listened to Logan Sama's Rinse show at midnight every Monday. "I had to sneak this phat radio in my bed with my headphones, hoping my parents didn't catch me." He reminisces on penning his first 16, spitting it on the playground, and basking in the glory before eventually dawning on him he needed more bars.
He continued to hone his craft by freestyling and writing bars as a teenager. He later met NTN member JP freestyling in a MacDonald's one day after college, declaring he was "cold" and both of them exercised bars together until they couldn't no longer. After releasing a handful of singles like "Ghost in the Shell" and "Lady on a Train", it was his 2019 single "It's Cold Out" which launched Jawnino through the stratosphere as if he's trying to find his own galaxy to inhabit within the universe of British hip-hop. It turned classic Eski-boy sounds and flows and subverted them with a cryptically bizarre yet confessional pen and a stop-start flow skips over words or falls into non-sequiturs.
Listening to the Putney-born-and-raised artist felt like discovering a new moon near the grime galaxy and it was expanding as Jawnino soared into the gravities of avant-garde producers and musicians like Klein, JP, Poundshop, COLD, and BRBKO. Along with that expansion, came more activity and visibility, the still-reclusive enigma started to shed his metaphorical mask; slapping the image of a ballied-up enigma to the ascensive global collective Negropop. This year, he performed in the likes of the Barbican with Klein, Manchester's Soup Kitchen and Europe with NPop.
But the nexus of Jawnino's music right now is his sophomore EP which he dropped this June. If "It's Cold Out" made you feel like you were endlessly stuck wandering the deep winters, then 4040 sounds like an escape – when the sun rises and stays up for longer – transporting you to the illdy early morning summers, catching yourself introspecting on drugs during a long walk home.
4040 still reps Jawnino's stoic stream-of-consciousness raps but it's bookended by an impenetrable vigour in his timbre throughout the four songs. His voice modulates and stutters like an AI malfunctioning in "Dance" over a 2/4 choppy drum pattern and female vocals. He raps at double-time with that deep-rooted pirate radio hunger in the second half of "Felt Less." In the hook of the opening track "Can't Be," he hauntingly sings with an alien remove. You feel like you've landed on something special, as a new fan, you'll praise your lucky stars Spotify plugged you with an under-the-radar banger; as an old fan, you'll think "Wait, is this Jawnino?"
With the sharp knowledge and passion for the genre and roles placed within it, Jawnino shows a penchant to dismantle those roles altogether in favour for shape-shifting discoveries. Only time will tell if Jawnino will accomplish his post-grime odyssey, as he tours across the UK, releasing projects and frequenting the radio stations of VICTORY LAP, NTS and PYRO. Witnessing Jawnino's growth feels like a win for any artist trying to create music on their own terms and for any fan resonating with their artistic expressions.
It's the perfect timing as UK artists are getting their flowers globally whereas before they were encouraged to sound like Big C (because we either sound like a Guy Ritchie extra – or furthermore yeah – sound like Jamie from Top Boy) or go "pop" with Chris Brown for overseas success. UK Musicians like Lancey Foux and Little Simz are respected as auteurs in their own sonical rabbit holes and it paves the way for less-established artists to truly be the orators of their sounds, if it's gripping, people will come. Jawnino has a lot of potential to be placed in that category.
When I spoke to Jawnino in the break room of the studio, he had recovered from the lack of REM sleep, showing a familiar, warm comfort around me as we talked about the recording process of 4040, the city which inspired his latest EP, and the euphoria of raving.
---
---
Oliver Twist executively produced 4040 and contributed vocals to "Felt Less." I remember you saying on socials that Oliver Twist pushed you into a different lane in 4040.

---

Jawnino: Oliver's just a mad guy. Originally I heard about [Twist] from POUNDSHOP's twitter and I thought to myself, "this is what I'm trying to do with grime." I hit him up and asked if we wanted to do something. After "It's Cold Out" came out, it was a whole different sound, a few months later. I was in Amsterdam and Oliver just sent me these two beats; they became "Choongtingz" and "Can't Be" and I was like, "these are insane." I had no idea what I wanted to do with them but the stuff he was making is what I was trying to do. I needed to find my own producers, I could've done it myself but I'm not in my producing bag yet so I needed to find someone on the same wavelength.

---

The rapper/producer combo you see in grime: Manga and Lewi B, and M.I.C. with Nammy Wams, you could see that with you and Twist. Feels like things came full circle considering Twist produced "Ethereal" which is what Poundshop and COLD remixed for you to create "It's Cold Out."

---

Jawnino: It's more of, like I'm trying to get a whole team of producers: there's COLD, Poundshop, 3o, BRBKO and they're pushing the sound – they're not doing 'grime', they're doing their own version of it – and that's what grime is in essence. It makes sense for me to be working around with them. They understand my sound and also want to make sick shit.

---

It has the same heartbeat as Negropop: taking something and adding your perspective.

---

Jawnino: When I was my younger self I would've been overwhelmed. It's all just in the moment now, I don't care about guys' approval too tough, I want to do my own thing, create things that inspire others and leave a message with my music. Negropop is more of a community, it's not like a clique, we have rappers from the north like RenzNiro and Grim Jim.

---

If grime artists listened to what the garage elitists said back then; grime wouldn't be the genre that it is today. You have that bar in "K*rn": "Me and Kibo were spitting on grime before it was cool." That sentiment kinda seeps throughout the grime community because you couldn't let the hate get to you.

---

Jawnino: Exactly, it just shows that we don't care, you can stay over there hating but you're going to be left over there. I'm with so many sick people who want to push the genre: BRBKO, Kibo, Virgil, S'M, JP, DEMI. For the longest time when I was young I was trying to find my sound. I was on trap beats before and it was cool. I could do it but I felt like it wasn't my sound. Ultimately, I was just looking for what I liked at the time. When BRBKO did "Ghost in the Shell" [with Secundus] and "Lady on the Train," that was what I was looking for at the time. "Lady on the Train" was the beat I wanted. It was grime but not at the same time. I literally freestyled on that beat, that's how natural I felt.

---

Regarding your old stuff, what happened to "Ian Beale Freestyle?" The beat on that was hard.

---

Jawnino: I erased it, it's just old stuff. Manny Dubs produced the beat though.

---

Can I get a CDQ?

---

Jawnino: I'll have to find it, the laptop I had it on got fried up.

---

I feel like you have a cultural catalogue in your head. If you had to make a moodboard for 4040, what would be in there?

---

Jawnino: I listen to a lot of American and British stuff, merge the grime with the supertrap. All of my influences really.

---

I'm not too sure on supertrap.. is that like tread, the stuff workingondying make?

---

Jawnino: Yeah and like Yeat's stuff, but there's a whole history behind it but I think it found its way into my music. Before I was a bit inspired by Sadboys/Drain Gang. Now I've found my 40 voice. When I was in Amsterdam, Oliver sent me those two beats. There were these blinds and you could control them with an iPad and I put on my Instagram that I'm in 4040. Ok, 4040, whatever cool because I didn't record anything but I was reading this book which talks about that every second the brain can take in a million signals and only accepts forty and those forty signals are your reality so everybody can have a different reality. With the tape, you're gonna go into yourself, it'll be explained more with the visuals. We're gonna release these sweets with it and an exhibition.

---

Instead of having your spot in the exhibition, create your own.

---

Jawnino: Yeah, exactly.

---

I thought 4040 was a flip on 2020, as a "the future is now" type of statement.

---

Jawnino: Originally I thought it kinda was but most things I say I feel like the meaning always comes to me more. Like I write a song and I listen to it and a week later, I'll listen to it again and it's like I didn't mean to say but I didn't know.

---

Your subconsciousness knows but you don't consciously understand.

---

Jawnino: Yeah. It's like a prophecy too.

---

In terms of the exhibit, what are you thinking of?

---

Jawnino: I'm building a team for later down the line, I got plans for the sweets and things will make more sense.

---

How did "Choongtingz" happen? Renz and Kibo is a crazy collaboration.

---

Jawnino: Twist sent me the beat, it was kinda old school grime but I didn't think I could do anything with it. The first bit I was like "this one's for my girls all around the world." My friend S'M basically had written that bar on a different song and he was singing it but it didn't get released. So I asked him if I could use it because it fit perfectly with the song but I added my own twist with "choongtingz, around the world, you know they're feeling me." Choongtingz felt right, it was like that old school grime.

---

Yeah, like Nang?

---

Jawnino: Yeah yeah, it was an old school grime beat. Kibo and Renz are my favourite Grime MC's and I feel like they were from two different worlds and I wanted to bring them together. I feel like they wouldn't have worked together but I wanted to hear it. I want to do that kind of stuff with different artists in the future, putting artists together who'll sound sick on a track together but probably won't cross paths unless there's a middle man. I want to be the mediator because there's a lot of talent in this generation.

---

Yeah, you can hear in the structure too: hook, Kibo's verse, hook, Renz's verse, hook – you're the glue connecting those two disparate artists together. You see that level of experimentation with "Dance" too – it's kinda like a PC-music influenced take on tech house. What was your mindset with that song?

---

Jawnino: After Twist sent me the beat for "Felt Less," which was co-produced by COLD, it stood out to me the most and it's my favourite song on the EP. I go back to London and I recorded everything at 3o's house. Me and 3o have made D&B and dance tracks before. Twist's the guy with the melodies and 3o is the guy with the drums, and I said "if you two work together, it'll be sick." I did want a dance track as the outro and I left them to do their thing and two weeks after, I heard the song and it was insane. The first vocal I thought of was like "We was all outside shrubzin'" and then I thought why not chop some vocals up because I didn't want to do just a simple rapping thing and it just worked.

---

Yeah, like you really thought about what makes a dance song. You could've just turned on the grime mode and go all mad on a dance track.

---

Jawnino: I just like to make music I can listen to.

---

And dance as well.

---

Jawnino: For me, there's a deeper meaning.

---

What's that meaning?

---

Jawnino: For me, it's about gentrification, how the whole dance scene and clubbing scene got gentrified and dun out. It's too controlled. One place I give ratings to is the White Hotel in Manchester. You can have a good time, regardless, it's freeing. London, it's too controlling, it's losing it.

---

Controlled from a nepotistic "you-can't-sit-with-us" perspective or like a systemic racist perspective, considering it's about gentrification?

---

Jawnino: Like both. Like things have to end at a certain time, the levels you can play music. We need more 24 hour clubs.

---

You need squat raves but people get too carried away and they forget Sergeant Walker is on socials, getting all of the details to lock it off.

---

Jawnino: Everytime I go to one they always get locked off. You can ask 3o on this. It's so monitored.

---

In the glory of squat raves in the 1990s, it was different, there were no smartphones. You had to know who knew someone or listen to those underground radio shows and wait at a spot in hopes of getting that green light – if you didn't get the green light, then no squat rave but if you did – it'll be like miles deep in some woods or abandoned building and nobody knew unless they knew directly. Now the word spreads too quickly and leaves too many trails.

---

Jawnino: We were planning on throwing one during lockdown but everyone was depressed. We had the building and everything but didn't go through it. We outside now though.

---

Fuck COVID.

---

Jawnino: Yeah, it was a mad time but I needed [the lockdowns]. It gave me time to self-reflect, made me think about a lot of things; who I am, it changed me as a person – I wasn't this person before. I was always going with the flow, didn't know what my purpose was, I was lost. "It's Cold Out" dropped before the lockdowns, and with that single, I didn't know what I was doing, I was just trying something new but ultimately that's the sound I want to run. It was meant to happen, as I said before, sometimes I don't know what I'm saying but I do – but then you realise it's meant to happen.

---

You have an existential ecstasy in your music, you have that lyric: "We're here for a better time, we ain't here to better time" in "Can't Be." I think your music encapsulates that hopelessness a lot of Gen Z feel: politically, things are looking sticky, climate change looms over our heads and increasing prices? But then we forget about it and dance our anxieties away.

---

Jawnino: I remember I had some meeting that day and afterwards I went to Trafalgar Square and sat on the stairs where the screens are and I wrote "Can't Be" till 3 in the morning and that's when I felt like I needed to do this EP.

---

Was that the first song you wrote for the EP?

---

Jawnino: Yeah, besides the hook in "Choongtingz" from S'M, "Can't Be" was the first song I wrote.

---

I noticed in "Felt Less," you have a bar that says "From Putney Bridge to Peckham Rye, though I'll give it another try," is that a Babyfather reference?

---

Jawnino: Nah, not even.

---

Ahh, I was thinking of that bar where DJ Escrow says "Southside samurai, blacked out ninja from Putney to Peckham Rye."

---

Jawnino: Swear down? You're lying.

---

It's on the song "Deep," co-produced by Arca – I think with references, it's more like a happy accident. It's one of my favourite songs by them.

---

Jawnino: Did he really say that? This is what I mean about saying things and later on I find out.

---

I'll play it right now.

*plays Babyfather ft Arca – "Deep"*

*Jawnino and Kibo's minds explode.*

---

Kibo [visibly ecstatic and was present during this segment of the interview]: Do you think it's a subconscious thing?

---

Jawnino [also very visibly ecstatic]: That's crazy, I've never listened to this. Oh my god. But "Felt Less" does reference "It's Too Late" by The Streets. I tried to make a 4040 version out of that.. Why did Babyfather even mention Putney? Big up them.

---

It's a small world in London.

---

Jawnino: I'm really spun.

---

You need to listen to the album. It's really interesting, a bit unlistenable because they're mimicking a pirate radio session so there's white noise, phone beeps, a lot of repetition but it's an album you need to listen to from start to finish, especially for the first time.

---

Jawnino: I will, I've heard this tape.

*shows me 419 and plays "Freedom Dub"*

When I was in Berlin, I did a little freestyle over this.

---

Thinking about it, you and The Streets share similarities.

---

Jawnino: The Streets is such a big inspiration – the way he talks about things on dance riddims.

---

You both have that weathered flow as if life is giving you all of these lessons and they hurt but you learn to roll with it.

---

Jawnino: Yeah, I think I'm trying to take that to the grime side.

---

Have you dropped the mask you used to wear a lot? Now you're trying out the distorted face. Are you thinking of bringing the mask or are you thinking of doing like a MF Doom/M Huncho type of thing?

---

Jawnino: My thing was that it's going to be different; some shows I'll wear a mask, some shows I'll be baitface with glasses and some shows I'll have graphics with a blank face that my friend Zak does. It's like an evolution with masks, I got one that my friend made which I'm gonna start wearing in shows.

---

It reminds me of that Japanese adage: every person has three masks; one they show to the world, the second is for close friends and family, and the third is for you and your conscience.

---

Jawnino: Yeah that's cold. I can relate to that because everyone wears a mask.

---

Also what is NTN about? I remember asking JP about it years ago and he shut it down.

---

Jawnino: If you know what NTN is, then you know. I feel like somebody knows, you have to go back to all of the old radio sets. It's still a secret but it's like with the mask, some people know what I look like now, but it's calm. If I don't want to be perceived then I'll wear a mask. CASISDEAD has kept it really tight with the face protection. There's people who think "ah, I've seen him in old school Meridian videos," comparing the colour of his hands with random dudes. He's also another rapper who's taking it to bigger heights. He's an inspiration to me.

---

From you rapping on radio sets, your voice being modulated by Klein in "Skyfall" and you start singing on 4040. Your voice has also changed as well – it's way more expressive – what motivated that impetus behind that shift?

---

Jawnino: I think it's working with different producers, getting out my shell and not being scared of perceptions. 3o's helped me a lot and encouraged me to do a lot of things. It's just freedom. After I did "K*rn" in JME's studio and I called BRBKO saying I finished this session and I'm heading to you right now and I had this kinda grime beat playing in my head and I went crazy on it; I had high-pitched vocals, I was singing, I was on autotune and it was like, this is how I see the genre progressing.

---

I remember in "It's Cold Out," you say "live by Joga or die by the law." Are there any other koans you keep close to your heart?

---

Jawnino: I'm still living by Joga.

---

What's Joga for the uneducated?

---

Jawnino: It's a beautiful game, football is art, art is football, they reflect each other and everything I do, it's in a beautiful way. The Jawnino name, Jawn means anything – in America, a jawn could be a girl, it could be your shoes and Nino has that Brazilian flavour to it, they have a flair with the game. Jawnino, to me, means anything with flair – Joga works hand-in-hand – and the best players like Pele, Ronaldinho, and Ronaldo are Brazilian.

---

Connecting two separate things together seems to be your flair.

---

Jawnino: It's just natural, man.

---