Joe Budden does not like Drake's new album For All The Dogs.
Joe Budden GOES IN on Drake's For All The Dogs album 😂

"I don't give a fuck about you & Kai Cenat"

"This is like Yachty rapping… I want to hear adult Drake rapping for adult people"

Joe Budden Podcast Episode 664 pic.twitter.com/IjDvZdK3Hc

— SOUND (@itsavibe) October 7, 2023
"This is like Yachty rapping," Joe said of the album. "I want to hear adult Drake rapping for adult people."

"He rapping for the children," Budden continued. "I had to look up how old this n*gga was when I finished listening to the album … You gonna be 37 years old. Get the fuck away from some of these younger n*ggas, and stop f*cking these 25-year-olds. … Why are you still f*cking the 25-year-olds? You're a 37-year-old billionaire."
Drake, who has a long history of beef with Budden, didn't take the criticism lying down.
Instead, he penned a long, nasty paragraph aimed at Budden.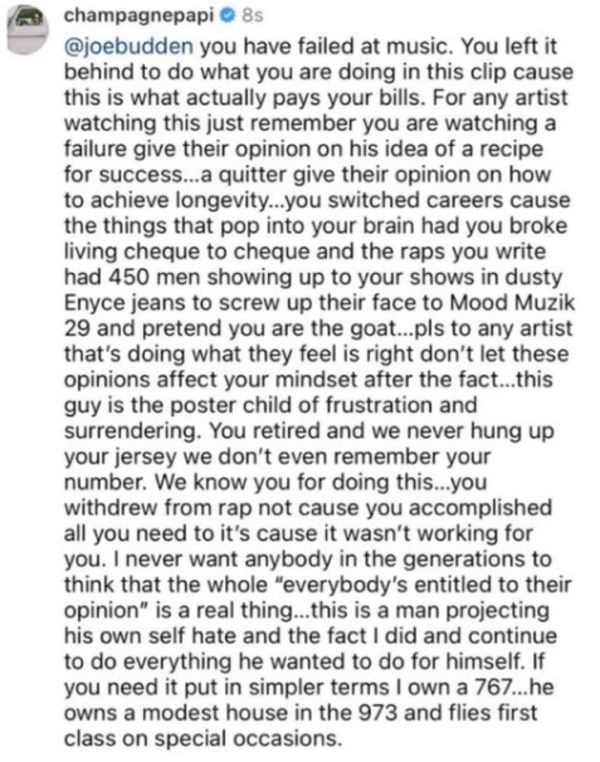 "@Joe Budden you have failed at music.  You left it behind to do what you are doing in this clip because this is what actually pays your bills. You switched careers cause the things that pop into your brain had you broke living cheque to cheque and the raps you write had 450 men showing up to your shows in dusty Enyce jeans to screw up their face to Mood Muzik 29 and pretend you are the goat," Drake typed, before insulting Joe's pockets.
Did Budden's words warrant such a response?