Coi Leray had two albums.
They've both flopped.  Her sophomore effort Coi only did 10K in its first week, finishing outside the top 100.
That's actually a slight improvement from the 9K her debut album Trendsetter did in its opening frame.
Boosie Badazz — who is a big Coi fan — simply can't believe his girl did that poorly.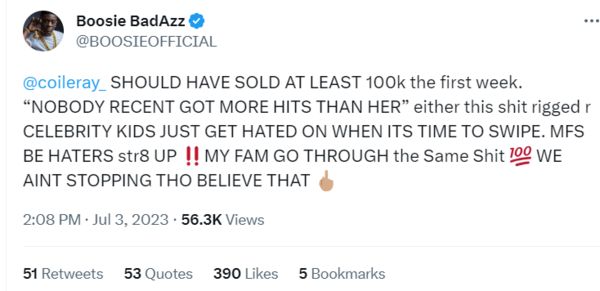 @coileray_ SHOULD HAVE SOLD AT LEAST 100k the first week. "NOBODY RECENT GOT MORE HITS THAN HER" either this sh*t rigged r CELEBRITY KIDS JUST GET HATED ON WHEN ITS TIME TO SWIPE. MFS BE HATERS str8 UP ‼️MY FAM GO THROUGH the Same Sht ? WE AINT STOPPING THO BELIEVE THAT ??
Is Boosie correct?