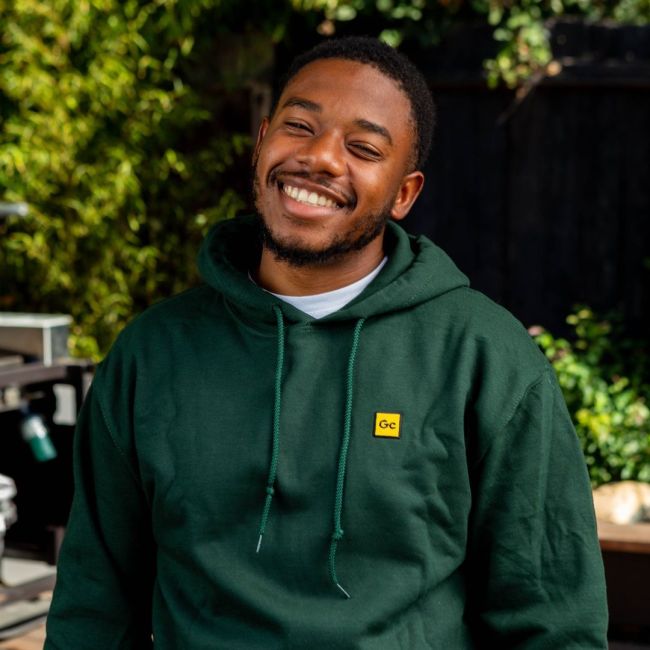 Image via BGiggz/Instagram
Support real, independent music journalism by subscribing to Passion of the Weiss on Patreon.
The Bay Area doesn't sleep, and neither does Yousef Srour.
---
Welcome to the BAY AREA TYPE BEAT series, a recurring column in which Yousef Srour sheds light on Bay Area artists and Bay Area-adjacent artists. Each week, he handpicks five cuts that are either brand new or have been victims to the Spotify algorithm. Lo and behold, BAY AREA TYPE BEATs:
---
LaRussell x Hokage Simon

  – "Boss Market Blues (feat. Sarai Brown)"
---
The closer on LaRussell's album vaguely sounds like the closing credits to Michael Giacchino's score for the Disney movie, Up. Piano keys push down the piano's upper half, sweeping a breeze of melancholy with a hint of hope, analogous to the underlying themes of every single Disney-Pixar film that has been released in the last 15 years. As one of the Bay Area's most subdued producers, Hokage Simon's typically lo-fi beats transform into a sparse interpolation of Kanye West's "Heard 'Em Say" on a grand piano, revamped for generational storytelling and LaRussell's interpolation of Ye's mantra, "Nothing's ever promised tomorrow today." As LaRussell quietly calls Hokage and himself some "Vallejo boys" living their dreams, nostalgia passes like the ending of Up when Carl Fredericksen and Russell quietly enjoy their ice cream from the Oakland-based parlor, Fentons Creamery.
"Boss Market Blues" is less of a song and more of a soliloquy. For the entirety of the track, LaRussell looks back at how far he's come, whether that be the days he was "hoopin' with holes in [his] shoes" or the days where he was "muggin' in [his] pics." Freshly dry-eyed and at ease with the negative thoughts that would torment him through the night, LaRussell sounds like an adult walking past the playground on the corner that he could never truly appreciate. Now, as he thinks back to his humble beginnings, he glows with pride. LaRussell has come to terms with the rough start that made him into the man he is today.
---
Trifln'

  – "Rager Anthem (feat. Lulbearrubberband & Clyde Carson)"
---
Contrary to popular opinion, Playboi Carti's Whole Lotta Red-era influence has indeed crossed into the Bay Area. Rage music somehow reached Bushrod Park, the hometown on Trifln' in Oakland, CA. More punk than crunk, DBTHEPLUG produces an uplifting lead synth-heavy instrumental that moves at the same pace of an ENRGY beat. Rarely do regional artists' step out of their traditional sound to play around with mainstream trends, especially when you've been rapping for over five years like Trifln' has. That being said, the best part of the song is the fact that Trifln' doesn't change the content of his music whatsoever. He still raps in his wobbly voice about dropping girls off, the substance in his system, and how he "always pull[s] up crispy." His Oakland lingo doesn't retreat to the Southern influence of the buzzing trap-tronica that he lends his voice to.
Trifln' recruits two other Oakland natives, the young-but-established Lulbearrubberband and former member of the Oakland trio, The Team, Clyde Carson, to prove that The Town can still experiment outside of its traditional sound. Lulbearrubberband wriggles around the beat, rhyming in the same cadence as a swing band when he rhetorically asks rappers that fell off, "What happened?" over and over again. The verses showcase a confidence that matches the high octave jumps of the underlying synths. As one of the most established artists within Oakland, Clyde Carson is unsurprising attuned to the high energy-fast paced track, as he switches from rapping in half-time to regular-time midway through his verse. His voice is deep and brooding, perfect for the beginning note in the synthesizers' loop; he raps about pinky rings and "a pocket full of power," displaying a natural aura of excellence that comes with being comfortable with the lifestyle that Trifln' and Lulbearrubberband are still getting used to.
---
Smerkish Jay x M.M. Kellybo

  – "Qualified"
---
There's no doubt that people did drills during the Great Depression. Sure, back then there was no drill music, but there was no shortage of dixieland jazz. Taking inspiration from that very very funny concept, M.M. Kellybo & Smerkish Jay tap prodjaym3s for an early 20th-century beat that would have been pioneered by Sosa if someone cut in front of him in the breadline.
Amidst a squeaky trumpet playing accented notes and spiraling trills, the two Sacramento-based rappers together compose a collection of taunts, routes for masked-up drills, and punchlines complete with references to insurance companies like State Farm and AllState. M.M. Kellybo pokes fun at his qualifications, or some might say, lack thereof. A satirical look at how gullible the people around him are, he directs the song into a false-resume built like the overplayed "Two Truths & A Lie" icebreaker. Is Jay actually 5' 1" and a shooting star? Probably not (watch the video and you'll see that he's clearly much taller). Regardless, his fake qualifications give him an otherwise unattainable street cred. Smerkish Jay explains that "horoscope girls" throw money at him just for being a Gemini, and even if he doesn't believe in astrology, he'll take what he can get, saying: "I love my damn sign." M.M Kellybo continues the punchlines with various double entendres about sliding at parks and the new heights that smoking packs will bring him to. Bolstered by a cartoonish instrumental, the punchlines are more animated and the qualifications are even more outlandish.
---
Bosslife Big Spense

  – "BOSS SHIT" (feat. 10Piece Tone, DedeSosa & Lil Lean)
---
Something about this song brings to mind Katt Williams. Although I've never seen this happen before, I imagine a perfect image of Katt breaking out as the leader of a flash mob to this song, popping and locking and holding a black fedora in his right hand, throwing it in the air as he does a 360° spin, just to place the fedora back on his head on-beat to the song. That's the BossLife Big Spence-effect. The Oakland legend creates easily danceable music, where the clicks in his music outline the Smeeze that you'll inevitably be forced to hit once you hear the beat drop.
If the Pink Panther went on an escapade in the Bay Area, "BOSS LIFE" would be the soundtrack to his thievery. The double click you hear every couple of beats might allude to his tiptoes during a jewel heist, as Big Spence is the "fool that won't quit." He brings on 10Piece Tone who suspiciously sounds like Nef the Pharaoh with a warped voice that over-pronounces his Os. Just like BossLife Big Spence, he requires luxury regardless, whether it's his dope or the chicken, lobster, and steak on his plate. DedeSosa becomes Big Spence's Philthy Rich, adding a sprinkle of hyphy to a posse cut that's otherwise mellow. By the time Lil Lean adds the final verse, his verse slurs together like a mix of ShooterGang Kony and Slimmy B drunk off Casamigos.
---
Su'Lan

  – "Hands on the Floor"
---
Over a beat that sounds like an arcade racing game mixed with Sage the Gemini's "College Drop," Su'Lan created an anthem for strip clubs and Prada store heists that might or as well already get picked up for the GTA VI soundtrack. Composed of Saunsu Starks (Su) and Emahlani Tavake (Lan), the duo are a mixture of Richmond's nonchalance and Oakland's bustle, respectively. Where Su's voice purrs like a car accelerating, on the verge of switching gears, Lan's more boastful and nihilistic, bringing the NO2 that pushes their energy out of control.
As the beat whines like a The Invasion-beat recreating a police siren, "Hands on the Floor" constantly pushes-and-pulls like a combustion engine attempting to peak its RPM. As Saunsu and Emahlani toil against the beat, rapping fast about how bums need to "think twice before playing with [them]," the pair seem cognizant about their roles in power dynamics — their mere faculty makes everyone around them seem like cockroaches, ready to be stepped on or danced upon (it just depends on how much you irritate them).