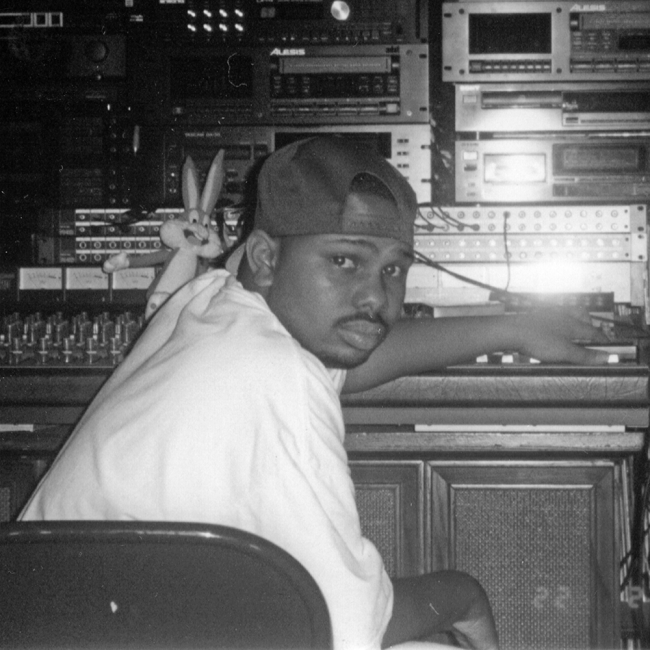 Photo via University of Texas Press
Show some love for the only site on the world wide web that will hold you down with DJ Screw biography excerpts, recaps of the best new rap of the week, and Afro Jam co-signs all in a 24-hour span by supporting Passion of the Weiss via a subscription to our Patreon.
Lance Scott Walker's 'DJ Screw: A Life in Slow Revolution' is available now.
---
Excerpted from 'DJ Screw: A Life in Slow Revolution,' by Lance Scott Walker
If ever there were a moment under the lights, it was in December of '99, on a cold Tuesday night in Midtown Manhattan. Folks had packed themselves eight hundred deep into Club Downtime's three levels for Justo Faison's Fourth Annual Mixtape Awards, where DJ Screw was an honored guest. The Justos were a big deal for DJs, and in the house were New York luminaries like mixtape king Mister Cee, Tony Touch of the Rock Steady Crew, DJ Clue, and Yonkers rapper DMX (who released his third album that day)—all of them present when Harlem native Kool DJ Red Alert, one of hip-hop's founding fathers, called Screw up to the microphone to present him with a diamond-studded ring recognizing his work on the homemade mixes he called Screw tapes.
Those in the room that night witnessed an enigma, a Southern icon whose music they might have heard but who had always been as much a mystery himself as the city and state from which he'd brought his sound. It was Screw's first look at them, too. Back home, he didn't leave the house all that much. This was the twenty-eight-year-old's first trip to hip-hop's origin city. His first trip to the East Coast. His first and only trip on an airplane.
The day before, he missed his first flight out of Houston, then fell hard asleep on the second because he'd been working straight through for days. When he got to New York, Funkmaster Flex picked him up from the airport and took him over to Hot 97, where he slept a little on the air, too. He could respect the hustle of the big city because he was a student of hip-hop—even if West Coast gangsta rap was his genre of choice—but Screw still moved at the speed of Screw. Always.
By the dawn of the 2000s, he had been carving out space inside of that speed—that slowness—for a decade, working from home all night while the members of his Screwed Up Click stepped through the gate around his front porch and on back into the "wood room," where they recorded the tapes that tell a prolific story of the sound of DJ Screw. The microphone he passed around that room recorded them rapping freestyle, and with it the sound that emanated from his speakers as it echoed off the wood-paneled walls around them, crossing into the aural palpitations he was chopping between records. Folks have called the effect psychedelic, and they would be right. But really, what he was recording was what was on everybody's mind on any given night, heavy ideas rattling the tile floor beneath their feet, big shoes and huge voices in there for hundreds of sessions.
The setting was everything. Screw and his turntables at the center, facing the wall, bass pouring out of his system and expanding around the people behind him in real time before being slowed down to tape. Plenty of those recording sessions only really got going in the small hours of the night, when Screw did his best work, still rolling well into the Houston sunrise, everybody lost in the loop with him. What coalesced when he slowed it down further and dubbed it from the master cassette was the drone of a thundering freight train, exacting and volcanic like nobody else could manage even with the very same tools.
Outside of the house, Screwheads were a congregation in the streets, his music throbbing out of their open windows as they drove the big avenues of Houston down into the deepest corners of its neighborhoods, hidden streets in dense and barren parts of the city alike, banging Screw tapes around every corner. They drove down the street and waited in line to step up to his gate and buy cassettes from the hand of the man himself, taking those tapes back to their neighborhoods for everybody to hear while holding on to the hope of one day making a tape in the wood room themselves. Folks celebrated Screw because he played what they wanted to hear in Houston, or maybe showed them what they wanted to hear in Houston. Either way, he knew, and when he opened his record store, they followed him there, and the culture evolved.
Screw's house was bigger than rap music in Houston because life stories intersected when that microphone moved around the room. Whether family or not even friendly with one another, they all drew from his magic, and the music they grew up knowing—rap, maybe R&B, reggae—and from the energy of making something from that at home, bringing a sound to the voices of their streets, painting a picture of where they were from under the brightest light they knew: DJ Screw's.
But the recording session was only the first part. Everyone's perception of what a Screw tape sounded like when they recorded it live at his house was one thing, but they were made to believe in his touch when they finally heard Screw slow it down to where he was hearing it in his head. And then there was the swing in his chopping, as only he could employ, at the same time deconstructing a song's relationship with its lyrics, shaking the linear story within, all the while cutting new rhythms into the cloth of the sound.
When he ran things back—to double tap the drums, repeat words or whole phrases—Screw was emphasizing what he wanted to hear. He drove whatever he was hearing out of the weeds through repetition, revisiting lyrics, surgically, from a slice of music echoing between two turntables, one record playing a little behind the other, usually the same song, but maybe not. Screw made it sound like two songs went together even if they didn't, and that told you what he was feeling. He was going way further than just slowing down the speed. He was changing how you understood the song.
Whatever it meant to the folks in the New York club that night, "chopped and screwed" had by then become synonymous with Houston rap. But Robert Earl Davis Jr. didn't just fly up there to represent his name, DJ Screw, or his business, Screwed Up Records & Tapes. He was going on behalf of his beloved big city of Houston, for his tiny hometown of Smithville, Texas, and for his family and the village of friends around him, many of whom he'd opened doors for—literally, the doors to his own house—and helped lift into real careers.
Their passage through his house fed into the electricity of his work at the turntables, where he dug for rhythms that spoke to his energies, tore into the flesh of the beat, laid down a heavy undertow and then handed off the microphone. The result was a broadcast, a transmission of voices into every neighborhood, Screw's work channeling currents around him. Plenty of his people were able to build their own thing because they appeared on Screw tapes. That was what he wanted the whole time.
Most of that work was done in the streets, but by the time he got to New York, DJ Screw had been interviewed by The Source, Murder Dog, and XXL, profiled on BET and the local news station, and had made an appearance on the Billboard 200 with his album 3 'N the Mornin'. Some got their first shot with him and launched careers, while others were established and found a whole new lane with Screw in their lives. Botany Boys, Fat Pat, Lil' Keke, Big Hawk, Big Pokey, Big Moe, E.S.G., Mike-D, Yungstar, Mr. 3-2, Z-Ro, Trae Tha Truth, Lil' Flip. Some weren't even rappers before they stepped in his house (besides, the Screwed Up Click was a lot more than just rappers), and others still got out of the streets because Screw encouraged them to focus on their music. What mattered to him was that everyone around him could eat.
By 1999, the Screwed Up Click was a collective roar, even if its biggest voice, Fat Pat, was already gone—his murder the first of many tragedies to befall the S.U.C. For Pat's brother Big Hawk, and for Screw, it was a hurt that never went away. But Pat's voice, his hooks, his cadence, swagger, and slang had already been embossed on the Screwed Up Click, as was Southside style icon Corey Blount's influence on the car culture around them before he went to prison around the time of Pat's death.
Screw was no bystander in the way their legacies played out. He helped keep their names in people's ears. Every tape was a diary, from his selections to his cuts to the parts where he talks in that cool, calm voice—unflappable, real, and big hearted. The people in the recordings wouldn't be around forever, but their voices were kept alive on the tapes—hundreds of tapes, maybe thousands—because no one else could see them but Screw. That was his fabled generosity at work—the product of a youth spent in the country, no doubt. Screw captured that rawness— the banter, the freestyles, the long stretches of testimony pouring from their hearts—because he made room for them to have a voice. It was as if he foresaw that either they wouldn't be here forever or he wouldn't be here forever, and recorded as much of them as he could—cementing his own legacy in the end. After all, DJ Screw is on every tape.
In the Bayou City, a generation of hip-hop artists preceded him, and there were people in Screw's life who nurtured his passion at every stage of his growth. Rap-A-Lot Records and Geto Boys had set the template and put Houston on the map. DJ Darryl Scott started with mixtapes and the clubs and eventually opened his own shop, as Screw would do a decade later. Screw had forefathers and peers and brothers and sisters all around him. In a way, it was Houston they were honoring that night in New York, a gumbo history boiling over with R&B, blues, funk, boogie, zydeco, and H-Town's own multiple hip-hop thoroughfares.
So Screw took that ring with him back to Houston, where it was twenty degrees warmer, and he showed it around. He knew—as they did—that back in New York, no one had ever heard anything like what he was doing on those tapes. He had done so much of his thing, his way, that it could no longer be ignored. The music had distilled. He was proud of having pushed it that far. But he was still the same person, all the time. Everybody tells the same story there. The whole of his life had taken place in Texas. A nod from up north wasn't going to get to his head. Screw was the same to the stranger freestyling for him on the sidewalk as he was to the people who had been there when he started scratching on the turntable as a middle schooler back in Smithville, or even when he crossed paths with the famous rappers who called on him when they came to town. He'd built a Screwed Up family, and anybody who got close to him was made to feel like they were his best friend.
The guy with the Dickies shirt and pants and the quiet, breathy voice that made everybody listen close when he spoke stood there at the club that night with a track record behind him thick enough to hold up to the light. But his real glimmer came from behind the wheels, where he'd crafted an eddy of sound with his ears and hands and heart, leaving everyone room to express themselves and outgrow him at the same time. New York City wasn't the peak. Screw music doesn't peak. It just grinds.
DJ Screw had less than a year to live at that point. Nobody knew it, least of all Screw himself, but he always worked like he was running out of time anyway, and in his last year he burned it at both ends. He had a lot on the horizon.
In December of 2001, Screw was posthumously honored with the Pink House Award at Justo's Sixth Annual Mixtape Awards at the Apollo Theater in Harlem. It was a rowdier, much larger event full of drama and the stresses of life in New York City after 9/11—an event Robert Earl Davis Jr. never lived to see. The world had changed, and by then a lot more people knew about the work of DJ Screw. They needed it, even if they didn't know it yet.
"I wanna Screw the whole world," he told Cheryl Smith for The Source in 1995. During his lifetime, Screw put in the work, but it was his influence that would go on to keep the promise. In the years that followed his death, DJ Screw's sound reverberated in his home city and beyond, entering the mainstream when fresh new voices would rush onto the charts carrying his style in their music. That was going to happen eventually. Screw had left the floodgates open, and just like he predicted, the sound he created in a Southside Houston bedroom would go worldwide.
Used with permission from the University of Texas Press, © 2022