Adam22 has shot many a porn scene with his now wife, Lena The Plug, and other women.
However, last week was the first time Lena did a scene with another man.
Adam22 is officially Cuck22 pic.twitter.com/1FV14ZjdBI

— Tom Bomb Podcast (@TomBombPodcast) June 28, 2023
Adam was clowned up and down the Internet for letting it happen.
But after some time for reflection and the podcaster says allowing his wife to get dicked down was a great decision on his part.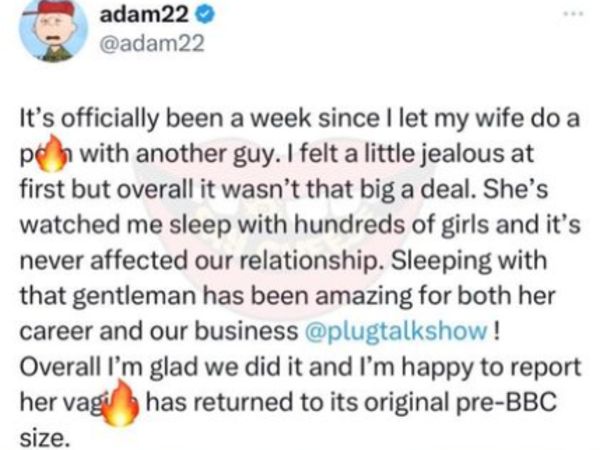 "It's officially been a week since I let my wife do a porn with another guy.  I felt a little jealous at first but overall it wasn't that big a deal.  She's watched me sleep with hundreds of girls and it's never affected our relationship.  Sleeping with that gentleman has been amazing for both her career and out business. @plugtalkshow!  Overal I'm glad we did it and I'm happy to report her vagina has returned to its original pre-BBC size," he typed.
So there you go.