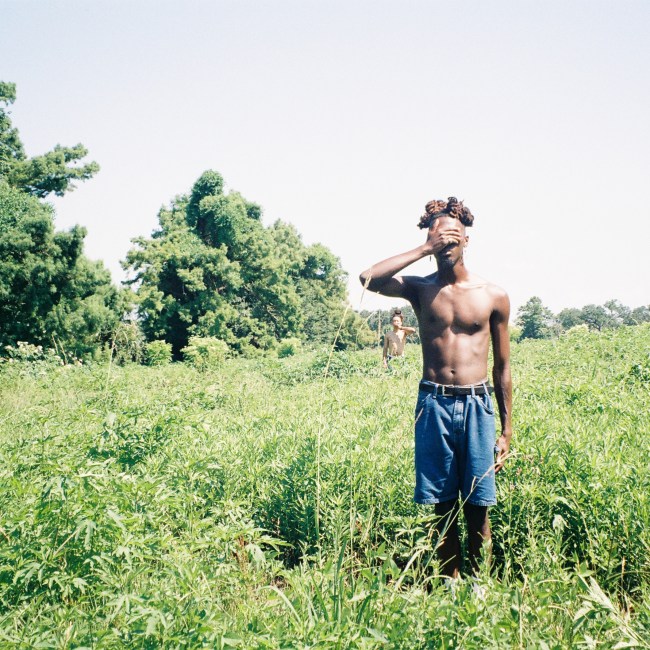 Image via Rudy Melchiorre
Support real, independent music journalism by subscribing to Passion of the Weiss on Patreon.
---
In high school, it shouldn't be common for students to die every academic year. But throughout his adolescence, Baton Rouge rapper Wakai rarely questioned this anomaly, assuming it was just a part of everyday life rather than a dire reflection of poverty and crime in Louisiana. These early exposures to death could have sent the now 22-year-old rapper on a downward spiral, but at the time, teenagers constantly being killed around him seemed normal. It was only as he grew older, Wakai began to revisit these moments to understand how the grief had manifested itself in him.
Understandably, mortality is a recurring theme in Wakai's music, even if the production might mislead you.  The beats on March's To A Dark Boy are feathery and serene, often accompanied by angelic strings and rubbery drums that can easily make you ignore the topics of childhood trauma. "Silhouette" is the most direct allusion to everyone Wakai has lost over the years. Its chorus goes "smoking just to cope with the realization of death," a reference to the mother and brother of one of his closest friends who passed away in a car accident before he could turn 19. " We're not even 25," Wakai laments. "None of us. We've been exposed to all of this from a really young age. Now we're just smoking thinking about it."
Despite the often grim subject matter, Wakai's raps are soft-spoken and tranquil. On "Testify," Wakai numbingly raps "gunshot, dead in the heart, I done seen it all" as though he may not ever be able to process his grief normally again. The conflict in Wakai's voice isn't dissimilar to other Baton Rouge rappers like Youngboy Never Broke Again and Kevin Gates, although he carries his emotional weight through a more delicate musical palette – closer to Isaiah Rashad than Louisiana trap. 
Wakai wasn't always as level-headed as he is now. He had reached his breaking point shortly before a trip to Los Angeles, when he noticed he'd developed a habit of lashing out at friends and family without reason. Admitting that he may have an anger problem that stemmed from unresolved trauma, Wakai turned to meditation and honest reflection to come to terms with problems that he had either neglected or overblown.
Growing up, Wakai's parents tried to shelter him from the grueling realities of Baton Rouge. They knew that at some point, he'd have to experience the city for himself. His parents raised him just outside of Baton Rouge, between Prairieville and Gonzales. Buit Wakai saw the city evolve from vast green fields filled with livestock and horses to a much more dense, nearly gentrified community that erected new condos and Starbucks'.
Even on the outskirts of Baton Rouge, Wakai still saw the deceptively diverse people that the city produced. Wakai grew up next to scholars — his mother is a chemist — but he also had grown up alongside people involved in gang life. His uncle was convicted and is currently serving life in prison, something that wasn't always talked about at home. 
---
---
Baton Rouge's poverty rate hovers near 25%, significantly higher than the national average of 11%. Wakai noted that the widespread poverty in the city came from the lack of career opportunities. People generally either got stuck in state jobs or manual labor jobs in manufacturing plants with poor working conditions; there was rarely an in-between. Those who sought out an alternative had few options: they could go to try their luck and restart their lives in a different city or stay in Baton Rouge and get what Wakai calls a "street-esque" job. Wakai did both.
Wakai felt like he'd exhausted his options in Baton Rouge. There were a finite number of venues to perform at and a limited number of people to connect with — the feeling of stagnation began to overwhelm him. Wakai knew he had to expand his resources, but didn't feel like he had to move to New York or Los Angeles to do so, so he settled on Loyola University New Orleans, a small liberal arts school that brought in students from all over the country. Wakai had never been exposed to so many different cultures all at once; Baton Rouge was largely divided into a binary Black and white population. Naturally, Trump supporters who lambasted anyone who disagreed with them make up a large percentage of Baton Rouge. Wakai had been on the receiving end of racist comments in the past and just chalked it up to him living in the South. New Orleans was looser, more relaxed. Wakai had his first jaw-dropping moment when he noticed people drinking and smoking weed in public. Back home, he'd been stopped by police for weed possession and could never quite understand the endless controversy surrounding it.
When Wakai returned home to make To A Dark Boy, the disconnect grew larger. He stayed with his grandmother in Walker, Louisiana, just east of Baton Rouge. The racial divide in Walker was more intense than he had noticed back home. He'd roam the streets and see kids, both Black and White, riding their bikes on the street with large Trump posters plastered on the neighbours' lawns.
Inching closer to his dream of total transparency, Wakai's freshly released EP Flashbacks finds him retaining his skill at venting. Though less conceptual than To A Dark Boy, it's just as introspective. The title track is a smokey ode to his high school days when he yearned to leave Baton Rouge — "I was smothered, I felt trapped," he raps. It's a hint of an ever-evolving Wakai whose drive to heal himself is the motor of his artistry.
Wakai's next project, potentially titled Some People Scream, Some People Cry, And Some People Talk  aims to decipher the different ways people grieve and cope. He suggested that the project would be separated in three sections, each named after a third of the album's title, where he would divulge his own coping mechanisms and how they contrasted with those of his loved ones. "It's okay to rap out your feelings as well as talk about it," said Wakai. "You can't be so self-dependent on just the music. You can't just let the music heal you […]. You have to let yourself heal yourself." – Louis Pavlakos
---
---
When did you start taking music seriously?

---

Wakai: When I was around three right before I turned four, I would be banging around on so many things around the house, whether it be the couch or a table with the silverware to the point where my parents were like "Let's get him a drum set.". I was three when I got my first drum set. I have a Polaroid of me l coming down the stairs, and I'm playing with the drums. So it's kind of always been in me. I've always been around [music]. My sister used to play the violin. But I always saw her like a violinist. I didn't play but I was always around the music.

After that, my dad brought me into the studio for the first time when I was 10. But then I built a studio inside my crib when I was 14-15 and then started recording seriously.

---

Who were your biggest artistic influences when you were growing up?

---

Wakai: The very person who influenced me was Kanye. The first rap video I saw was "All Falls Down." I didn't even know what rap was at the time. I remember my pops was playing it but I had to be like five [years old] when I seen it. I always give credit to Kanye cause it was the first music I was really exposed to. In my pivotal years, when I was a freshman in 2014, Isaiah Rashad dropped Cilvia Demo. That album impacted me a lot cause I could relate to it. I could tell his parents were probably playing the same music my parents would play.

Also, Chattanooga isn't that far from Baton Rouge. Might be like a seven or eight-hour drive, but it's right there so I identify with it very well. Finally, Kendrick, for sure, early Kendrick. I was 10 when my sister showed me some tracks on Overly Dedicated. Then I heard "HiiiPower." I was like "I don't know what this is," but I'm into it. I'll never forget the first time I heard "Sherane." Hearing good kid, m.A.A.d. city for the first time, I levitated out of my bike. You don't forget certain songs. I'll never forget when I heard "Sherane." I'll never forget when I heard "The Heart Part 2."

---

What drew you to these artists the most?

---

Wakai: I'm very big on the artists sitting inside of the beat versus the rapper rapping on top of the beat. A lot of underground hip hop has a lot of artists rapping over some great beats, but they're fighting the beat and they're not moving inside the pocket of the beat. Specifically with "Sherane" is like his cadence was almost talking in a way. I relate more to when someone can I can just listen to versus me having to dissect it multiple times. With "Sherane," it literally felt like he brought me to Compton. I've been around Compton several times and before I went out there I didn't know what it was. After listening to that song, I had a better idea of it.

---

How was it growing up in Baton Rouge?

---

Wakai: I lived not too far from Prairieville, kinda like the outskirts, almost leading to where Gonzales is, but now I live right in the heart of Baton Rouge. I went to a school called Woodlawn and when I was young, I remember seeing cows and horses. It was literally a country-type part of the city and they ended up adding new intersections over time and developing more residential areas.

To a degree, it's gentrified. In the sense that they started deciding which busses were allowed to go in specific areas. If a bus can't go to a specific area, then you also couldn't go to a school in that area. They would call the different areas parishes and they would work almost as their own cities. And only kids in that "city" could attend schools in that "city." Now there's Starbucks everywhere and I guess it was bound to happen. I don't know if it's actually gentrification but it was development. There were as many Black people in my neighborhood as there were White. It's the outskirts, but we're still in Baton Rouge, you know?

---

How did your hometown of Baton Rouge influence the way you make music?

---

Wakai: [Baton Rouge] molded me for sure. It felt like a melting pot of cultures inside of a big country. And when I say country, I don't mean the U.S., I mean like the South. But my dad was also a marine and he'd come back after he was stationed to my mother and my eldest sister and play lots of different music whether it be A Tribe Called Quest, Outkast or Dr. Dre or even stuff from the 70s and 80s, he had a big collection of music to show us. But even beyond family, Baton Rouge molded me in terms of my sonic. There are a lot of street-esque people here. There's a lot of crime here, and a lot of people are impoverished cause they're either boxed into plant jobs or state jobs. It's a lot of manual labor jobs, so if you're one of those people who don't do those jobs, or you don't go to college and move out, chances are you're gonna do some sort of "street" job instead. So the people who make music create it in reflection of Baton Rouge even though there are two very distinct sides to it.

And our music scene reminds me of Chicago a little, where you can find the artsy scene and get a Saba, a Noname or a Mick Jenkins, or you can find the drill scene and end up with a Chief Keef. It's very similar to that of Baton Rouge. And people love authenticity so they know if you're living your raps. And you can make stuff that's so out of the box, that people will still be drawn to it. But people here are very genuine, so even if they don't vibe with your music, they'll still respect you. They'll just say they don't vibe with music. And that honesty makes it easier for me to perform. I know I don't sound like Youngboy or anyone else.

---

When you were growing up, was the level of poverty across the city prevalent in your experiences?

---

Wakai: My parents did a good job of attempting to shelter me from a lot of things that I wasn't privy to when I was younger. But given that my parents were born in the 60s, they were exposed to the crack epidemic. Some of their relatives had been involved with crack. There were always drug addicts. People had gambling problems and drug problems, and most would end up broke. You'd hear things like "Damn, my uncle is homeless." I was also kinda exposed to that but my parents really did a good job of sheltering me from that too. They grew up without father figures in different areas.

They had uncles, aunts and grandparents that they could look up to, but didn't have father figures. They didn't want that for me and tried to keep me away from a lot that was going on in the city. I'm around everything in the city and you can only do so much to keep your kid from seeing things they shouldn't be seeing. I was around scholars getting awards for their work just as much as I was around kids who had multiple choppers and multiple ARs. I'm still around that.My father really pushed me into being in the studio. He really tried to help me build the studio, but now when was talk man-to-man, I understand he did that because he'd rather me be in the studio than be in the streets.

---

---

How do you feel about the support back home?

---

Wakai: I feel like I have a great support system with the people around me. But it's still a process. The radio stations will either play rhythmic pop music or straight-up murder music like Youngboy and I'm on the outskirts of both of those. I understand the cadences of both and DJs have approached me saying "Yo, I like your stuff, I probably won't play it [on the radio], but I really do love your sound." In the beginning, my music didn't resonate with people as much as it does now. Now, I've got OGs, like very well-respected rappers from Baton Rouge tell me they fuck with me.

---

How do you react when people tell you they don't fuck with you like that?

---

Wakai: It's a bittersweet feeling, but music in itself is subjective. The older I get, the more I understand why opinion is opinion, whether that be in the form of politics or music. I'm tapping into a source as I just evolved to get to my highest self. Along that way, I'm just dropping the gems as they come to me and as I channel them. So people will understand and relate as they should or as they need to in the right moment. There might be someone who can't relate to anything that I say right now but five years from now, they could be going through the same shit I was going through. So it's not for me to be like "Oh this is great art, you have to understand it. You have to love it."

It's not my job for me to be the artist everyone likes because it's impossible. I would rather be a likable person first and then be a likable rapper. I've been working on that and I feel like it'll translate into the music. I can handle any critic or any random listener saying they don't fuck with me. Thank you for listening. At least you listen and the goal was to be heard. That was the whole goal in the beginning.

---

What were you trying to accomplish when making your album To A Dark Boy?

---

Wakai: Well, my parents were born in the late 60s, which means they were in their 20s during the 90s. So I wanted to show my version of how I am in my 20s through the lens of how things were when my parents were my age in the 90s. I also wanted to show how home would always hold me down. I'd spend time in Seattle, in New York, and in L.A. and I'd always come back home. And I wanted this album to show the high and lows of life. So I'd end one song with this high climax and then follow it up with another song that would bring you back down. It reflects real life, like one day you'd be at this great cookout but the next it's a more down day, more introspective.

I'd see a lot of stuff like that and then I went to college in New Orleans and got to see and hear different things from different people and I learned that there's a huge disconnect. And there's a lot of trauma I feel like I suppressed [growing up]. So I tried to make my own version of what I saw and knew and there was nothing to be ashamed of. And it's a reflection of me but also a reflection of other people. So making To A Dark Boy, that's just a version of my emotions. I wanted to push that boundary of how much we can express. When rappers make music about their lives here, it often comes from a place of frustration or anger; they don't really rap about being sad or the depression they have or even the hope they have. I tried to make a more hopeful album, I don't like to suppress stuff.

---

What was the driving force behind you leaving Baton Rouge to go to Loyola University New Orleans?

---

Wakai: I wanted to get out of BR, without a doubt. I was 18 and finding my way into a bigger network that I was just not getting in BR. There are only so many things I could do, and so many opportunities I can touch within my inner circle. And when you're the leader of a circle, you ask yourself "What are you leading?" I only went to New Orleans from time to time to see a Saints game or a Hornets game but I didn't know much else. My friend Troy, who's a filmmaker like me, and he was telling me they have an interesting film program so I went with my mom to visit and fell in love with the atmosphere of the city. It was very small and it felt like a huge high school but in a way, it put me in connection with all the resources around me and through that was the six degrees of separation. I didn't understand the concept was six degrees of separation.

---

What were the biggest culture shocks of landing in New Orleans after living in Baton Rouge all your life?

---

Wakai: I had multiple culture shocks but one of the biggest was being exposed to a big Spanish population as well as different types of people from across the country. It was a liberal arts college so I was meeting people from New York, Iowa, as well as Nevada; it was really spread out in cultures. It changed my whole sense of fashion and music. In a different regard, the culture was different.. People would just go outside and drink and smoke weed. They were not tripping over that. I was not used to how hospitable New Orleans was.

In BR, I got caught with weed when I was 17. I was with four of my friends and we were about to roll up but the cops made us sit on the ground in front of the car. I thought to myself "DAMN, is it really this deep?" It would literally help the state! But that's a conversation for another time. Louisiana is so overly conservative to the point where it's hindering its workers and hindering the livelihood of the state. They're so hostile about weed.

---

---

You mention smoking weed a lot in your music. How does smoking help you outside of that?

---

Wakai: I've smoked with my father multiple times now that I'm older. They didn't want me smoking in high school and I never technically got caught in high school. I got caught when I was about to go into my Freshman year, but my mom was like "Oh yeah you're going to the school I wanted you to go to. You'll go to this other school."

It was kinda like a charter school and literally the first day of school, I go to the bathroom and people were in there smoking weed. So I told my mom "if you want me to graduate, maybe I shouldn't go here!" All that opened my mom's mind to me being functional and still smoke weed. Now she wants me to invest in weed companies. I'm a functional smoker and she understands this. My grades are good. I've never been arrested. I'm not getting suspended or anything like that. They couldn't really say anything. They turned a blind eye to it since I was still moving forward with my life.

---

Does it ever become overwhelming trying to find the balance between frustration and hope?

---

Wakai: I feel like I'm still learning. It's an ongoing process and I'm still evolving. I know I can still aim and reach higher. Some things will piss me off and some things will make me cry, some things will make me laugh. Understanding it's a balance of emotions is key. I'm 22, I'm not supposed to have it all figured out and I might not even have it all figured out by the time I'm 42 but I'm gonna damn well make sure I try to progress.

I wanna make sure I hold myself accountable. I wanna soak in all I can get whether it's from my mentor or my peers, or even from my uncle whenever I get to talk to him. Even from the rest of the family, it's very split in mentalities from my mother's side and my father's side. Now I see them in a different light now that I'm older and it makes me appreciate our values a little bit more. I can mold myself to be like one person from my family or another, or simply go my own route. There's a multitude of ways I can approach life and I take what I can from everyone in my life.

---

You mentioned the album was mostly about stopping the suppression of trauma you grew up with. What kind of trauma were you experiencing during your formative days in Baton Rouge?

---

Wakai: Along with a lot of my classmates, I didn't really realize how unusual it was that every year — either in my grade or in the grade above me — someone would be dead. I'd just be shocked. It wasn't natural causes either. People were dying every year. I didn't notice how not normal it was. Also, seeing on the streets, people who were colonizing me, looking at statues that didn't represent me, they represented oppression. I'm around that every day. On top of that, you have people who are blatantly racist to my face and they aren't hiding it in the south. They don't have a reason to hide it anymore. I understand the South's history, they're just proud of the history.

I also noticed things within my family structure, especially on my mom's side of things. Her brother is currently serving life. And then me trying to understand how different her side of the family is from my dad's side. I've been exposed to so much trauma around people who didn't really talk about it, they just suppressed it. That turned into me internally doing things that would end up not understanding how to handle different emotions or to vocalize them. It's always good to have a release in music. There's only so many songs I can put out feeling comfortable about situations that should be kept within the family or kept within the dynamic of a relationship or friendship.

---

How do you navigate your level of comfort when you rap about these things?

---

Wakai: I've drifted from being so analogy-based or putting everything into a metaphor to being more blatant about how I was feeling in the moment. That's the best cleanse you can have. Before I went to California, I felt like I had an anger problem that I didn't even understand that I had. I noticed that I was lashing out in situations or arguments. I'm taking it all the way up here and I'm normally a calm dude. I'm suppressing things and not letting them out.

On my next project, I'm thinking of dividing it into three sections. The title I kinda like right now is Some People Scream, Some People Cry, Some People Talk. It encapsulates being a Black man in the South. You also have the Black woman in the South who are going through what we're going through times ten and they aren't getting paid as much as we are. That's a whole debacle in and of itself. I see us fighting with each other when we should be fighting against what's oppressing us. Understanding all that and unpacking it is good. It's okay to rap out your feelings as well as talk about it. You can't be so self-dependent on just the music. The music is a good source. You can't just let the music heal you though. You have to let yourself heal yourself.

---

What songs from To A Dark Boy do you feel encapsulate those emotions the best?

---

Wakai: "Survivor's Guilt" is almost like a Tarantino film like at the beginning of Kill Bill. It sort of echoes how Part 1 went. I went through a bunch of stuff and then it kind of rewinds to show you how it all went down and see how survivor's guilt affects me. There's also "Silhouette" that acts like a reflection of myself. I'm looking at this silhouette of myself and it reminds me of what I went through and it's like another version of me. You'll notice how drastically I become desensitized and just numb to what's around me, but I'm also visibly telling you what's around me.

Just the line "Smoking just to cope with the realization of death" is so crazy to me. Literally, me and my homies just sitting down smoking talking about "oh he died too? Damn I remember him from class." One of my homies lost his mother and brother in a car crash when he was 18. That's a very traumatic thing to go through and it just shifted his character. Sometimes I'd look at him and see a silhouette of him. How can you really feel like you're in your own skin when a part of what made your skin isn't there for you anymore? That's a 21st birthday they won't get to experience. That's a wedding they won't get to experience. So we're just smoking, reflecting on all this death to deal with a very young age.

---

---

The closing track "Testify" is one of your most intricately-written tracks on the album. How did it come together?

---

Wakai: When I was making the majority of To A Dark Boy, I was living with my grandmother in Walker, Louisiana, about 30 minutes outside of Baton Rouge. Since I was staying in Walker, I was pretty isolated from a lot of things. And in a way, it changed my perception of what Louisiana really is because a lot of people living in Walker are very conservative and they're Trump supporters. Just like we bear guns, we love guns, that's just the vibe. A lot of cops live in Walker too. So living in my neighborhood, I'd see a little Black kid playing with a White kid, just riding bikes and playing in the streets and then I'd just see a huge Trump flag on someone's lawn.

Seeing that made me want to show the innocence in the youth that I was around and then being exposed to oppression and not even understand what I'm being exposed to at a young age. In the beginning of the track, that's my cousin Eden. I'm asking her "do you see yourself as a queen?" And she responds with "I'm a princess." So I ask her when she's going to be a queen. She may or may not remember that five years from now, but she might just from me implementing that small little seed of self love and self-acceptance. I want her to view herself as a queen, to view herself as something high that you might not even see when you go to school. They're not teaching you to tell yourself positive affirmations. So her being on the intro made her feel so cool, she can show it to her friends at school.

Satya, the vocalist harmonizing with me at the end of the track, she's always had a complicated relationship with her mother and I was just telling her the relationship I had with my father, whether it be about him with alcohol or certain things that I didn't fully understand. And I wanted "Testify" to be a reflection on how he feels and a reflection of how I feel as a son. Regardless of how old you are, I see you as another entity just as I am, no greater than, no less than. And I bet anyone else could testify to that.

---

What were you trying to do differently on your Flashbacks EP?

---

Wakai: Making Flashbacks happened organically. My homie Gal who lives in Tel Aviv, Israel produced the whole project. When I was making it, I knew I had more songs similar to the sound palette of To A Dark Boy but I didn't wanna box myself into that sound, you know? There are a lot of rappers who have their own sound and I fuck with that but I wanted something different. When people listen to me for the first time, I want them to be able to play songs at a cookout, at the crib, in the whip, in a bunch of different settings. I felt like To A Dark Boy is a project to play in the whip while you're thinking of kicking back. I wanted it to stick with you. I wanted Flashbacks to be something you can dance with. I'm in a different phase of life, I'm more open to happier things now.

---

The title track has this nostalgic feel to it. How do you feel nostalgia plays into the EP?

---

Wakai: Just from the [artwork], you can tell that I'm big on nostalgia. That's damn near my brand. When you hear the word "Flashbacks" you automatically start having flashbacks of your own life. I like when I read certain song titles and there's a connection. I'm an abstract soul artist. It's not that I'm against something simple, cause simplicity is key to making something catchy that you can play a lot and not get tired of. Sometimes with abstract art, it takes a little while to fully understand it.

---

There's a fine line between learning from your past and just living in it. How do you tip toe the line between those two forms of nostalgia?

---

Wakai: I try to prevent myself, even in normal conversations, to go back to what I was doing in 2019 or 2020. It was a beautiful time but I'm more excited about what I'm gonna do next week or what I'm gonna do tomorrow. I grow every day. I just wasn't tracking my growth as much as I should have been. Now I track my growth and I see it in everyday life. I'm getting better with my pen and I'm tracking that.

---

What other than music had an impact on the way you think?

---

Wakai: I've always been into poetry. When I was younger, I was into spoken word. In high school, my teacher used to take me out of class to go to spoken word readings. To A Dark Boy was based on the poem To A Dark Girl by Gwendolyn Bennett. And the themes stuck with me and I've always been a poet at heart. I'm bigger on cadence and delivery than I am on what I can stylistically. Andre 3000 is my favorite rapper. He has the coldest punchlines because of his delivery and the way he can tell a story. He can get across so much without having to say a bunch of words. I always appreciated that.

---