There's a strain of thought which posits that Yung Miami, a rapper, isn't very good at rapping.
Yung Miami doesn't necessarily disagree with this.
But, according to Yung Miami, it doesn't really matter.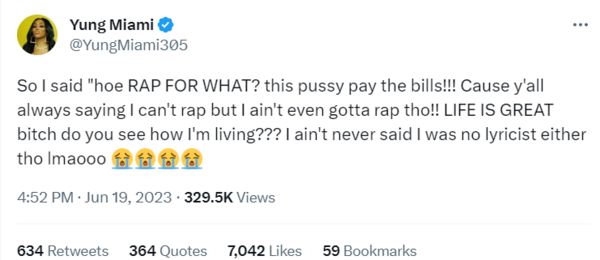 "So I said "hoe RAP FOR WHAT? this pussy pay the bills!!! Cause y'all always saying I can't rap but I ain't even gotta rap tho!! LIFE IS GREAT bitch do you see how I'm living??? I ain't never said I was no lyricist either tho lmaooo," she typed on Twitter.
Miami has been in a relationship with Diddy.  It's not an exclusive relationship;  Puff is allowed to have children with other women.
However, it may pay the bills in a way her rapping cannot.