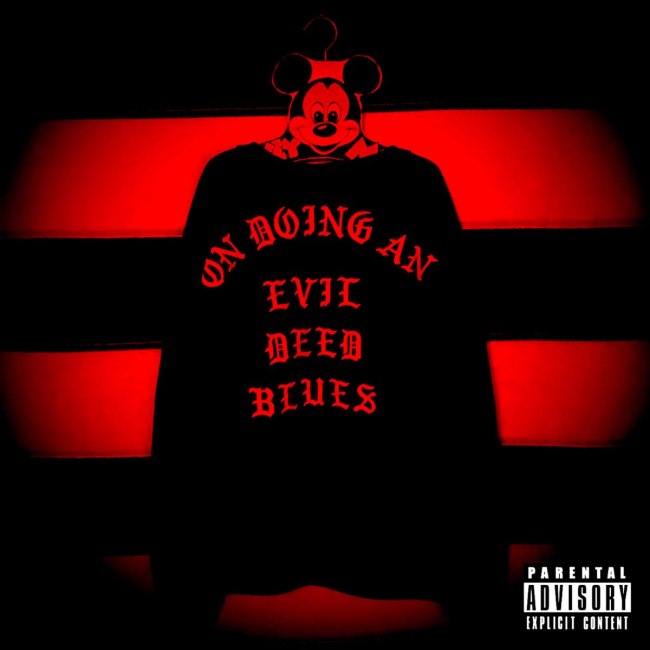 Photo via Lil Ugly Mane
---
At the top it's just us. Support truly independent journalism by subscribing to Passion of the Weiss on Patreon.
Yousef Srour would rather play pinball at the mall than keep a rolling playlist of the songs he posts to Twitter.
---
There's a note written by Lyle Ugleman on the inside of the 7" sleeve of "On Doing An Evil Deed Blues". It explains how this secondary alias of Lil Ugly Mane came to release a vinyl that includes this song and "Passion Sceptre/Dert Mystery" – largely because he hates that these tracks were collecting dust. He writes: "Maybe you will like it. I hate the majority of the things I record so my opinion in the matter should be taken with a grain of salt."
The artist born Travis Miller hates the music industry and the exhibitionism that it entails. Think of him as The Hermit, staring deep into his soul after washing down pints of promethazine. His fans latch onto his lyrics as if they're the prophetic word of God; Miller loves his fans, but they worshipped him at his lowest points. Mista Thug Isolation became a cult-classic, blog-era masterpiece that incorporated Miller's older work as a noise musician in order to create a horror film from white-noise. Distorted and filled with chopped-up loops, Lil Ugly Mane embodied the Memphis horrorcore legends that came before him. The beats were like DJ Spanish Fly but thrasher and the lyrics were Three 6 Mafia but instead of "sizzurp," Lil Ugly Mane had a "Cup Fulla Beetlejuice." DJ Screw, SpaceGhostPurrp and the rest of Raider Klan also helped make his style a mix of 90s-era hip-hop, phonk, and new-school cloud rap. And much to Travis Miller's chagrin, Mista Thug Isolation became a critically-acclaimed success.
---
---
After its release, Mista Thug Isolation took on a life of its own. Travis Miller acquired a fan base of hip-hop heads and indie music fanatics infatuated with his mysterious persona. Little is known about Travis Miller to this day, aside from the music he's put out and the handful of interviews he's agreed to. In an interview with Cult Classic Magazine, Lil Ugly Mane explains, "I'm not really into the idea of a biography. That's part of the reason why I agree to interviews every now and again, just so at least there's some record of what I'm saying; not a bunch of people positing over it." For a long time, Miller hated his fanbase; he hated the idea of people mythicizing his life. He just wanted to rap.
Mista Thug Isolation continued to receive more and more praise, while Miller grew to resent the project. The album is soaked in lean and battered with heavy drug use, a common theme within Memphis rap. That hazy depiction of his lifestyle might have been twisted and exaggerated, but it was Miller's nonetheless. He was drinking lean and doing heroin, and in 2018, he went on Facebook to denounce "Lean Got Me Fucked Up" because of the impact it's had on his health, his friendships, and his freedom. After dubbing lean as "fake ass heroin" he admitted that he hated that song, and it furthered the divide between Travis Miller and the Lil Ugly Mane persona that his fans wanted him to revert back to.
After Mista Thug Isolation released in 2012, the Richmond, Virginia-bred artist released the THREE SIDED TAPE series, composed of compositions (mainly instrumentals) from his Lil Ugly Mane project, with Volumes 1 & 2 released in 2013. After Volume 3 was released in 2015, Travis Miller released Oblivion Access, an experimental and noisier last look at the character he had created. And just like that, Lil Ugly Mane was put to rest.
---
---
About a year after the release of Mista Thug Isolation, Lil Ugly Mane released two one-off singles, "Uneven Compromise" and "On Doing An Evil Deed Blues."
Released a week before the "On Doing An Evil Deed Blues," "Uneven Compromise" tells the story of Lil Ugly Mane's foil. He begins the song with a brooding repetition of the phrase, "Corrupted by the darkness, you fall into an endless sleep," another tribute to DJ Screw's infinite nihilistic loops. However, the song edges into a condemnation of the music industry, and particularly, corrupt music labels. Lil Ugly Mane splices together three samples: "Top Billin'" by Audio Two, "Just to Get a Rep" by Gang Starr, and "Chi-City" by Common. Together, they form two sentences: "Labels, labels, feel no guilt takin' yah money/The reason, the reason that my people say they tired of rap." The refrain is repeated six times before Lil Ugly Mane shifts the song entirely.
"Uneven Compromise" transitions into a story about Lil Ugly Mane's heroin-addicted friend, who he empathizes with because he recognizes the shadow of his old self: "I been down the same road so I put it on front street." Lil Ugly Mane tries to talk to his friend, but he immediately gets defensive, so he backs off  while continuing to give his friend a space to let off steam. Feeling "broken-hearted," Ugly Mane hears empty promises of cleaning up, cognizant of an addict's lies because he was once one himself. His friend says that he's staying at his auntie and cousin's house, but when Ugly Mane investigates, he finds out that that wasn't true; in fact, that they would call the police if he ever came around again.
The single functions as a prelude to "On Doing An Evil Deed Blues;" an explanation of Lil Ugly Mane's emotional turmoil that came as a result of Mista Thug Isolation. He raps solemnly about his opioid addiction. No longer does Lil Ugly Mane veil himself under the curtain of horrorcore, instead moving towards parable-like allegories. Travis Miller had slowly come closer-and-closer to becoming a human embodiment of his creation, Lil Ugly Mane, losing himself in vice. In the hook, Lil Ugly Mane explains: "It's too hard dealing with the pain sometimes, but you can't let go, you can't save their lives." Miller hints at the difficulty that will come when he leaves the Lil Ugly Mane moniker behind. He has to let go of his past in order to save himself.
---
---
A week after the release of "Uneven Compromise," Lil Ugly Mane released, "Prelude to Panopticon: On Doing An Evil Deed Blues." The cover art of the single features a sweater embroidered with the phrase, "On Doing An Evil Deed Blues," hanging on a Mickey Mouse coat-hanger in front of a white and red background, tinted red. In an interview with Rate Your Music, Miller explains that "Life is that juxtaposition. No matter how horrible you feel, you're always in the propinquity of some dancing, giggling fool." The cover is honest – childhood delight creeps in the shadows of Lil Ugly Mane's darkest memories.
"On Doing An Evil Deed Blues" is the death note of Lil Ugly Mane. Travis Miller reflects on a career tarnished by expectations from the music industry – inclusive of his fans, his critics, and the labels that attempted to court him. The allure of Lil Ugly Mane had once been his ability to be an exaggerated form of his most dejected self, but Lil Ugly Mane took on a life of its own. Everyone wanted Mista Thug Isolation; they wanted the same music that almost killed Travis Miller.
The song itself begins with a mix of two samples, "Thick" by D.I.T.C. (i.e., Big L, Lord Finesse, Fat Joe, O.C.) and "The Come Up" by AZ, combined over a wistful trumpet fanfare on repeat. You can hear O.C. repeat, "Life on earth is just a death sentence," providing an overture to precede Lil Ugly Mane's farewell. Just as the entire song is spilled over boom-bap drums, Travis Miller includes AZ and D.I.T.C to showcase his influences and how the New York legends were never too far-removed from his dealings in Memphis rap. As the song shifts to its ghoulish, howling sample from "Honeychain" by Throwing Muses, Lil Ugly Mane points to his past: "I used to like to rhyme when it was other people's lyrics/Spitting Raekwon bars to the mirror to hear if they sounded the same…. Every line you rhyme leads back to cats that teach you." Travis Miller never aimed to please. The persona, his production alias as Shawn Kemp, the ear-piercing industrial metal, it was all for him. Travis Miller saw Big L and Raekwon when he looked at himself in the mirror, but everyone else just saw a character: Lil Ugly Mane.
The angst that carries through "On Doing An Evil Deed Blues" comes from this misunderstanding of Miller's moniker. Lil Ugly Mane clarifies, "A couple labels asked me if I want to sign, but rapping ain't my grind, I just used to like to rhyme." He enjoyed rapping when it was still fun to him, when Lil Ugly Mane was immune to expectations and critical analysis, but Miller felt pigeonholed as an artist. Hence, the open letter – after the release of Oblivion Access, Lil Ugly Mane will be put to rest. Lil Ugly Mane needed a new sound, but Miller wasn't prepared for the pushback.
Miller seemed to write this song with a shaky hand. The uneasiness comes across as his voice shakes sparingly in the hook, painfully admitting, "I wrote some raps, I had a couple fire lines. I dropped a tape, I did a show, I got some shine. I never made a lot of money, that's fine." Travis Miller was content with his lifestyle – the ambiguous persona, the open expression of his talents, but he had reached his tipping point. He couldn't take it anymore, and every time he repeats the hook, you can feel him grieving the loss of Lil Ugly Mane.
Travis Miller hoped to live on through Lil Ugly Mane's legacy. He rhymes: "Art is imitation, creation is forever." Mista Thug Isolation and Oblivion Access and all of his previous work would live on through the Internet-age, and just as he imitated the boom-bap lyricists that came before him, he held hope that his own influence will live on. Lil Ugly Mane paved the way for a revival of Memphis horrorcore through phonk music. His collaborations with Denzel Curry and SpaceGhostPurrp gave a breath of fresh air to a genre that was once losing its momentum. At the very least, he had left his mark.
As Lil Ugly Mane puts it: "The blues weren't born in a bunker." Miller's exposure to the limelight and the critical buzz and his deteriorating mental health and his substance abuse had all culminated. It became time for Miller to end this chapter of his life. But the question still remains, what is the evil deed? Is it Travis Miller's creation of Lil Ugly Mane, or is it the fact that people loved the work that Travis Miller himself hated?
---
---
After a six year hiatus, Lil Ugly Mane returned in 2021 with the release of volcanic bird enemy and the voiced concern. A stark departure from the traditional Lil Ugly Mane sound, Travis Miller pivoted to neo-psychedelia and hypnagogic pop, or as Miller describes it: "Palace Music – Viva Last Blues meets Lucas with the Lid Off Meets Self – Subliminal Plastic Motives meets Child & Magic by Nobukazu Takemura meets Grim – Message all channeled through The Rentals – Return of The Rentals chained up on the set of Forbidden Zone being forced to play Garfield by Adam Green in its entirety."
Enigmatic and as reserved as ever, Travis Miller has since departed from Memphis horrorcore and its grim storytelling, opting for hallucinatory cover art, seemingly modeled after The Muppets had there been a movie where the characters drink absinthe. The album begins with "bird enemy car," a sparkling, orchestral piece that uses an artificial robot's voice to ask the listener again and again to question themselves with its three-word thesis: "Who are you?" This is the reclamation of Travis Miller's once-abandoned moniker, Lil Ugly Mane. But as the question presents itself, "Who is Lil Ugly Mane?" Does he once-again have to be the gun-toting "Maniac Drug Dealer," or can he croon over bird calls and musical scores reminiscent of Sleeping Beauty, as he does on "with iron & bleach & accidents?"
Volcanic bird enemy and the voiced concern challenges listeners' conceptions of Lil Ugly Mane, not on purpose, but as a side-effect of Travis Miller's constant experimentation. He views his art as genreless, best showcased with songs like "styrofoam" and "headboard" that shift gears from vaudeville ragtime to shoegaze power-ballads. Best explained in a comment describing the project as, "if the cupboard soundtrack dropped acid," Travis Miller revives Lil Ugly Mane as an extension of himself, but this time as a vessel for creativity unadulterated by its past work.
---
---
I wish I could say that Travis Miller is thriving after coming to terms with Mista Thug Isolation and Lil Ugly Mane's past, but that wouldn't be completely true. On July 19th, 2022, Lil Ugly Mane released "low tide at the dryin' out facility." Even though he's making whatever music he pleases, he isn't free from his psychological turmoil. He has a history of struggling with addiction, and as of recently it's been alcoholism. The lo-fi indie-rock track details his recent DUI, complete with an ambulance trip and a BAC of 0.46 (a potentially fatal level). As Lil Ugly Mane describes the detox, supplemented with Clonazepam, Ativan and Trazodone, he shines a light on his love interest. The aching pain of rehabilitation is carefully paired with the intimacy that keeps him going, couplet-by-couplet. He timidly asks his partner, "Baby, baby, do you love me, even though I'm in recovery?" Sure, it's rooted in darkness, but at least Lil Ugly Mane's pushing through.