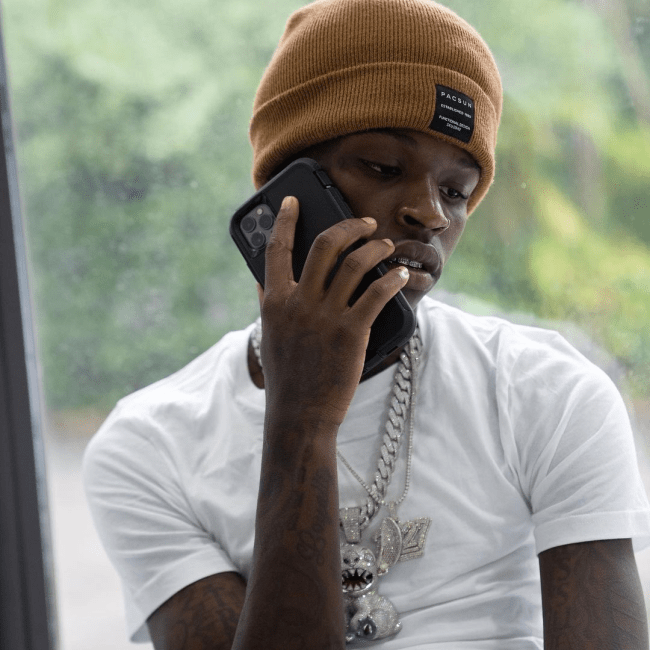 Image via Quando Rondo/Instagram
The Rap-Up is the only weekly round-up providing you with the best rap songs you've yet to hear. So support real, independent music journalism by subscribing to Passion of the Weiss on Patreon.
Harley Geffner knows the truth: that the RX Papi rabbit hole is time well spent.
---
LGP Qua

  – "Philly Freestyle"
---
In a compact two-minute freestyle, Philly's LGP Qua explains more about the violent status quo of our inner cities, its root causes, its horrific effects, and the fighting spirit necessary to deal with it all than any D.C. gun violence policy analyst could ever hope to diagnose. It's so spot on with the sad reality of the situation, that it's almost hard to watch and digest everything he says. His biting anecdotes give such intimate details – losing a friend and growing up around his kid that looks just like him, a mom not being able to come to terms with the death of her only son who was a basketball star, so she still makes his favorite breakfast every morning, 12 year olds so used to murder that they're not scared of death, and being afraid to leave a dice game with your winnings because the losers are all killers.
But he doesn't stop there. He digs deeper into the roots, citing absent moms and dads leading to kids who have nobody to play with them. As he puts it, the sidewalks become their playgrounds. He attributes federal agent sweeps of their North Philly electricity-lacking apartments to the fact that there's an election in three months. He implies the desperation in his foes is because the gas prices are so high and they can't afford to feed their own families. It's a striking and chill-inducing freestyle from the corner, and recalls a young and hungry Meek Mill, spitting his Philly pain raps with the mentality of a survivor who had to fight to even still be standing on that corner. There are so many little details in the video that make it visceral, like his friend in the back with his head on a swivel watching out for problems. The way Qua's face is contorted in pain, but you can see how he covers it up with the anger in his eyes. This freestyle exudes true gritty passion – you can feel he's putting every ounce of his being into it.
---
Quando Rondo x NBA YoungBoy

  – "Give Me A Sign"
---
This is as locked in as Quando Rondo has been in years. And when he's on point, he can sound like the best rapper alive. On his new collab with YoungBoy, Rondo spits his feelings on wax with a sticky hook questioning his choices and asking god to show him both mercy and a sign, before launching into one of the verses of the year, for my money. With that sandpaper-smoothed voice, he flows through his verse rapping about the weight of expectations, his deadly fears and paranoia around not growing older, his internal struggle and coping mechanisms, as well as the loneliness that comes with his position. It strikes that perfect balance between sing-songy reflective and rhythmically punchy, as every note leaves you on edge waiting for the next one. If you didn't listen to a single lyric, you'd still be nodding your head from his wildly catchy melodies. Then comes YoungBoy jumping into the song by wailing that he knows the route he chose was the wrong one before warning his mother that if he doesn't make it home, it is what it is. A true masterclass in bluesy southern real-life raps.
---
Ocho FrmdaMob

  – "It's All Fun & Games" ft. BoloFrmdaMob, Yizzle
---
Nothing particularly new here, but creative LA street rap always still strikes a chord with me. It's got all the staples from the minimalist and menacing beat that gives the rappers space to operate and play with their phrasings to questions testing other peoples' gangster cards and brags about fidelity to their set. The voices of each guy slide in nicely next to the other as they take turns hammering the beat. The hook is memorable with its key questions: Have you ever seen your plays on the news? If your gun jams, do you know what to do? Have you ever tried to get blood splatters off your shoes? But the most distinctive barb is when Ocho accuses his enemy of not even knowing the history of his own set, claiming he doesn't even know what he might die for. These guys are clearly historically grounded in their affairs. It runs deep.
---
Jugg Harden

  – "How To Rob"
---
Jugg Harden wants you to know that he's a taker not a thief. Over a beautifully sparse Sleazy Flow type beat, he lists off all the rappers and celebrities he'll take from with a clever one liner for each: Soulja Boy, 69, Meek, Wiz, Justin Bieber, Bow Wow but it didn't work because he was broke, the preacher because he robs god's people, and Rod Wave if he'll ever put the burger down (Jugg can be mean), among others. But there's a few people he won't rob – Vezzo is also from Detroit, so he gets to keep his icewear, Safari or any actor because they're all but assured to tell police, and from the City Girls all he wants is some sex. He's got more too: he's planning to surround Drake with some drakes to get a feature out of him, he's going to run Nicki Minaj's credit up, and he's going to steal Cardi from Offset. Lest he provoke any of the aforementioned rappers though, he makes sure to preface the song explaining that it's no disses and he's just having fun.
---
Drego & Beno

  – "Provolone"
---
Drego and Beno's new album is full of the type of super high BPM Detroit beats that they sound best on. That pace is where they thrive together – when they can bounce back and forth with little stories about their interstate trapping and affairs while the other makes a bunch of beep and brrr sounds to amplify them. The album is worth a listen in full, but this is one of the ones I keep coming back to. They got a plug that plays for the Mets, there are very few interstates they haven't been on, they're hitting licks on their girls' families, and they got bricks that could make babies (the motherlode). It's great to hear these two back on their giddyup with this type of high-octane rap.
---
Emptying the Chamber
---