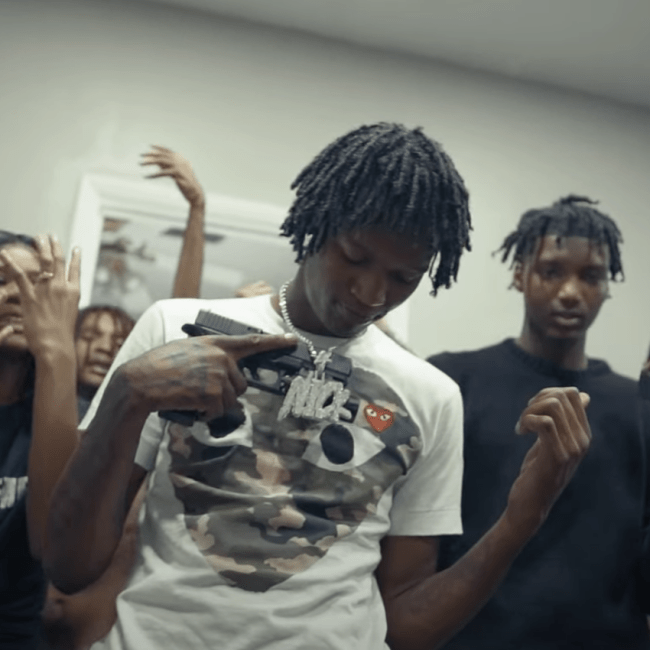 Image via Stockdale Baby/YouTube
The Rap-Up is the only weekly round-up providing you with the best rap songs you've yet to hear. So support real, independent music journalism by subscribing to Passion of the Weiss on Patreon.
It would take a lot more than $10,000 USD to make Harley Geffner never listen to Youngboy again.
---
Stockdale Baby x Baby K x 4N Iraq

  – "Free Body"
---
The phenomenon has been well-documented on this site, but music discovery through regional YouTube channels remains one of the best tools for understanding local rap scenes. Mealeo Stone Visuals is based in Flint, and while he's not shooting the bigger names like YN Jay, Louie Ray or RMC Mike from the area, his channel is a good introduction to the street level artists making moves out of Flint. You can spend all day flipping through the videos on the channel and never get bored. The breadth of artists is astonishing, and almost every video hits.
Free Body is a showcase of a few of these lesser known Flint-based artists, and it has that gritty from the block type energy that makes any good cypher. The last rapper's vocals aren't even mixed, adding to the DIY feel of the song and video, and making for a pretty funny transition. It's a shit-talking extravaganza over a high-octane bell-laden beat. Stockdale Baby starts with a warning: "If you depend on living life for your kids then don't lose it," and the whole song continues with an avalanche of these threatening bars. Bullets are melting people like lava, chains are sewed to chests, and if you're talking crazy on Snapchat, they're pulling up to your house.
---
Lil Kee

  – "Change Gon Come"
---
4PF's Lil Kee has a survivalist mentality. He knows the street shit is stupid, and like he puts it: a change is going to come, but not tonight. First things first, he has to get him and his family in a more comfortable financial position. As he explains on the track, he was so used to sleeping on the floor that he even built bonds with the mice.
Growing up in poverty-stricken Prichard Alabama, where the median per capita income is under 14K a year, violence struck his inner circle more than just a few times. That type of upbringing can charge you with a serious thirst for a better life. Knowing hard times and heartbreak makes each moment feel more valuable and the stakes of making it to a position of comfortability much higher.
Lil Kee carries all of this with him as he approaches his music, and you can feel it in this emotional performance. His eyes are blurry with pain as he raps about the last conversation he had with his friend who would pass away. It was a short conversation, and he wishes God would have whispered in his ear that it would be the last time they spoke. He ends the track with another type of survivor's guilt: an apology that he didn't make it out of the trenches sooner to protect his brother.
---
S5 x R3

  – "Beat The Odds"
---
Moreno Valley, California's S5 has an addictive flow. It's in a similar realm as Drakeo's cooled out slurriness that spills from one line into the next, but it's less wordplay and charisma and a little more meditative. Both are best consumed alone at night. Beat The Odds comes from S5's new tape "Before The Fame," and features an outstanding performance from partner R3 Da Chilliman. On the hook, S5 casually implores a mother to take it up with jesus when she asks why her son got chipped, and R3 follows it up a few bars after on his second verse by explaining how he talks to his friend like he's still here, but he's actually up with jesus too. The bars feel heavy, but are delivered by both guys with such a cool demeanor that they barely register as heavy as they actually are. S5's hook is smooth, but it's really R3's show here – they keep telling him "welcome back" whenever he steps into the diamond district, you can't see his crews drakes on them because of their Moncler coats, and he can't take anyone serious who puts sex before cash. The S5 tape rocks on the whole, but this song is clearly a showcase for his partner.
---
RX Papi x Tony Shhnow

  – "She Thinc Ima Dog"
---
I'm not sure if RX Papi recorded this over a jailphone or if it's intentionally mixed to sound like he's rapping from the other end of a hallway, but it has this hollow sound that once you get past the initial skepticism of it, sounds very cool. It may be the latter though, as Tony Shnoww's vocals are mixed the same way. Papi's real life pusher raps always feel intense. Over a Jodeci sample, he lays out some details from his everyday struggle. He's so paranoid he sleeps with his gun and makes his girl ride around with the drugs in her car just to prove her loyalty. He's got U-Hauls for his drugs, and knows what neighborhoods the blinds need to be closed in. Rap money is cool, but it's not enough to make ends meet. Shnoww gets washed by Papi on the track with a short but meandering verse, but he's got a few cool lines about his hard headedness before a smooth long outro to emphasize the sample beat.
---
BabyTron

  – "Prince Of The Mitten 2"
---
The thing about BabyTron is that no matter what the song is, you'll always catch a few crazy bars because he's just that creative of a writer. Every time I start to feel like his shtick is getting a little old he jolts me right back in with an out of left field bar that makes me question if he would have won a Pulitzer for his creative fiction writing. Rapping over this many beats is cool and all, and obviously shows his versatility, but also makes for a disjointed feeling song. It's a fun listen that feels like a novelty that many people will hear and then never listen to again. You still walk away thinking it was dope though, which I guess is the point. Just like the first time he did it with the original Prince of the mitten. Come for the Luke Skywalker bars and stay for the chicken nugget ones and his impression of Drego's voice.
---
Emptying The Chamber
---