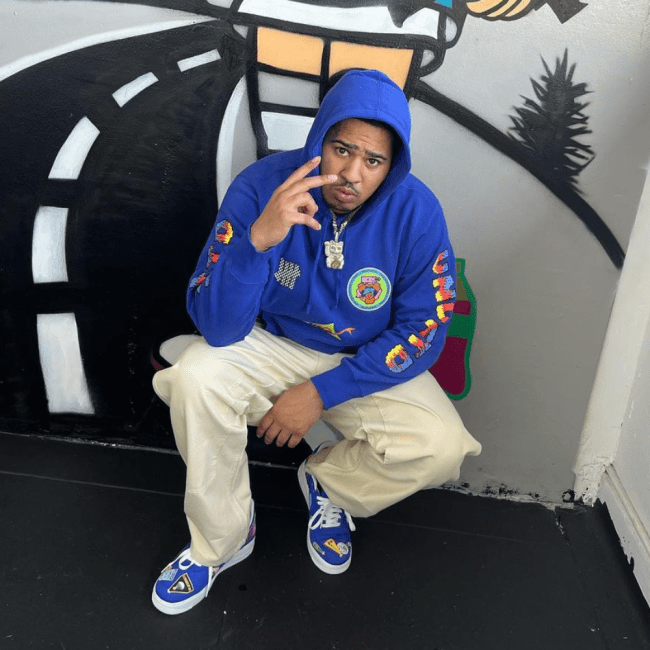 Image via Ralfy The Plug/Instagram
The Rap-Up is the only weekly round-up providing you with the best rap songs you've yet to hear. So support real, independent music journalism by subscribing to Passion of the Weiss on Patreon.
Donald Morrison has been hired to be the guy that picks the daily BeReal times and yes, he's a night owl.
---
Drakeo The Ruler feat. BlueBucksClan

  – "I Know It Hurt"
---
The new Drakeo The Ruler album, We Know The Truth, is a rare example of a posthumous release done right. It's short and sweet at 38 minutes, with no money-grabbing, superfluous, big name features shoehorned-in by bloodless record execs and misguided family members. The only two features come from the rapper's brother, Ralfy The Plug, who helped put the album together with a series of in-house producers that knew Drakeo better than anyone. The album is interspersed with skits in the form of audio clips ripped from Drakeo's now-infamous, marathon Instagram Live sessions where he'd jangle his jewelry and endlessly talk shit. More than a few Drakeo catchphrases emerge from the recordings ("won't be doing that!") and it truly feels put together with the love and care it deserves. There's talks of a deluxe version on the way.
If the rumors are true there's a small treasure trove of unreleased Drakeo music that we may or may not get to enjoy one day. Such is the case when an artist dies prematurely. However, some of the music is available on Youtube if you care enough to look. At least once a day I watch this video that's a screen recording of a classic Drakeo Instagram live where he's playing an unreleased collaboration with BlueBucksClan called "I Know It Hurts." The sound quality is good and it's bittersweet watching Drakeo hit his vape and smile to the music.
It's everything we love about Drakeo rolled into one: A jubilant Instagram live, an energized Drakeo with a first verse and a perfect chorus, "I know it hurt the bouncers wouldn't let you in, I know it hurts to drive a C Class Benz," he says, all while he laughs and mumbles over the song as he sees fit. The BlueBucksClan could honestly just release this screen recording as the official video and call it a day. It doesn't get much better than this.
---
RealStasher50k feat. Dirty Soda Boo

  – "Bad Backing"
---
---
Leekko Lafamilia

  – "Won't Stop"
---
Lately, some of the best music coming out of the varied and eclectic Milwaukee, Wisconsin rap scene can be found first on the PhatPhat Productions Youtube channel, which hovers at around 70K subscribers and hosts videos produced and presumably directed by PhatPhat, who regularly works with Milwaukee up-and-comers and autotune aficionados like Cap Drive Montana and Big Pee. He's got a good ear and there's a grainy, low-budget quality to his videos that adds to the exaggerated and animated nature of the music being produced by Milwaukee rappers.
Two videos on the PhatPhat channel caught my attention this week. RealStasher50k and Dirty Soda Boo's "Bad Backing" features some classic Milwaukee earmarks, like the subtle autotune applied to Dirty Soda Boo's vocals, but over production that feels less brooding and more triumphant. But it's a solemn triumph, like the music you'd play in your head at the end of a marathon you placed close to last in. RealStasher50k raps "head first, deep up in this shit, yeah I'm stuck in it," acknowledging his inability to escape a life of crime and hustling, even though he may be on top at the moment. Later, he bemoans the struggles of a wholesale drug dealer attempting to stretch his product, complaining about breaking the motor on his blender and proclaiming he doesn't discriminate because he has "four genders."
There's a certain type of unmixed, bass-heavy production that feels almost like a cheat code. It goes so hard the rapper can mostly do whatever the hell they want and it'll sound good to me. "Won't Stop" by Leekko Lafamilia falls under this category, although Leekko does more than enough to carry the song in his own right with a series of punched-in flows and a scene where he pretends his gun is a telephone.
---
Bandmanrill

  – "Influence"
---
It feels like Bandmanrill is having another moment. The Newark, New Jersey-based rapper's aggressive approach to dancefloor-ready Jersey club beats has already helped push the regional sound into more mainstream ears – and he's well aware of this fact. "Influence" is the latest single off his first project, the aptly-titled Club Godfather, expected on October 28, where he says "I'm a legend little bitch, and I know it," over a decent club beat that utilizes the sound of a gun cocking in place of a snare drum.
Bandmanrill is good at writing lyrics that mimic the repetitive and fast-paced nature of the Jersey club sound, creating a hypnotizing effect that makes the song appear shorter than it actually is. The chaotic, abrasive nature of it all was immediately appealing to me and it feels like Bandmanrill will enter a new stratosphere after this next release, which is sounding slightly more polished than his previous singles. Also, I wouldn't be surprised if we continue seeing big name artists co-opt the Jersey club sound, similar to what Lil Uzi Vert did on his new song.
---
CEO Trayle

  – "Song Cry"
---
CEO Trayle joined the long list of rappers with a track called "Song Cry" this week, releasing a From The Block performance ahead of his upcoming project, HH5, which will be out on Halloween day(Monday, October 31). There's weeks when I'm convinced CEO is silently the most underrated rapper currently making music. Every release feels more emotionally nuanced and mature, evoking the effortless introspection of Andre 3000, plus the work-ethic of his stated idols and biggest inspirations, Gucci Mane and Youth Thug.
HH5 will be the fifth installment of CEO's Happy Halloween series and has already generated buzz through the single "I Love You, But … ," with this From The Block performance likely a sign of what's to come next week. In the video, he raps into a silver microphone in front of some apartments in what looks to be Atlanta, Georgia, which has become somewhat of a second home to CEO in recent years.
---
Ralphy The Plug

  – "All of the Lights"
---
No other rapper in Los Angeles is as funny as Ralfy The Plug right now, all the way down to the beats he chooses. Here, the Stinc Team captain raps over a sped-up, West Coast-bounce infused remix to "All Of The Lights," keeping his promise from the top of the year to consistently release new music at a breakneck speed for 12 months. "When I say I'm a dog, don't think less of me, it just means I'm a God and you can't get the best of me," Ralfy says.
I can't think of another LA artist who would dare rap over a classic Kanye beat right now, while simultaneously refusing to compromise the classic Stinc Team cadence. Ralfy and the rest of the Stinc's are currently gearing up for a short West Coast tour beginning in LA on November 20th and ending in New Mexico on December 17. You can get tickets here.