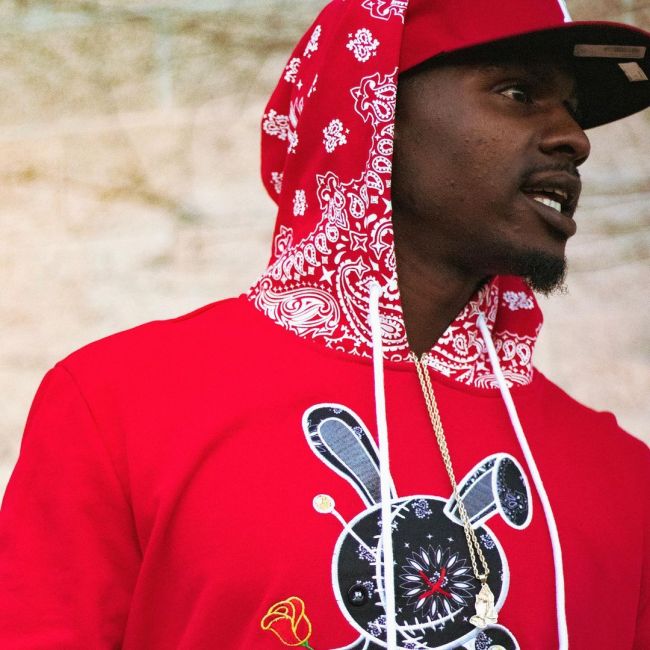 Image via FT Hopout/Instagram
The Rap-Up is the only weekly round-up providing you with the best rap songs you've yet to hear. So support real, independent music journalism by subscribing to Passion of the Weiss on Patreon.
Donald Morrison wants Twitter's new billionaire to bring back the real blue birdies.
---
FT Hopout

  – Thank You For Using Securus
---
The idea of writing and recording an album while incarcerated must seem fairly appealing to locked up rappers with time on their hands. Reading and writing, whether it's a journal, a diary or lyrics, are two of the best ways to maintain mental acuity while serving time in a county jail meant to deprive inmates of stimuli and dull the sharpness. It's a good way to process how you got there in the first place – in an orange jumper stewing in the cooped-up smells of the other prisoners – and perhaps how you can avoid it ever happening again.
The only truly successful and revelatory attempt at making a cohesive album from the pokey is Thank You For Using GTL, the 2020 record from Drakeo The Ruler and producer JoogSZN recorded entirely over the phone from Los Angeles County's Men's Central Jail. At the time of its release, Drakeo was holed up in solitary confinement and facing a life sentence for allegedly serving as the head of a criminal organization responsible for murder, among other charges. The album served as a testament to the artistic spirit and succeeded partially by acting as a bullhorn shedding light on the gross injustice of the whole ordeal.
The latest artist to attempt an album recorded through a jail phone is FT HopOut, a Compton-raised rapper currently locked up in a men's correctional facility in Nevada, who teamed up with producer DamnPocket to release the Drakeo and JoogSZN-inspired Thank You For Using Securus. It's 15 minutes long, meant to mimic the maximum length of a single phone call from jail, and focuses less on injustice and more on self-growth. It isn't exactly clear what FT HopOut was arrested for, or when he might get out, or even why he's in Nevada, although it doesn't really matter. While the short album features some of FT HopOut's most mature music yet, it still fails to match the nuance, brevity and sound quality of its spiritual predecessor.
Securus, which acquired prison telecommunications giant JPay in 2015, serves as a vessel to the outside world for some 1.9 million incarcerated people in this country. FT HopOut uses the medium to let people know he's staying strong against insurmountable odds and planning on doing things differently when he's out. The best song on the album is "Hard Body," where he raps "they tried to break your boy, but I ain't let them do it, I stood taller than my breaking point," in a spaced out chorus that reminds me of a mix between Nipsey Hussle and Drakeo The Ruler. Much of the album can feel like a direct lift from Drakeo and Joog's original creation, but it nevertheless succeeds by being a small window into the intrinsically fascinating and hope-filled lives of America's ever-expanding incarcerated population.
---
K-Trap feat. Skepta

  – "Warm" (Remix)
---
Skepta shows up with his most invigorated verse in recent memory on K-Trap's "Warm Remix," adding a bombastic centerpiece to a year-old hit, and flexing Rolex watches and fine street art. When you hear the dejected "big smoke, K-Trap," you know he's about to go in. "Pull up in four Rolls Royce's, look at their racist faces, I know they can't stand me, secretly wish they could still hang me, but now they have to hang me next to the Banksy," he says. K-Trap later acknowledges what he has and pays his respects, adding ""blessed with a SK verse, stressed when the SK burst." It's nice to see Skepta lean back into his street sensibilities and to see new life pumped into a regional hit from more than a year ago.
---
Lil Poppa feat. Rylo Rodriguez

  – "WIN 4 LOSIN"
---
Lil Poppa understands there's beauty to be found in the finality of human life. "You only live once, I don't think I can do this shit twice," he says on "WIN 4 LOSIN," off his new album HEAVY IS THE HEAD, before adding "been tryna heal for months, but I don't think I'm doin' this shit right." As was noted by music critic, and friend of the site, David Drake, Lil Poppa makes Pain Rap; you can hear it in the melodies, succinct writing and by the certain brand of angst and existential malaise built into his sensibility. Lil Poppa is an endlessly exciting artist because he's always surprising me, whether it's his wise-beyond-the-years emotional depth or his natural gift for rare, uncynical positivity. "WIN 4 LOSIN" is a perfect song, not just because of the excellent Rylo Rodriguez feature, but because it manages to sum up the experience of overcoming defeat in under 5 minutes.
---
Tr3yway6k feat. Fat Meech

  – "50's to Da 100's"
---
Fat Meech is channeling the late, great Nate Dogg on the latest single from Tr3yway6k, who recently began serving a six-year prison sentence after being caught on a security camera tussling with an enemy and ultimately pulling out a gun and shooting him in the ass. Hopefully the time inside is well spent, because he was beginning to really grow into himself as an artist, as is evident on "50's to Da 100's," a song about being safe and respected throughout the a 50-block radius in South Central L.A. Tr3yway6k has always sounded best to me on solo tracks, but Fat Meech is able to inject a sentimental thread of melodies that's usually not present in the music coming from Hoover Criminals. It's an interesting direction for Tr3yway6k and it shows his capacity for growth not just in music but hopefully in his own life as well as he begins serving his sentence.
---
Rx Papi

  – "Kiss The Ring (First Day Out)"
---
Rx Papi is a free man, which means I'll be spending far too much time on instagram Live in the next few weeks. On "Kiss The Ring (First Day Out)," RX Papi is back in full form as if he never left, "walk in this bitch like Ted Dibiase, hands on with the brick like Mr. Miyagi," he says. There's no reason to believe that the real RX won't pick up where he left off by continuing to be one of the most irreverent and naturally gifted rappers currently flooding Youtube with music. The No Bells blog caught up with RX Papi in the days following his release and documented him punching-in and seemingly completing a song in under ten minutes.