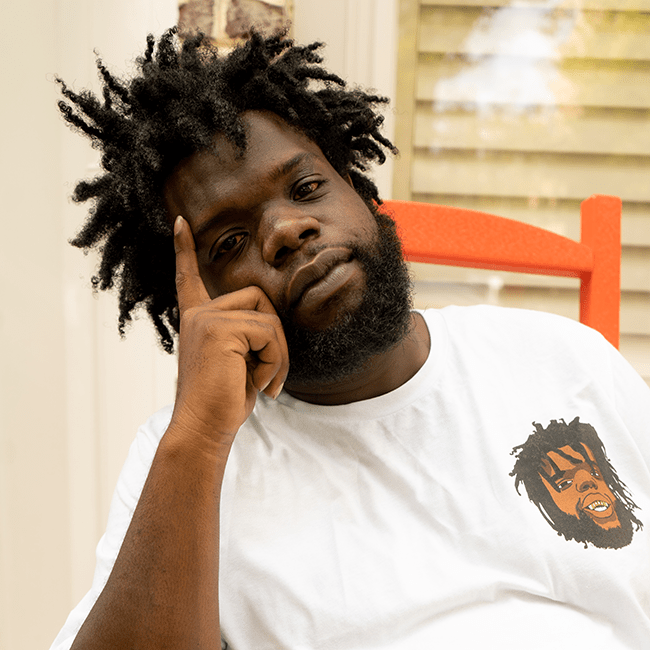 The Rap-Up is the only weekly round-up providing you with the best rap songs you've yet to hear. So support real, independent music journalism by subscribing to Passion of the Weiss on Patreon.
Brandon Callender hates learning about the white people side of the internet.
---
Lord Jah-Monte Ogbon

– "Oh Nah, We Locked Boo"
---
In an interview with QC Nerve's Lamont Lilly, Lord Jah-Monte Ogbon was asked about how he saw himself fitting into Charlotte's rap scene. He described an internal dialogue that bounced around—in one moment, he'd feel like he didn't belong at all, in another, in another, he would wonder if he had outgrown the city that he's come to call home. He'd push those thoughts to the side entirely with a bit of clear-eyed wisdom. "Sometimes I feel like, "Wait, do we have to have a certain sound?" Especially when you think about how North Carolina is such a melting pot now," he said. "This may sound weird, but sometimes I feel like people are more focused on your look than your actual sound and music. No disrespect to anyone, but no, we don't all have to wear Charlotte Hornets gear and Carolina Panthers jerseys." It's kind of funny to see him play both artist and critic while also making a valid point about people valuing aesthetics over music, in this interview, but it leaves me with one burning question: What is the sound of the Carolinas?
Jah-Monte's new album Beautifully Black, while exploratory, is not in pursuit of an answer to that question. Navy Blue, who's produced entire albums for AKAI SOLO and Wiki this year, comes with a healthy serving of the soulful loops you'd expect from both of them but digs a little deeper for more luxurious palettes to fit Jah-Monte's sound. With stellar assists from Phiik, Kelly Moonstone, and even Sage popping in for an appearance on one song like he has on all the other albums he's produced, it's far from a solo affair. A lot of music in this sphere ends up being compared to MF DOOM because of its sampling or off-the-cuff flows, but "Oh Nah, We Locked Boo" captures the off-kilter nature of Count Bass D's Begborrowsteel and DOOM's Vaudeville Villain in a way that most can only dream of recreating. The kick drums stutter in an unexpected way that keeps your ears perked and the sample is purposefully looped a little longer than someone looking for something clean would like it. "Who put the L-E-X in flex, capital F, too/Fuck giving thanks for the sauce, pay me in restitution," he raps over a melody that descends from the sky like Tetris blocks. Maybe it's healthier and more interesting that the Carolinas don't have a singular sound. It wouldn't be much fun if everything sounded the same.
---
Papo2oo4

– "Pepsi Plunge"
---
No matter what beat you put Papo2oo4 on, he's gonna rap like he has something to prove. This holiday weekend, I've been submerged in the New Jersey rapper's colossal AF1MG Live 2oo4, Vol. 3. While the link-ups with kindred spirits Wiki and DJ Lucas and flips are exciting, I keep getting stuck on the CM Punk-referencing "Pepsi Plunge.". From the very first second, the tense beat that sounds like an action flick theme composed by a drill producer takes off like a fighter jet. There's no slow down in sight. Even when it breaks down near the end, the pounding triplet kick pattern keeps the song's pulse going. "I been eatin' for a minute/Found the weight, learned how to get it," Papo raps over the skittering drums. There's an insatiable hunger in Papo's voice that makes it so even his recordings sound like he's spitting these verses right in your living room. There's no better feeling when listening to a rap song than this.
---
Killswitch

– "Everybody Hates Kill"
---
Down in San Diego, you can hear a new take of the crawling sound of nervous music. Killswitch creeps through the haze of synths, twinkling keys with a slew of barbed disses. His voice sits somewhere in between an indifferent shrug and a disgusted sneer—changing the ratio of shrugs to sneers in each bar depending on where his temper wants to direct some heat. "He just throwing popshots, he ain't touchin' niggas/Fully on it, bully with it, I been punkin' niggas," Killswitch raps. Whenever I think I'm starting to get tired of this sound, there's something that pulls me right back in.
---
Rontae

– "Where My Lighter"
---
A non-exhaustive list of things that Rontae doesn't fuck with: rats, woods with less than 5 grams, not doubling his bag, and driving (he prefers chauffeurs). The Michigan rapper walks through this song with the same kind of blase attitude as Babyface Ray; there isn't a price tag in the world that'll make him show emotions. "Back and forth to Cali, prolly at a hundred thousand miles/Get 'em in, get 'em out, bitch, I ain't never in no drought," he flexes over the soothing flutes. Rontae makes buying things sound so exhausting.
---
Baby Fifty

– "Brother Died / Stay Outside"
---
If there's a limit on how old a song can be before a video drops, I don't want any parts of it. Baby Fifty's "Brother Died" is over a year and a half old, but he's just now dropping a video for it (it's paired with a new song, too). Both songs have slow-rolling guitars with blown-out drums pushing Baby Fifty to rap with the beat, as if he'd lag behind otherwise. It's a jolt of energy that keeps the D.C. rapper's smug bars from getting lost in the otherwise sleepy beat.