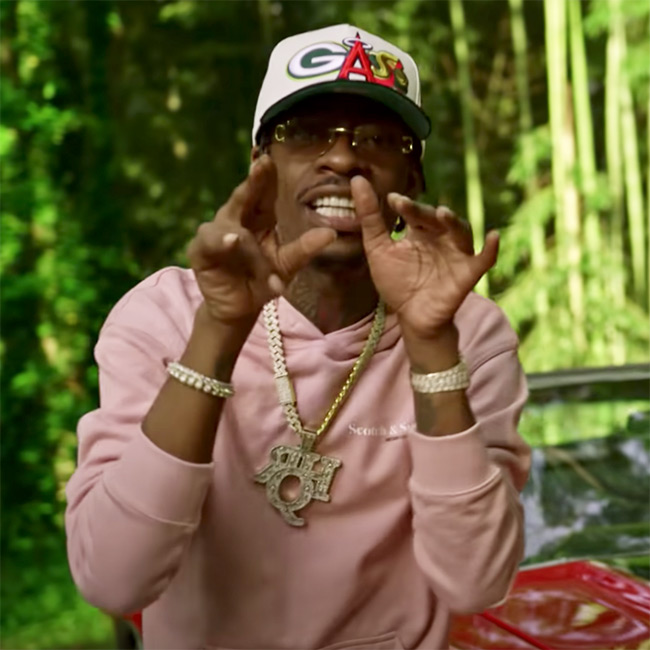 The Rap-Up is the only weekly round-up of the best rap songs that you absolutely need so support real, independent music journalism by subscribing to Passion of the Weiss on Patreon.
Brandon Callender is googling knx and madlib samples to play while he grills so his mom thinks he knows old music.
---
Rich Homie Quan –

"To Be Worried"
---
If you were ever trying to fish for engagement on Twitter, a "Rich Homie Quan was ahead of his time" tweet should be high on your list of drafts. It's difficult to pin down why exactly, but most of the time after seeing those tweets I'm left feeling kind of annoyed. Those tweets aren't meant to neg artists, but they just don't feel as appreciative as they should since oftentimes those artists are still actively working, they've just been pushed into the margins and largely ignored. History easily gets muddy with rap—even when researching artists and movements that were documented on blogs less than ten years ago, there's countless amounts of dead links and redirects to no longer available YouTube & MediaFire pages.
In a genre like rap, where everyone insists that they're a 1-of-1 artist and that their music certainly wasn't influenced by outside forces. If given the chance to, the longest-lasting artists get the chance to rewrite history to their liking, stamping their name on anything they've ever been a part of and any wave they've rode on their way to superstardom. It's easier to notice this in interviews than anywhere else; in an artist's earliest interviews they won't shy away from citing their real influences and the music that informs their view of the art, but as you catch them later on, that kind of information is guarded under lock-and-key, as if admitting to liking another contemporary artist's music will make them less interesting.
Quan isn't an artist that's been forgotten about—people ask where he's at all the time—but people like him have widespread influence on the sound of rap today that their once unique styles are just part of every rapper's toolkit. None of that is particularly good or bad—I think the song is fine and I want to hear what Quan has going on right now. When I first heard "To Be Worried," I sat there thinking, "This just sounds like everything else right now." But when Harley posted it in last week's Rap-Up, I felt like I had to give it another shot. When he raps, "Coming back off in this bitch, walked in like I left somethin'/I don't show that bitch attention, treat her like a stepson/You gon' see these footprints, get your bitch ass stepped on," it's easy to hear it in Lil Baby's voice. The second verse could get slotted into any Roddy Ricch song and I wouldn't know the difference. It's heartwarming to see guys like Rich Homie Quan be able to still make their style work today, but I'm just left wondering who's been forgotten about.
---
Glockboyz Teejaee & The Godfather –

"After Laughter (feat. RTB MB)"
---
The Hornets starting their off-season means that Miles Bridges can get back to rapping circles around every other NBA player to ever pick up the mic under his pseudonym RTB MB. (Until Anthony Edwards' collab mixtape with Lil Baby comes out, of course.) Wendy Rene's "After Laughter" has squeezed for every last bit of juice it has and it needs to be retired immediately, but thankfully they don't even try to make that flip the song's focus. These kinds of Michigan cuts always tend to feel like everyone involved was competing to see who could think of a follow-up first before rushing in the booth to punch in their one line. "It's MB, I'm with your BM, I call that bar flipping," MB raps. Teejaee and The Godfather go back to back about the NBA players they're most like while MB plays a supporting role. It'll be a long time before Miles Bridges has the best verse when he's rapping alongside Teejaee and Nuk (if he ever does), but it's fun enough seeing him go back and forth with them on wax.
---
OTR Chaz –

"Bulletproof Love"
---
OTR Chaz walks around with a heavy heart. The Baltimore rapper will open up to anyone who'll hear out his high-pitched wails. "I got all these problems and this love ain't help me with none," he croons. "Tell me what you need, wipe your tears, I can't see them run." It's interesting how the Calboy/Lil Tjay vein of melodic rap has grown legs and kept me interested for so long—every few months I end up listening to someone from a new city trying their hand at the biographical style with the same warbly tone in a different accent.
---
Tae Dawg –

"Be a Fool"
---
Tae Dawg is one of the only rappers in the DMV that can match Lil Gray's eclectic ear for beats. The Mannyveli and Sparkheem-produced "Be a Fool" sounds like a romantic walk on the beach, even when he sings about his chopper that'll knock you off your feet, its just as dreamy as when he sings about how foolish it is to leave your girl around him. "I'm in love with the drank, bitch I pour all kinds/But you can't get a line, the shit all mines," he sings. "Be a Fool" is Tae Dawg at most tranquil, daydreaming about all the things that make him happy.
---
Big Jade –

"Jade Wins"
---
Big Jade will eat on any beat you put her on. On Pressure, her latest mixtape, she goes steamrolls through David Banner flips as well as BeatKing and DJ Chose's club-ready production. When that chilling "Jade Wins" gets whispered into your ear and she follows it with a laugh, it's obvious that the Beaumont, Texas, rapper isn't here to play around. "Gotta compete with the old me/Not with these bitches that's what my little brother just told me," she snaps over the tense strings. There aren't a lot of people whose confidence comes through as easily as Big Jade's.