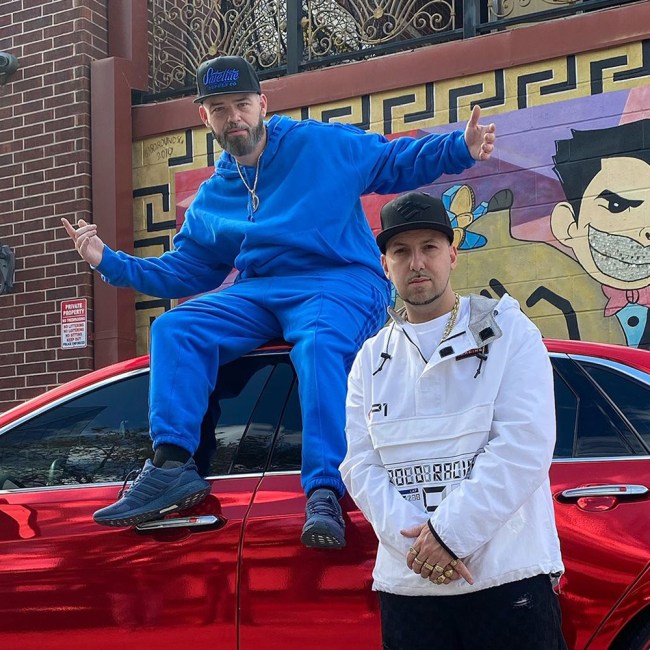 ---
Support real, independent music journalism by subscribing to Passion of the Weiss on Patreon.
You can find Abe Beame wants to know what happened to Bennett Miller.
---
The East Coast/Down South rap collab has a rich and storied history. From Lord Jamar and UGK, to Ol Dirty Bastard and Mystikal, to Jay-Z and Juvenile, to Lil Wayne and Juelz Santana, you rarely get a dud when disparate styles and approaches come together to make something new. Distant cousins tend to bring something unique out of each other, and the results are nearly always fascinating.
There are few rappers as beloved, with that love based in the city he's practically the mascot for, than Paul Wall in Houston. He's made original Screw tape appearances, his mixtape run with friend and partner Chamillionaire is one of the all time great series, and he was at the forefront of the great Houston Renaissance in the aughts.
Paul is a honeydripper, a cadence rapper who is as fun to listen to as any rapper I've ever heard, and no one owns the pocket when he's in his bag like Paul, probably the reason why he has held the title of "White Rapper with the Highest Q Rating in the Game" for twenty years running.
In 2019, Paul released Give Thanks, a Thanksgiving EP with Brooklyn via Boston boom bap God Statik Selektah. The two enjoyed the effort so much they reunited (with an assist from the dulling, maddening boredom of Covid lockdown), with Statik's longtime friend and collaborator, the motor mouthed often political boom bap rapper Termanology. The project is a negotiation of styles and sounds, with Paul essentially playing an away game over Statik's uncompromising classic New Yorkist crate diggers and Term comfortably on his home turf, but bending his style a touch swaggy and smoothed out.
You never say no to an opportunity to talk to a rap legend, so when Jeff pitched me on an interview with the two rappers I was immediately down. We discussed the project, and a whole lot of shit I've always wanted to ask the rap legend about Houston, DJ Screw, and the late, great, Big Floyd.
(Author's note: This interview has been condensed and edited to make me sound like less of an asshole.)
---
---
Paul, happy birthday man!
---
Paul Wall:

Thank you, thank you.
---
How was the rodeo? (Author's note: Bun B hosted a massive concert/family gathering of Houston rap icons at the 2022 Houston Rodeo in honor of Black Heritage Day on March 11th.)
---
Paul Wall:

Ah man, that shit was crazy. It's hard to explain it to people not from Texas, because it's not just a concert. It's so much steeped into the Texas culture that comes out, and it's one of those things where rap is not like, permitted.
---
Termanology:

Bun [B] was explaining it to me a bit, at the "Thailand" video. He was stressing that, 'this is the biggest thing, you don't understand. It's the biggest thing that I've ever done' and for somebody as accomplished as Bun and yourself, to feel like that, I'm happy for you guys, for real.
---
I just watched this really interesting documentary about the history of Black rodeo riders. They kinda get into the weird cultural things that would make rap sort of foreign to an event like that, but it sounds awesome.
---
Paul Wall: Yeah, there's a lot of crossover. The culture here is so diverse, so there's a lot of crossover, where there's people whose grandparents lived out in the country, so they go out there and ride horses or do other stuff, but they also grew up listening to Houston-style hip-hop, but now they're grown, so it's just a weird nuance.

I've been [going] to the rodeo since I was a kid, but I ain't never worn a cowboy hat or boots or nothing like that. There's a lot of people like that, where we'll go to the rodeo for the concert or for some of the rodeo aspect, but really, that's not our cup of tea. Just like we're not their cup of tea all the way, but like I said, there is a little overlap or cross over.
---
Sounds dope. I'm gonna ask you some dumb, boring questions first that are just to get a baseline before we get into the nitty gritty of it. So what made you guys want to work together in the first place? Was it just vibes and respect for each other as artists?
---
Termanology:

Statik [Selektah] was the glue. Statik is like a hub for New York City hip-hop. We've done whole albums with Bun, whole albums with Curren$y, whole albums with Paul Wall, Freeway. People just come from out of town and just get busy. You go there and get busy. When Paul and Statik decided to do an album, I was on one of the records that had a video and the chemistry went pretty good from there. Then that just kinda turned into Paul and I shooting emails back and forth, sending each other records and stuff. That kinda just turned into a project.
---
Paul Wall: Yeah, that's pretty much it. There's definitely respect and admiration for each other for who we are individually, but also for our artistry. Even with what I was talking about with the rodeo earlier, with the overlap between our fan bases.. Although they're different, I originally came from the underground. When I broke out of the underground to the mainstream, the underground was always pulling me back and even as a hip-hop head growing up, I hated mainstream hip-hop. I hated it. Anybody who did mainstream hip-hop was a sellout and all of that, so I grew up thinking that.

So even when I became a mainstream artist, it was an internal conundrum where it was like, 'shit, I wanna go back to the underground, but I got this opportunity from the mainstream.' So to work with Term, who also comes from the underground and probably feels the same way that I do about the mainstream stuff, it was one of those things where it's just raw hip-hop. Us doing us. Good vibes. No real motive in any of the creative process, other than 'ayo, I got this beat. I think you'd sound dope on this. Let's do something.' What should we talk about? Boom, that's one song and then next thing you know, we said let's do another one. We just let the vibes lead us. I think, Term, if I ain't mistaken, the first one that we did after the stuff with Statik was maybe the one with Pete Rock?
---
Termanology:

Yeah, that was it. That was what set it off.. That FaceTime call with Pete Rock. Statik called Pete Rock and Pete Rock said, 'hey, I'm working on an album and I'm looking for some rappers, can you get Term on it?' Statik said, 'yeah! Matter of fact, Term and Paul Wall are right here, why don't you put them on a song together?' That turned into "Recognize My Car." So it's been all organic, man.
---
Yeah, I was looking through your guys' body of work on streaming services. Paul has been on 33 projects over the past 20 years and Term, you've been on 22. I mean, I'm sure there's been way more than that over the last 16, but in terms of just what is out and available for streaming right now. I thought that there was a similar kind of grind or work ethic that you guys share and I thought that kinda made sense as something that would draw you together as collaborators.
---
Paul Wall:

No doubt!
---
Termanology:

It's all in the universe, you know? I didn't even know he had that many projects out! When he started working with Statik, I went and looked at his catalog and I'm like 'damn, this guy's got a lot of music out!' Same with me, I've got like 20 mixtapes out that are not even on any streaming platform. We used to just do freestyles and grab anybody's beat, but they were moving through the street though! People were playing them in their cars and stuff like that. Me and Paul probably got like, 100 projects out collectively. We probably got about 50 each if you count all of them.
---
---
Yeah, I'm guessing there's a lot of tapes, Paul, with you and Chamillionaire, that are not on streaming at this moment.
---
Paul Wall:

Yeah, man. That was another, I don't wanna say hurdle or road block, because it didn't stand in the way, but it was something that we did consider. You know, in terms of samples and things like that, because we don't wanna do this dope project and then not be able to put it out because it's got samples all over it and it's gonna cost a million dollars to clear all the samples.
---
Did any of the project get recorded in the same room? Was it pretty much, sending beats and verses back and forth, or was there an in-person component?
---
Termanology:

I would say most of it happened over email, and most of it happened because of COVID because we were in the crib, doing nothing. Paul hit me with a text, saying, 'yo, send me something, bro. I'm cooking right now.' He was on his lyricism vibe. It started with one song, and then I sent him one. I sent him "Thailand" first and he killed it. Within 24 hours, he had sent it back. Then I sent him another one, which turned into another one and another one. So, yeah, most of them were over email, but he did a bunch of songs with Statik in the studio that I wasn't there for and there were maybe 3 of them that we ended up keeping.
---
So, East Coast and Southern collabs, for me, go back to the 90s. I think of UGK and Lord Jamar and Keith Murray. JAY Z getting on tracks with UGK, Scarface and Juvenile. They always bring out interesting stuff, I think, in both the East Coast collaborators and the Southern collaborators. Were there any points of reference for you guys that you were looking into or thinking about to get on the same wavelength for this project, or was it just kinda getting on a beat and doing what it does? Was there some thought into the tradition of those sorts of marriages and styles of approaches?
---
Paul Wall: That's something that's been on my mind since I put out The People's Champ. I didn't really recognize it with The People's Champ beforehand, because I didn't necessarily have that opportunity and my name wasn't really known on the East Coast, so I didn't really have an opportunity to work with the respected East Coast hip-hop producers.

But after that, after we put out The People's Champ and I got the opportunity to work with these producers, man, that's been on my mind ever since. One I always think back to is T.I.'s "Bring Em Out." You know, people in the South, to them, that's a T.I. single, but it's not his greatest single, it's not in his top 10 singles. We got our top 10s for T.I. that we like, because they resonate a little bit differently. But that "Bring Em Out" in New York? Man, anybody I know in New York who listen to T.I., they always say that's the best song he ever made in his life, the greatest song ever.
---
He's rapping over the JAY-Z sample.
---
Paul Wall: He's rapping over the JAY Z sample. Swizz Beatz collab. It's kinda similar to how we feel like "Big Pimpin'" is JAY Z's greatest song ever, because there's that UGK connection. So I always felt like I wanted to have that connection with New York or with the true essence of hip-hop. I want to have that connection, where I got a beat for Pete Rock or for DJ Premier or Statik Selektah on my album, so that my Southern people can hear it. Off top, we're maybe not as familiar with the full breadth of people's catalogs, but don't get it twisted man, everyone in Texas knows who DJ Premier is. He's from Texas. Everybody knows who Statik Selektah is or Pete Rock or any of these people that I'm talking about. There's a lot of hip-hop heads in Houston as well, so I always wanted to have that connection of doing something with one of those highly, heavily respected hip-hop producers who could bring those elements out of me, that maybe I can't get brought out of me if I'm rapping on a screwed and chopped type of track. That brings a different element out of me.

Even in the mainstream, I didn't get an opportunity really, because the A&Rs that I had sending me beats, were sending me all Southern beats. So if i would've come with something like that, they would've been like, 'nah, calm down. We're not ready for that. We want you to do this.'
---
So for Term, this is basically like a home game for you. For Paul, even though you've got the project from 2019 with Statik, it's probably a different style of beat and my observation just as a fan, is I'd say that you're rapping more traditional and less traditional. Historically, you've come with your own cadence and find your own pocket in it, and on this project, as well as the 2019 project [with Statik], I feel like you're adapting to the beat and rapping more straightforward. Is that something you're conscious of or am I just talking out of my ass?
---
Termanology:

Nah, you're right man. I have these different pockets, right? For instance, the song we did on Paul and Statik's album, "Are You Willin'?," I was doing my best Mobb Deep/Prodigy impersonation with that one. Real simple, real slow, so you understand what I'm saying. I slowed it down a little bit, but you can be super lyrical and still slow it down. In the back of my mind, I was a little conscious of that, but then it was also just the beat that Statik gave me. It was so smooth, it didn't call for me to wild out and Bone Thugs N Harmony-flow on it, or Big Pun-flow on it. It just kinda felt right to go slow. Make no mistake, we're snapping, but I just felt like it was OK to slow it down a bit.
---
---
And Paul, did you find yourself adjusting tempo or approach or anything like that for Statik's beats?
---
Paul Wall:

Yeah, definitely. Like you said, my traditional cadence would be me doing a verse. With most of these, my goal was dropping bars. I wanted to drop bars. Honestly, these verses… I don't want to say were easy, but it just came out of me. I didn't overthink a lot of stuff. A lot of times, I'll overthink stuff, like should I say it like this or should I say it like that? Should I say he or they or this, changing words around. But with this, it was just straight bars. I don't know if it's the camaraderie amongst me and Term and Statik or what.
---
Termanology:

That's a fact. I will say one thing though, with Paul, he sounds real organic. So we sound real organic on them, even with the tempo switching a little bit for the both of us.
---
In my notes, I have that Paul sounds like water. He kinda lets the beat come to him and lets it decide what he's gonna do with it. So you were up here in Bushwick, what's it like in New York? Do you feel the love? Is it a positive experience? Are you more anonymous than you'd be in Houston? And vice versa for Term, have you been to Houston and what's it like being on the ground in a different city?
---
Termanology:

I'll answer first. First things first, I was running around with Statik and Paul during that press release run, where they had the party at The Fat Buddha, he came up to Shade45, he came by the studio. Let me tell you bro, people love Paul Wall. Everywhere we go, people love Paul Wall. New York's got love for Paul Wall, so that's first.
---
Paul Wall: Man, I remember my hip-hop elders and OGs, Bun B for sure being one of them, who told us, and this is something that I think a lot of young emcees and artists need to know: when you're popping in your city or your hood or your area, in your mind, you're thinking that you're popping everywhere. You know, if I start popping in Houston and Dallas, then I'm popping in Louisiana too, you start feeling yourself and then when they come to New York, there's people who just aren't necessarily feeling you the same way that they are there. Sometimes they are, but usually people will build up their own hype within them and then when they come to New York, they got their chest out.

Also, it's very intimidating because it's New York, the mecca and origin of hip-hop. So you can't half step with nothing when you're doing anything hip-hop related in New York. They go there with their chest out and it's a wake up call for them a lot of times. Bun would tell us, 'when you go to New York, it's a little different. It's a lot different. Don't expect everyone to be coming up to you and being fans of you. They might like you and have love for you, but they're not necessarily gonna dick ride or show it or any of that. You better be at your best.'

In terms of preparation for everything, you've gotta come with it. Come elite with every step, or else you might mess around and get booed. You could be Nas.. well, I don't know if they'd boo Nas, but if you fuck up or you're up there doing a show and you don't care, then they'll let you know that they don't care either. They could still love you and still boo you.

---
Termanology:

Real quick, a quick example of this. New York loves Cam'ron and when he did that Verzus with Jada[kiss], and Jada was lighting them boys up, and Cam tried to freestyle, we're talking about New York City booing Cam'ron. He would never get booed in New York. What Paul's saying is New York is so rough, bro. They're so standoffish. They'll stand there and love you, and still won't clap. They'll just stare at you. So to get back to what Paul's saying, you better be ready with the bars when you come to New York, man. They're a tough crowd.
---
---
I can confirm Nas will get booed in New York. I wanted to switch tracks a bit. I'm reading this great book about Screw right now, Paul, and I'm wondering: decades later, I think the rest of the country has basically gotten caught up on opioids. What's, not just the city's feelings, but your feelings about lean?

It's so influential over the sound in Houston and the impact it ultimately made on that generation of rappers and producers was pretty tragic. Morally or immorally, I'm kinda just curious, is lean still the force that it was at its peak, let's say in the early 2000's? Or is there a consciousness about the dangers of it? Is it still the drug of choice in the city and how do people feel about it now?
---
Paul Wall: Yeah, it definitely is. I've got kind of a nuanced take on it, or rather, I might be in denial as an addict, but I don't look at lean as being dangerous. I don't blame lean or look at lean as being a cause or anything resulting in the three people that died: DJ Screw, Pimp C and Big Moe. I mean, I kinda try to be sensitive talking about it, but I mean, lean didn't kill them. It was the lifestyle and those other things. They had codeine in their body when they died, but the codeine didn't kill them. We're talking about three people out of the millions of people who've been sipping lean for 30+ years. Only three people ever died. I mean, I don't think lean had anything to do with their deaths. I think it was other things that were in their bodies or their bodies [themselves], like if you're staying up until 5:00 in the morning everyday, you're eating fried food, you're not exercising, the only water you drink is the ice cubes in your cup, you're drinking soda. I mean, you're gonna gain weight, get diabetes and have all these other problems. You're smoking weed, popping pills, drinking alcohol. Alcohol is a million times worse than lean. No doubt. Hands down. Honestly, I don't think the lean had anything to do with their deaths. I think that's just the easy scapegoat.

I mean, opioid deaths are definitely a huge problem, but opioids doesn't [always] mean lean. Codeine is an opioid, but it's the lightest opioid that they make. Codeine and oxycontin are not the same thing. Codeine and heroin are not the same thing. But it all gets grouped in. Me personally, I don't think codeine had anything to do with their deaths. I think the dangers of it though, is the mainstreaming of it. I don't think kids should be doing it, you know what I'm saying? There's a lot of faking the front when it comes to sipping codeine. There's a lot of people who are whipping up their own codeine in the garage and that's where the dangers come in, because you know, they're putting fentanyl in it, just like they're putting fentanyl in everything. To me, that's where the dangers come in. If you're getting it from the pharmacy or the doctor, as long as you're not overdoing it and even then, I don't know what overdoing it is because I definitely overdid it for years. You know, it affects you but it didn't kill you.

Hip-hop and lyrics in hip-hop can chronologically date things for you, so I remember a few years back, Lil Keke on a verse, was complaining about the high price of codeine. He was talking about, 'man, the last couple months, it's been $100/four.' So that's $25/ounce. For 4 ounces, $100. If you buy an ounce of codeine now, it's gonna cost you $250. So it's ten times more expensive than it was in 2006. In 2006, we were all complaining about paying $25 for an ounce. Now it's $250 and people are still doing it? Man, it's ridiculous. It definitely is a driving force, but where it used to be the driving force of Houston and only Houston, now it's a part of the drug landscape. Anywhere they're smoking weed, popping pills, doing any type of recreational activity like that, codeine is right there with them as another option.

It's not just in Houston anymore. If you were born in 2005 and right now you're 17, you know how lean was so dominant in Houston and only Houston? It's more prevalent because it's dominant here and only here. It's kinda like the Astros. You come to Houston, you're gonna see a lot of Astros shirts, hats, everything. Now if you go to Idaho or California or anywhere else, you're not gonna see Astros stuff. It's the same with codeine. The people who grow up in Houston, they have a sense of pride, even if they've never used codeine, they have that connection because to them, this came from here. It culturally came out of here. Now it's more like the Yankees. You go anywhere in the world, you're gonna see Yankees caps. Even if you're not a baseball fan or like the Yankees, you might wear a Yankees cap. It's a fashion accessory. It's a brand of its own, where it's not just baseball, it's gone beyond just wearing a Yankees cap because you're from New York. That's kinda like how codeine is.
---
It's like someone who's out of town. You're in New York and someone's drinking out of a cup and you recognize it. But for them, it's just like a night of getting fucked up, it's not a cultural thing.
---
Paul Wall: Right. It's like DJ Screw, when he passed away, the screw music as a movement, definitely took a hit. We would look to him as a leader and a driving force in releasing the music and being the avenue for up and coming rappers, known and unknown, to get on there and freestyle. Now it's other DJs doing it. Before he passed away, there were other DJs doing it, but when he passed away, man, it was like, 'Tom Brady ain't here no more? What are we gonna do? We gotta get a new quarterback.' And it doesn't matter who you get, they could never live up to being Tom Brady. So the Screw music in itself isn't as prevalent as it used to be, hands down.

I always wonder if the mainstreaming of codeine and the passing away of DJ Screw has something to do with it because the codeine was such a big, intertwined aspect of the Screw music. You didn't have to sip drank and jam Screw, but most people who sipped drank, also jammed Screw. Now, if you're sipping drank, Screw music has nothing to do with it. You're sipping drank because you wanna get fucked up or whatever, like you said. It used to be, when you were sipping drank, you'd put on some Screw. Now the Screw music is what I'd say has taken a hit. There's still some people who listen and jam Screw, but most people who do that are older and they're listening to the older Screw tapes, they're not listening to 2022 Screw tapes that came out by whatever DJ. There's definitely DJs doing it, but the stronghold it had on the hip-hop community and just communities in general in Texas, it's a little lighter grasp.
---
I would say, it's kind of in the same way that lean has gone international, that sound has too. Whenever A$AP Mob or Drake wants to have a little dash of Houston culture in their music, that Screw sound is kind of the shorthand. They might do a hook that way, but I think it's still so inextricable to that sound, the culture and the music, and it probably always will be, which is a testament to Screw's talent and genius. Term, we've been talking about COVID a lot, which was great for music and terrible for everything else… Were you in Boston at all during COVID?
---
Termanology:

Yeah, both. I did a little New York and a little Boston.
---
Were you in Boston during the protests that were sparked by George Floyd?
---
Termanology:

Yeah, I was in Boston.
---
I was just kinda curious.. I was in New York, I saw that Paul was in Houston and there were a lot of people out in the streets, but in a place like Boston, with a complicated relationship to a lot of the social movements that the protests were about, was it different? Did you see the same kind of stuff happening in the streets there, that was happening in New York or Houston?
---
Termanology: I wouldn't say the same. I would say that people were definitely outraged and the right people were outside doing what they thought was right, which was speaking out against injustice, police brutality, police murdering people, specifically Black men and getting away with it. Honestly, it shouldn't take somebody to get murdered on camera for people to be outraged.

I think people should just be able to be free and to be treated equally. But with that being said, it was a crazy dynamic to see the news telling you to stay in the house and if you touch a doorknob or breath on somebody, you're gonna die. But still there's a million people in the street because they're so pissed and so over it, that they were willing to risk their life and go outside to try to fight for justice for this man. That was a crazy time, man and hopefully, somehow, in the future, we can come to some sort of agreement between authorities and pedestrians, where people can just get along and treat each other properly. That would be nice to see one day.
---
(Laughs) I don't know if it's gonna happen…
---
Termanology: I don't feel very positive that it's gonna happen, but I'm saying, hopefully with all these conversations being opened up, with somebody like JAY-Z taking a job at the NFL and only taking the job because of what happened to Kaepernick and only under the circumstances that he's gonna be able to allocate a certain amount of funds to getting people like Kendrick Lamar and Dr. Dre and them to play at the halftime show, and put the fist up, wear those types of outfits and give out that message.

I think that's the type of forward progress we need, where someone like JAY-Z, who's a billionaire, goes to the NFL and says, 'hey, I don't wanna push it under the rug. This is a real problem and if y'all are gonna continue to use hip-hop and take all this money, specifically from the people who are being affected, you gotta let us have our voice and there needs to be some change.' I do see some forward progress, but it is what it is.
---
There might've been some money involved in that deal too. Paul, I read and heard about you meeting George Floyd a couple times and I was personally curious, do you have a good actual story or something you remember about him that you'd want to share?
---
Paul Wall: Uh, not really. I'd rather not. I only met him a few times and I don't wanna be reaching with that. He was more of a close friend of a close friend of mine. And of course, people like Lil Keke and all them, they've known him for years. Him and Big Pokey were on the same football team together, they played together at Yates, so there's definitely that strong connection, but my personal connection with him was just seeing him here and there, meeting him in passing. We weren't necessarily close like that. He's older than me and he's an OG, so I definitely had respect for him and then me being a famous rapper and all that, I'm sure it was likewise.

Like I said, we met each other a few times and we definitely got a few pictures together. When he passed away, I wanted to post one of the pictures [at first], but then I held back and decided to keep it for my personal. I don't wanna be out there like, 'that's my best friend!' That's what happens when people die, everybody who was talking shit about you, now they love you more than anything. I don't think that would've helped him in any way, or the situation. So it's more about fighting for his injustice and the stuff that's still going on. When you really think about it, there's so many instances that get swept under the rug that we just don't know about, or it was misrepresented on the news. Not to blame the news in any type of way, I'm just saying there's a lot of instances that get misrepresented by the time we hear what happened.

If there wouldn't have been video, 100% that would've been what happened with George Floyd. It just highlighted, even within our own communities, in Houston, in New York, in Boston, everywhere.. This stuff happens a lot more than we realize. I think that's why so many people are fed up. It's been 100+ years. If you look at the past 100 years, this hasn't died down. This hasn't calmed down in any way. It's continuing and escalating, in terms of numbers.

---
I was just asking about Floyd, because it sounds like I was annoyed by the same things you are. I think he became this symbol and I was at least interested in knowing what he was like as a person. For the Screwed Up Click fans who are gonna read this, do you have any Floyd verses that you could direct us to? Any personal favorites?
---
Paul Wall: Oh, yeah! As a matter of fact, this perfectly highlights what the Screwed Up Click was. The Screwed Up Click wasn't just 4 or 5 rappers. It was a community of enthusiasts that were brought together, from different walks of life, some of them could spit bars, some of them could freestyle, but all of them were a part of it. Throughout the dynamic of the Screwed Up Click's inception, to even now, there would be so many people who would come and get a mixtape made and just freestyle, and they would be household verses that we would know, but they wouldn't necessarily be a professional rapper or emcee. That was just a raw element of what it was and Big Floyd definitely got a few of those. When he passed away, they actually put out a whole thing with all of his freestyles, because he had like 5,6,7 of them on different Screw tapes here and there, and he definitely had some bars in there and some things that would be perfect to sample for a hook. If only he was still here, to get him on a verse too.

Actually, my boy Cal Wayne, who's a rapper here in Houston, they were best friends. They grew up together and they were cellmates at one point too. Cal Wayne actually sampled one of his freestyles as a hook and we did a whole song about it. When people die, people are like, 'he was an angel' and you're like, 'wait a minute, I know him and he wasn't no angel.' But I've never heard anyone say anything bad about Big Floyd or George Floyd when he was living. He was just that gentle giant that they talk about. He was that in my interactions with him as well. He was so big, but so kind-hearted as well, you could feel that kind energy. You know, the media makes it seem like he was a drug addict or whatever, but he was really a kind person and you can't even believe this happened to him. Because of how big and strong he was, but also because of how kind he was. It's unbelievable that this happened. But his Screwed Up verses, they are an epitome of what the Screwed Up Click is.. Real people that just drop bars and are part of the culture and the art.
---
Well, you guys got another call, I don't wanna take up any more of your time. I really enjoyed the project, I really appreciate your guys' time, and thank you.
---