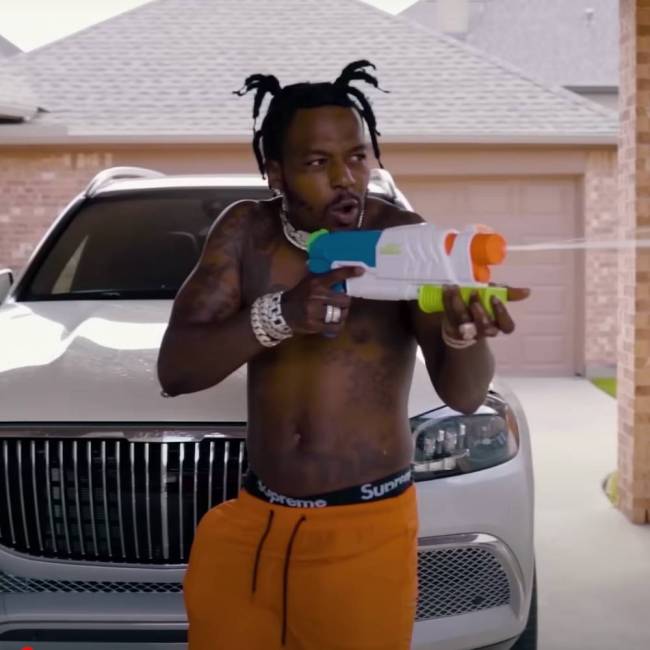 Image via Sauce Walka/YouTube
The Rap-Up is the only weekly round-up providing you with the best rap songs you've yet to hear. So support real, independent music journalism by subscribing to Passion of the Weiss on Patreon.
The first time Harley Geffner heard 'Barter 6' it rewired the way his brain processed sound.
---
Roland Jones

  – Murda Season Vol. 5
---
Though the obsession with phonk of the 2010s has mostly evaporated as the SGPs and Raider Klvns of the world have faded into (relative) obscurity beyond their core fanbases, there are still lots of people making incredible purple-glazed old school Memphis stuff. Roland Jones has been a mainstay in the scene, and his most recent tape, Murda Season Volume 5 is a tour de force in the subgenre. It starts with phonkified remixes of some familiar songs like those by the Migos, then dissolves around the 12 minute mark into a hazy hypnosis. The swinging piano loops are indented by blown out bass, the filtered out voices hit like someone speaking to you from another room while you're tripping on acid, and it all culminates to feel like you're being dipped in a vat of syrupy youtube beats to study to on steroids. It's not the most blown out, it's not the heaviest phonk, but I find it's subtlety more relaxing than the stuff that's super drenched.
---
Sauce Walka

  – "Sauce Body"
---
When Sauce Walka is at his best, he's hitting that perfect intersection between sincere, silly, and hype. Over the monstrous Everlasting Bass beat, Sauce executes a masterclass in this balancing act with "Sauce Body." He gets deep with visceral imagery of growing up in his Houston hood – his mom's veins dying from too many needles, his dad losing hope after another lost job, grass browning around him, feeling like a half a human the way that people look at him and then eventually giving in and becoming the boogie man people view him as anyways. But it's all delivered with an air of levity as he bounces around like a man possessed by his own rapping, revving his arms like he's starting a lawnmower and gloating how his car has a tune ("vroomity vroom," he says), how your veneers are the cheap kind, and his all pink Killa Cam style fit. It's topped off with a lesson, or warning depending how you look at it, about his friends doing hundreds of years on the yard and how one has been in for 14 years without a call from his kids: "Think about your babies when that rod in your hand."
---
Young Threat

  – "Fa Fa"
---
South LA's Hoovers are one of the most feared sets in the city, and as such, the rap coming out of the area is vicious as you'll find anywhere in the country. Young Threat is part of a new wave of Hoover rappers, and "Fa Fa" is a perfect example of what makes their raps so attractive. It's ruthless, but chilled out in a way that makes you think about how cold a human heart can get. The coldest shit is when something that grave can be made to sound casual. Durk did it with AHHH HA, and Young Threat works in Durk-centric ad libs as he takes his turn to laugh at dead enemies. But the real appeal here is in Threat's voice. It sounds like it went through a filter that deconstructed his growl into the tiniest molecular parts then had it pieced back together. The effect is a dark graininess that can scare the shit out of you, even if you weren't listening to the words, which are equally as scary. Real supervillain stuff here.
---
Gifted Hands

  – "Why Not Start"
---
Virginia Beach's Gifted Hands doesn't want you to feel bad for him. Though he has a severe physical disability, he makes sure we know he doesn't want to be seen as a victim. "Why Not Start," which dropped in March as part of the My Block Live series, is a beautifully uplifting song, but on top of its positive message, it's also just straight up catchy. "I don't care if it's a race, I'mma set my own pace, on my mark… ready set go," he sings over a twinkling piano roll with a back and forth lilt before touching on taking responsibility for his own pain in the hook. It's one of the catchiest songs this year. It's sad, as he details feeling like a burden, the days he wished he wasn't born, and the cycle of self-medicating instead of seeking help, but ultimately he pulls through and realizes the err of his ways. He knows he can be seen as an inspirational story now – that others going through pain can look to him and say, well, "if he can do it, then what the hell am I waiting for?"
---
RunItUp Jaybo

  – "Little Do You Know"
---
Bakersfield, CA native RunItUp Jaybo had his house raided and was arrested on unknown charges a few weeks ago. When I saw the news, my mind immediately went to a line from "Little Do You Know," when he rapped over the pretty pitched up vocal sample about everything happening for a reason. He lamented the struggle of being locked down without a date set, but then reflects that "little do you know this shit is all a test." Sending good thoughts to Jaybo as he deals with this case – and I hope he can hold tight to that philosophy.
---
Emptying the Chamber
---