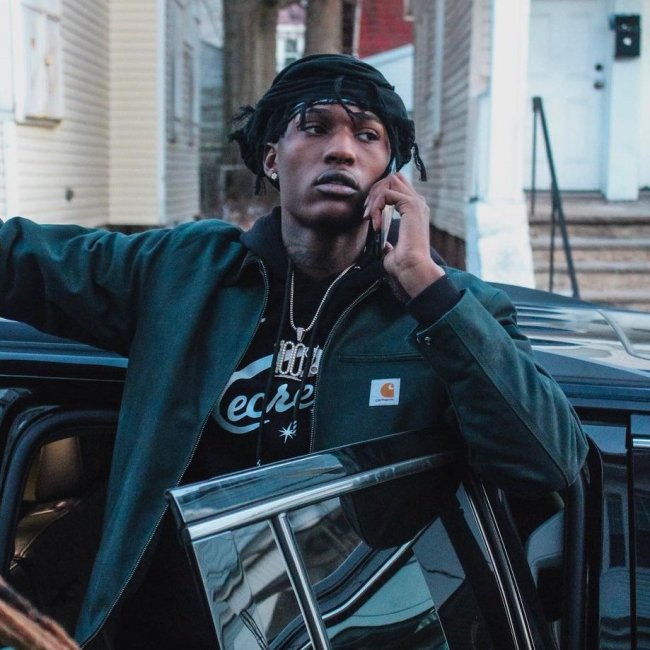 The Rap-Up is the only weekly round-up providing you with the best rap songs you've yet to hear. So support real, independent music journalism by subscribing to Passion of the Weiss on Patreon.
Brandon Callender has turned into a Juwan Howard who-threw-the-first-punch truther.
H.D. Angel is waiting on that official invite to the Northern Exposure Discord.
---
2Rare x Bandmanrill x D4M $loan

– "Cupid (Remix)"
---
Brandon Callender: It's been a few weeks, so it's time to see what the guys out in Jersey and Philly are up to. When the year started, I talked a little bit about my hopes to see rappers from other cities follow along with the current wave of regional rap embracing the styles of dance music that are right in their backyards. That hasn't exactly happened yet, but I'm not giving up hope. (I won't count NY drill rappers sampling "Lean Back" as embracing home, sorry.) Though what has happened is that Jersey and Philly have linked up and they're not letting anyone rest. While the solo version of 2Rare's "Cupid" was already undeniable, the remix adds Newark's Bandmanrill and fellow Philly rapper D4M Sloan. You might remember him from "Baby Shark" (RIP Skiano), which feels oddly prescient listening to now when considering all the club music and sample drill raps we have today. While it's not hard to dance to drill or sing along to any of the big rap hits out now, it's even more fun when the music starts with making people move as its main goal.
---
H.D. Angel: Lately, like you, I've been speculating a lot about this dance-rap wave. Is it driven by a widespread longing to get back into clubs? An inevitable fusion from local stylists with a lot of passion and pent-up energy? Or does the rise of artists like 2Rare and Bandmanrill have more to do with the eclectic palate of the TikTok algorithm, which boosts anything that can stand out and catch ears in its endless content stream?
It's probably a combination of both. But it's exciting to see these forces finally cohere into a distinct 'subgenre' up in Philadelphia, rather than get sidelined to a one-off song like Sada Baby's 2020 ghettotech smash "Whole Lotta Choppas" in Detroit or linger as occasional add-ons like some DMV producers' flirtations with club beats. Hearing these three closely-related, but very different rappers all approach this song in different ways reminds me of those fight scenes at the end of an anime where all the main characters do a combined attack and you feel the bonds between them strengthen with each successive hit. "Cupid (Remix)" keeps up a dialogue with rich, city-specific dance traditions while maintaining the rapid conversation of ideas that defines regional rap. It's the stuff movements are made of.
---
Duke Deuce

– "Falling Off" (feat. Rico Nasty)
---
H.D. Angel: Originally teased at Rolling Loud 2021, "Falling Off" sees Duke Deuce go heavy metal, bringing out the camp side of his Project Pat pitter-patter. Rico Nasty is even more dexterous than Duke here, probably owing to her experience with guitar-driven ragers; he makes the smart choice of playing the looming overlord, while she takes the spotlight to yelp and vocal-fry all over the place. You can almost see an army of cartoon skeletons dance in time with her jagged phrases.
Arena-rock cheese is having a moment in rap. Last year, Dugg and Roddy sampled Scorpions on "4 Da Gang", and Rico herself put out the much less interesting throwback "Money" with Flo Milli, which samples a 2 Live Crew song (and a Tone Loc song that samples a Van Halen song). There's a fine line between experiments like "4 Da Gang," where rappers organically match the intangibles of the eras they're referencing, and novelty sample failures that elicit few reactions beyond "Oh, I remember that!" or another wave of bad "rap is punk now" think pieces. Fortunately, "Falling Off" succeeds. Rico already proved her rockstar mettle years ago, and Duke Deuce, in all his ridiculousness, glory, and love of insane military imagery, might be the closest thing we have to a modern-day hair metal frontman.
---
Brandon Callender: Punk Goes Crunk is back.
---
SieteGang Yabbie x Fetti Mac x Taye Levell

– "FOOTATION"
---
Brandon Callender: "Footation" is a Dior Fahrenheit-scented love letter to the game from a few players who'll never give it up. It also has a video that kills me because it has absolutely way too much going on. The slo-mo fade transitions between the three posted up on the strip club couch dressed up like old school pimps and B-roll of the dancers make me feel like I'm watching party videos from a local club promoter. In the mid-video skit, because of course there's a mid-video skit, a random guy in line tries to convince the bouncer to let him in the club because he's cool with Fetti Mac and SieteGang Yabbie. After the bouncer brings the two San Diego rappers outside to ask if they know him, they call for a Player Check on the man's status—it's unsuccessful. (The man in question promises his bank statements can prove he's a tried and true Player, though.) After hearing Taye Levell's butter leather hook, there's no way you could prepare yourself for the way SieteGang Yabbie comes in on this beat. His slippery, Suga Free-styled doubletime gives his stories a cartoonish quality that makes it impossible to tell when he's giving it to you straight and when he's exaggerating the smallest details. It's a shame he doesn't stay in that mode for his entire verse.
---
H.D. Angel: Give a raise to whoever is playing "Sex With Me" by Rihanna in the background of the strip club during the skit—that's one of my favorite songs. He says some egregious stuff, but Yabbie's autotune makes the song too silly (no TisaKorean) to raise an eyebrow at. Not to mention him twice in one column, but it almost reminds me of some of Sada Baby's melodic love songs: so comically out-of-place that it's endearing. Also I need Fetti Mac's red hat. Taste!
---
Lil Supe

– "Even"
---
H.D. Angel: My favorite style of rap over the past year or so has been the sly Midwestern croak typified by artists like Cincinnati's Lil Supe. He's like the happy medium between WTM DaeMoney and Warhol.SS, just animated enough to do tense scene-setting without breaking his spell. Most of what I like from him is melodic, but he can still stir up moments of intrigue without AutoTune. Over a beat from Ddot Freezing that sounds like the intro to a nightly TV program about alien investigations, he plays the enigmatic host, keeping his true emotions just out of reach: "I don't regret shit, but that's what I regretted". His voice is so measured that every ad-lib sounds loud and intrusive, giving the whole thing an air of paranoia, like you can't tell what direction he's speaking from. The quieter rap gets, the more the littlest details can unsettle you.
---
iayze

– "556 [green tip]"
---
H.D. Angel: I've been a little skeptical of iayze. The hypebeast grapevine says the Fort Worth rapper will be the next one out of SoundCloud after Yeat to get a big push to the majors, but songs like "C'mere!" and "Fuck Iayze!" have mostly sounded, to my ears, like a more one-dimensional take on the ambient crooning popularized by artists like Izaya Tiji. This song is amazing, though, invalidating my suspicions that he's just another guy with a nice vocal preset and good promo.
"556" is the hardest JRPG forest music of all time. It's an anthem for cavorting in the town square. It's a "bubble gum, bubble gum, in a dish / how many pieces do you wish?" type beat. (For more "EAST"-style music writing, check the YouTube comments.) The lyrics ping-pong around in your head as iayze lists them out, because the MIDI horn never fully settles into its groove. Now that I've had my brain reorganized by iayze's rickety Texas raps on this song, I think I get his melodic stuff, too – the way he staggers and voice-cracks into unexpected hooks on songs like "Get Low" feels just as wonky. I hope he sticks with this kind of left-field beat selection in the future, because it'll help him stand out.
---
Brandon Callender: I don't really like Iayze (pronounced "jace")—I think he's boring—but the Medieval Jester At The Winter Feast type beat here makes me laugh enough to keep playing "556." But when I think about Iayze, I think about youth music and the hype that builds up around it. When people talk about music made by young people that they don't understand, they act like it's operating at a frequency that becomes unhearable once you pass a certain age. The music gets framed as arcane and unexplainable as folks gesture toward TikTok or whatever platform/medium/Cool LA party promoter has become synonymous with the music of the era. Those parachute journalism explanations feel like a way to write around not knowing much about the music—covering up people not understanding where an artist exists in a convoluted web of passed-down flows, inherited drum kits, and dissolved collectives. Let's say that Iayze hovers around 16,000 Hz, which nears the upper end of what humans can hear. Some people have completely fallen out of that frequency bracket already, some can hear it faintly in the distance, some can hear it and it's the most grating sound ever, and then there are those who hear it but say there's a much more grating sound past it. I'm somewhere in between those last two groups, depending on the day. HD is firmly in the last group, and I'm grateful she spares me from the absolute worst shit. "556" isn't my favorite Tay-K-descended song ever, but I think it's a nice temp check to see how out of touch you are.