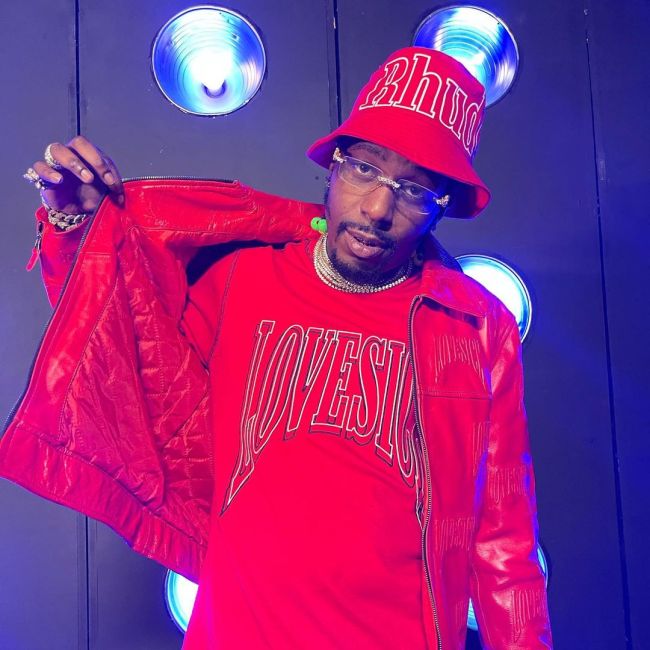 The Rap-Up is the only weekly round-up providing you with the best rap songs you've yet to hear. So support real, independent music journalism by subscribing to Passion of the Weiss on Patreon.
Donald Morrison can see into an even more dystopian future – one where Journalist Shark Tank is very real and very popular.
---
Young Slo-Be ft. DaBoii

– "Ouweee"
---
The Youtube comments are all wrong on this one. No, Young Slo-Be does not need to tell his producer to turn up his vocals and no, we don't need real "lyricists" to do the beat justice. Both artists sound great on this, but It's Young Slob-Be's ability to haunt the track that takes the cake. I could easily see these two making an album that stands as NorCal's answer to the excellent 42 Dugg and EST Gee collaboration from this past week.
---
Sauce Walka

– "Dangerous Daringer"
---
Another excellent song that attracted dorks en masse to proclaim that Sauce Walka over a Daringer beat is a true revelation and like nothing they've ever heard. It's hard for them to imagine a southern rapper gracing a beat from Griselda's in-house producer. Fans of the Houston, Texas rapper will know that Sauce Walka has consistently rapped well over just about every style of beat you could think of. "Dangerous Daringer" was performed and filmed at SXSW in Austin, TX, last month and shows an energized Sauce Walka rapping in front of a Mercedes on hydraulics. It's one of the better performances I've seen this year and, backhanded or not, it's nice to see people put some respect on Sauce Walka's name.
---
T.F x Conway The Machine x Roc Marciano

– "Olathe"
---
T.F. has the rare distinction of being the only L.A. rapper with a debut album entirely produced by Roc Marciano, who brings his trademark grimey and mafioso-inspired production to South Central along with a few friends. The lead single is "Olathe," featuring Conway The Machine and Roc Marciano. This is the second song in the Rap-Up that features an otherwise regional rapper taking a stab at the Griselda, New York revivalist sound. It's finally caught on nationally and I'm not particularly mad at it. T.F. is a breath of fresh air on production I'm used to hearing Westside Gunn scream ad libs over. Olathe is an old Native American word for "beautiful," which is a good word to describe the way T.F. and company have managed to turn their street tales into street ballads.
---
Joyner Lucas

– "Ye Not Crazy"
---
I don't know a single person in real life who listens to him, so my outrage could very well be manufactured by the tiny bubble I've put myself into, but my point still stands: I hate Joyner Lucas.
He's one of those "I'm here to kill mumble rappers" guys who managed to adopt all of Eminem's worst qualities while having absolutely nothing interesting to say. His sanctimonious, viral-ready videos tackle topics like racism, parenthood and gang violence from perspectives you might not expect (making jack off motion with my hand) and this week he released maybe his worst song yet, "Can't Blame Ye," an ode to an artist he shockingly feels some sort of kinship with. It's an embarrassing defense of a man who never asked for one and for somebody who I'd imagine couldn't care less for Joyner and his music.
"Can't Blame Ye" is another eye-rolling attempt to be topical. In the song, Joyner bizarrely claims the media is "trying to do him like Marilyn Manson," who has been accused by several woman of sexual abuse in recent years. It's like Joyner wishes he had rape allegations to fight, and until he does he'll just help Manson and whoever else fight theirs. It's clear he feels some sort of kinship to artists deemed controversial for one reason or another and he has a penchant for aligning himself with them for no discernible reason. He beefed with Tory Lanez in 2019 over who could be the most consistently unlistenable rapper on the planet. His disdain for Tory was, for a brief moment, the only relatable thing about Joyner. But even that was squandered when they ended their rivalry by collaborating on a god-awful remix of DaBaby's "Suge."
But I have to admit, Tory Lanez might as well be Drake when compared to Joyner Lucas, who is the least appealing rapper of all time. He's always struck me as a careerist who can technically rap but somehow has managed to zap all the fun out of it. Even the somewhat impressive backwards rapping song mostly fails as a novelty once you realize the entire point of the song is how clever he thinks he is. If I had to make a simple comparison: I'd say he's the rap game's Trevor Noah, a talentless hack adored by corny white people and mostly ignored everywhere else.
---
Bankroll Freddie x Icewear Vezzo

– "Pickin' Sides"
---
Bankroll Freddie has been one of the more consistent artists out of the dozen or so rappers signed to Atlanta's Quality Control Music, home of Migos, Lil Baby and The City Girls, among others. His menacing flow pairs well with the low boil intensity of Detroit's IceWear Vezzo, who says he'll "put turbos on that glizzy," and "Stephen Curry this extension." There's no chorus and I wouldn't really have it any other way. I would much rather see Bankroll Freddie try his hand at the current bar-heavy Detroit style flow than the other way around. This, together with Bankroll Freddie's last single, "Codeine," has me excited for his upcoming project.
---