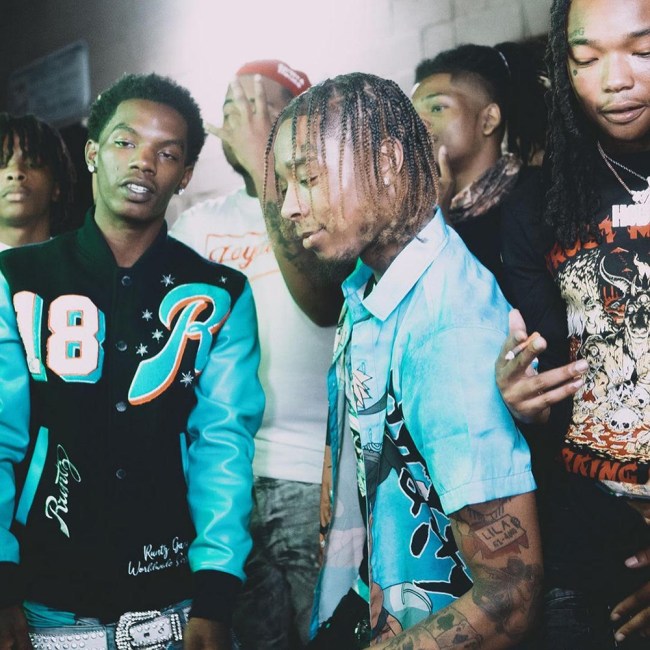 We're the last of a dying breed, keeping the best music journalism in the game free and without ads just for you. Support us by subscribing to Passion of the Weiss on Patreon.
Gage Thoman is so Columbus he has a Clippers tattoo.
---
In the wake of the Ghetto Boyz rampage and hostile takeover of 2020, rappers in every city across the U.S. have sought to recapture the Flint natives' gleaming charisma. From Milwaukee to Sacramento, Oklahoma City to now Columbus, Ohio – everyone has been putting their own spin on the sound. What has been a largely dormant rap community in Columbus is now fully reinvigorated, with the development of a network of videographer channels that have been slowly accruing street rap videos views since 2015.
In the 90's and early 2000's, Columbus was beholden to a crop of rappers who were ushered into an era of gritty and florid gladiator raps by provocateurs like Intalec. Intalec would mentor numerous Columbus prodigies like Camu Tao, who formed a crew with RJD2 called MHz and produced the first independent 12" in Columbus at the approximate ages of 21. During this period, they spawned flows that might still sound foreign to a modern ear. The scene was solidified in the vinyl-laden walls of The Groove Shack, a record store with a raw, dog-eat-dog open-mic night turned public access program on channel 21 that provided an outlet for disenfranchised creatives. You could tag your name, you could get some bars off, and there was an auteur community there that gave real feedback. You could be king for a night in Columbus if you came with some lyrical heat or ran the turntables right. It was more than a record shop, it was the spot, the lifeblood of Columbus Hip Hop. It was in those open mic nights that both MHz and The Groove Shack solidified their legacies, breathing life into a flourishing underground rap scene and creating the foundation for the battle rap and freestyle-centric Columbus scene operating today. The Groove Shack has since been immortalized in the form of film by one of its owners.
There are tattered blogs denoting what came in the next decade for Columbus rap, but much of it was stifled by the prejudice of club and bar owners who acted as gatekeepers to genuine and more wide-encompassing popularity. Despite the impediments, the mixtape-era thrived in its own way with successful and long-running Hip Hop nights held literally underground at Bernie's Distillery, hosted by DJ Przm and So What. Following the unforeseen death of the latter, So What Wednesday's would be held in his honor. Those two were the flesh and blood of Columbus rap in the late aughts, with Godly on and off-stage presences to match. The hip-hop nights themselves were akin to their 90's predecessor, informal and with spur-of-the-moment battles.
In the period coinciding with the death of DJ Przm, Hip Hop nights at Bernie's came to an end, there was a gentle dissolution of DIY/indie blogs covering the scene, and the communities that manifested with them fragmented. Then the torch was passed from conscious and methodical old heads to a relentless turnstile of street rap in leagues post-2015.
The present communities where Columbus rap thrives endure the same sickening day-to-day truths that their predecessors lived in – with a bleak socio-economic outlook and no lifeboat thrown out by the local or federal governments. Institutions continue to rot, but there are still young people trying to get their flows off for the love of the game and ultimately to improve their economic outlooks.
There is a repulsive history in Columbus with regards to the treatment of Black communities, rife with police brutality, harassment, and fraudulent charges — with local government cover-ups in the late 90s leading to supposed "reforms." Columbus is the 18th most prevalent city for police brutality against Black people (for reference, Cook County, home to most of Chicago is 64th), and it is home to a fifth of the Black community in Ohio, but one third of police murders.
But from this miasmatic concrete, roses have bloomed — in the form of a boisterous collection of street rappers spitting slapstick bars laced with bass-boosted threats. Herein lies the beating heart of the midwest — the sound of the heartland and the streets of Columbus encapsulated. Of course, this list isn't a fully inclusive state-of-affairs, but below are a few of the most seminal rappers to this thriving scene.
---
10 Toes Alone
---
"I said talking is irrelevant, brodie got the medicine / They aint have a case cause they didn't find no evidence."
There's an alphabet soup of rap cliques in Columbus, but if there's one to remember, it's 10TA. They hijacked some of the thunderous appeal of Flint/Detroit drum patterns and started reorienting their focus, morphing the instrumentals into warped, alien caricatures. It's as if Pierre made Baby Smoove type beats askew towards traditional Flint Sub-knockers. 10 gravitates toward comically violent shit-talking, but the degree of absurd disrespect and self-seriousness varies between the several members. Almost everyone in the crew is well under 22, the youngest being something like 14. The front runners are Lil A, Mg Sleepy, and Lil Tae2 — the latter two of whom are blood cousins. There's also Eastside Shim, TSE, and several other affiliates who are slightly more green. Between all of them, there's less than 10 fully cohesive projects — with many others taking a loosely organized form only associated by the same fit pic of whomever's 'tape' it is.
The core group all grew up in the same area, in eastside Columbus off Cleveland Ave, and an undeniable bond shines through in their music – the type of chemistry that can't be faked. It's probably owed in-part to the fact that many of the members are actual blood relatives while others are block babies who might as well be family. One of the biggest connectors of the area was the late Debo, who provided mentorship to all the young rappers through the years. Debo brought Shim, Sleepy and a few other members of 10 into peripheral roles of the precursor to 10TA, O1F (Only 1 Family). Sometime in-between, there was bad blood between O1F and Debo, which inadvertently gave way to 10 Toes Alone. 10TA all maintain a shared experience, a foundation for their creativity built atop a deep sense of fraternity that could only be forged in the fires of an endless summer, throwing hands together at the mall and smoking roach blunts, as well as the strain from the turbulence inherent in growing up in the hood.
While humor is the general overture of the music, the group's tone can shift from a confident bounce one minute to a morbid recollection of their day-to-day monotony the next. And it all sounds like a blunt rotation on record.
---
Mg Sleepy
---
"These n****s always talking out they neck until I pop bro / Take your knot roll, you ain't fuckin wit no thot hoe".
Pastor Sleep is the prophet of Columbus rap, leading a crusade of shit-talking. He's the kid that would dog your ass after gym class, berating you with an eloquently vulgar barrage of deep-cuts. Nothing is off-limits, not even your dead cousin.
Whether it's over a plugnb beat or a delirious derivative of Flint type-beats, he remains unpredictable as hell – each bar honing in on a different moving target with vicious precision. His brand of comically violent shit-talking spliced with struggle trap is essentially the sound that's been blossoming all across the Midwest for the better part of the last half-decade. It's more than that though — between Sleep and Lil Tae 2, there's a whole world built on top of fried fortitude – one of perseverance in the form of access to big blunts, fresh Js, and basketball flatbills.
Sleepy legitimately got his name due to his tendency to crash out when he gets too fried, so there's a broad spectrum of blunted bangers to go with the murda music in his catalogue. In early August, he released his first full-fledged project, I Just Woke Up. It's a sampler of sorts, a good mix of shit-talking riffs and an intro to his cocktail of fully freestyled raps.
---
LilTae2
---
"OK, the lil bitch crazy but she still my baby / Hella guns like it's the navy, I might leave a n**** lazy / You a shooter, but you grazing."
Tae is a viper, tactically imbuing his raps with poison. When he's at his best, he's on some otherworldly airy tip, going back and forth with his cousin as each pushes the other deeper into unexplored melodic, and lyrical pockets.
He raps like he's told someone the same thing four times and after the 5th "HUH", it's time to start hollering disrespectfully. Usually, he's assertive with his delivery, firing off raps with a puffed out chest. But he'll occasionally graze some deeper and more emotional raps – his tone cracks a little bit and he lets us into some of the wariness that's plaguing him. There's a pain he's trying to get at with the songs on his newest tape, but it's a read-between-the-lines situation to unlock it. He only toys with this depth here, so one of the next steps towards cementing a real musical identity would be to dive deeper into that pain.
He also just dropped his first actual tape, Grind Mode. He plays to a lot of his strengths, but my favorite songs on here are where he gives his traditional flow some inflective flavor. It's some of his best and most well-rounded work so far.
---
10TA Lil A
---
Lil A is a charismatic terror who doubles as a legitimate semi-pro circuit boxer. His flagrant machismo and violent tendencies are at the core of his music, and he gravitates toward traditional Detroit cadences and instrumentals that you might hear on TeeGlazedIt or out of White House Studios. With collaborations with Flint's rising-stars, A is the sonic bridge crossing the gap between Michigan's finest and his Columbus contemporaries. A's music is straight malignant, with cruel lyrical spirits guiding his path. And although he specializes in the brutalist stories of filling early graves, when he works with 10TA, he'll dip into his comedy bag, with bars like "The only time you touchin bread is when you eating Manwich".
Even less often, he'll access a part of himself that seems compartmentalized as he's fleshing out his niche. A's puffed-out chest is by no means hollow, but the heart that it houses has plenty of holes. He's disheartened by ever-present hardship and reminiscent of better days spent with his fallen soldiers, with his music acting as one of his means to visit them and his unspoken aspirations.
---
Eastside Shim
---
Shim's style deviates a bit from 10TA's gloating and stoner fixations, as he raps with the woeful distrust of a man who has been betrayed a thousand times over. His raps put a visceral view of his inner dialogue on display, plastered with pain, hate, conflict, and good nature. Maybe it's an age thing since he's the group's old head (not even 30) and there seems to be a disconnect of artistic intent between 10 and him when they're not collaborating. His music has comparably more emotional depth – the type that comes with age. He still talks his shit, but darker themes cloud his mind, adding to the brooding atmosphere of his music. It's not fully brooding though, it's more a mixture of stoic, stand-offish, and solemn, rapping about his day-to-day plights in more detail than the other members of the group:
"My mama went to work so I ain't really get attention, my Daddy in and outta jail, so I'm steady Crippin / My granny tell me that she love me, I still hear her voice / I would tell you to pick a side, but you made your choice."
Shimmy and Lil A are step-brothers and were previously members of the rap crew that preceded 10TA with the late Debo, who was Shim's older cousin. I DM'd him to ask if there was anything he wanted people to know, and he left me with a warning to spread: "your LoC is coming."
---
Flym9ney C0untup
---
Fly is usually telling some sort of blunt, foreboding anecdote about why you ain't built as sturdily as he is. But in other moments, he'll verbally relive the trauma that comes with turning into the neighborhood hero at 14. He's moving like a freight train right now, having churned out more than 20 high quality songs in the span of 9 months. To some degree, his youthful brilliance is akin to a young Chief Keef or Duwap Kaine in his mysterious and captivating presence on social media and in music videos.
His infinite and often chorus-less flow is reflective of the hauntingly fast pace his life speeds along. He doesn't miss a beat, even if he can't take a breath. He cycles through painful lamentations over break-up song guitar loops with a jeering and juvenile bravado that's only a few db from blowing your sub. And he's jaded – the type to sit back and watch a full-scale real life telenovela unfold in front of him without so much as a bored sigh. Ultimately though, he's self-righteous, lonesome, and reflective with his music:
"I made hella mistakes, just understand I was young / I ain't never had nobody, it's just me and my gun / So I walk around that block, had to get every crumb / Got traumatized by this shit, I used to think it was fun."
---
Bidney Blood & 9ina
---
"Body baggin hoes the only the only time I fuck with zips. Fly ass bitch go overseas just for the drip."
Bidney Blood and 9ina together are probably under 250lbs, but took the Columbus scene by storm out of left-field in the middle of 2020. Their first song, "Heavy Steppers (REMIX)", is at almost 3 million views as of writing this.
They definitely ate hot cheetos for breakfast in high school and they definitely aren't above slapping the spit out my mouth for saying so. Their brand of shit-talking has the braids and jewelry as brash as you can imagine. Not to mention the designer jumpers and likely 300-dollar nails and lashes. 9ina raps in a whispery bark and Bidney with an assertive certainty, kind of like they're on the brink of getting ignorant on anyone at any given time.
9ina's first project Belligerent Me released September 22nd.
---
Moe Faygoo
---
I can't make out half of the warbled words on the hook to "Easton," but "BOW BOW, What you mean bitch?" worms its way into your ear immediately upon hearing it.
A standout amongst this collection of Columbus rappers, Moe is a 20-something first-gen Somali immigrant who crafts mesmerizing autotune melodies laced with aspirations and his deepest regrets. His jittery, eccentric lyricism doesn't translate into his personality at all – he's mellow, soft-spoken even, and just as infatuated with cartoons, cereal, and fat booty bitches as his stage counterpart. He's pretty easy to pick out of this crowd, with a voluminous afro and a vibrant high-fashion wardrobe.
He came to the states in about third grade and learned English through VH1 specials, 106 and Park, and DMX. Following a chain of events around 2018, including his first big break with a Cdothoncho remix, a near fatal gun-shot wound, and a police raid during his recovery, he cultivated a strong following through his music videos.
From crashing on Trippie Redd's couch to collaborating with artists from Fetty Wap to OhGeesy, Moe incorporates a range of electronic flows and a brutal, high energy alternate that almost sounds like a different artist until he leans into his synthetic crooning, like Carti with pipes.
Moe just released his fifth tape, Before The Fast with features from Rucci, G Perico, and the late Columbus legend, EBN Roo.
---
LOE (LilKeefy22, LOE Groove, LOE Jala, LOE Unk, Waddup Mark)
---
What initially drew me to LOE was their Duwap-esque instrumentals and subtly vicious twist on the vapor-laden environment constructed by the Bad Kid from the 4. Their eloquently disturbing and nearly monotone verses preserve the cloudy atmosphere, but it has an extra bite, a malignant texture to it.
Loyalty Over Everything is Unk, Jala, Groove, LilKeefy22 and their in-house producer, Waddup Mark. Most of them grew up together and started developing their uniquely hazy terror about four years ago. What isn't debuted on their scarce music videos is littered across virtually unassociated YouTube topic channels and dormant Soundcloud pages.
Waddup Mark housed an earlier iteration of LOE with 1k Zae, Ruthless Renay, and J [email protected], now Jala. He did a lot of work with Columbus legend AWM Quaze far before Quaze gained his cult following. It's some of Quaze & Keefy's best work, even if it was still in the R&D phase. Keefy released a really solid EP called Walking Nightmare around the end of this period which lays a lot of the groundwork for the eerie twilight dimension the group currently resides in.
Keefy often blurs his bars together, purposely neglecting to accentuate their beginnings and endings, leaving them to fester and fade into one another. His breaths are short and labored, like he's in the situations he describes.
The rest of LOE's solo acts are still formulating, with about a single a-piece. But what little we have to go off of is promising: Unk has a naturally crisp voice, lightly singing from one flex to the next; Jala is raspy and his voice will crack, tending to be more emotive than the rest of the crew; and Groove is probably the best genuine lyricist in the group.
---
There's so much more insane rap being spit in Columbus and the greater Ohio area right now that it wouldn't even fit into another three-thousand words. So here's a YouTube playlist that I'm using as my active attempt at cataloguing the most engaging and interesting stuff from the Ohio street rap circuits across the board from Cleveland to Cincinnati this year.