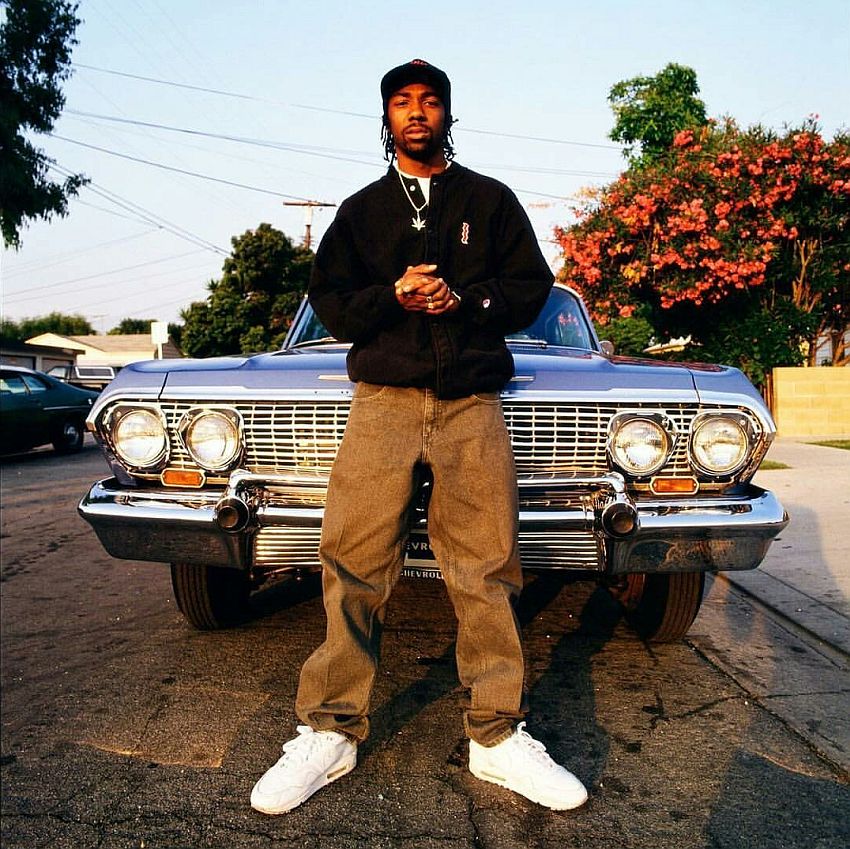 Our name speaks volumes in the hood like subwoofers in lowriders. Please support Passion of the Weiss by subscribing to our Patreon.
To put it concisely, MC Eiht is Compton. From the moment he emerged as a member of Compton's Most Wanted, Aaron Tyler's reputation was cemented by his ability to captivate listeners with the intricacies of a world they might never see in person. Like many great storytellers before him, the art was a mix of his own reality and the legend of his surroundings. He represented his city visually with his role as "A-Wax" in the Menace II Society, and even became the vocal representation of West Coast gang life as Lance "Ryder" Wilson in Grand Theft Auto: San Andreas.  
It's been 30 years since Eiht first helped establish the "Hub City" as more than a one-trick pony that got lucky with N.W.A. Since then, it has come to be mentioned alongside landmarks like Rodeo Drive and the Hollywood Walk Of Fame. There is even a tour in Los Angeles called the "Hood Life Tour" that takes people from all over the world to see the childhood homes of Dr. Dre, Eazy-E, Kendrick Lamar, Game and other rappers that have made it a hip-hop capitol. While the fame garnered by some of the aforementioned names has given Compton a badge of honor, Eiht's musical evolution has served as a reminder that underneath the surface, not much has changed. 
Eiht's new album is called Lessons and in it that is what he shares. It's also a reminder of the respect the venerable rapper has earned in this game as he links up with contemporaries like B-Real, Kokane, DJ Premier and of course his former group mate, Tha Chill (he also connects with younger artists like Dave East and Conway The Machine.) Still the voice of the streets, there is an air of calm that comes from a man that has survived both the asphalt and the music industry. He can still tell a story, but it has a more professorial feel to it these days. From a feud with DJ Quik that went beyond rap, to business lumps he took dealing with major labels, the man who coined the term "gyeah" has earned his peace, and embraces it.  
Consistency is an oddly controversial concept in hip-hop, and one that proves the accuracy of the mantra "you can't please everybody." Some people scoff at hearing the same subject matter time after time, while others deem anyone that veers from the blueprint that brought fame in the first place, a sellout. If Eiht's music has proven anything it's that he probably doesn't give a shit what people think. He remains the unflinching reporter and the subject matter in songs like "One Time Gaffled 'Em Up" and "It's a Compton Thang" still permeate the inner city existence.
To be less concise, Aaron Tyler is complex. He's a father, but he's also a Crip. He's known for violent tales of tumult, but he's also a huge jazz nerd. He's tasted success in film and video game roles, but he's not chasing a bag. Thankfully, because of his consistency he doesn't have to. He can do what he's done for three decades. Be the voice of Compton. — Jake Rohn
---
After hearing Lessons I can comfortably say that all these years later, narrative-driven songs are still important to you.
---
MC Eiht: I still got the hang of it a little bit. I can still put together a decent project with the narratives. That was my aim for Lessons, to just try to go back to the drawing board and do what I do and what fans appreciate from MC Eiht. I just tried to go back to what I know best and not get outside the box trying to do something too far left of what people know me for. I wanted to make it a continuous flow as far as the songs and arrangement were concerned. I tried to stick to that same formula. The songs flow into each other, not drift off into too many subjects.
---
One of the other things that's been consistent with you is the incorporation of jazz into your sound. Was that a bonding point when you were working with DJ Premier on Which Way iz West?
---
MC Eiht: I listen to a lot of jazz. I try to incorporate jazz into some of my production. If you've listened to me over the years you know I always try to go there. As far as with Preemo, he's the type of cat that knows the format of what I like to listen to and create to, so it's not hard for him to come up with ideas or situations. He's so musically inclined he can do that. I try to listen to all kinds of music but jazz is one of my absolute favorites. I'm even thinking about doing a jazz record like Guru did [with Jazzmatazz]. That would be some crazy shit. I'm so influenced by it 'cause they have different sounds and chords and musical nuances that we don't use in hip-hop. I think that's one of the reasons Guru took that step, because it's a different side of music and it can transform your lyrical shit.
---
Were you able to stump Preemo on any of the jazz joints?
---
MC Eiht: I used to do that with Slip a lot, not Preemo though, cause Preemo had Guru. Guru was already jazz inclined but I used to do that back in the days when I had Music to Driveby and stuff like that, I used to always listen to Ronny Jordan or some Stanley Clarke or Brandford Marsalis. I always used to dig in the crates to find different kinds of music. Even when we did "We Made It," it was a song by Craig T. Cooper When I did "U's A Bitch" on Music to Driveby, that was a Ronny Jordan record. I still dig in the crates. My auntie got a garage full of records so I dig and dig cause there's always something new you can find.
---
You mentioned making jazz album. Is that already in the works or just something you're thinking about?
---
MC Eiht:

I've been working on it a little bit. I got a few tracks. Like I said, I'm always listening to jazz, trying to come up with new ideas. If I do it, it has to be done right. I don't wanna just throw something together, but I do have a couple of tracks that I've done off of some jazz music. I've got a producer who specializes in jazz so I think that could be something new and different. Sticking to the same format but trying some new musical angles. I think people would appreciate that, especially knowing that I'm already jazz inclined on some of my compositions.
---
You mentioned Music to Driveby and I forget, was that the album that came on a blue cassette tape?
---
MC Eiht: That was my first record It's a Compton Thang. That's when you know people are true fans when they can remember my first cassette tape. Funny thing is I don't know why Capitol decided to make it a blue tape. A lot of their new releases the year that we joined Orpheus/Capitol they decided to do blue tapes for. It just so happened we were from Compton and we ended up with the blue tape. it was particularly authentic for us coming from Compton in the gang era and all that but really it was a coincidence that turned out to be significant for us. A lot of people still remember that to this day. I'm thinking about doing some promotional copies of Lessons and doing some blue cassettes. That would be a great collector's item.
---
You made a lot of West Coast fans happy when you connected with Quik on him and Problem's Rosecrans album. Any possibility of something more or even a full project from you two?
---
MC Eiht: I'm open to all kinda shit. Right about now I'm just trying to flex my muscle and do whatever I can do. I'm down to work with Quik, anybody. Shout out Quik and Problem. We did two songs for the Rosecrans project and it turned out pretty good to me. The songs was bangin.' I think a lot of fans kind of missed them because I still get people hitting me up like "When y'all gonna do something together?" I have to remind them that the Rosecrans project came out and we had two songs on there. I'm open to do anything as far as for the love Compton and us both representing Compton, I'm down. That's where I'm at right now. We're not beefing in the city as far as rappers and entertainers are concerned with the neighborhoods. It's the perfect time to come together and make some music for the fans and keep the legacy going.
---
That unity is big and in more recent times it seems like red and blue collaborate on songs all the time. What do you feel is hip-hop's role in that unity going back to Bloods n' Crips Bangin' on Wax.
---
MC Eiht:

I've always looked at trying to establish unity within hip-hop as far as neighborhoods and sections are concerned. I think it's valuable. A lot of dudes nowadays openly express where they're from and what they represent, which was a little more difficult for us back in the days. I think hip-hop has been that bridge, allowing people to work together. People like Nipsey were able to bridge the gaps between the neighborhoods and work with different cats. It allows you to be able to enjoy other people's music without any aggression or animosity. I've been able to venture out and deal with cats I would have never dealt with 20-30 years ago as far as neighborhoods and gang beefs were concerned, and the music has been integral in bringing us together. Different neighborhoods, sections, cities and towns, being able to collaborate with somebody from the other side of the street shows that we can have unity in the streets. I've dealt with producers from the other side. My DJ, Mike T was a Blood. I've dealt with Mack 10 and Squeak Ru and a lot of cats that on a given day, in any other type of situation it probably wouldn't have happened, but music has been able to bring us together and show people it's not all about what you read and see on TV.
---
You tapped Kokane on the new album for "Can't Nobody." I was surprised you hadn't worked with him before as prolific as you both are.
---
MC Eiht:

I'd never worked with Kokane. I know Kokane well. We're compadres in this business, we've seen each other but we've never collaborated. Working on this project, my boy Chill worked with him a lot, so when we were in the studio, Chill recorded me on this song and when we got ready to lay it down, I just heard him all over this song. Chill hit him up and made the connect. Shout out to Kokane because that's that love and respect you establish with cats in the business where you can call them and no questions asked, they'll be willing to contribute to projects without having to worry about the business shit, and I'd do the same thing.
---
Taking it back to when you first started, Compton's Most Wanted and N.W.A surprisingly are not mentioned together a whole lot. How much did your paths cross back in those days?
---
MC Eiht:

We always saw Eazy and Ren. They would always invite us to shit. Chill lived across the street from somebody Ren was close to so we would see Ren all the time. Before we were even established, when we'd in the studio trying to get our thing together, they would invite us to video shoots, pool parties and all that type of shit. On the back of the N.W.A album they gave Compton's Most Wanted a shoutout. I looked at it like we were the little brothers or cousins. Not that they gave us any push or that we relied on them to, but they knew that we were trying to establish our presence as artists and there was no animosity. I saw Eazy all the time. There was a point where I thought I was gonna write some music for him right before he passed, I also went on the road with Bone Thugs when he would be at the shows performing. In the early days we used to Hang out with him and Above the Law because we all were in the same section: L.A. dudes trying to climb that totem pole. There used to be a lot of that in the early days in Compton and Hollywood. You run into dudes at the clubs, everybody's always hanging out. It's a small world. We were all just dudes trying to get ahead. Eazy and N.W.A was the big brothers and we were the little brothers. I think that's what helped L.A. at the time, was that even though there were beefs, a lot of crews looked out for each other.
---
You were supposed to write songs for Eazy?
---
MC Eiht:

I know cats who were working with him and he was working with them trying to get some songs done, so somebody asked me to write some songs for them to present to him. I wrote two or three songs that they were supposed to give to him but it was just around the time that he got sick so I don't know if it ever actually reached him. It was a good assignment for me cause I knew how to write stories, I knew about Compton, I grew up there all my life, gang banging and all that so that helped me write about situations in the city and the struggle.
---
And you said N.W.A would invite you guys to video shoots. Did you wind up in any of their videos?
---
MC Eiht:

We were in the "We Want Eazy" video. We were in the front row of the crowd at the end if you pay attention you'll see me. I was a young guy right in the front row, CMW hat on, sweatshirt, everything. And Chill was in the "Eazier Said Than Dunn" video so yeah, we were present in some of N.W.A's early videos. Like I said, they always shouted us out. Ren has always looked out to this day we still holler at Ren. Chill talks to Ren all the time.
---
You lent your voice to Grand Theft Auto. Are you looking to do more voiceover work after that?
---
MC Eiht:

Shout out Rockstar Games and DJ Pooh. That happened because they had used one of my songs for one of the earlier games and they were working with Pooh and they called me up and told me they wanted me to come read and see if I would fit the role and they flew me to New York. I went down there, they gave me a script and I watched the screen and fit the parts to what I saw. It was simple and when it came out, everybody recognized my voice from my parts. So I'm not seeking out voiceover or acting work but if someone asks, I'm always up for new opportunities. I am about to start this podcast. If you ain't never heard of "The Gangsta Chronicles," it's a podcast that I just got added to as a host with my boy MOB James and Big Steele, and I think that it's about to be picked up on a major scale, so be on the look out for that. Right now it's on the Digital SoapBox app.
---
Pooh really is the Forrest Gump of West Coast rap. He's quietly been a part of everything.
---
MC Eiht:

DJ Pooh is legacy. I've been knowing about him since back when it was just neighborhood rap. He was there at the beginning with all the Mixmaster Spade shit. King T's early shit, Ice Cube's early shit, my man Threat. Who hasn't he fucked with? And then when you go to the movie side, Friday. He's definitely gonna go down in my history books as top five as far as West Coast significance is concerned.
---
You connected with some of the dopest young artists, Conway and Dave East on Lessons. How did those connections come about?
---
MC Eiht:

Just a mutual respect. I listen to their music. I'm pretty sure at some point in their lives they've heard or seen something I've done. I think I always tried to represent some of the same things that they represent in their music: That struggle and that street life. Being that I walked that line in my life and music it let's them know that this is one of the dudes that's been around. The conversations were just like talking to a mufucka I've known all my life, and when I hit them up to do the song it was no hesitation on either side. And they were down to shoot the videos to it, that shit just shows the love and respect on both sides.
---
When I think of Dave East I always think of Nipsey. Did you ever get a chance to build with him before he passed?
---
MC Eiht:

Nipsey and I never got a chance to collaborate which was unfortunate because he was a cat that I listened to from the time he started making records. He was a dude I always respected, especially as far as his music was concerned because not only did he speak on the gang life, he also spoke on the vision, being your own man, having something and not just settling for being the stereotype that people think we're supposed to adhere to. It gave kids that grew up in that lifestyle something more to aspire to. He showed that it was bigger than just the music.
---
Now I need a little redemption. A while back I interviewed you and you told an amazing story about 2Pac at a show in Milwaukee. When I listened back, that answer got cut. I couldn't remember all the specifics but I remember it was an incredible story.
---
MC Eiht:

What's so funny is, people have been posting about that the last couple days. I just saw on Instagram the news article from that night. It was a big ass concert that we were a part of in Milwaukee. The Lineup was 2pac, Xscape, Da Brat, H.W.A, Compton's Most Wanted and myself, Boss, Spice 1 and Scarface. Now, like the news article said, the concert had gone good. Me and Spice 1 had just gotten off stage. The crowd was amped cause it was nothing but gangsters and shit like that. So we got offstage, everybody was hyped and pumped and then 2Pac went on stage, and his mic started fucking up. It started fading in and out. So he switched mics, he started talking and then they did a moment of silence for the thing in Chicago with [an 11-year-old boy in Chicago who was murdered by gang members] Robert "Yummy" Sandifer. He spoke on that, and then it just turned and it was "fuck you" this, and "Y'all ain't this," and "the crowd this" and "I taught y'all how to do this and that," and "y'all ain't real gangsters. We're the real gangsters. I taught you how to gangbang." Needless to say the crowd got offended. I was in the dressing room, but they said that guns were pulled out, a shot was fired up in the air and next thing you knew the crowd was hopping up on the stage. People had to run to their dressing rooms. I was really familiar with a lot of Chicago dudes that were there so I had about a hundred dudes in my dressing room and they wanted to get him because they were offended by what had just happened being Chicago veterans. We all know Chicago mufuckas do not play. I had did work with a few Chicago n***as, so they were offended and restless. So the whole fucking arena basically floated into the streets, they ran over to the hotel where we were staying. You're talking about a sea of people just running through a hotel, tearing it up, and I think after that Milwaukee didn't have any rap concerts for a while.
---
That's as crazy as I remember it.
---
MC Eiht:

That was one of my craziest experiences as far as a concert is concerned. I'd never been through some shit like that. We made it back to our room and we're looking down from about the 15th floor into the lobby, and when I say I just saw a wave of muthafuckin' people and they started running up the escalators and knocking over pianos. You couldn't go down there, that shit was hectic.