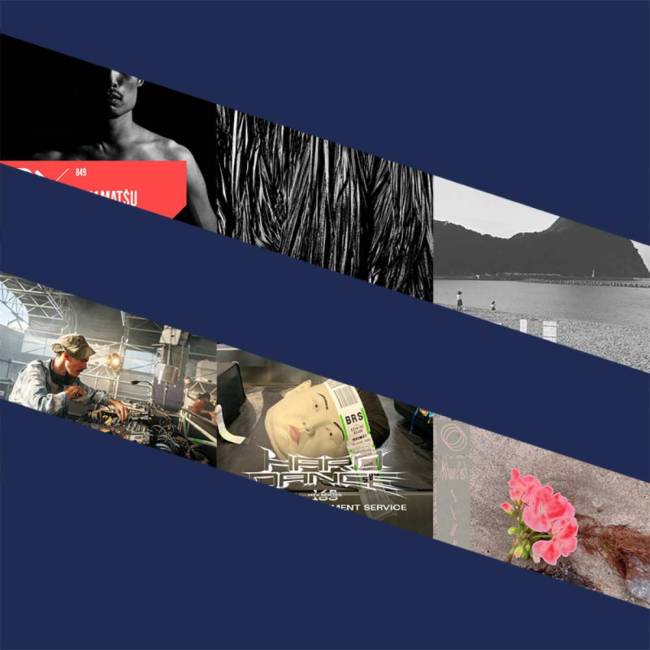 Image via Michael McKinney
Independent rap journalists will recommend you new music until their voices give out. Keep it that way by supporting Passion of the Weiss via a subscription to our Patreon.
Michael McKinney understands the cultural importance of Kreayshawn's "Gucci Gucci."
---
Sometimes, a great DJ set emerges from specificity. In September, several names leaned hard into deep-crate mixing, exploring their chosen styles and aesthetics with exactitude and aplomb. In a pair of raucous live sets, Ghost Phone pushed their trademark rave-up R&B into quick and playful territories, while house-music mainstays Hamish & Toby turned in four hours of jubilant garage and tech house. Kore and Jed Bindeman both focused on folk and county records, but to different effect: the former looked to mellowed-out fingerpicking, and the other found a kind of homespun psychedelia. G Jones and EPROM, two essential names at the intersection of trap and breaks, dug ever deeper into their sound, and Jake Muir showed off the spooked-out guitar music he's been listening to lately. Slunty, a.k.a. IDM shapeshifter Pontiac Streator, looked towards drum-and-bass, while Chuquimamani-Condori, a.k.a. Elysia Crampton, continued her singular brand of timeline-collapsing collagery.
A few names went a bit wider, though. Mixing from Berlin and Miami respectively, DJ Spit and Jonny From Space showed off the range of modern dubstep, breaks, and "bass music"; DJ Bus Replacement Service and Snufkin, meanwhile, looked towards the sound of hard dance in two firestarting sessions. The billion-genre electronics collective 3XL showed off their range in a six-hour, seven-DJ radio takeover, and names from across the dance-music zeitgeist went wide for Dekmantel festival 2022. Jane Fitz, a Berlin club-night veteran, turned in a quietly exploratory chill-out set, and Michael J. Blood moved between spine-tingling house and spoken word. Octo Octa and Sicaria Sound continued to push house and dubstep into new territories, and ¥ØU$UK€ ¥UK1MAT$U pulled off a million left turns in a characteristically brain-bending mix. Time Is Away zoomed in on hushed ambience and zonked-out dub in a pair of quiet-storm sessions, blending sounds and styles with a hushed grace.
Here are some of the best DJ sets September had to offer.
---
Chuquimamani-Condori – Rayo Mix 2022
---
Since her debut in 2008, Elysia Crampton has practiced a particularly confrontational strain of sonic archaeology. In her work, she puts hyperreal electronics and ancient folk musics in conversation, pressing drum programming and hand drums against each other until they burst into a million colors. Her work is frequently messy, but in a way that feels purposeful and generative; it makes the implicit argument that timelines are made to be shredded. Rayo Mix 2022, released under her alias Chuquimamani-Condori, is as audacious and singular as this approach would imply, collapsing the gaps between modern pop radio and folk music traditions from across South and Central America. Throughout, Crampton finds a communal and cluttered kind of joy, with polyrhythms barreling into—or on top of—each other and a million kinds of drums launching each other into ever quickening frenzies. At any given point, she's likely playing a few different tracks at once, either in a slick mashup or a pointedly busy cross-generational pile-up. But the latter is far more common, leading to some of the set's most arresting moments: Lady A's "Need You Now" is, unintuitively, a bit more yearnful when placed atop marching-band snares, clattering drum machines, and a crowd of shouting onlookers. Rayo Mix 2022, like so much of Elysia Crampton's work, is a piece of context-magnifying collagery, offering disorienting enlightenment to any listener willing to lean in.
---
DJ Bus Replacement Service – Hard Dance 165
---
DJ Bus Replacement Service has emerged as a singular figure in the UK's club circuit. She's not exactly a comedy DJ, per se, but she's got her tongue firmly planted in her cheek at all times; she revels in playing against expectations, dumbfounding ravers with all sorts of left hooks. Turn into one of her sets and you're likely to find hardstyle rap bootlegs next to gritted-teeth industrial techno and comedy-skit interludes leading into choral renditions of pop-radio tunes. This anything-goes attitude makes her a good fit for the hard-and-messy sides of dance music. Certain corners of that world—gabber, hardstyle, donk—often lean into absurdity, dialing up the humor even as they turn in amp-busting rhythms.
On Hard Dance 165, she does the same, turning in one of her most aggressive sets yet even as she moves in characteristically unpredictable ways. In one trademark blend, she moves from skittering bassline to a billion-ton Darude bootleg; look elsewhere, and you'll find bubbling from De Schuurman played underneath a circa-'80s school choir. It's not all jokes, though. Look closer and Hard Dance 165 reveals itself to be a sneakily clever set, both in substance and style, full of earth-cracking techno records that zig when they ought to zag. But her brand of car-crash alchemy works here, making even the most audacious blends land cleanly. Like the best DJ Bus Replacement Service sets, it's a jubilant and wildly playful session that ought to fail on paper. But in practice, it's an ode to the kitchen-sink idealism of rave music with a few extra punchlines thrown in.
---
DJ Spit – Dekmantel Podcast 402
---
Having deep crates is, in itself, hardly a mean feat. Collapsing the boundary lines in a wide collection, though, will never go out of style. With Dekmantel Podcast 402, DJ Spit—a standout name in a crowded Berlin scene—shows off the range of his sound, tossing umpteen genres into a blender and coming out with something that feels entirely new. This hybrid-focused approach is clear from the jump. The opener, K Wata's "Bone Tags," is a new-school dubstep barnburner, and the following track, Pantile's "Subterranean," sits somewhere between raucous breakbeat and slippery IDM. The thing holding them together proves most instructive: DJ Spit focuses squarely on wiggly dance music here, keeping things moving even as his selections twist against expectations. This kitchen-sink approach allows him plenty of space for rubbernecking rave-ups, whether that's an early shot of dancehall-drill from Roska, a mid-set blast of steel drums and rippling snares from De Schuurman, or a late-session riser courtesy of Siu Mata, the French don of "speed dembow." Crucially, Spit sticks the landing each time, connecting all sorts of speedy and playful club tools with aplomb.
---
G Jones & EPROM – Disk Doctors
---
In both sound and style, Disk Doctors has a retro facade: its cover art recalls MS-DOS games, and its sound, full of acidic synth lines and old-school drum breaks, is heavily indebted to the sounds of '90s warehouse raves. But it's something entirely futuristic, too. That much should be expected: G Jones and EPROM are essential names in modern EDM-trap, but their sound straddles the line between big-tent euphoria and vintage and devilish acid-breakbeat, pulling the two together in all sorts of exciting ways. With Disk Doctors, composed almost entirely of their own productions and edits, they make a case for their style, digging deep into the space between drum-and-bass, acid, breaks, and gritty trap music. (It's telling that the only song they leave untouched is by Squarepusher, a similarly restless producer whose best music moves with a similar restlessness.) In just forty minutes, they twist their sound into all sorts of shapes without leaving their wheelhouse: bass-heavy breakbeat, tectonic-plate bass-drum workouts, and a thousand colors of acid. For anyone new to their style, Disk Doctors is an incisive introduction; for those more familiar, it shows them pushing their sound into new territories yet again.
---
gank.xo, Aeriform, Hank Jackson, James K, CCL, Special Guest DJ & DJ Fart in the Club – 3XL Takeover
---
Since its foundation in 2020, 3XL, an electronic-music collective with members across the globe, has stretched into a million fringes of dance music. Its origins lie with disheveled ambience and new-school new-age, but the its affiliates have ventured into nu-metal, golden-age IDM, blistering hardcore, and plenty of other forms besides. It tracks, then, that the label's Lot Radio takeover goes long: in an extended community, it's not hard to phone a friend. Over the course of six hours, seven DJs grab the decks and trade hands, turning their libraries inside out and pushing each other into ever stranger territories. The result is dizzying and playful, full of left turns down endless rabbit holes. Here, it's breakbeat-ambient and screwed-up rap; there, it's zero-gravity dub and drone-techno; elsewhere still, it's blisteringly quick hard-drum and white-hot Amen-break flips. The sheer range on display is belied by the length, which affords the crew plenty of time for smooth blends even as they drain their USBs. As they vault between styles and sounds, each DJ shows off the kitchen-sink psychedelia and zonked-out rhythms of 3XL's best stuff, underlining just how joyous dance music can be in the process.
---
Ghost Phone – Live at Headroom Festival
---
Taking pop-radio tunes and strapping them to CDJs is hardly a new trick, but it remains an essential part of club culture. Since the label debuted in 2019, Ghost Phone has been putting their own spin on the sound, turning vintage hits and recent Billboard smashes into hypermodern and thoroughly zonked-out club tools. In keeping with that approach, previous Ghost Phone mixes have often been a bit woozy, perhaps more fit for the 4-a.m. drive home than the 2-a.m. peak-time sessions. Not so with their latest. Live at Headroom Festival, pulled from a performance last August, is aimed squarely at the ravers, filled with uptempo bootlegs of well-worn radio cuts. Both the acapellas and instrumentals are delightfully kitchen-sink; the mix regularly crosses the Atlantic in search of club heat, balancing sensuality with physicality along the way. Early on, that means a bit of blistering jungle underneath chopped-up R&B; look elsewhere, and you'll find a veritable grab-bag: southern-rap classics and donked-up UK drill, bassline-injected kiss-offs and Baltimore-via-Bristol ragers. Throughout Live at Headroom Festival, Ghost Phone juggles underground-radio sensibilities with FM-radio sounds, keeping umpteen styles of dance music in conversation along the way.
---
Hamish & Toby – RA.851
---
Together, Hamish Cole and Toby Wareham have spent roughly three decades knee-deep in UK club culture. They bonded over a shared love for digging through vintage and obscure records, and their style—deep but unpretentious, with a heavy emphasis placed on sun-kissed grooves—indicates that they've been at it for a while. Their mix for Resident Advisor, recorded live during a stateside tour, shows the duo in their element: this is four hours of old-school tech-house and garage burners, full of joyous rhythms and effortless blends. Even in such allegedly straight-ahead territory, though, they find plenty of corners to explore. Squint between the shuffle-and-swing snares and heads-down kicks and you'll find wiggly acid techno, an extended run of electro, and plenty of squelching drum machines to keep things a bit unpredictable. Most of the best back-to-back sets have a tangibly improvisational energy due to their structuring; even though they've been working together for years, Hamish & Toby keep that ethos alive, pushing each other into ever deeper corners of their crates. RA.851 is the sound of two dance-music veterans digging into their collections and pulling out handfuls of confetti.
---
Jake Muir – Talisman Mix
---
In August, Jake Muir and Evan Caminiti—two quietly masterful worldbuilders located on opposite sides of the globe—united for Talisman, a record that fused deep-space ambience with cavernous post-rock and moribund metal. In their hands, the fusion is as natural as it is alien, suggesting a world of yawning chasms and pitch-black corners. With Talisman Mix, Jake Muir zooms in on that geography, revealing the artists and influences that shaped its contours. The result is both harsher and more ethereal than the final product: it is bookended by grinding death-metal guitars from Morbid Angel and spaghetti-western drone-metal from Meshuggah. In between, Muir touches on a huge expanse of guitar-based music, from spaced-out ambience to screeching noise; a near-uniform focus on expansive and spine-tingling tones acts as the connective tissue, which affords Muir plenty of space within genre, style, and tone. Here, the late-night sounds of ECM jazz sit comfortably next to Main's feedback-loop industrial and Chas Smith's hair-raising ambience, and Miles Davis may as well play doom metal. What looks like a tantalizing genre-pile-up on paper hardly plays as such, though; the result is both more cohesive and more evocative than a list of names suggests. Talisman Mix, in practice, is a disorienting and otherworldly mix of guitar music, stretching from disconcerting intimacy to widescreen drama.
---
Jane Fitz – Shroom Sessions at Hidden Sounds
---
For over two decades now, Jane Fitz has been an essential name in London's club scene. She may be best known for her dancefloor-oriented selections—acidic techno, jubilant house, and the like—but her taste runs both wider and deeper than that. With Shroom Sessions, she underlines that range. The set, recorded at a record store in London during the height of COVID-19 club closures, functions as a supremely chilled-out sort-of-ambient session for a crowd barred from dancing. Given there's no crowd to crank up, Fitz turns on the smoke machines, conjuring a thick fog of creeping psychedelia, slow-motion jazz, and moss-encrusted electronics. Fitz moves with a quiet grace throughout, letting tracks breathe fully before moving to the next, with each selection deepening the haze. Even the most unusual left turns—Hindustani classical music into smeared-synthesizer ambient, deep-sea drones into acidic techno burners—make an alien kind of sense here, a testament to Fitz's careful world-building. Over the course of four hours, Fitz cast Hidden Sounds into the dark, guiding any curious listeners towards entire universes.
---
Jed Bindeman – Freedom to Spend
---
Freedom to Spend specializes in bygone sounds, repackaging them and offering them to a new audience. As a result, the label's catalog hovers between timelessness and immediacy. The latest mix in their NTS residency, recorded by label co-founder Jed Bindeman, offers their ethos in a tight hour that stretches from vintage new-age and garbled spoken-word records to pastoral progressive rock and blissed-out folk. The throughline, here, is sheer quietude; Bindeman's selections move so delicately that you can hear each errant note. Midway through the mix, he moves from Ragnarök's prog-folk lullaby "Dagarnas Skum" to Warren Simpson's "Drifts," a piece of lush ambient-Americana released decades later, and then to Metal Mountain's "Silver Sun," a slow-motion opus that fuses dream-pop and spaghetti-western motifs to beguiling effect. It's indicative of a broader approach. Throughout the mix, as in his label's work, Bindeman moves between umpteen eras, years, and styles of experimental and folk musics with an understated grace.
---
Jonny From Space – Untitled 909 Podcast 135
---
Jonny From Space's name stems from Miami's club scene—he works at Space, one of the city's dance-music hubs—but the implication feels deliberate. His best tunes balance a firestarting energy with brain-bending percussion, always sounding a bit alien even as they rocket towards dancefloors. With Untitled 909 Podcast 135, he turns in something ever stranger, dialing up the smoke machines and leaning into woozy kind-of-techno. He opens the affairs with Tammo Hesselink's "Now Attempt," which is fitting: the producer's chopped-and-scattered techno has a queasiness that Jonny spends the rest of the mix chasing, jumping between style and genre without getting too lucid. In a particularly incisive segment, he grabs Daniel 58's "Doozy"—a bit of fever-dream dubstep made all the woozier by its shuffling percussion—and slides into Dino Sabatini's "Lewa," which balances chase-scene techno energies with elliptical hand-drums that seem locked in a constant acceleration. Throughout the set, the Miami DJ keeps things equally playful and disorienting, finding a middle ground between a low-key afterparty and the 4-a.m. drive home.
---
Kore – Theory Therapy 42
---
While speaking to Low End Theorists about Theory Therapy 42, Kore outlined what she finds most restorative in music: patience and stillness. Given Theory Therapy is built around artists sharing what they find to be therapeutic, it should come as little surprise that the Montreal DJ-producer's entry is slow and preternaturally calm. The session is exceedingly gentle and imbued with a comfortably homespun quality, full of fingerpicked guitars and closely-mixed singers. It doubles as something of a who's-who of hushed folk records. This is outlined from the jump: due to the nature of her selections, Kore doesn't exactly grab the listener by the throat, but there is tremendous power in tenderness. Grouper's "Pale Interior" moves between harsh interiority and a dumbstruck awe at the outside world with little more than an acoustic guitar; Mountain Man's "Baby Where You Are" gives voice to the yearnings of love; and the harmonies of Linda Perhacs's "Chimacum Rain" descend like its title, moving thickly and quickly until the clouds part and the sun peeks through. Much of Theory Therapy 42 moves like this, exploring untold shades of quietude and zooming in on intimacies until they fill the rest of the world.
---
Michael J. Blood – 17th September 2022
---
Since their introduction back in 2017, Michael J. Blood, an electronic music producer working from the shadows in the United Kingdom, has constructed a downright Borgesian image of dance music. Their music fits alongside some of the UK's more outré names—spend enough time with their work and you'll catch shards of Tom Boogizm's anything-goes experimentalism and Actress' lo-fi hypnagogia—but it feels singular nevertheless, a carefully curated pile of elliptical synthesizers and shambolic drum machines laid just so.
With 17th September 2022, their latest all-originals mix, Blood leans into the murk, turning in an hour of labyrinthine electronics. Blood deepens the confusion by opting for hard cuts, jumping between vinyl-crackle soul loops, vintage-sounding spoken-word, and broken-machinery house, all seemingly at random. The almost-dance music on display flits between plenty of styles without settling on any of them—at one point, the set moves from moribund techno to locked-groove house rhythms, only to feint towards the hyperkinetic sounds of footwork. It's in this restlessness and ambiguity that Blood's music finds its power, though. Its endless gestures towards club music suggest that Blood could easily move dancefloors, but its ghostly touch tells the listener that they're far more interested in slipping between the cracks.
---
Octo Octa – Love Hypnosis Vol. 2
---
Dance music has long held whispered promises of escapism: the right sample loop or synth stab, the story goes, can catapult the dancefloor to another plane. Octo Octa has been pushing this vision of dance music for over a decade now, leaning into the sounds of deep house and breakbeats to deliver unfettered elation. With Love Hypnosis Vol. 2, she reaches ever higher, assembling a sun-kissed session of effervescent breaks and life-affirming house records.
The first half, subtitled "Trippin' on Love," is predominantly made up of classic garage-house tunes, all shuffling snares and synthesizers straining towards something greater. The flipside, "Slammin' With Love," is hefty in comparison; here, Octa reaches for old-school tech-house burners and funked-up deep house records prone to set a dancefloor alight. Either side is linked by a shared optimism and unmitigated joy, whether that's due to a well-placed drum break or a rolodex of vocal samples clipped just so. It's easy to point towards house music as a space for communal love and fantastical imagery, but it's something else altogether to show that power in action. With Love Hypnosis Vol. 2, an essential figure in house music does just that.
---
Sicaria Sound – ITPS083
---
Sicaria Sound have made a career out of chasing chest-rattling and bass-forward dance music, showing just how far the 140-BPM sound can go in the process. It was only a matter of time, then, that they wound up crossing paths with Ilian Tape, a label with a similar approach to depth-charge club tunes. ITPS083, recorded for the label's mix series, shows Sicaria Sound stretching out and slowing down a hair before upping the tempo and deepening their rhythms yet again.
This stuff is dubstep in the widest sense of the term, with everything tied together by a miles-deep low-end and steely, precise percussion, but it's impossible to pin it down beyond that. The opening few minutes are both unusual and instructive: at first, it almost sounds like a bit of '90s nu-jazz, each drum filled with cigarette smoke, but then they crank the bass and it turns into an earth-shaking post-dubstep tool. From there, they reach for a bit of skittering hip-hop, a touch of half-time post-Burial dystopianism, and a few propulsive and nigh-unclassifiable club tools—and they've still got an hour to go. ITPS083 is both wide-ranging and hyper-focused, at once playful and dead serious. It further cements Sicaria Sound as the preeminent cartographers of modern-day dubstep, tracing out its contours as they twist in all sorts of unusual and exhilarating ways.
---
Slunty – Motion Cast Vol. 84
---
Motion Cast Vol. 84 opens with a bit of a feint: its first few minutes are made up of outré and arrhythmic electronics, each blast of noise sounding like a speaker flapping in the wind. But, two minutes in, Slunty—a.k.a. Philadelphia electronic-music experimentalist Pontiac Streator—turns up the low-end, anchoring the whole thing with a few well-timed bass drum hits. It's not long before the rest of the percussion creeps into view, one scuffed-up hand-drum and depth-charge bass bomb after another. Slunty spends the rest of the set snowballing, gradually upping the tempo and intensity of the proceedings without losing sight of the oddball sounds that started it all off. This aesthetic alchemy pushes Slunty into all sorts of speedy and off-kilter sounds: hair-raising basslines and Amen breaks next to vocals that wouldn't sound out of place on a dream-pop record; a shot of acidic synth workouts that dissolves into pointillistic drum-and-bass minimalism; squiggly almost-dubstep aimed straight at a half-time tech-and-bass barnburner. Motion Cast Vol. 84, impressively, becomes both more direct and uncannier as it goes on, moving in ever stranger ways even as it lights up the dancefloor.
---
Snufkin – Fact Mix 876
---
In club music, humor and heft can both be risky propositions: lean too hard on either and a tune can tip over into self-caricature. There's plenty of space for each on the dancefloor, though—the canon of hard-and-fast electronics would be greatly reduced were it not for the sounds of gabber, happy hardcore, breakcore, and plenty of other styles that aim for both gutbusters and gut punches. With Fact Mix 876, Snufkin offers their own spin on the aesthetic, turning in a messy and playful hour of selections that won't sit still. Speaking to Fact, they said that "today's nightlife culture [seems] so overly serious and predictable," positing their set as an antidote to anything so straight-ahead and stone-faced.
A quick scan through the tracklist reveals a who's-who of contemporary club-music experimentalists, with a particular focus on those unafraid to blast ravers with a thousand-ton bass hit: Varg2™ with a gristly anti-cop anthem, LSDXOXO with a bass-blasted and disorienting techno stomper, and, in a late-session peak, Disaffected's million-mile-an-hour edit of Tessela's "Hackney Parrot." But there's plenty of straight-ahead mania, too, like aya's UK-drill-versus-X-Files bootlegging and MORENXXX's liturgical and disorienting Drowning Pool mashup. Throughout Fact Mix 876, Snufkin whips a whirlwind out of all sorts of tough, dark, and mischievous dancefloor tools, bleeding into the red with a devilish grin.
---
Time Is Away – Rainy Day Dub Part II / inis:eto
---
At this point, Time Is Away—a roving experimental-music duo based out of London—are column mainstays. That's hardly an accident: no matter how many styles their material touches upon, their approach scans as more or less singular. In their work, Time Is Away interlock histories with a deft touch, weaving between traditions and crumpling up timelines; in their hands, even the most cutting-edge music sounds ancient, and material that predates the drum machine carries a newfound vitality. Two recent mixes of theirs showcase the depth and breadth of their approach. With Rainy Day Dub Part II, released on critical post-everything electronics outpost Berceuse Heroique, the pair looked towards slippery dub records for an unpredictable and playful ninety minutes. They select with an eye for the uncanny valley here, alternating between bracing minimalism, spaced-out lounge music, and downright lush kind-of synth-funk. It's a quiet tour de force of utterly zonked-out dub tunes, with plenty of left turns mixed in for good measure.
inis:eto, by comparison, is downright widescreen. Recorded for a "deep listening party" of the same name, it is funereal and jubilant, disorienting and centering, meditative and unnerving. Here, they stretch out deep into left field, leaning on their formidable IDM and ambient crates: early on, this means deep-space ambient-techno drones, garbled-and-scattered duets for voice and synthesizer, and liturgical piano pieces. Over time, they both complicate matters and slow things down. In one particularly arresting portion, they move from an elliptical percussion workout to a barely-lucid bit of techno: one bass note repeated into infinity, a voice snatched from the ether and encrusted in static, and a trumpet playing an elegy behind. That the portion works at all is impressive: its components are disparate on paper, but they are held together thanks to a certain dream logic, where anything can fly if it moves with enough elegance. Inis:eto is filled with unpredictable and subtle turns of style like this. In just two hours, Time Is Away conjure what feels like an entirely different world, gesturing towards umpteen nooks and crannies along the way.
---
¥ØU$UK€ ¥UK1MAT$U – RA.849
---
RA.849 plays like a minor miracle, but what else is new? ¥ØU$UK€ ¥UK1MAT$U—a.k.a. Tokyo's Yousuke Yukimatsu—has rightfully earned a reputation as one of the city's most wild-eyed DJs, with a portfolio that stretches from billion-genre rave-ups to scuffed-up ambient. (Two of his most recent sets demonstrate this in spades: his 2020 Boiler Room set, which rockets between styles and tempi, is both inimitable and essential, and his 2022 compilation-mix Midnight Is Comin' is a singular survey of the electronics coming out of Japan.) He has a tendency towards hard left turns and outré moves behind the decks, but it rarely feels like an act of showmanship. Instead, Yukimatsu's sharpest blends serve to underline the specifics of his selections, highlighting particular textures or moods even as they crumble underfoot.
Yukimatsu's offering for RA's long-running mix series neatly encapsulates this approach, diving deep into vertiginous ambience and filling the chasms with piles of percussion. Again and again, he shifts between pitch-black synthetics and steely-eyed club tools, jettisoning styles and pulling U-turns at a staggering clip. This kind of acrobatics is a dangerous trick, to be sure—too many sounds can lead a set to sounding splintered and unfocused. But Yukimatsu holds the affair together by focusing on bleeding-edge electronics throughout, balancing spine-tingling synthesizers with quick and precise avant-club tools: sludged-up techno, screaming walls of noise, the tom-tom whirlwinds of gorge music, industrial-din neoperreo, creeped-out downtempo. In his hands, a million genres turn to one, thanks in large part to his careful, audacious, and utterly disorienting blends. With RA.849, Yukimatsu pulls off the contradictory and enthralling trick that powers so much of his work, using harsh contrasts to turn umpteen sounds into something that feels bracingly new.
---
Aquarian / Darwin / DJ Plead & Phillip Jondo / Simo Cell / Sully & Coco Bryce – Dekmantel Festival 2022
---
---
---
---
---
In August, Dekmantel—a critical dance-music festival with a reliably thrilling range of names—posted a dozen recordings from this year's proceedings. It turns out they weren't done: near the end of September, they released approximately three dozen more. As with the previous batch, the best stuff from this round showcases all sorts of styles, sounds, and approaches; the only thing binding each of them together is a total commitment towards the dancefloor. Aquarian's mix bounds between countless high-energy club styles, whether that's chopped-up Baltimore club tunes, lightspeed bassline, or storming breakbeats; Darwin, a fixture of Berlin's techno-etc. scene, pulled off a similarly chameleonic session, finding common ground between wigged-out dubstep, sultry house records, old-school jungle rhythms, almost-ballroom, and a million other genres. Each mix shows just how kaleidoscopic modern club music can be, with two elite DJs pushing their sound into umpteen directions along the way.
A few other names dug deep into highly specific sounds, though. DJ Plead and Phillip Jondo, in a riveting back-to-back session, zoomed in on hard drum, turning in a two-hour session of hand-drum whirlwinds and wiggly basslines. They stretch into other sounds, too, but always keep an unwavering focus on rhythms that bob around the grid rather than falling into it. Sully and Coco Bryce upped the temperature for their offering, turning in a session of tooth-rattling jungle, all Amen flips and million-mile-an-hour snare drums. Throughout, they balance devil-may-care energies with deadly precision, throttling between a million different permutations of hardcore sounds and blasting them into space along the way. After a once-in-a-lifetime set at last year's Dekmantel Selectors, Simo Cell summoned a similarly madcap energy for this year's go-around. Here, he blasts between a million regions of hip-hop, whether that's roughed-up ghetto house, industrial-din rap records, or of-the-moment Philly club tunes—and that's just the first ten minutes. From there, anything goes: breakbeat southern-rap flips, gritty deep house records, skeletal baile funk posse cuts, bass-grinder experimentalism, or any combination thereof. It's a wildly playful set that won't stop shedding its skin, snubbing its nose and boundaries or expectations—in other words, a perfect fit for Dekmantel.