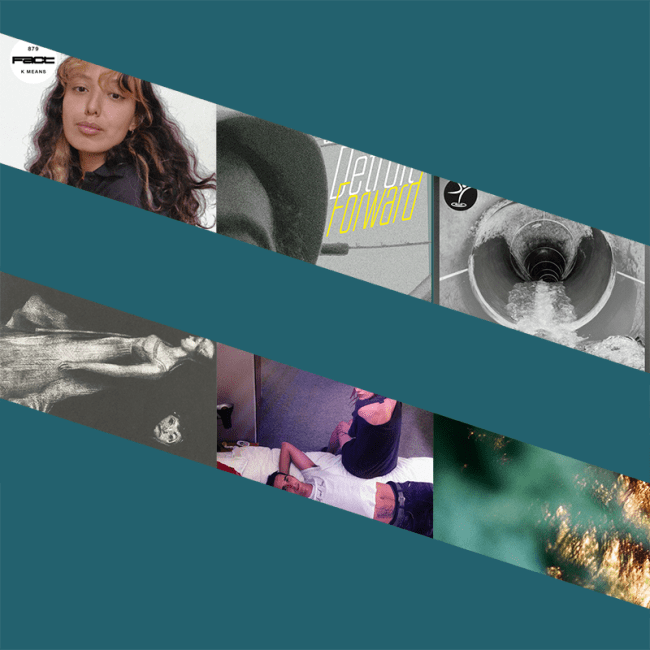 Image via Michael McKinney
Independent rap journalists will recommend you new music until their voices give out. Keep it that way by supporting Passion of the Weiss via a subscription to our Patreon.
Michael McKinney understands the cultural importance of Kreayshawn's "Gucci Gucci."
---
Some of October's best DJ mixes came out of celebrating histories. Theo Parrish, already a legendary selector in his own right, paid homage to Detroit in a deep and surprisingly mellow DJ-Kicks entry; the folks behind Hessle Audio, a legendary UK bass label, put together a titanic and wild-eyed set composed entirely of their own artists. In a pair of sets, Time Is Away worked with bleary ambience, gesturing towards classical music records and postmodern architecture in the process. A few others laid their eyes on setting festivals ablaze: RL Grime supplied a set of high-octane trap and dubstep; k means's "ideal closing set" found a space between chilly footwork and wigged-out club tools; and re:ni found the space between UK drill and acid techno for her Club Night Club mix.
Wordcolour, mixing for Crack, drew lines between west coast hip-hop and avant-garde classical music in a set focused on the human voice, and Balmat DJs turned in three hours of glacial ambience. Hysterical Love Project, a dream-pop outfit from New Zealand, furthered their sound in a remarkable mix for Knekelhuis, while techno mastermind Sa Pa reached into both ambient-dub records and manic singeli in a pair of recordings. Roho, a drum-and-bass producer from Russia, sprinted through lights-out Amen breaks for Samurai Music, and Solid Blake, a critical figure from Copenhagen, stretched from old-school electro to hypermodern breaks in a light-speed set for Dekmantel. In Croatia and Pennsylvania, all sorts of DJs turned in deep and joyous and singular live sessions: Jake Muir's deep-space ambient music and Toma Kami's defiantly oddball club tracks; Peach's anything-goes house and techno and BK Owusu & YBD's queasy ambience and zonked-out rap bootlegging.
Here are some of the best DJ sets October had to offer.
---
Balmat DJs – Mostra22
---
Since its foundation last year, Balmat has become a hub for music that gestures towards new-age bliss but never fully settles down. In Mostra22, the label's founders, Philip Sherburne and Wooky, outline just how expansive that vision is. Over three hours, they mix all sorts of sounds that could be called, in the loosest sense, "ambient" music: glacial organ drones and minimalistic modern classical; hushed jazz records and stomach-churning synth work; birdsong and glitched-up electronics. This sort of range might suggest a set that feels unfocused or out of sorts, but the duo move between styles with an unhurried grace. As with so much of Balmat's material, it's not quite chill-out music, but it's not exactly aimed at the dancefloor, either. Mostra22 is, instead, aimed towards the head-trippers. Each hit of deep-space electronics or stretch of wide-lens orchestration gestures towards an endlessly expansive horizon, suggesting entire universes along the way.
---
Hessle Audio – Issue 136 Cover Mix
---
In certain corners of UK club music, Hessle Audio is spoken about in hushed tones. The label, helmed by Ben UFO, Pearson Sound, and Pangaea, has been around for fifteen years now—a million eras in the quick-moving space of club music. Impressively, they've stayed quick on their feet throughout, with a wide-ranging and playful sound that gestures towards innumerable styles. It's worked: a quick dig through the label's catalog will reveal umpteen club-night anthems, whether they're mid-aughts dubstep, hypermodern hard-drum, or something in between. Their mix for Crack might arrive as a bit of a flex—in a bit over two hours, the trio exclusively reach for Hessle affiliates—but they've certainly earned it. If anything, that approach underlines just how wide and thrilling their catalog runs. It's something of an abridged history of modern UK dance music, mixed with plenty of left turns for good measure; it's dubstep, it's house, it's garage, it's techno, it's electro, it's jungle, it's Hessle. Issue 136 Cover Mix is hardly an exercise in re-airing old histories, though; the whole thing feels aimed for modern soundsystems and sensibilities, mixed quickly and with an unyielding precision even as they rocket between styles and eras. The result is a fast-and-joyous love letter to UK club culture, a celebration of one of its defining labels, and the soundtrack to umpteen club nights.
---
Hysterical Love Project – Knekelhuis #94
---
Sometimes, it's nice to mellow out. With last year's Endless Bliss Weekender, Hysterical Love Project showed off the power of slowing down; the record sits somewhere between blissed-out dream-pop and elegiac downtempo. With Knekelhuis #94, the New Zealand duo continues along that same path: shuffling trip-hop rhythms and muted spoken-word pieces, chilled-out guitar work and hazy vocal harmonies. Any particulars fall away over the course of the set; the duo instead seem focused on curating a barely-lucid mood, conjuring a fog that never fully lifts. That aesthetic focus allows them a stylistic flexibility: as long as it's all blurry enough, string-laden dream-pop might as well be new-age ambience, and golden-age chill-out CD electronics sits comfortably next to dreamy almost-trance tunes. Hysterical Love Project spend all of the set moving like this, flipping through a rolodex of downtempo electronic music and pulling on plenty of heartstrings along the way.
---
k means – Fact Mix 879
---
Speaking to Fact, k means said that her mixes frequently connect to "where my head's currently at," going on to frame Fact Mix 879 as a response to "organized and disorganized chaos." The set's greatest thrill comes in how effectively she traces that confusion, rendering it via a combination of avant-club stormers and vertiginous ambience. This sort of blending isn't exactly unusual for k means, whose sets frequently move between sludged-up downtempo and barn-burning juke, but that tension feels heightened here: light-speed techno rubs shoulders with wigged-out minimalism, blistering hard-drum and deep-space dub might as well be the same style, and static-encrusted glitch records give way to mile-a-minute footwork. (In both approach and sound, it recalls ¥ØU$UK€ ¥UK1MAT$U's RA.849, another recent session packed with quietly audacious mixing.) From the opening notes of Fact Mix 879, k means turns on the smoke machines and never turns them off. Instead, she deepens the delirium with an uncanny blend of shapeshifting club cuts, plunging countless styles into a vat of smoke.
---
re:ni – CNC Live
---
As re:ni, Lauren Bush pushes a tough vision of modern UK club tools; by the sounds of her sets, her USBs split the difference between chest-rattling bass cuts, screw-faced rap records, and light-speed jungle. With CNC Live, she outlines the thrill of that kitchen-sink sound, turning in two twisted-up hours of dancefloor melters. She opens the set with some disorientingly minimal drum-and-bass, but it's not long before the finger-guns come out: cragged breakbeat turns to quick-and-messy techno, which leads to broken-machinery dubstep, which breaks open to reveal piledriving gqom and new-school drill. In one particularly incisive bit, she moves from bottom-heavy tabla workouts to the icy Brooklyn street-rap of Young M.A.'s "Successful." The combination feels instructive: these are two radically different ideas of dance music, but, here, re:ni puts them in conversation. Throughout the mix, she pulls off all sorts of left turns, finding a devil-may-care kind of joy along the way.
---
RL Grime – Halloween XI: Dead Space
---
Since its first edition in 2012, RL Grime's Halloween mix series has become a staple of big-tent dance music, full of mean sub-basses, tooth-shattering drops, and bootlegs of rave staples. It's the kind of electronic music that's easy to sneer at; in both structure and aesthetic, it's not far from the (unduly derided) sounds of festival-trap and Stateside post-Skrillex dubstep. Halloween XI: Dead Space is no different. Across a breathless seventy-odd minutes, RL Grime grabs piles of festival-ready drops, titanic basslines, and amp-shattering drums, upping the ante and energy with each blend. In a telling bit, he reaches for "R.A.V.E.," a blistering bass cut by G Jones & EPROM, two leading lights in the new-school trap-EDM scene; a few minutes later, he's pulled up a maddening Crime Mob bootleg that turns "Knuck If You Buck" into a gut-twisting wall of bass. It's emblematic of his approach throughout, which pushes towards the cutting edge of festival-ready bass-grinders by subsuming a wide variety of scenes into the tent.
---
Roho – Samurai Music Official Podcast 55
---
At this point, Samurai Music is a known quantity in the world of drum-and-bass: the label's output runs hot and dark, with quick-and-precise drums racing through a million shades of black. In the latest transmission from their mix series, Roho—whose recent release, Elemental, marks the producer's first solo EP for the label—nails that sound yet again. Here, the Russian producer leans into the chase-scene energy found in plenty of great drum-and-bass, pulling out heart-racing drums and chest-rattling bass lines. Material this quick and unerringly anxious can get tiring if played for long enough, but he keeps things fresh throughout thanks to a seemingly bottomless crate of white-knuckle drum programming: here, it's scraped-metal surrealism and walls of snare drums; there, it's whirlwinding hand-drums and thrashing Amen breaks; elsewhere still, it's disorienting ambience and hi-hats that land like raindrops. Samurai Music Official Podcast 55 is a tour de force of modern drum-and-bass, outlining innumerable pitch-black forms with painstaking precision.
---
Sa Pa – Rosa 022 | Sure Thing Mix 116
---
Rosa 022 opens quietly. At first, it's just a few notes, a hushed drone stretching into the cosmos; then, a bit of spoken-word grounds things in the here-and-now. That tension can only last so long, though, and Rosa 022 breaks open into a million shards: alien IDM-drone experimentalism and noisy dub-techno, ever-escalating walls of noise collapsing into piles of ambience, frantic drum-rolls held alongside abyssal organs. It's a wildly exploratory session held together purely thanks to Sa Pa's commitment to the aesthetic, something that toes the line between stomach-churning queasiness and wide-eyed awe. In Sure Thing Mix 116, he explores that space again; here, though, it's all a bit harder. The session was recorded live, and it sounds like it: it's still subterranean and thoroughly otherworldly, but there's a dancefloor in there nevertheless. Early on, that means techno cuts that land like a gentle breeze, but it's not long before it's a full-on maelstrom: bass-blasted industrial kicks alongside old-school electro rollers, billion-BPM singeli and scorched-earth power noise, spaced-out almost-house tunes and tripped-out ambient-dub. Each set is thrillingly alien and deeply weird, encapsulating Sa Pa's left-of-center approach to a tee.
---
Solid Blake – Dekmantel Podcast 408
---
As a co-founder of Apeiron Crew, Solid Blake is one of the names responsible for the explosion of speedy techno in the past few years. But her music stretches far beyond those bounds: if anything, her style is more indebted to old-school electro than hypermodern gritted-teeth techno. With Dekmantel Podcast 408, the Copenhagen DJ whips up an hour of playful floor-fillers, underlining her range in the process. There's plenty of fleet-footed four-on-the-floors, of course, but also a million other shades of modern club music, too: acidic breakbeats and garbled spoken-word experimentalism, rapid-fire grime retoolings and old-school hardcore belters, slow-mo electro and wiggly dubstep. As she gets deeper into the mix, she slowly ups the tempo, reaching a sprint by the time she's halfway through. This should come as little surprise—she's no stranger to light-speed dance music, after all. By the time Dekmantel Podcast 408 draws to a close, Solid Blake has hurtled between countless styles of contemporary club music, pulling off each new blend with a wink.
---
Theo Parrish – DJ-Kicks
---
If you're looking for Theo Parrish's musical roots, look towards the dons of jazz. His earliest work is jazz-inflected deep house of the highest caliber; he counts Miles Davis, Nina Simone, and Stevie Wonder among his influences. His long-form mixes have become the stuff of legend; in his residency on NTS radio, he goes deep on the histories of Black music, showing the tight links between jazz, disco, house, and blues. In other words, he's as much a dance-music historian as he is a dance-music producer, one who works with a sharp eye for generational stories, both implicit and explicit. In his entry for the venerable DJ-Kicks series, Parrish turns his gaze towards Detroit, the city he's been proudly representing for decades. Each of the nineteen songs he picks is an original, and eighteen of them are by musicians based in the city. It's easy, and tempting, to get lost in the musical mythology of Detroit, but DJ-Kicks reads as a refutation of such an easy narrative. Instead, here, Parrish puts forward a modern interpretation of the city's sound, one that makes room for rough-and-ready house music, soulful R&B, early-morning jazz, pointillistic techno, and plenty more. If there's a stylistic throughline, it's in its roughshod sensibility; again and again, Parrish returns to laid-back drum programming that lands just off the grid. The subtitle—"Detroit Forward"—couldn't be more fitting. Taken from one angle, DJ-Kicks is a monumental flex; from another, it's a celebration of musical histories, stories, and possibilities.
---
Time Is Away – The Annotated Cosmic House | The Veil is Pierced
---
There's a power in specificity; sometimes, it pays to zoom in on details until they fill the frame. Time Is Away, a.k.a. London's Jack Rollo and Elaine Tierney, understand this. In their mixes, they focus on particular histories and traditions, tugging at contextual and extramusical threads along the way. (Two of last year's best mixes came from their exploration of Patience Gray's "Honey From a Weed," and last month they released a low-and-slow tape of deep-crate dub.) With The Annotated Cosmic House, they continued this cross-stylistic exploration. The mix is centered around Charles Jencks's "Cosmic House," a London home whose every corner teems with allegory. It's a fitting combination. Here, Rollo and Tierney take excerpts from Jencks's 1985 lecture on the home, soundtracking each column and statue with the sounds of stilled modern classical and otherworldly ambience. The result is a quiet hour that is charged with meaning; it is filled with preternatural silences and the awe-inspiring power of ancient mythologies.
The Veil is Pierced works in ostensibly similar territories, but to wildly different results. Here, their selections are a bit darker, with whispered voices scratching at the edges of creaking strings. They open affairs with Saloli's "A Good Rainy Day," a solo-piano piece whose melodies suggest a kind of downtempo optimism, only to turn its mood blacker thanks to Ragnar Vigdal's liturgical choral composition and the unsettled jumble of bells and voices in Night Sky Pulse's "Vue sur aérodrome." As the set runs on, they stretch this spine-tingling ambience into ever stranger territories: sludged-up arias and garbled dub records, borderline-atonal chamber music and static-encrusted drone, queasy almost-rock and icy spoken word. If The Annotated Cosmic House shows Time Is Away's capacity for thematic specificity, The Veil Is Pierced underlines their skill at bringing a range of styles into aesthetic harmony. In either case, the results are remarkable; each shows the duo casting their gaze into entirely new worlds.
---
Wordcolour – The Unsung Voice
---
In 2019, Wordcolour, née Nicolas Worrall, released Blowing Up the Workshop 101, a quiet masterpiece of a mix. The set is both unusual and striking, holding wide-screen modern classical recordings against uncomfortably intimate voice-overs ripped from films and YouTube. Worrall has since moved more towards club music, favoring post-post-dubstep squigglers and full-throttle percussion workouts, but he never abandoned that experimentalist's ethos. The Unsung Voice is likely his strongest set since his Blowing Up the Workshop entry, and it is little coincidence that it's also his strangest. Here, he looks towards the voice in almost all of its forms. Throughout The Unsung Voice, voices are stuttered and screamed and spoken, rapped and rapid-fire and rasped—anything but sung. Just as before, he finds a magnetic and skin-crawling kind of intimacy. An early-session highlight comes in JJJJJerome Ellis's "Jede Krankheit ist ein musikalisches Problem," an artistic manifesto and long-form exploration of stuttering wrapped into one; later, Worrall has found his way to boiled-over breakbeats and frantic almost-free-jazz records. (The greatest surprises, though, come in a few hip-hop tracks, which offer a rhythmic heft to the proceedings.) Throughout The Unsung Voice, Wordcolour chases a supposedly familiar idea—what does the human voice sound like?—and finds unexpected, beguiling, and confrontational answers.
---
Bárbara Boeing / BK Owusu & YBD / Charmaine / Toma Kami / Typhoon Lady – Dekmantel Selectors 2022
---
Dekmantel, an anything-goes dance-music festival based in Amsterdam, is as critical as it is playful, full of bubbling-up scenes and mainstays alike. (Both August and September saw top-notch releases from their stages.) In October, they released a series of recordings from Dekmantel Selectors, a sister festival hosted in Croatia. They expand upon Dekmantel's approach to kitchen-sink dance tunes, showing off just how wide their curatorial lens stretches. Rotterdam's Charmaine turned in a three-hour opus of wild-eyed jazz fusion, chilled-out funk, and ebullient disco, moving from joyous melodies to sun-kissed percussion rollers and back again. Typhoon Lady worked from a similar headspace, turning her gaze towards low-slung jazz records, dollar-bin reggae, and laid-back house tunes. Bárbara Boeing dialed the energy up a bit, launching between vintage Latin jazz, full-throttle synth-pop, miles-deep-house, and funked-up jazz-dance rollers.
It's not all so chilled-out, though. Toma Kami, a critical figure in Berlin's avant-club circuit, vaulted between loads of styles in a fire-starting two hours: light-speed baile funk and chopped-and-scattered breakbeat, thousand-ton ballroom flips and minimalistic footwork tracks, broken-amp jungle and storming techno from across the globe. It's a mile-a-minute set that works perhaps despite itself, with each new blend landing like a bit of a dare. Wilder still is BK Owusu & YBD's back-to-back, which might sound a bit unusual at first: it's borderline ambient music for the first ten minutes. Given time, though, they take a foundation of ghostly ambience and build a veritable Library of Babel atop, twisting familiar sounds into deeply alien forms. In one particularly arresting moment, they take the introduction to Ty Dolla $ign's "Saved," speed it up, and stretch it out, turning it into a dreamlike ambient track along the way; later, they combine liturgical choral vocals with uncanny-valley breakbeat and molasses-drenched baile funk. The set gets higher-energy as it runs on, but it never quite leaves that initial haze.
---
Ciel / Doc Sleep / Jake Muir / Peach / Simisea – Campout Mix Series
---
Honcho Campout has become an essential gathering for a certain crowd of ravers. Aaron Clark, one of the brains behind the festival, has described it as a "D.I.Y. annual report of the queer dance scene." Judging by the flood of mixes from their latest edition, it's just as vital as ever. For their turn on the decks, Simisea rocketed between slicked-up techno, slow-and-low hard-drum, manic R&B flips, and wiggly club rhythms, turning in a zonked-out and moody two-plus hours along the way. Doc Sleep, a fixture of Berlin's dance-music scene, looked towards tough techno, rickety electro, and sun-kissed house records, blurring all sorts of proud histories together in the process. Peach pulled off a similar trick but zoomed in further upon house and techno, offering up a kaleidoscopic survey of the stuff: sensual and rough, joyous and muted, acidic and wide-screen.
Jake Muir, a column mainstay and new-school ambient-music experimentalist, got a morning spot, waking up bleary-eyed ravers with a slow-motion set of electroacoustics and drone records; in its quiet and deliberate motions, it finds a kind of grace, connecting glitched-up ambience, dreamy synthesizer workouts, and deep-space percussion tracks. Ciel, an omnivorous selector from Toronto, got the honor of closing the festival, and she made good on the task: in a lickety-split three hours, she careened between old-school hip-house and hypermodern techno, threading in all sorts of queer dance-music traditions throughout. Late into the session, she pulls off something particularly impressive, grabbing light-speed acid-breaks and dubbed-up dancehall before crashing them together, blowing through tempi, histories, and sounds in the process. Honcho is fueled by wild-eyed and cross-stylistic conversations like this, and each of these sets—no matter the sound or mood—demonstrates that in spades.
---