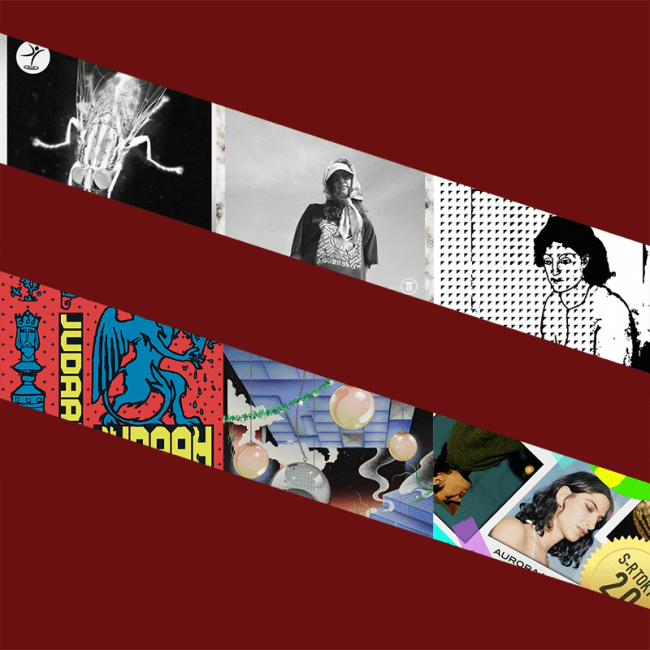 Independent rap journalists will recommend you new music until their voices give out. Keep it that way by supporting Passion of the Weiss via a subscription to our Patreon.
Michael McKinney understands the cultural importance of Kreayshawn's "Gucci Gucci."
---
Sometimes, all a mix needs is sheer weight. Plenty of musicians turned in stuff for the ravers in July—including a few names who you might associate with quieter stuff. Electronic-music experimentalist Flora Yin-Wong, mixing live from Brooklyn, turned in a snowballing session of futuristic club sounds; Yumi, a New York mainstay, pulled off a similarly madcap set of light-speed breaks, techno, and footwork. Huerco S. cooked up a session of surreal dancefloor tools, tossing deep-cut SoundCloud gems, white-hot hard drum, delirious breakbeat cuts, and a thousand other sounds in a blender; in a set for Groove, Bruce stretched from hardcore breaks to amapiano with plenty of stops in between. London's Ehua took the polyrhythmic blur of hard drum and expanded it to all sorts of UK club-music histories, and Mumdance emptied his USBs in a sweat-soaked set for Primavera Sound. Mixing for Accidental Meetings, France's Judaah turned in a tape of serrated dancehall, baile funk, and bass-blasted hardcore. Lime68k and Sepha went the furthest into the red, though: the former with a half-hour of white-knuckled breakcore and the latter with a survey of "mecha," a genre blending footwork, gorge, and dubstep.
It's not all hard and fast, though. A few names went deep on the sounds of techno and trance: Kia, with a playful session of breaks, bass, and chunky kicks; Hannah D, with heart-on-sleeve synth runs and full-steam-ahead basslines; deep creep, with a session that pushes breaks & bass into the cosmos; Maara, who explored proggy house and techno rollers; and Lychee & Aaron J, who moved from minimal-tech tunes to strobe-blasted rave-ups. Gothenburg-based sound artist Incipentium assembled a queasy hour of folk, drone, and ambient records; in her set for If-Only, Morocco's OJOO GYAL worked with spooked-out musique concrète and ambient-techno idioms. Ron Trent made a funked-up and souled-out soundtrack for late-night drives and lazy mornings, and Wonja turned in a wiggly dancehall session fit for humid afternoons. Tammo Hesselink made something suited for damp days, too, with a release full of waterlogged club sounds. Time Is Away, mixing from London, focused on the inimitable Kashual Plastik for a set of uncanny-valley ambience and folk records, while USER-0 dug into the closely-mixed sounds of ambient trance and field recordings.
Here are some of the best DJ sets July had to offer.
---
Bruce – Groove Podcast 345
---
When Bruce was last on this column, it was for Truancy Volume 289, a brain-bending mix that sneered against convention. There, Bruce twisted countless styles into something deeply unpredictable and thoroughly alien: it's tough to think of anyone else blurring the lines between techno, gothic rock, and old-school hip-hop. With Groove Podcast 345, he continues this defiantly oddball approach to blending, to winning results. He's in a decidedly uptempo mood, but, beyond that, anything goes. In Bruce's world, broken-beat mania might as well crash into chop-and-stutter UK funky, and from there, it's only a short hop to busted-amp techno rollers. As the set runs on, he gets increasingly audacious, nailing all sorts of improbable genre gymnastics: vintage hardcore breaks to slow-motion Memphis rap, nocturnal ambience into rough-and-rowdy drum workouts, scuffed-up almost-techno to sun-kissed amapiano. It all seems completely incoherent on paper, but Bruce holds things together with a focus on hair-raising percussion and a madcap glee.
---
Ehua – Sónar, Barcelona
---
Over the past several years, hard drum has blown up the UK club circuit. It's hard not to see why: the style, a percussive whirlwind that is simultaneously barebones and maximalist, is populsive and malleable; it plays nicely with club-music sounds the world over. Ehua, a prodigious DJ-producer based in London, has been pushing the sound for years now, and she shows no signs of slowing down. Her latest mix, recorded live at Barcelona's Sónar festival, revels in the sheer range of the sound, and it might be her most incisive document yet. She starts things speedy, taking slippery dubstep sub-bass tones and piling a veritable Jenga tower of hand-drums atop; from there, she goes on a veritable world tour of contemporary rhythm-forward club sounds. Here, it's speedy UK techno with a syncopated bite; there, it's off to Portugal thanks to DJ Marfox's ramshackle kuduro; elsewhere still, it's gqom, the earth-shaking techno offshoot blasting out of Durban. About an hour in, she starts grabbing older-school UK styles: white-knuckle drum-and-bass, a bit of stuttering 2-step, full-throttle jungle breaks. In doing so, she underlines just how similar all these sounds are, uniting several decades and untold traditions under a polyrhythmic blur.
---
Flora Yin-Wong – CNC Live
---
Flora Yin-Wong has made a career out of left turns. Whether she's working with spooked-out ambience or dream-logic collagery, her best work is defined by its sheer unpredictability. Not to say she can't throw down, though. CNC Live, recorded at Brooklyn's Club Night Club back in May, might be her weightiest offering yet, full of elbow-throwing blends and gnarled kick drums. Here, raw energy is the order of the hour, and anything that keeps the dancefloor moving is fair game: she careens from simmering hard-drum tools to high-speed dembow riddims, from earth-shaking techno cuts to chopped-and-gnarled breakbeat, from acid-trance blasters to industrial-din pop bootlegs. Once she picks up speed, Yin-Wong snowballs, reaching for ruder and more manic club sounds, but she mixes up textures often enough that it never exhausts. (Deep into the set, someone grabs the mic to ask ravers to step away from the decks, indicating that the approach worked.) By the time the set fades out, it sounds like she's just getting started.
---
Huerco S. – Super Dommune Sustain Release Tokyo
---
Huerco S., a.k.a. Brian Leeds, rocketed to electronic-music fame in 2016, when the release of For Those of You Who Have Never (And Also Those Who Have) turned him into a household name for the Bandcamp set. That record was a quiet marvel, full of aqueous ambience and synthesizers that promised eternities; nothing Leeds has produced since has sounded like it. In a recent interview with Bandcamp, he outlined a possible reason: the resurgence of ambient as "productivity music, capitalist music. It's non-intrusive, it doesn't get in your way, like you can still work your job. […] And maybe I feel responsible for that." (In a way, the Kansas City producer's career arc has mirrored that of DJ Shadow, another visionary producer who created a touchstone genre piece and then fought against deification and artistic ossification by taking a thousand left turns.)
In that light, Super Dommune Sustain Release Tokyo—the latest live recording from an increasingly unpredictable DJ—can be taken a few different ways. There's the narrative-driven tack, which posits it as his most forceful push yet against laid-back and utilitarian sound design. Equally compelling, though, is the image of a DJ who's traded in woozy head-trips for full-on delirium, keeping his tendencies towards surreal blurs and giving them a coat of glow-in-the-dark paint. The first sign of this arrives early in a tangle of voices stretched and scattered atop skittering percussion, each gurgle suggesting a performer interested in flipping the dancefloor inside out. From there, Leeds pulls off a staggering display of acrobatics. Here, he's jumping from a scorched-earth Aaliyah flip to deep-SoundCloud plugg tracks; there, he's up to his ears in blazing-fast hard-drum and dubstep tools; elsewhere still, he's playing what sounds like three breakbeat tracks at once. It's a session that smirks at convention, solidifying Huerco S. as a boundary-pushing and defiantly chameleonic musician whose interests are anything but "non-intrusive."
---
Incipientium – Wavering Forms 48
---
Steely Dan, at their peak, were among rock's most opulent cynics. Their best material married a poisoned worldview with ornate orchestrations, painting a miserable picture with incredibly vivid tones. They were a lot of things, but nobody could mistake them for optimists. So it's both impressive and telling that when "King of the World"—the final track on their 1973 LP Countdown to Ecstasy—shows up midway through Wavering Forms 48, it lands like a blast of sunshine. The set, mixed by Gothenburg-based sound artist Incipientium, is a chilly and disheveled hour of folk, rock, drone, and classical-music idioms; it is full of tumbling, scrambled, and distorted instruments, their notes hanging on a bit too long or landing just left of expectations. Many of Incipientium's selections lean into that unease: Lamborghini Crystal's hypnagogic glam-rock, which sounds like it's being beamed in through decades-old speakers; John Clyde-Evans's "528 Steps" smashes a string quartet to splinters; and Barn Sour's "Horses Fucked Over the Head With Bricks" combines bleary drones and maniacal laughter to delirious effect. Given that context, of course a Steely Dan song would come off as a tonic: for much of its run time, Wavering Forms 48 is a work of stomach-churning alchemy.
---
Judaah – AMX005
---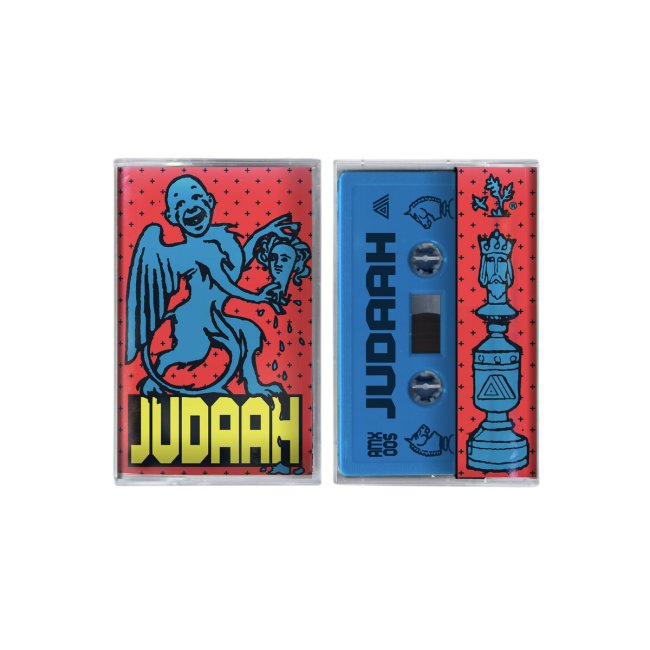 Listen via Bandcamp
AMX005 opens with a bit of a feint. Dominique Lawalrée's "Musique Satieerique" is a slow-motion tumble of piano and flute, each note a drop in an approaching rainstorm. It suggests a mix of whirlwinding classical music and minimalism, full of tiny ideas stretched into infinity. But then the floor drops out and things get a whole lot weirder. Opening with classical minimalism is a bold move, but flipping that into cragged and drugged-up dancehall is even more striking. The Parisian selector and label boss spends the rest of the A-side grabbing queasy and discombobulating riddims, gesturing towards dancehall and left-field techno along the way. Early on, this means stuttering and slippery breakbeat-ragga; flip elsewhere, and it's sludgy dub-techno or mucked-up dub-reggaetón that moves in three tempi at once. The B-side is comparatively energetic: here, Judaah reaches for the bracing sounds of baile funk before moving to all sorts of global club sounds: early-'90s ghetto house, tooth-gnashing hard techno, busted-amp percussion rollers, old-school electro. It's such a wide-ranging tracklist that it's a minor miracle it holds together, but Judaah makes it look simple thanks to a focus on chest-rattling rhythms and outré sonics. He even brings things to a satisfyingly circular conclusion, with an ambient piece that sounds like a thousand digitized water droplets. Throughout AMX005, Judaah collapses disparate traditions and styles into each other, dunking everything in a vat of sludge along the way.
---
Kia – 27°C
---
Whether she's behind the decks or running Animalia, Kia is responsible for some of Australia's most exciting new-school dance music. A large part of that is because of her curatorial ear: many of her mixes paint her as a tech-house and trance connoisseur, but her collection runs both wider and deeper than initial impressions would imply. On 27°C, she expands her palette yet again while offering up plenty of the loopy dancefloor tools she's best known for. The set is also a masterclass in slow burns: with just over ninety minutes, Kia's got plenty of time to stretch her legs and let the grooves take their time. A bit of dialogue and new-age ambience sets the tone, and when the first drums kick in, they're distant and a bit waterlogged, sounding like they could drift away at any moment. But they never quite do; instead, Kia gradually ups the temperature with trippy synth workouts and drum patterns that seem to move in three tempi at once. The set starts out minimal and a bit beguiling, somewhere between ambience, trance-music hypnagogia, and creeping minimal techno. At some point, though, it turns to something wholly different: a full-on tempest of left-field club tracks, with breakbeats raining down as sub-basses crash underneath. Kia mixes so deftly that it's more or less impossible to pinpoint where this shift happens, which makes the acrobatics all the more impressive. 27°C is a masterclass in techno-adjacent blending, showing off all sorts of dancefloor heat with a veteran's precision.
---
Lime68k – High Speed Magic 021
---
---
Sepha – High Speed Magic 020
---
Hard-and-fast dance music has been around forever, and with good reason: sometimes, a million-ton kick drum is more than enough. Two sets from High Speed Magic, a relatively new but reliably exciting mix series, showcase the range found within the approach. Of the two, Lime68k's entry is the easiest to pin down. On High Speed Magic 021, the French DJ focuses on the white-hot sounds of breakcore and speedy techno, racing between genre classics and new-school chops with abandon. In a mid-point highlight, he grabs a blistering cut from Venetian Snares—whose frenetic stylings could act as a touchstone for the set's energy—and threads it into a fast-and-heavy Aphex Twin refix of The Bug's "Run the Place Red," injecting an already manic track with a shot of acid. Lime68k keeps the whole thing brief, turning in a breakneck session that crams a million ideas into half an hour.
Sepha's session, released a week earlier, takes hardcore idioms and rockets them into a still-unrealized future. The set, subtitled "Mecha Mix," looks towards the sounds of "mecha"—a micro-genre that blurs the lines between footwork, techno, and gorge. (Gorge is exciting because it is deliberately impossible to nail down; put as completely as possible, it's music made with tom drums and intended to recall sheer rock faces.) Throughout High Speed Magic 020, Sepha takes each of these influences, pulls them apart, and rearranges them in myriad ways. There's plenty of mecha here, of course, but what's most interesting is how Sepha moves in and out of the style, taking its blistering drum workouts and complicating their rhythms further. Early on, that means a back-and-forth between one of the genre's originators and a few dons of ballroom; later, it's by tracing fast-and-precise rhythms back to the Midwest with the help of footwork icons DJ Rashad and Jlin. On High Speed Magic 020, Sepha pulls off the impressive trick of threading existing styles into something that feels both bracingly new and historically coherent.
---
Lychee & Aaron J – Live at Nowadays
---
Lychee and Aaron J may be based in different states, but their styles are so similar that they might as well be working in the same studios. Both DJs work at the intersection of heady ambience and jagged dancefloor tools; their sets frequently move from murky drones to industrial-din techno. Their pairing at legendary New York club Nowadays, then, is more or less appointment listening for fans of modern techno-etc. mixing: two new-school heroes, four hours, and umpteen packed USBs. The session starts at a characteristic chill, all muffled kicks and bleary synthesizers, but the DJs gradually crank up the heat, weaving increasingly elliptical and high-octane grooves into the mix until the floor's flipped inside out. The first clue of this wigged-out direction arrives nearly an hour in, when they cue up a techno stomper that seems to move in three tempi at once; not long after, they're queueing up funky almost-amapiano and old-school acid thumpers, connecting all sorts of shoulder-rolling club tools with panache. They spend the rest of the set pushing each other into ever hotter territories while keeping everything grounded via ever-present kick drums. When they close out the evening with a blast of sun-kissed breaks and MIDI-blasted house, it feels like a rightly earned coronation.
---
Mumdance – Four Decks / Ninety Minutes
---
A quick scan of Mumdance's discography shows an artist who refuses to settle down. Whether it's million-limbed UK funky, fleet-footed techno, or disorienting grime, the producer has long since earned his reputation as a UK dance-music polyglot. If his latest mix is any indication, he's veered yet again. Four Decks / Ninety Minutes, recorded live at Barclona's Primavera Sound festival, is a rager even by his standards, full of gut-punch kick drums and blisteringly fast drum programming. He blasts through the dictionary of dance-music styles at a breathtaking clip, scribbling in the margins and turning sounds inside out. This approach ought to be clear from the start, where Mumdance jump-cuts from acidic synth blasts to what sounds like a loaded dishwasher falling down a flight of stairs. From there, it's all delightful delirium: cragged techno cuts next to screw-face grime records, double-time hardcore tracks and half-time dubstep workouts, light-speed carnival-synth breakbeat and old-school vocal-house tunes. By the end, he's moved dangerously close to 200 BPM, but the whole thing feels precisely controlled even as it's on the verge of spinning out. Four Decks / Ninety Minutes is a full-throttle celebration of hard-and-tough dancefloor mania.
---
OJOO GYAL – If-Only Podcast #112
---
When speaking to If-Only about her latest set, OJOO GYAL said that recording it allowed her to explore the kinds of music she listens to at home rather than club-safe material. It's a curious but meaningful distinction to make. Even at her clubbiest, the Moroccan selector trades in shambolic percussion tracks, ragged electronics, and moss-encrusted synthesizers. If-Only Podcast #112 transposes those same sounds to a home-listening context by cranking down the volume and upping the negative space; much of her oeuvre is built around claustrophobic clutter, but here, it's disorientingly empty. She devotes much of the set to musique concrète experimentalism, taking found sounds and warping them until they are hardly recognizable: crumbling concrete blocks acting as drums, sub-bass tones that sound like a subway passing underfoot, scuttling snare drums that move like a swarm of locusts. The rhythms eventually pick up, moving from blackened ambience to muffled techno experimentalism, but that initial murk never fully leaves. If-Only Podcast #112 is home listening music for staring into the abyss.
---
Ron Trent – XLR8R 756
---
Over the past three-odd decades, Ron Trent has become a legendary figure in house and techno circles; his best stuff has become an inextricable part of dance music's fabric. But he's interested in more than just the dancefloor. With What Do the Stars Say to You, his first LP in a decade weaves together Latin jazz, laid-back funk, new-age ambiance, and slow-motion synthesizer workouts into something more suited for the chill-out room than a crowded rave. XLR8R 756, released on the heels of that LP, stretches out that record's sound, sounding like something of a sonic moodboard. Just about any sound the record hints at can be found in a more stretched-out form here: an opening run of synth-funk rhythms, heaps of sun-baked samba-jazz and chunky house records, slow-motion new-wave, laid-back grooves from Ibiza, and plenty more. Rather than looking at a particular genre or sound here, Trent instead hones in on a style; no matter the style, XLR8R 756 is uniformly lush, a bit sensual, and unabashedly cinematic. (It should come as no surprise that Trent suggested "adding a bit of Miami Vice" into the mix.) It's the sound of a world-renowned digger and producer loosening up and driving into the sunset.
---
Roza Terenzi – RL 033
---
---
Hannah D – Live at Outta Range 2022
---
After becoming a de facto raving capital in 2021, Melbourne is still going strong. The city, alongside Perth and Sydney, has turned into a hub for new-school tech-house and trance mixing—floor-focused, a touch nostalgic, and unabashedly aspirational. A few mixes from July encapsulate that approach to a tee, even if they were recorded thousands of miles apart.
Roza Terenzi may spend most of her time in Berlin nowadays, but her style—slamming techno tools, wigged-out trance records, and combinations thereof—might as well come from Melbourne. (It checks out: the DJ cut her teeth in Australia's rave scene before moving to Berlin two years ago.) RL 033 is a surprisingly heads-down session from her; plenty of her mixes are sun-blasted and joyous affairs, whereas this one is no-nonsense by comparison. Here, she grabs a million shades of kick drums, sets up a groove early, and spends eighty minutes pushing at its edges, a steady four-to-the-floor acting as scaffolding for a constantly shifting facade. Early on, this means trance-tinged techno wobblers; later, it could be acidic synth workouts, vintage house-music stompers, high-velocity breakbeat, or scorching vocal-trance tunes. No matter the form, though, Terenzi is too careful a DJ to let the central rhythm fall away; the set is both kaleidoscopic and painstakingly constructed. For eighty minutes, anything can be a dancefloor.
For her mix, Hannah D—a Melbourne mainstay—stitched together two hours of retrofuturistic rhythms, full of dreamy synthesizers and hefty kick drums. Like deep creep, Hannah leans loopy here, with stretched-out grooves that find power through sheer repetition and gut-punch drum programming. Throughout the set, Hannah D outlines a million shades of techno and tugs at the heartstrings along the way. There's slow-burn minimalism, almost-acid, tech-trance, not-quite-garage, and plenty more permutations of permutations here, but just as important are the clipped vocal samples and sepia-toned top-end. This combination makes Live at Outta Range 2022 equally suited for full-on rave-ups or starry-eyed nostalgia. It lands at the middle ground between Ibiza and Berlin, but it is uniquely Australian, too: an expertly mixed set of sun-baked and heartfelt rhythms that promise to go on forever.
---
deep creep – Animix Ninety
---
---
Maara – Truancy Volume 295
---
Trance and techno may be running hot in Australia right now, but they're hardly the only hubs for the stuff. deep creep, one of Brooklyn's strongest DJs, showed off the city's tech-etc. scene in a set of chunky tech-house rollers. Over the course of Animix Ninety, she builds a foundation of miles-deep grooves before complicating affairs a bit, stretching into bass-heavy dubstep, skip-and-stutter breakbeats, and alien trance records. In one particularly incisive stretch, she takes zero-gravity synthesizers—a few notes bouncing back and forth with nothing in between—and underlines the unease with some equally unsettled almost-breakbeat, only to break the tension by speeding things up and working in a few shuffling kick drums. No matter how trippy deep creep's rhythms get, she keeps her eyes trained on the dancefloor throughout the set, weaving between all sorts of left-field club sounds and daring the listener to blink. The mix fits comfortably along deep creep's modus operandi: low-slung techno blasted into space.
Maara, beaming in from Montréal, zoomed in on proggy trance and techno—not far off from deep creep's wares, but packaged with a bit more vim. During COVID-19, her career has rocketed forward; she hardly DJed prior to the pandemic, and, this year, she's heading out on two international tours. Her Truancy Volume shows why. The set is chock full of the kind of thing she plays out: chunky kick drums and synthesizers that prod and play and jump around, teasing out melodic ideas and stretching them into infinity. It lands somewhere between the hands-up euphoria of old-school trance records and the heads-down hypnosis of great techno. The set opens a bit slow-and-low, but it's not long before Maara turns up the heat, cooking up a stew of neon-blasted synths, perfectly-calibrated breakdowns, and deep grooves. It's a promising sign that much of the mix is composed of as-of-yet unreleased material: its energy level recalls '90s warehouse raves and its tones bring to mind vintage hardcore tracks, suggesting yet another renaissance is on the horizon. Truancy Volume 295 is a joyride through techno and trance sounds, sounding both old and new at once.
---
Tammo Hesselink – INVEINS Podcast 092
---
"I always try to theme my mixes a bit around the season when they're released," Tammo Hesselink writes in the liner notes for his INVEINS podcast entry. As such, it would be reasonable for the mix to land as a balm for hot and breezy days, but the reality isn't quite so straightforward. (It rarely is with Hesselink, whose greatest skill lies in his ability to chain left turns into something that feels deeply intuitive.) Instead, INVEINS Podcast 092 is muggy and disorienting, sounding closer to a humid evening than a blazing high noon. As much is evident from the jump: the opening track pairs distant synth-drift atmospherics with pitter-patter percussion, landing somewhere between downtempo, ambient, and techno. Even when Hesselink turns the temperature up, the session never shakes that grogginess, even as he threads more styles into the picture. It's not long before he's moved into the realms of waterlogged drum-and-bass, off-kilter hard-drum, or muffled techno, but each blend is handled with exacting precision, melting any genre delineations in the process. No matter the form, Hesselink holds it all together with a sharp curatorial eye, crafting a floor-oriented ode to the queasiest days of the year.
---
Time Is Away – Kashual Plastik
---
Time Is Away have spent the past eight-plus years stretching and questioning the definitions of folk music: not as a genre but instead as a practice, with a focus on specificity and tradition rather than a particular sound. In retrospect, it was only a matter of time before they turned their gaze towards Kashual Plastik, a Berlin label with a similarly wide-ranging and hushed ethos. Their label showcase underlines the affinity. Full of elliptical rhythms and plainspoken vocalists, it fits comfortably alongside Time Is Away's oeuvre. The bulk of the session is devoted to lapel-grabbing folk music that traces a path alongside the uncanny valley: bleary drones and disheveled hurdy-gurdies, solo pieces for a thousand mother tongues, hand-drums stretching into infinity and detuned pianos played with painstaking patience. Throughout the set, Time Is Away zoom in on intimacies until they fill the frame; the result is both a bit queasy and unashamedly beautiful.
---
USER-0 – This Is What It Sounds Like
---
This Is What It Sounds Like opens quietly, with a guitarist tracing out a melody and the wind lapping against a microphone. There are promises carried in that initial sixty seconds: simplicity, humility, intimacy. The rest of the set makes good on those implications, folding heartfelt sounds into themselves until entirely new forms emerge. Here, liturgical choral pieces and high-fantasy string sections are united by their quiet grandeur, and familiar voices from the radio are shrouded behind a wall of smog and synthesizers. Everything is held at arms' length, but that distance, somehow, makes it all a bit more affecting. It's tempting to draw comparisons to Malibu, the masterful ambient-trance DJ & producer who has pulled off a similar trick again and again on her mixes—her work is almost surely a touchstone here—but nobody has a monopoly on intimacy. Either way, This Is What It Sounds Like has an identity apart from its forebears, thanks in large part to USER-0's canny deployment of interviews, field recordings, and a vanishingly brief bit of hip-hop: each closely held microphone is a shot in the arm, a jolt of immediacy held in stark relief against the slow-motion fog in the background.
---
Wonja – B.P.T. Radio 051
---
Wonja's mixes rarely have a clear throughline, but that's half the fun. The Oakland selector has an omnivorous streak, but she blends with such acuity that any supposed stylistic differences quickly melt away. (This is perhaps best on display in one of last year's best mixes, a back-to-back session recorded over at Honcho Campout.) In that context, B.P.T. Radio 051 is a bit of a left hook: from the opening seconds, she digs deep into zonked-out dancehall and never looks back. The result is more tightly focused than many of her sets, thanks to the omnipresent dembow rhythms and unending rolodex of MCs. It's also surprisingly laid-back, full of sun-baked percussion and patient mixing; here, she's moved her gaze from strobe-blasted dancefloors to humid evening strolls and chill-out rooms. Over the course of its runtime, B.P.T. Radio 051 reveals itself to be playful and a bit left-field, full of deep cuts and deeper grooves. In that sense, it's perfectly in accord with Wonja's work so far: she is a veritable dance-music chameleon at this point, and this shows her changing colors yet again.
---
Yumi – AM Podcast #72 | Untitled 909 Podcast 124
---
There's plenty of DJs sprinting the tightrope between techno, bass, and breaks in the modern club circuit, but Yumi differentiates herself with a devil-may-care attitude and miles-deep crates. In two different mixes from the month, she showed off two sides of her style. AM Podcast #72 is hot and speedy, blasting between light-speed hardcore, acidic techno rhythms, and nigh-unclassifiable club tools with aplomb. After starting with a bit of no-BPM ambience, she blows the doors open with an extended run of skittering and surreal percussion workouts; suddenly, the drums sprout limbs and start raising hell. With Untitled 909 Podcast 124, she moves quite a bit slower, focusing on turgid and muggy dancefloor cuts. High-speed jungle-techno and bass-heavy club tools are largely out here, replaced with murky drums and mud-encrusted synthesizers. It's both sludgier and spookier than her typical output, but it still bears her precision and sense of play, full of snaking transitions and unclassifiable electronics. Taken together, they showcase the stylistic range and kitchen-sink approach of one of New York's finest DJs.