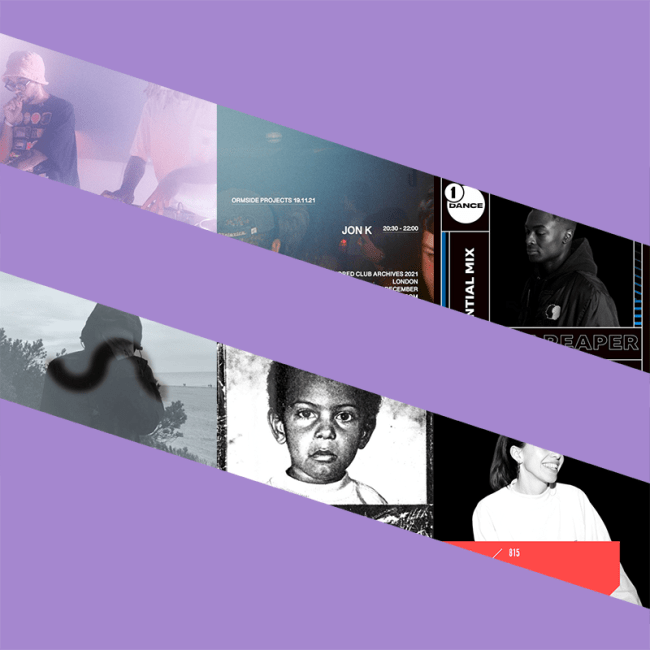 16 years of independent rap journalism with no end in sight. Keep it that way by supporting Passion of the Weiss via a subscription to our Patreon.
Michael McKinney absorbs more music in a week than most do in an entire calendar year.
---
In January, some of the most exciting DJ sets leaned into the month's more raucous side, offering up excuses to stretch the New Year's party out a while longer. Mixing for NTS, Theo Parrish cooked up a pair of long-form disco, house, and jazz grooves; Tim Reaper upped the temperature further for his Essential Mix entry, showing off white-hot jungle and sweltering breaks. There Is No Planet Earth dug up a Mark Farina set from 1996, and it's the kind of ebullient and playful house music that's aged in all the right ways; DJ SWISHA and Kush Jones, mixing from New York's Sustain-Release, whipped jungle, R&B, Baltimore club, and techno for a barnburning live set. Tash LC and Scratcha DVA both showed off their global visions for the future of club music: the former grabbed from the global south, while the latter zoomed in on Durban. Jon K worked somewhere between the two, putting together a wild-eyed mix that jumped all over the map: UK drill, techno, donk, post-punk, gqom.
Some DJs took a decidedly quieter tack, though. Amanda Mussi looked away from her techno decks to pull together a pile of apocalyptic electronics, drone, and metal; Andreas Palmer grabbed sludgy dub, ambient techno, and minimalism in a thoroughly outré dancefloor mix. Ivy, mixing from Sydney, put together a low-key simmer of club-music idioms that would nicely soundtrack a drawn-out morning. SKY H1 walked the tightrope between breakbeats and ambience with striking precision, while Lensk dipped fully into the latter for a mix of creaking electronics and uneasy chamber music.
Here are some of the best DJ sets January had to offer.
---
Amanda Mussi – Arch Selections X.8
---
São Paulo's Amanda Mussi has built a reputation as a fearless techno selector. In her mixes and productions alike, she tends to favor galloping kick drums that land with earth-cracking force. Arch Selections X.8, then, arrives as a left turn. Here, she stretches out, drawing lines between blown-out metal, skittery IDM, and droning ambiance. She selects tracks for gritted teeth and clenched fists, all darkened corners and hardly-visible silhouettes; in that way, it's not far removed from her own productions. Slowly, the body-churning power present in great techno begins to surface in more left-field forms: in the screams of a doom-metal guitar, or in a blast of wind-tunnel ambience, or in a bit of eerie minimal-wave synthetics. With Arch Selections X.8, Amanda Mussi flips her sound inside out to reveal a spine-tingling core.
---
Andreas Palmer – Fruit of the Bloom: Buddha's Hand
---
Fruit of the Bloom: Buddha's Hand opens quietly. Ike's "Isobutyl" is sun-blasted ambient-techno of the highest order, with synthesizers squiggling just outside the periphery of a metronomic drum machine. That simplicity serves as an ideal launching pad for Athens's Andreas Palmer, who proceeds to spend the next hour exploring ever more far-flung corners of barely-lucid dance music. This ethos affords him plenty of wiggle room while keeping things aesthetically tight: he pulls off all sorts of slick blends without losing the pulse. Click-and-rattle percussion rollers give way to sludged-up dub cuts; slinking and bass-scorched halftime melts away to reveal disorienting ambience. On Buddha's Hand, anything goes, as long as it's got one foot planted in another dimension.
---
DJ Mark Farina – Live at E-Ticket
---
Mark Farina established a reputation as an essential selector on the back of his Mushroom Jazz series, which fused house, hip-hop, downtempo, and jazz into something defiantly left of center. There's little of that in Live at E-Ticket, though: this is two hours of souped-up house records, all shuffle-and-skip drum programming, slippery basslines, and jubilant vocals. Farina's mixing is technically impressive without being showy; he opts for smooth and quiet transitions that keep the dancefloor moving. That doesn't mean he doesn't throw a few curveballs, though. Live at E-Ticket has its roots in deep house, but Farina gestures towards the rollicking swing of UK garage and tosses a healthy splash of acid over the whole affair. It's a critical and playful session from an utterly singular figure.
---
DJ SWISHA & Kush Jones – Sustain-Release Year 7
---
The dance music scene in the tri-state area has undergone something of a renaissance in the past few years: a tightly linked community of DJs and producers are flooding Bandcamp, clubs, and radio shows with a fiercely kitchen-sink approach to club sounds. Kush Jones and DJ Swisha are two of the most prolific faces in this deluge; along with frequent collaborators AceMo and MoMA Ready, their work blurs the lines between house, techno, jungle, and more local dancefloor styles like Baltimore club and juke. It should come as little surprise, then, that the pair linked up for a two-hour session at 2021's Sustain-Release festival. It's a characteristically playful and high-octane mix, with the storming drums of jungle and drum-and-bass acting as a rough throughline; along the way, they thread between R&B classics, twisted-up reggaeton, screaming footwork, Baltimore club firestarters, and stomping techno. It's a wildly unpredictable set bound together the raucous energy that's keeping new-school East Coast dance music on the map.
---
Ivy – 32˚C
---
Over the past few years, Sydney's Ivy (f.k.a. IV Drip) has become a staple of the city's club circuit. That's especially meaningful given the context—Sydney and Melbourne harbor some of the world's most forward-thinking dancefloors at the moment, so it's worth paying attention to anyone who stands out. 32˚C shows why. What starts at a quiet simmer—late-night breakbeats and vocal stutters looped into infinity—quickly turns a bit hotter and a whole lot trippier: slippery hard-drum, cavernous dubstep, and chameleonic piles of percussion, all melted together and flipped into bizarre shapes. Ivy spends a bit over an hour in this mode, working all sorts of styles into a zonked-out tour-de-force of modern club sounds.

---
Jon K – @ Ormside Projects
---
Speaking with Resident Advisor in 2017, Jon Kraus summarized his ethos. "It's a simple idea: I play the tunes I love and try to create something that's about how the mood develops regardless of BPM or genre." Plenty of DJs espouse this sort of language nowadays, but that just makes it all the more thrilling to watch a master of genre-hopping at work. On a recording ripped from Ormside Projects in London, Jon K shows off his agility behind the decks: corrugated and bottom-heavy gqom selections, neck-snapping drill, jacking techno, a smattering of donk, and plenty of sounds that don't fit genre conventions so neatly. It's a truly anything-goes mix of club sounds built to keep the most adventurous ravers on their toes.

---
Lensk – Unsound Podcast 78
---
The most striking element of Unsound Podcast 78 may be what isn't there. Lensk's music straddles the line between ambient music and post-everything club collagery to thrilling effect. In the Polish producer's world, slow-motion choral works and shuddering, million-limbed percussion are two sides of the same coin. On Unsound Podcast 78, he picks a side and doubles down, turning in an hour of no-motion ambience befitting the coldest months of the year. On paper, the tracklist works as a who's-who of modern ambient and classical music—John Cage, Michael Pisaro, ju ca, Jefre Cantu-Ledesma, KMRU—but in practice, any particulars are obscured in a thick layer of smog, an unrelentingly weighty blur of clarinets and synthesizers and murmuring voices.

---
---
If you know anything about gqom—the bracing and icy house offshoot that put Durban on the global dance-music map—it's likely got to do with WhatsApp. When producers want to break their tracks, they turn to group chats built for the stuff. If you know anything about gqom, though, there's a nonzero chance it's due to Scratcha DVA, who has spent the past several years championing the sounds of Durban: exploring the connections between gqom, grime, and UK funky, putting on local producers, and singing the style's praises to anyone willing to listen. A recent session for BBC Radio 1's Residency, then, is truly eye-opening: for his Whatsapp Gqom Special, he digs deep into WhatsApp groups and finds the best unreleased gems from up-and-coming producers. It's a manic and wildly varied hour, with a huge range of approaches bound together by the mechanical chug of the genre. Highlights abound: "Storm vs. Grave," a collaboration with Durban's Menzi, which pairs apocalyptic percussion rolls with metallic scraping and a devil-may-care energy; Jnr JoJo & DJ's "Fire Fights," a pile-up of storming snares, five-alarm synthesizers, and chopped-up vocals; the dizzying rhythmic play of MaLoom Stanii's "Mshika Mshika." Whatsapp Gqom Special is an essential scene survey of one of the planet's most exciting genres, delivered by one of its most knowledgeable ambassadors.

---
SKY H1 – RA.815
---
Thirty-eight minutes into RA.815, something remarkable happens. After fading out the low-oxygen rap of Lala &ce's "Sipa", SKY H1 moves into something even lighter: a reverb-drenched remix of Gunna & Lil Baby's "Drip Too Hard," which takes the original's ephemerality and stretches it into infinity. Throughout RA.815, SKY H1 revels in this seeming contradiction, combining gauzy ambience with whisper-quiet but always-insistent drum programming. The result is engrossing and beguiling: dreamy 2-step sliding into hushed breakbeats, zero-gravity rap sliding away to reveal pitch-black ambiance; swirling masses of hi-hats, abyssal drones, and dizzying blasts of cold air. It's a remarkable tightrope walk, tying together sun-kissed rhythms and miles-deep ambience with striking precision.

---
Tash LC – Bleep Mix #219
---
As head honcho at London's Club Yeke, Tash LC is responsible for pushing a border-crossing and boundary-pushing vision of contemporary club music: landing somewhere between gqom and grime, the label's output is consistently exciting and wildly unpredictable. The same could be said for Bleep Mix #219, which shows her deep in her element. The set is shot through with a crackling energy, thanks to an unending rolodex of emcees and rhythms sourced from across the globe: deep-cut kuduro, apocalyptic ragga, slamming gqom, screaming electro-dancehall, bass-blasted grime. No matter the locale or sound, Tash reaches for barnburners, offering up plenty of fodder for open-eared ravers the world over.

---
Theo Parrish – 31st December 2021 | 30th January 2022
---
Theo Parrish is best known for his role as a dance-music don, and with good reason. But he's long been lauded for his long-form mixes, too: behind the decks, he is wildly exploratory and effortlessly propulsive, pulling up an endless supply of deep cuts, B-sides, and miles-deep grooves. Two of his latest shows for NTS Radio show this as well as anything. On 31st December 2021 and 30th January 2022, he pulls off a remarkable trick, untangling his signature jazzed-up house sound and breaking it into individual components. For 31st December 2021, that means metronomic and bracingly minimal house records, sun-baked funk, disco-inflected jam sessions, and plenty of soul. 30th January 2022 shows just a few tweaks to that winning formula, tossing piles of wild-eyed jazz records on top of everything else. They're history lessons in Black artistry, endlessly rewarding sessions for home listening, and surefire party-starters.

---
Tim Reaper – Essential Mix
---
Tim Reaper has been on a tear, but what else is new? The Future Retro boss is a major figure in contemporary jungle thanks in large part to his own output, which splits the difference between classic-era stylings and anything-goes futurism. With each passing year, Reaper pulls off the impressive trick of getting both more prolific and more inventive. For his turn at the BBC's turntables, he makes the canny choice to stick to his lane, turning in two hours of steamrolling breakbeats, all rough-hewn snares and screaming blends. Along the way, he pulls in all sorts of names essential to modern hardcore: FFF, Coco Bryce, Sully, Kid Lib, Phineus II. The set is resistant to any obvious highlights; the main feature, instead, is its unrelenting energy, the way Reaper manages to keep turning up the heat while juggling a thousand Ableton windows at once. It's yet another coronation for one of jungle's most vital new-school voices.

---