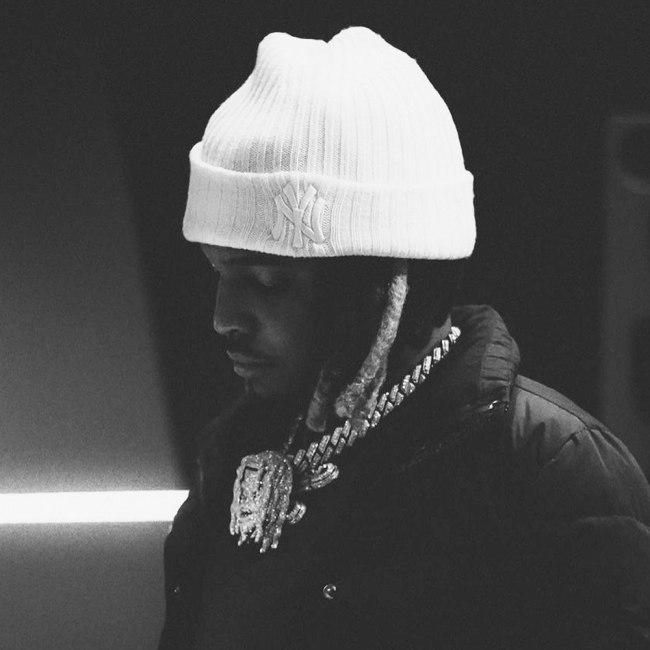 Photo via Lil Keed on Instagram / sh0tzbyjay
---
David Brake wants you to revisit Keed's 'Long Live Mexico' project.
---
Cleveland Avenue is a five-lane thoroughfare that cuts sharply across South Atlanta. It runs about six miles below the Mercedes-Benz Stadium, the high-rises of the city's downtown, and Magic City. Driving east down Cleveland you'll roll through a low sprawl of strip malls and liquor stores, gas stations and Auto Zones. On any random day, you can find news reports of murders and manhunts from the neighborhood. It's also the soil that birthed Young Thug and a legion of kids watching his every move.
One of those kids was Lil Keed, an outgoing, spindly youngster with a coy smile and a scratchy vocal fry. Keed was raised in the same neighborhood as Thug, who existed as a mythic figure and role model representing the possibility that existed beyond the confines of their neighborhood. Keed's support always came from his family. While his parents separated when Keed was young, they remained amicable and active in his life. His brother Lil Gotit, a rowdy but introverted foil to Keed, was always attached to his hip, long before the chains and Amiri.
Gotit was the first of the two brothers to take hip-hop seriously but Keed picked it up shortly after. This was after the death of his friend Rudy: "He ain't even lived no type of life and it got took away. It opened my eyes up like, I gotta do something different. Can't go out like that," he told Fader in 2018. It was yet another reminder of the fragility of life, especially for those living in under-resourced neighborhoods plagued with violence, oppressive police, and drugs. 
Keed channeled his anxieties into 2018's Trapped On Cleveland, a mixtape that presented the young artist trapped in a fishbowl – constrained by a lack of upward mobility, desperate to escape, but constantly dragged back into the streets. It's a strikingly impressive tape loaded with influence from Atlanta's then-bubbling rappers such as Gunna, Lil Baby, and Young Thug, but also, Chingy and Peewee Longway. "Conversations" with Lil Gotit and Zack Slime FR found Keed swinging from a wheezing falsetto down to to a snarling baritone over a beat from Mooktoven. Others like "We Bout," sounded like something Gucci Mane could have released in the mid-aughts. But it was "Bag" that truly began to take roots on a larger scale in Atlanta. It's a vivid and triumphant vignette of Keed's upbringing, the struggles he endured, and his plans to overcome them; "I'm finna get in that bag / They trying to put me last, no I can't condone that / I was sleeping with the rats, I was stepping over trash," he raps, punching against the swell of synths and a somber piano.
Lil Keed's first time flying was on a private jet. "Bag" caught Thug's ear during one of his returns to Cleveland Ave. The Young Stoner Life boss came back for him a little while later, and the two chartered a jet to New York where Keed was led into a Balenciaga store and told to go wild. That same year he would officially join the YSL roster.
In 2018 Young Thug had at least two classic albums under his belt. But Gunna hadn't yet become the sensation he is today. Lil Duke and Strick showed potential but weren't expanding the label's acclaim. So at the time of his signing Keed filled a void for YSL, a smart and hungry rapper from the same ilk as Thug, who in a best case scenario would develop into superstar in his own right, or in a worst case would at least add quality filler to collaborative projects and guest verses. But for Keed, the realities were more dire. He and his brother had finally broken free financially and creatively: it wasn't something they were willing to sacrifice.
Keed learned how to rap from Thug, but he learned how to work from his father, a local landscaper who clocked-in to his job for 21 years straight without calling out. The competitive nature between him and Gotit raged in their early career, too, pushing both of them to grow (Keed disclosed in an interview that there was a period when Gotit forbade him from entering the studio while recording). But Keed's most valuable skill was his ability to listen. He studied Thug's process and gleaned what he could about how to weave together a song like a quilt, stitching adlibs and self-harmonies to his verses like patchwork. 
---
---
His debut YSL project was Trapped On Cleveland 2, which was more polished than the original but retained its overt influence from Thug. While the Barter 6 rapper isn't featured on the project, his presence still looms heavy. Keed's voice, less guttural than his brother Gotit's, but rougher and more frayed than Thug's, sounds as though it was passed through the same auto-tune presets his boss used on Slime Season 4. Tracks such as "Zoned Out" and "Wish Me Well" make for a fun listen but could have come just as easily from Thug's discography. It's when Keed expands beyond the hero worship that his potential truly reveals itself. On "Fetish," Keed tears across the Mooktoven beat with a drum-roll staccato, rapping about purple Hellcats and the women his sparkling VVS diamonds attract. He lags just behind the distorted, beeping keys of "Big Eye," stretching and slurs his flow through an impassioned hook before dropping into a rapid-fire triplet.  
Keed would have been the first to admit that he was still discovering his voice on his YSL debut. To him the art was in the process, not just the final product. In an interview with the Tapped In podcast which aired less than a month before his passing, he explains that music to him is "like a puzzle," something to obsess over and tinker with; failure was imminent but so was growth. Previous output wasn't sacred to him, but rather a stepping stone to something better. He'd regularly gloat in interviews about the progress he was making as an MC, setting his ego aside to perfect his style. When in the studio, he would often stream on Instagram Live showing the tedious and often ugly moments of a song in its earliest stages.
In the final days of 2018, less than six months after the release of Trapped On Cleveland 2, the-then 20-year-old rapper released Keed Talk To 'Em. Even with the short gap between projects, Keed's rapping became tighter and his flow more tailored to his own style. His voice is less processed, singing confidently with an imperfect texture on intro track "Where I'm From," a song which details his journey from cutting class and breaking down weed to the spoils of rap money and the freedoms it brings. On the 21 Savage-assisted "Balenciaga" he doles out threats over the eerie timbre of a lone flute, his voice wavering like a wah pedal with an anxious energy. 
---
---
"Nameless" was the album's breakout single and Keed's first undeniable hit. "I don't know her whole name / I just met her one day," he chirps. Sound fills every corner of the song, from Goose's triumphant piano chords and the fluttering rattle of hi-hats to Keed's stacked vocals. The months watching others' recording processes (Keed once marveled to me in a 2020 interview that he had seen Young Thug record an entire song in less than 15 minutes) led him to a better understanding of song structure, enabling him to crack the streaming era algorithms and accrue nearly fifty-million "Nameless" streams on Spotify alone at the time of writing. There was still a focus on creating records for the streets ("Definitely" with Lil Durk), but he was inching closer to transitioning from a developing act to a major force. .
Though not immediately present at the surface of his music, the traumas and tragedies Keed witnessed growing up in Zone 3 were always a part of his messaging. He was neither pessimistic nor hopeful. He presented these things as facts, realities of life for himself and those from his neighborhood, moments which didn't necessarily forge him as a person, but would always be a part of his being. While on tour with Trippie Redd in 2019, Keed received news of the death of his friend Mexico: "I had just talked to him that night. He died that morning," Keed lamented to Hypebeast. Keed decided to name his debut studio release after his late friend: on the album's cover he's pictured next to Mexico's grave, shrouded in the country's national flag.
Long Live Mexico was the moment when Lil Keed found his voice. It's not an explicit eulogy, but there is a weight to the project's twenty tracks, a heaviness which seems to darken the production and sharpen the raps. For Keed, the subject matter needn't be overt: the act of creating this body of work was the therapy: "music can get you through everything bro," he once told me. 
The blueprint didn't change but Long Live Mexico seems more painstakingly constructed than anything else in his discography. Every detail is carefully considered. On "Oh My God," the JetsonMade-produced track, Keed slinks across a floor of crunchy drums, his voice fading in and out as though it's being carried by the wind. "HBS," one of Long Live Mexico's most commercially successful songs, is a hypnotic anthem where Keed's voice crackles while singing about YSL chains and "dirty birds" before it devolves into a mantric refrain. On "Million Dollar Mansion" he spars admirably with Young Thug: "Choker shackles outshine the goddamn son," he raps, the words blending together into amorphous syllables. He bounces playfully across the a flute's chirp alongside Lil Uzi Vert and YNW Melly on "Pull Up" and catches a purple wave with NAV on "Rockstar."
Not only had Keed grown into a unique stylist of his own, but he had learned how to construct an album. It's a skill he had certainly learned while developing under Thug's wing, but it also came from months spent in the studio, rearranging tracks obsessively as he searched for a way to match the tracklist's flow to the stream-of-consciousness of his raps. The album achieved moderate success, peaking at the 26th spot of the Billboard 200, but it made a wave in rap's underground, finding its way to high praises on year-end lists.
By the time of Trapped On Cleveland 3, which came only two years after his YSL signing, Keed had transitioned from an extraneous component of YSL to one of its starting five. The third and final installment to the Trapped On Cleveland series, Keed's 2020 project focused on grandeur: large, dramatic beats and crystal clear vocals. The raw anxiety of the earlier chapters of the series takes a backseat to celebrating the success of actually escaping Cleveland Ave. and South Atlanta. The album faced some criticism, with some finding the heavy handedness and artifice of its construction off-putting compared to Keed's past efforts. But Trapped On Cleveland 3 had a different goal: to expand Lil Keed's fanbase beyond purveyors of slimy Atlanta rap.
---
---
"Traplanta" is one of the most underrated entries in Keed's discography. Rapping from a throne of 808s, he bends his voice, curling around punchy consonants: "Pops on the block with a big Glock," breaking into gloating apostrophes: "God damn, broke the money counter," and erecting vivid and absurd imagery: "Have you ever seen that molly color khaki pants?." "Twisted" with 42 Dugg cuts back to the core of the Trapped On Cleveland ethos, a proclamation that, despite the fame and fat bankroll, Keed's "the same n*gga from the block," while still making time to throw shade at the fake flexers in Hellcats: "I been did the chargers."
Aside from his contributions as a featured rapper on projects like Lil Yachty's Lil Boat 3, Internet Money's B4 The Storm, NAV's Emergency Tsunami, and the Slime Language 2 compilation, Keed took a hiatus from releasing music following Trapped On Cleveland 3 – the first break he had taken since his signing. He was touring and recording music (Keed Talk To 'Em 2 was reportedly nearly finished at the time of his death), but being more established meant he could spend most of his time with his daughter NayChur. You won't find many interviews without Keed mentioning her. "All this shit I'm doing is for my fucking daughter," he proclaimed in a conversation with Complex. 
In early May of 2022 Young Thug and a slew of YSL artists including Gunna, Duke, Unfoonk, Slimelife Shawty, and Yak Gotti were arrested and charged in a RICO case which argued that the label imprint had been operating as a Blood-affiliated gang. Fulton County's District Attorney's office suggested that Gunna and Thug "direct their troops" to commit crimes across the city of Atlanta and are using their lyrics as evidence. It's not a new story. A militarized NYPD force has tried to stifle drill music across New York City, taking down artists such as Casanova, Sheff G and Kay Flock. There has been a public outcry and the New York Senate passing the "Rap Music on Trial" bill in an attempt to prevent the use of lyrics in court.. We saw the Los Angeles County's D.A.'s mission to silence the late Drakeo The Ruler by equating his rap collective Stinc Team to a criminal street gang and Chief Keef's inability to perform in his home city of Chicago.
The indictment of YSL's roster missed Lil Keed and his brother, leaving them to watch over the label and its affairs. But just days after charges were filed, Lil Keed passed away at the age of 24-years-old. There isn't firm confirmation of what led to Keed's death, but reports state that he was complaining of stomach pain days before his liver and kidneys failed. 
Keed was often overshadowed by Thug, but it's important to remember him for what he was: a young artist dedicated to growth whose sound was more nuanced than it was given credit for; a father who lived for his daughter and forced his hand to create more opportunities than he had for himself. He leaves behind a brother in Lil Gotit who has already committed to continue his legacy and provide for his family as well as an embattled record label and legions of fans. Lil Keed was rap's perfect pupil. A student who would glean everything he could from those around him and then channel it into his own oozing sound. He may have done it for his daughter, brother, family, and neighborhood. But he also did it for himself: "I want to see what I can do," he told me. "I want to see what I can get myself through, how I can push myself in different ways that I never did before. It's like a rush."
---
Please support the realest hip-hop blog for over a decade running by subscribing to Passion of the Weiss on Patreon.
---