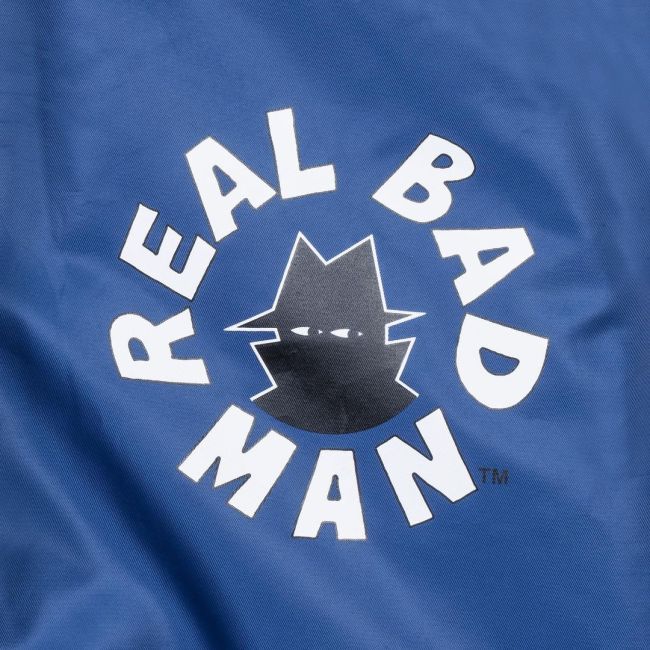 Photo via Real Bad Man/ Instagram
---
Please support our collective of music obsessives by subscribing to Passion of the Weiss on Patreon.
Ross Olson has known that it'd be Geno's team for a minute now.
---
---
When I meet Adam Weissman of Real Bad Man outside a West LA coffee shop in late September, he arrives fresh off a tennis lesson at a nearby park with his instructor. He comes sporting a black band strapped around his right arm, an accessory designed to combat the painful effects of tennis elbow. The condition is common among athletes who perform extensive arm and wrist movements, which causes inflammation to the tendons on the outside of the elbow. Compounding the frustration is the lack of effective and proven remedies, but Weissman appears undeterred, citing tennis as something that brings him great joy. This sort of unwavering commitment is what guided Weissman through a nearly two-decade career directing streetwear executions for prominent brands like Stussy, Undefeated, Union and countless others. He'd been around hip-hop since his adolescence – producing beats for rappers, DJ-ing with friends, and playing in bands  – and this spiritual foundation culminated in the form of Real Bad Man, the clothing and record imprint quietly responsible for some of the most potent underground rap records of the past two years. 
Except attaching a real-life persona to the RBM moniker seems like missing the point. Part of the brand's appeal is the idea of Weissman crafting high-quality rap records and intricate clothing designs from a place of relative obscurity. The official logo of the brand is a familiar shiesty character you might see on a neighborhood watch sign in an affluent suburb. The character lurks at night, selling a variety of stolen watches perched inside a trench coat that engulfs his entire frame. It's not hard to make the emblematic connection to Weissman's visibility status as a producer, but the logo is telling for its representation of the brand's ethos; pulling from unlikely sources in niche subcultures – be it a 70s sci-fi movie or an obscure logo lifted from a vintage vinyl sleeve  – and molding esoteric designs and soundscapes without feeling derivative or incongruent. 
"Me coming from a design background with branding, you use the logo," Weissman said. "That's how people know it. I want people to be like 'that's Real Bad Man' without the wordmark. I'm not trying to hide in the shadows and be like 'yo, I'm mysterious.' I also want the music to speak for itself. At this point, it doesn't bother me at all, it's funny. But as we get bigger, I'm happy with the stuff we make and want other people to be happy with the stuff we make."
When Weissman launched the RBM brand with illustrator Noah Butkus a little over four years ago, he did not envision the production arm taking off as a consistent force in underground hip-hop. The original plan was to curate 7-inch vinyls that accompanied each season of the brand's burgeoning clothing line, which often pitted hallucinogenic graphics and fonts against brightly-colored backdrops. The first season dropped in 2018 and centered around a theme of krautrock, with tie-dye-coated tee shirts paying homage to psych-rock legends Can and Tangerine Dream. Season two – with its theme of drugs and classic albums made while zooted – pushed the boundaries even further. Bizarre images like a stoned version of the Coco Puff bird frequented t-shirt designs, while others featured a Xenomorph-type creature spilling the contents of an unknown pill capsule. 
Weissman mainly played the role of tastemaker for the music component behind the first two seasons, fielding contributions from the likes of Edan, Mayhem Lauren, and Huey Briss to round out the vinyl space. When the third season rolled around and he had trouble filling out a roster to align with the theme of comedy, he decided to head up production duties himself. After securing a verse from the seldom-to-rap Alchemist, he asked the storied producer if he had anyone closeby to bolster the track. It was around the time he and Boldy James were crafting their opus, The Price of Tea in China, so the Detroit rapper seemed like a logical candidate. The resulting cut, "Elephant Books," feels a bit glitchy and overcooked, with its Yeezus-like synths and clattering drums, but few could have predicted how a last-minute B-Side would manifest into releases like 2020's Real Bad Boldy and this year's Killing Nothing.
Real Bad Boldy oozes a sleek brand of retro '70s gangsterisms. The project stands as one of Boldy's most nimble vocal performances to date, oscillating between luxurious bravado ("Failed Attempt") to humble groundedness ("Held Me Down.") Killing Nothing, in comparison, veers sharply into cold and desolate territory. Weissman's brand of frigid samples serve as an effective vehicle for Boldy's determined writing style on Killing Nothing. The brooding strings of "Cash Transactions" signify impending danger, while "Sig Sauer" features a string of cascading guitar plucks. Beyond his output with Boldy, Weissman's On High Alert series transcends the obligatory producer album, with contributions ranging from underground elites (Roc Marciano and Stove God Cooks) to lofi mainstays (Maxo and Pink Siifu) to Golden Age icons (Inspectah Deck and Kool Keith). 
Weissman's path to becoming a formidable threat in the underground stems from a career dedicated to advancing and cherishing streetwear culture. He credits an adolescence spent around rap circles as a pivotal entry point to the world of fashion and rap music, and more specifically, points to MTV's decision to air Yo! MTV Raps at 4:00 PM on weekdays as critical for the visibility crossover into affluent neighborhoods across the country. 
"It was on when suburban kids were getting home from school," Weissman said. "All of the sudden they'd turn on the TV, and there was A Tribe Called Quest or De La Soul or Eric B and Rakim. And they were like 'these guys are fucking cool. I love this music.' And that was the first time you could see the music. You could see what they were wearing. You saw something you didn't see being in the suburbs. That really opened the door for fashion and rap music."
Now, an industry veteran of almost two decades, Weissman has steered art direction and conceptualization for global brands like Nike, Levis and Marvel. But hip-hop and fashion has always been integral to his spiritual identity and a full-circle moment occurred in 2013 when Weissman directed the influential two-part documentary for Stussy on the significance of Yo! MTV Raps in the Golden Era of hip-hop, which featured an A-List cast of rap elites from Rakim and Shock G to Alchemist and QuestLove. Hearing him speak, it's not hard to be struck by his encyclopedic knowledge of the history and intersection between rap music and fashion.
"Being able to combine what I grew up listening to and loving into my adult life and having it be a part of my career is something I didn't plan," Weissman said. "I do design and graphics for companies I looked up to as a kid. I think I'm good at it because I know it so well. I'm a nerd. There are people that know everything about Star Wars. I happen to know everything about rap music and streetwear and sneakers from the beginning to now."
A love for sample-based electronic music sent Weissman away from rap temporarily, and in the late aughts he formed the band Pollyn with singer Genevieve Artadi, who's now under Brainfeeder. The band exuded a spaced-out warmth, with disarming vocals layered above plush synths. But the project never took off the way Weissman hoped it would and he contemplated taking a break from music altogether. The desire to produce for rappers again was too hard to ignore – he had beats on the first Live Poets record What It All About from 1996 and Sol was a frequent early collaborator – and Real Bad Man represented the opportunity to work with some of his favorite MCs while conceptualizing outlandish designs that did not have to pass through corporate approval. In the process, Weissman emerged as the producer equivalent to the likes of billy woods, Ka, and Griselda; veterans who achieved late-career success in an industry that once cast them aside. In his next move, Weissman revealed a full-length collaboration with Kool Keith, marking a dream-come-true for the lifelong hip-hop zealot.
"I want people to be excited that I'm behind the boards working with a rapper that you know still has it, but maybe isn't picking beats that are gonna excite you and I," Weissman said. "That's what I wanted to do. I wanted to give him bangers and then I wanted to bring in other features that he might not get to on his own."
The music has already shown signs of expanding beyond the hard-nosed boom-bap mastered on the High Alert series. Weissman's most recent project with the chameleonic Siifu, Real Bad Flights, dropped on 9/16 and further cements the label's murky mystique. Featuring a lineup of underground stalwarts like Armand Hammer and Chuck Strangers, Real Bad Flights differentiates from past projects due to the expansiveness of its sample choices. Song structures are fluid and freewheeling, with central melodies that soar and spiral out of control. The chaotic flutes of "Tokyo Blunts" surround the listener like a swarm of bees, while a paranormal wail backbones the chilling "Po Drama." The Boldy James-assisted "Looking for Water" is a contender for rap song of the year, with its icy keyboard loop and fluttering string section on the chorus. Siifu's muddied flow slithers in and around the crevices of the beat, while James uses his verse to smirk at a defeated prosecutor whose key witness disappeared. The track is cold-blooded and unrelenting, a visceral reminder of the emotional depth and elasticity Weissman's productions can bring out of his collaborators.
While Weissman does not consider RBM to be a success just yet – it should be noted his personal definition of fulfillment entails a daily routine of making music, smoking weed, and playing tennis – he understands simply putting out records with his favorite rappers is spiritually-gratifying in its own right. His day job still includes advising on creative direction for national apparel brands and heading up merch drops for other industry figures like Alchemist and Sleater-Kinney, but when nightfall lurks and the black trench coat emerges, he feels at home behind the treachery of the boards.
"I wanted it to be a respected streetwear brand, a respected clothing brand," Weissman said. "The music component is me at the end of the day having fun. People do like fantasy football or go to fantasy baseball camp or whatever, this is my version of that. Rap fantasy camp."