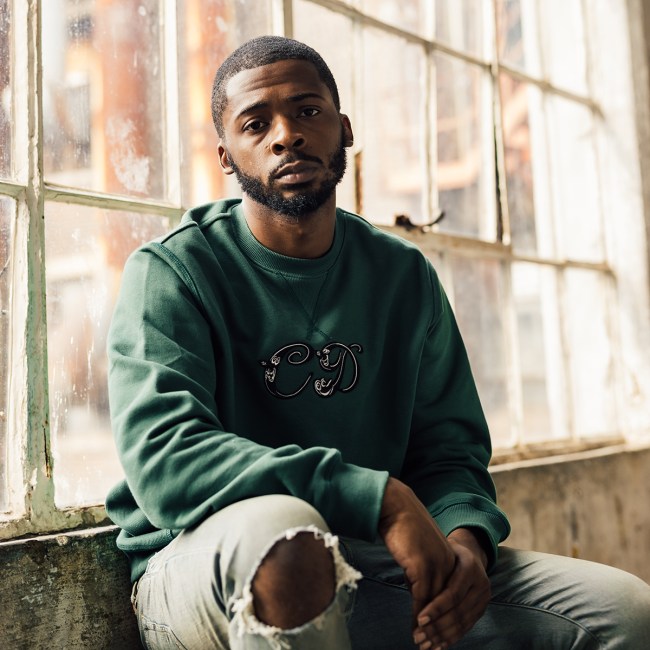 ---
Covering everything from Rage beats to niche Twitter icons. Please support the realest hip-hop blog for over a decade running by subscribing to Passion of the Weiss on Patreon.
TE P. is a millennial applying pressure.
---
In an era where 60,000 songs are uploaded to Spotify every day, and every new rapper respawns with a face tattoo, limitless jewelry, and a fleet of foreign cars, Kur stands squarely – staring down a fork in the road. He's one of the last of a group of rappers who can say he put out physical CDs, uploaded projects to early mixtape sites, and freestyled outside to make his bones – while still finding a way to keep it as strident and visceral as the Mt. Airy blocks he owes his story to, without conforming to a chaotic and dubious music industry.
Born in 1994 to a mother who commanded attention and a pop who saw structure as the only path to beating the undefeated Philly streets, Kur came into his talents early. With some push from his father, Kur's journey into the competitive arena began with boxing. Though he was going each day, he never showed up for a single bout. Looking back at it, he self-assesses a lack of heart being the cause. Whether it was that or the burn from the spotlight of onlookers, one thing was apparent, he hadn't found that thing to commit to yet.
Kur spent his early childhood in Mount Airy, or Uptown as true Philadelphians call the blue-collar neighborhood sitting in the city's Northwest corner. His friends and family lived in harmony amongst one another. A memory that takes him back to 7 or 8 years of age is a local twist on the famed Mr. Softee ice cream truck. The van played hip-hop, was Black-owned and represented the people in which it served. To him, it was a powerful representation of a time that many native Philadelphians can only remember.
Kur's early memories of his mother roots their relationship in a bond through music. This connection also allowed Kur to tap into a talent that would end up changing his life altogether–rapping. If you were old enough to experience Beanie Sigel, State Property, and early 50 Cent, you know what that energy felt like. You know the rush you got running to the boosters or tee shirt spots with $5 cash so that you could buy the latest mixtape, go home, and memorize every line before your homies did. Kur was no different, but with one exception – he took what he was fascinated by to talent shows. As a wide-eyed 4th grader, he displayed a level of confidence and maturity that his neighbors, friends, and community members were captivated by. He admits he was just reciting lines from Beanie Sigel's "Don't Stop." No matter, he was getting his first taste of attention in a way that he'd never experienced. And he couldn't shake it.
It was around this time that he began to see the world around him change. At age 12, when his mom was arrested, he moved to Northeast Philadelphia with his father and stepmother. No more friends. No more hanging out at the park until late. No more riding in mom's car listening to Beanie Sigel's, The B. Coming. Kur speaks candidly about this time as a period in which his father and stepmother were trying to–in their minds–rewire what his Mt. Airy neighborhood had done to him. Where there was structure to help him adjust, there was a lack of love and affection that still affects he and his father's relationship to this day. For him, the structure was far-reaching. With his mother only having supervised visits, all of the bonds that tied him to his old neighborhood slipped and that part of his world would never be the same again.
Six years of his father's regimented, heavy-handed love found Kur turning 18 and vehement on moving out. He was one single signature away from joining the Army. He had gone as far as to tell people that he was going to be shipping off. Then, at the last moment, just like with boxing, he changed his mind. Yet another example of him searching for more. With the army in the rearview and the seeds of him moving back to Mt. Airy without a job, Kur's connection to his father and stepmother grew venomous. He was on his own in every way–they no longer assisted him. They no longer provided the basics. They even closed him off to essential documentation like his birth certificate and driver's permit. And to only exacerbate his dilemma, when he did arrive at his childhood home, it was a shell of what it used to be–and so was his mother.
It is within this deep and desolate place that Straight from the Kur was created. A protagonist in his music, Kur's mother began to represent all that was wrong with his new life. The way he was living, his lack of accessibility, the feeling of being less. It all stemmed from a reality that so drastically changed in such a short period of time. Straight from the Kur was piercing. You could tell by his voice he was younger, but the lyrics said otherwise. He was talking about real-life situations as if he was a veteran outside. As far as memorable projects, it's up there with Joey Jihad's Count That Money, Hollowman's Mr. talkheavy, and Cyserro's The Growth.
To put into perspective Kur's rare ability to win over a city that often cannibalizes its talent, listeners need look no further than "Upside Down Cake." To begin with, upside-down cake is a Philly dessert staple. Next, Drake's "Pound Cake" instrumental had woven itself into every rapper's arsenal to prove they could spit. But Kur mutated it into an anthem of the conquests with girls throughout the city. What began as a way to have some fun and build a little steam turned into a wildfire. Between slippery bars and a punching flow, it was almost unbelievable that someone was willing to go as far as he did with names, schools, neighborhoods, and exploits that pulled at the imagination and encapsulated a moment in time where word of mouth was the fastest and purest form of marketing.
Between 2012 and 2016, Kur would drop project after project. Broken Dreams, How It Never Was, Finally Happened, a collaboration project with Dave East titled Born Broke, Die Rich, and Like It Never Was make up some of the bodies of work he released without notice. He attributes his propensity for full projects (as opposed to constant releases of single records) to his work ethic and the sheer amount of time he spends recording. Where he could have been completely engulfed by all that was going on around him, he never strayed too far away from the one thing keeping him afloat– the music. And it is within the music, he tells the tales of sorrow, loss, and pain. Kur's voice is his sincerest gift. When he's rapping about his block, Vernon Road, it's sharp. It's heavy. When he's rapping about clothes and his lifestyle, it's peppy and beaming. When he's deep in the depths of his pain, his voice is bent and cracked. The many ebbs and flows of Kur's voice paint a picture overflowing with a reality that dims the brightest and hardens the purest.
Just as Kur began to turn the city into his own personal champion and move forward as an artist, the streets came calling. In 2015, his best friend Reem lost his life to an infection brought on by tainted water. He was recovering from gunshot wounds, but water took the best friend Kur ever had. Reem's funeral was on a Friday. Kur was scheduled to go to Los Angeles for the first time the Thursday before. After trying to find ways to reschedule, rebook, and realign plans, he had two choices. Go to Reem's funeral and possibly miss the opportunity he'd been waiting for all of this time, or leave the city and do what he felt his homie would want him to do–shine. Regardless of the judgment and negativity from outsiders, Kur went to Los Angeles. He describes that day as the lowest he's ever had. On the other side, his ability to walk his own way led him to connect with DeSean Jackson and Timbaland who both reaffirmed his choice.
When he returned from his trip, he saw things clearer. He was no longer just a rapper from his block. He was an artist on the radar of some of Hip-Hop's largest entities. So, back to his safe haven, the studio, he went. For another 4 years, he continued to drop projects like, 180, Smoked Out, Da 9, Shakur, and Spare Me. Where he initially captured our attention with his pace and sting, he continued to pull us into a world rife with spooky ad-libs and anxious melodies. We weren't just on Sharpnack Street anymore. We were in SOHO. We were in LA. We were in new places–experiencing another side of life. All the while, wary and nervous that the Mt. Airy would come calling.
Kur has leveraged his natural ability to think as a buffer between the things that could be and the things that are. He's also found himself trying to take his entire block with him when he didn't have both feet through the door. So often, we come to learn the beefs that rippled out and dealt the most damage were based on hearsay. The barrier between true superstardom and mediocrity was ego and pride. The downfall of a shooting star was due to overextending and giving until there was nothing left.
Kur's awareness has come with time. It's been built by a life riddled with disappointments, death, and setbacks. It has been nurtured by a want to continue to move forward and appreciate each step of the journey. As he enters this next step, no longer a co-signee but a featured artist on Meek Mill's DreamChasers, and a member of Roc Nation, he's mindful. He can self-catalog and see that there is still some baggage he needs to let go of. There is also some baggage that he truly needs. For lifelong Kur listeners, The Hold Over is everything we've come to know and appreciate Kur for with biting records like, "Shiest," "Play It Cool," and "Road to Riches". For new listeners, they'll hear a person who wears his emotions and where he's from on his sleeve with "For My Man" and "A Lot."
There is a line in "Play It Cool" where Kur casually says, "Left me alone. It made me bloom." A nugget of introspection that boils Kur's essence into a kernel. He is now in a time of blooming. He's feeling the material changes that are happening not only to him but to those around him. Just as with any healthy and thriving plant, it will be completely up to him to water and treat himself with care. If he can find that balance, for the city of Philly, there's hope he continues to take Vernon Road wherever he goes in the world.
---
---
I want to begin this by recognizing that we all have a life to live and we can only take it day by day. Overall, how is your emotional wellbeing?
---
Kur:

It can be a roller coaster–to be transparent with you. Then again, whose life ain't? I take the good with the bad and keep it moving. Overall, I'm good. You just have to keep it pushing. That's what matters.
---
In terms of the moment, I can imagine your feeling some gratification in your road and getting to this point. How does this moment feel?
---
Kur:

Music-wise I'm super grateful for where I'm at and how things are going. I'm still super grateful. Things are good for me. I'm in a good place. The ball is in my court. I have a great team behind me. It's like, "Let's make the best of it. And get to it!" I'm excited for the things that are about to come next.
---
You came out of the gate waving that Uptown flag. For other parts outside of the area, North [Philly] usually gets that shine because of Meek and West gets that spotlight because of Will. For me, Uptown has always had a flavor to it. What does Uptown mean to you?
---
Kur:

I felt like it was overlooked for a long time. I felt like we didn't really have anybody coming from that section outside of maybe Cassidy. That being overlooked is what fueled me. It was just like, "Oh. That's Vernon Rd. Or that's Sharpnack [Street]." Shoutout to PnB Rock. He's been doing his thing and is super dope. But we're not from the same area. When we talk about my section, there was no hope there. If I don't keep it going it's gonna go back to what it used to be. And I can't have that.
---
What's the first thing you can remember about being from where you're from in the city?
---
Kur:

I remember there used to be an ice cream truck that played Hip-Hop. It wasn't your normal Mr. Softee. It was Black-owned. They'd ride through the neighborhood selling water ice, pretzels, candy, whatever. They had the van painted super dope. People were more excited for that than Mr. Softee. If I think about anything outside of music in Uptown, that would be the first thing. I was probably 7 or 8.
---
That's a dope memory. For it to be Black-owned is a real Philly thing.
---
Kur: For sure. To hear them coming playing Hip-Hop you'd be like, "Oh. Na. That's them coming." [laughs]
---
What could you say was the first thing you were good at?
---
Kur:

People don't really know this but before I was rapping, maybe 13 or 14, my dad put me in boxing. I boxed for maybe 6 or 7 years. But I never had any fights. I would even get weighed in and everything but I would never show up to a fight. I just felt like I didn't have the heart. I knew I could box and spar and all of that. I just felt like I didn't have the heart to do it while a bunch of people watched me. Just didn't have the heart to go in there for real, for real. I could also say art. I'm low-key, super green with art. I can't lie. I know how to draw. I haven't drawn in a minute but if I picked it up again, I'd be right where I left off.
---
What kind of kid would your mom say you were?
---
Kur: She would say that I'm disobedient. Even though things are working out for me I didn't listen to none of my family. I'm talking about not one family member. I didn't listen to the advice I was getting after high school. My GPA was actually alright. I got like 2 scholarships. One was in Tuskegee, Alabama. I just didn't want to go and do it. She always says, "Yeah, things worked out. But you should have still listened to ya mom." She would not be like, "He's so long. He's so caring." I couldn't see that. [laughs]
---
When you say you're "disobedient" I hear that you have conviction in what you're doing. And you had it when you were young. When you look at the journey of many people who chose their path and are doing what they want to do now, that is a trend. Trusting your gut is a superpower; especially when people are in your ear telling you what you should or shouldn't do.
---
Kur:

For sure! I was one step away from being in the Army. I was going to Marine classes. I'm talking about working out with 'em. I'm talking literally one signature away from not being on the phone with you right now. I backed out like how I did with the boxing fights. I had everybody mad at me because I already told everybody that's what I was gonna do. That's why I really go with my gut because I had that feeling.
---
---
I read your pop played an integral role in your movement to music when you were younger. What would you say is the biggest lesson you learned from him that no matter what happens or where you go you can say, "I got that from him,"?
---
Kur: Me and my pop have a weird relationship–even when I was living with him. I can probably count on one hand when I lived in his house the amount of times we actually kicked it. I think he showed me so much tough love that when I go through so much now, it doesn't bother me. I have super-tough skin. I texted him a week ago and gave him his flowers. I had to give him flowers for that because I didn't understand it at the time. It wasn't like he was on some BS. It was just hard, tough love. It was like, "The world is tough. The world doesn't owe you nothing. I'm not even going to give you nothing." [laughs]

This is me at 28 talking. When you go back I hated him for that. I moved out for a reason. Then, I started to go through things in life. I began thinking, "Why did he do all of that?" Until it all came full circle. I now understand why he did that. He tried to shelter me from a lot of stuff. He gave me a time to be in the house at night. He gave me structure. I didn't understand that. I see it now as I got older. I don't have kids. But when I do, I know what I can take from him and give to them. I also know what I won't do with my kids.
---
You make a great point there. I have kids. I can also think back to the stuff my pop tried to tell me and I didn't listen. It's hard to say if it was all right. What I can say is he was right with the big pieces of life. As I got older I learned that too. So, now, with my son, I'm going to be honest and not sugarcoat anything because the world doesn't treat us that way. I just won't be so heavy-handed.
---
Kur:

Yeah. That's why I know I'm not going to take everything he did and do it with my child. If we take the big stuff, we got the lesson. If we do everything, little did he know, it tainted our relationship because it pushed me away from that. Yeah, I got the lesson. But what about the relationship? It's a gift and a curse. I don't want to push my kids away from me.
---
One thing that I have to know in all of this is your view on the change in Uptown and the city as a whole. How do you feel about these changes?
---
Kur: I don't really have any feelings because I had already walked back into the neighborhood and it had changed. Let me explain. When I was 12, my mom got locked up. I had to move with my dad and stepmom to Northeast. I didn't want to do that but you know–court and custody–I had to. From 12 to 18 was no longer up Mt. Airy. So, when I moved out at 18, I went back out there and saw all the changes. From friends, to how it looked, to whatever. For those 6 years, I was right up Northeast Philly. It ain't but 20-25 mins from Uptown. One thing my pop and stepmom were big on was, "We're taking you out of that environment. You will never see it again."

I moved out at 18 and went back to where they told me not to go. So, for me, I already went into it seeing it differently than I had before. It doesn't feel the same as when I left at 12. It will never be the same for me again, for real, for real.
---
Thinking back to you being in 4th grade. I read you were doing talent shows and cyphers at that young of an age. Where did that confidence come from?
---
Kur: This is funny to me. I can finally say it now. I used to do talent shows at my elementary school. I was probably like 10. I was still living with my mom. She was an in the mix type of person. She was super popular. People knew her. She would play a lot of music like Beans, Freeway, and 50. I remember the confidence came from just me wanting to sound cool.

In these talent shows though, a lot of these kids weren't listening to that. I was doing the talent shows, and I'll never forget, I was rapping Beanie Sigel, "Sicker than ya average. Money too long/ can't stash it. In the closet/or the mattress. Paper stretch like elastic. Checks from advances. Bank can't cash it." I'll never forget that because it was exactly what I was saying in the talent shows. Everybody would get so hype but it wasn't even my rap. That made me happy thinking about that. [laughs]
---
Let's go to the music and start at the project that introduced your music to me. My homeboy B actually put me onto Straight from the Kur. I remember that time because there was a lot of music coming out of the city at the time and your voice cut through. You were younger them some of the cats we listened to. That said, the content wasn't young. There was a juxtaposition between your voice and the actual music. Can you speak to that time in your life that led up to that project?
---
Kur: This is probably like 2012. I turned 18 in April. We graduated in June. I started working on Straight from the Kur on April 13th, 2012. That was the first time I ever went to the studio to make that. I was living in Northeast. It's middle class. It don't get no credit in Philly. Prior to me moving back up to my neighborhood I was rapping like Drake. Drake was my favorite rapper. I was also still in that structured environment and was shaped from 12 to 18.

I went back into my old neighborhood I was kind of wet behind the ears. A few of my old friends said, "We'll help you. Where you been at? What you been on?" And I'm like, " I spit." Long story short, I started to hang with them. I started doing things and being involved in things that I was never in up Northeast. That's where everything came from. I was 18 hanging with cats that was like 30. Imagine you hang with these dudes every single day. You gonna pick up some of their habits. You gonna do stuff you never would have thought of.

That's where the pain came from. When I got back up there, the way my mom's house looked at 12 wasn't like that at 18. That was painful. That was the lights off. The water's off. I moved out thinking that I'm about to go be back with my mom. I was thinking the house was the way it was. In my head, my mom wasn't going through none of that. Mind you, from 12 to 18 my mom had supervised visits. So, I could never hear her side or find out how she was living. I wrote most of Straight from the Kur living with my mom. Most of the story is starting at 18. That's when my journey started. I can't say, "Yo. I was 13 doing such and such." I wasn't. I willingly walked into a situation with wolves and took whatever came with it.

There were also dudes in the neighborhood saying, "Yo! You can spit. All you need is to pick beats." I had a homie that I used to be cool with who would say, "Yo! Let me send you 5 beats. I know you can kill 'em!" He would send me the 5 beats, pay for the studio time, and we would get blank CDs to pass them out at gas stations. To be honest, I've always been a project type of guy. I came out that way. I didn't know too much about how they did this music thing. I was really on my own. No resources, no survival. The guys was paying for studio time but I still didn't have anywhere to go. A lot of my raps were written sleeping in cars. People can vouch in my neighborhood. That's why I think people gravitated to it because they saw me at my lowest time, 18, fresh, skinny, boney, with no answers.

---
---
I see this fork in the road where you created a level of attention in the city and the area that was kind of like, before 808s and Heartbreak, and after 808s and Heartbreak. There is before "Upside Down Cake" and after "Upside Down Cake." From that point, you showed you could rap about anything, there isn't anybody who will be that honest and go the distance. It was like you chose that to be a hill to die on. You did it once, then again, then again. There was a level of respect you gained from people seeing your commitment. Plainly, what were you thinking at that time?
---
Kur: Honestly, everyone around me told me not to do that. But again, I just had that feeling. I came into the game not trying to diss a bunch of rappers. I was listening to Drake's "Pound Cake" at the time and I was writing to it. Some bar rhymed with somebody I used to deal with's name. I said the bar and I was like, "You know what? Maybe I should say a bunch of other people's names," because around this time I was trying to get known. I thought if I say a girl's name from West Philly, she'll send it to another girl in West Philly. If I do the same thing in Southwest Philly, there will be little fires going everywhere and my name is attached to it. Even if the people don't like me, listen to me, they'll know the name.

I was just trying to get eyes on me. I wanted it fast. I was going through a lot of stuff that made me think, "I can't keep going through this." I really had to put my brain to it. The first "Upside Down Cake" that I did had weird copyright issues with the beat. People didn't really get to hear what I did because it kept getting taken down. It caught on late. I had to put it on Audiomack. So, shoutout to Audiomack. Then, I did a second one. Then, I was like, "I'll do a third one." Then from there, it did exactly what I said it was going to do. I literally made it to do that.

I was saying my thoughts about what would happen if I linked with popular girls in the city. It was fun for the time. I wouldn't do it now. I was young. I knew ain't no way in hell these people gonna hear me if I'm Uptown rapping unless I say a few girls' names from around the city. They gonna send it to their people. Even if they say, "Who's buddy and why is he saying my name?" I didn't care about that. I'll cross that bridge when I get there. I just needed them to say my name and move forward. By the third one, there were girls who was hoping their names would be in it. I have to say it again. I wouldn't do it again. I was just eager for fans, eager for attention, I wanted to show I'm really hot and that they should hear me out!

---
When you talk about projects, I remember you started to go on a run. Broken Dreams, How It Never Was, Born Broke, Die Rich with Dave East which came out of nowhere, and Like It Never Was. These weren't just bodies of music for the sake of. There was true quality in them. What was fueling this level of output?
---
Kur: I record so much, bro. I recorded so much that I siked myself out and push stuff to the side. It's really my homies that come into the studio and tell me to put the projects out like, "Bro. You should put together 12 songs, put it out, and you'd crush it." It was really that. Broken Dreams came out in 2013. I waited 2 years to drop How it Never Was because I was putting individual songs out. Then, my man came home from jail. He was the one that was helping me in the beginning. He was like, "Bro! You don't you got a project out. We gotta figure this project out!" Mind you, that was 2 years worth of songs that I just picked through and put them together. None of my projects were me working towards a project. I just go in and record. Now I get it. Everything needs to be in sync and together. I get that now. But before, I was just moving. I was just going. Just putting stuff out.

Even the Dave East tape was him pushing me. We got that done in 1 studio session for 8 hours. He was pushing me like, "Stop overthinking it, bro! Just go in there." I write all my music. The way things are going right now, everybody goes off the top. Me and Dave was just getting a relationship. Dave pushed me to do it in 8 hours and we put it out. I think that played a part in it. He fueled me. The rest of the tapes was me feeling like I needed to put something out. It comes from recording so much that I start to feel they need a tape after a while.
---
There's a certain level of cats in the city that are studio rats. To hear you're one of those shows. Just in some of the jawns you've thrown out like, "Menace II Society" and "Stuck in My Ways", they feel like pieces of work that are better than many other artists' bodies of work. Then you take it and package it up presents a power. We don't see many folks produce the amount of music you do at a level of quality as you do.
---
Kur:

I appreciate that. I record so much, I don't give myself chances to make new experiences to talk about. So, a lot of stuff I might repeat. That's the only con. Because I do have to get out and live and eat–or something. If you ask me, I'm going to the studio Monday through Monday. I'm getting dressed and going to the studio. If you wanna see me, come to the studio. You wanna hang out, come to the studio. That's just how I am. I had to get to the point where if I don't go to the studio I don't feel bad. I used to feel bad if I didn't go. I can't lie. I know you do need to take the time so that it doesn't take away from the personal life. I'm there now where I balance it out. Once work is done, it's done.
---
Something that I do want to highlight and give you credit for is your ability to rarely–if ever–get caught up in the things that happen in the city. I feel as though the town gets painted in a certain way because of the way it is and the scarcity mindset. People feel they have to go against one another to get a leg up or get ahead. You never really hopped in that. What was it about you that allowed for you to remain away from it all?
---
Kur: I'm a thinker. I have a lot of situations where I paid things no mind. Like, if you want to make this shoe fit, it's going to fit. Even if I almost felt away about something and asked myself, "What they mean by that?" I wouldn't put too much energy into it and think about how I'm gonna move on it. Even people around me get hyped up like, "Bro! What he mean!?!?" I tell them, "Naw. That can be taken different ways." I think if it can be taken a bunch of different ways I'm going to make it about me. That saved me a lot of time.

One thing about me, my heart is super green. Anybody coming up in the city, I'm DM'ing them. Even if they only have 500 followers. I'm in there saying, "I like the record. I'll send you an open verse for free. You want to do the vid?" That's also how I stayed out of it. I don't walk around like I want an issue. I also got respect just by extending my hand. I have no issues. That's another thing in the city. People have an issue telling someone they like their work. Me, I don't have that problem. It doesn't cost nothing.

A lot of it comes down to miscommunication and people feeling like they aren't getting their flowers. All of that could be avoided if people said how they really feel. If you like somebody–tell them! Just, "Yo. I like what you got going on." It can make my day. That would stop a lot of egos in the city. We all trying to do the same thing and make it out. We all doing it for the same reasons. I don't want to sound like I'm preaching. We live in a world where people feel like if you don't communicate or give them flowers they will feel you don't like them or you hating. I try to kill any feelings or little things with love. I don't care. Girl, boy, gay, trans, I don't care. I'm giving you your flowers.
---
You brought up visuals earlier. Speaking to that, you have an attention to detail, and also a feeling that moves through all of your videos. There's usually a dope backdrop of somewhere in the city too. Where is your favorite place to shoot visuals?
---
Kur:

I'd say up my way. That's the transition we've been talking about that I'm making. I can't always be up my way. Any scene you can think of up my way I've shot at. But it was one of those things where people say I made it out and don't have to do vids there, I got a thrill seeing the younger kids react to it. It gave them something like, "Oh. Kur shooting a video up there! We gonna get dressed and head up there!" It gave them something that was green. It's cool. They know I'm cool with having them in it. I think that's what I got addicted to. It was seeing the smiles on their faces. I felt like it was bigger than me. So, I was bringing it back every time. Then I had to step back and think about my elevation. I was thinking, "All ya vids can't be there." But my favorite place to shoot is Vernon Road.
---
---
I have a smile on my face given even in the moments when you're doing what you're doing and living out to dream, you are still thinking about the youngns and the ability for your dream to be tangible. It's not like they saw it on TV, they saw it on their block. There's power in that.
---
Kur:

I also look at it like, doing the vid might have stopped somebody from doing something dumb because they were at the vid. Even if it's one day we saved somebody, I'm cool with that. I can sleep at night. Just knowing, their whole life could have went a whole different way but they chose to be at the vid. That 3 to 4 hours could have saved him a 10-year sentence. But there's a flip side because I don't want to be a liability in the hood either. I had to balance that out. I can't make my whole life just about that block. I can't do that. That was hard for me to say just now. That's where we come from. I'm trying to make that transition.
---
That takes me back to a question I was going to ask earlier. It feels as though Vernon Road is the recurring character in your music. It's at the beginning of your songs. It's at the end of your songs. You always say "7-9." It's obviously a piece of you. When you think of that balance and where you see this going, how do you approach this next part of your journey?
---
Kur:

I don't want to make an answer up. I don't know yet but I am aware. Being aware is a start and I'm cool with that. As long as I have a start I'm cool with that.
---
I wanted to bring this up because most people growing up in our age bracket from the area have been affected by violence in some way shape or form. In your music, your consistent mentioning and remembrance of Reem is tangible. It feels as though he's become intertwined in the process of you making the music. It's like his spirits is there with you. Is that safe to say?
---
Kur: Yeah. That's definitely safe to say. I just got chills when you said that. I can't lie. I think that it was one of those things where he was one of my closest, closest homies for real. We were together every single day. He died and his funeral was on a Friday. This was 2015. I was dealing with Gourdan Banks. He was out in LA and I'd never been there before. He booked me a flight there on a Thursday but the funeral was Friday. He said he already booked the flight. In my head I was thinking, "Should I chalk the flight or should I make the funeral?" I was really trying to figure it out. I felt like I'd feel like a piece of shit if I didn't make that funeral. I even tried to see if things could be changed around so I could go to the funeral then fly out to LA. That didn't work. Everything was already paid for. I asked myself, "What would bro want me to do?"

He was always saying how hot I was and how he wanted to show the city how hot I was. So, I took the flight. For years, I felt so bad. I did catch backlash from people that was like, "Damn. Bro went to LA and missed bro's funeral. That was his best friend. But when I went out there, so many good things happened. I had to make one of the hardest decisions I've ever had to make in my life, bro. I can honestly say that. From that trip, I know that it was meant to be and where I belonged. I knew bro would want me to keep it going. That Friday I felt like nothing. I'll probably never feel the level of nothing like how I did that day. I was in a mansion.

It was my first time being in the in-crowd and at parties. I was like 20. I met DeSean Jackson. He was like, "You can stay at my house." He said I could work in his studio. One thing about me, I'm not big into a lot of things. So, if they aren't known, known to me, I wouldn't know who anyone is–even in sports. From there, I went with Charlie Mack to meet Timbaland because he was saying he was a fan at the time. I'm not saying all of this to name-drop. It was just a time when a lot of good came from that kind of experience.
---
It sounds like that was the fork in the road for you. It's impossible to put into words what it feels like to lose someone that close to you; especially when they're taken from you.
---
Kur:

You want to know something that was so crazy that I never speak about? Reem had got shot and he survived. This part bothered me a little bit. He called me and said, "Yo! I'm good. I'll be out in a few days." Then he drank some water. Caught an infection. And then he died. That's what messed me up because we talked and he said he was good. That part affected me. He got shot on Christmas day too. So Christmas is never the same for me. Then a week and a half later he died. That disconnect was wild because we talked the day before. It didn't seem fair to me. I've somewhat healed from that situation because every time people see me I'm singing songs saying, "Reem. Reem. Reem." That happened 7 years ago. It's my go-to. Even for everything I'm going through now, I still think of Reem.
---
It also gives people who probably would have never met Reem the ability to connect with him because you're keeping his name alive and spreading his spirit.
---
Kur: Exactly. I feel like, outside of him being my friend, everybody has a friend–or I hope everyone gains a friend–like him. That's why I want people to understand what I'm saying. You can swap the name out. I had a friend like this. I hope you have somebody that believes in you as much as bro believed in me. I just want them to get the message that his name is up there with the people that believed.

There weren't many people who believed. Before Reem, there was a lady named Ms. Goodman. She worked at my high school as a lunch lady. I don't know why we always talked but we did. I don't even know the reason we started talking. She was one person that was telling me the army wasn't for me. I wasn't even rapping yet. She just went off my personality and how I was. She would tell me I'd be on the big screen. I was a class clown then. She would say I was going to be an entertainer. Then, when I dropped the pound cakes, I heard she died. I felt like the moment I caught some traction to tell her, she died.

That really sticks with me. They both saw something in me when I looked in the mirror and saw nothing.
---
---
This makes me think of my cousin who got killed a few days before Christmas. At this point, I'm living in Delaware. I'm in this new private school still trying to adjust and figure everything out. Like you, I also chose to pour his spirit all over the creative things I've done. So, that's where my Twitter handle comes from because he was buried in a Dickies suit. I created a brand and named it after him. On the back of the tee, I made the address of my great-grandmom's house because that was the last place I saw him alive. Everything you're saying resonates.
---
Kur: Hell yeah, bro! That's dope. That's dope. All of the 7-9 stuff comes from my grandmom's house. I feel you. We on the same page. If we was never on the same page, now we on the same page. [laughs] In my soul I feel it. That whole 7-9-4-7-7-9… my grandmom's address was 7947 Cedarbrook. That's where I got that from. That's where we was at. That's where I had to live at. I look at everything like you. It was all meant to be.

This just makes me think of meeting one friend when I moved to Northeast. I had one friend. His name was Juan. We're still friends. He was the only friend I met when I was 12. When I moved out and I was living at my mom's it was green. From 2012 to 2016–I say 2016 because that's when I got my first apartment downtown and I was so hype–my homie Juan's mom let me stay rent-free in Northeast. His mom treated me like family and let me stay there.
I would never have the resource if I never went back to my pop and stepmom's to meet him. He played a major role in my life, my story, and where I'm at now.

It played such a major part because I couldn't really get a job. I had to do other things than I normally wouldn't do to portray this rapper image because my homies was really outside moving around. I couldn't be at McDonald's rapping about us moving around. Living there helped me get to where I am now because she gave me love. She wasn't on my ass. If I was in the studio 4 or 5 in the morning was like, "You cool. You got a key. Just go through the back." It allowed for me to experience money. Mess up money. I had the chance to live.
---
Something that you've spoken about more recently is getting to a place where "the business" is right. Starting from Straight from the Kur to maybe let's say Da 9, where was the business for you? Where are you learning it?
---
Kur: The crazy part is, I wasn't learning the business. I was just one of the hottest out. Or hottest in my section, I'll say humbly. I didn't know no business. It was just everyone around me saying, "We need to put out the next tape. We need visuals. Put out the next tape." I didn't know people were making money off steaming. I take responsibility for that because I should have been learning it. But that's why I'm on top of everything now. Even though I have a team, I think I'm scared from not having one, and having to transition to the point where I had to figure it out. I didn't know.

I wouldn't even have been in my last if I knew the business. This is not a shot to anyone or anything. Nothing against them or that deal. The experience was great and I learned a lesson in it. I didn't have anybody around me to tap me. I was just hype about money then. I didn't know about the different ways you can make money. We were all just around learning.
---
The co-sign from Meek has been in the air. Many feel as though this was a long time coming. Can you speak to getting to this place where the business is good and you can put powerful logos–like DreamChasers–on everything you do?
---
Kur:

For me, it feels like a breath of fresh air. Meek being from Philly. Me being from Philly. It's super dope for the city. That's where I'm at with it. All of this is still new for me. I do look at it like, "Damn. I do have a second chance to make things right." I kind of learned late. I'm still learning now. I'm taking the good from this situation; from the looks to the team. I'm welcoming everything that comes with it.
---
And the Roc Nation partnership?
---
Kur:

I think for Roc Nation, to Republic, to DreamChasers, everything is just dope. I'm even hype having Kierra on the phone.
---
Now, the reason we're all here – The Hold Over. It was as potent and powerful as I expected. That said, there was a lot of light in it. Your level of appreciation is shining through. Being in this place. Being at this point. Can you speak to just knowing that you got here?
---
Kur: It didn't have to be me. It could have been anybody. That's why I'm so grateful. I genuinely appreciate it because of all that I've been through. Just to be here now, I'm cool with that. 'm cool with all of the blessings. Me sitting in my house–where I live now–and talking to you means so much. I don't have to have a mansion. I just appreciate everything now because I didn't have the answers. I'd be a fool not to appreciate this. That would be selfish to the universe, God, whatever you believe in. I think it's selfish to overlook everything else and think to what you don't have when you have so much. Don't get me wrong.

I'm only human so I have those days where I feel like I need things. Overall, I think, "You good!" People ask me all the time, "What is making it?" And I think it's whatever you want it to be. I can say, "I made it." I made it off that block I was stuck on. I don't have to go there. If I choose to go there but that makes me appreciate it all because I worked this hard. It hasn't hit me until now. Even this conversation is an eye-opener. Makes me look at things differently. I've been feeling this way for a second. It's just the chance I have now to talk about it makes this dope.
---
For a first-time listener who's never heard you before, don't know you from a can of paint, and gets a hold of this project, what's one thing you want them to know about you as a person after listening?
---
Kur:

That I'ma keep going and I never gave up. By the time people listen to this, I think it will be a time in my life that's hopefully closed. It will be like, I got through it or I'm getting through it. Even off my pain, I'm not doing it for sympathy. I'm doing it to show somebody that I'm going through it but I'm going to keep it pushing. There's always that but. You can take a day or two to soak in your misery but then you have to keep it pushing.
---
Was there a record on this project that was more difficult to make than any of the others?
---
Kur: "Shiest" would probably be that one because I did it off the top. I was out LA. I was at Republic Studios. Out of all of the songs, "Shiest" was one where I didn't really know about it. I actually came back to Philly and re-recorded it because I was second-guessing it. Not what I was saying but the fact that I didn't write it down. I think that would be one that was difficult for me.

The "For My Man" song, you'll see the video starts off as me. I'm about 8 or 9. One of my close homies sent me a video he had of us from 2005. I was in the video with another one of my close homies. That was one of the ones where I didn't know the song would hit me like that until I saw the vid. It hit different. I see us then and I see us now and it will never be the same. It was one of those things where we grew apart. I never really understood that until I got older. I used to think, "How you gonna grow apart from ya man? Y'all together every day." Then I actually experienced it. You don't have to have a disagreement or nothing. It could just be one day y'all mindset isn't the same. Or you aren't seeing eye-to-eye. Or you both have different views of how the world should be. That one right gives me chills and I get teary-eyed. On the flip side, it gives me closure.
---
---
I feel that completely. I remember as I got older, my mom would keep telling me, "You can't take everybody with you." I didn't get it at the time. Then, life happened, I was moving around and I saw it.
---
Kur: Yeah. It could be as simple as y'all not talking in a few days. Then, y'all catch up. Then 3 weeks go past. Y'all catch up again. Then, another three weeks goes past but y'all don't catch up. Then, that three weeks turns into 6 weeks. Then, y'all talk again. But in that time, there is a gap. People are changing. You may see somebody or talk to them but the energy is different. Then you like, "Damn. Why?" But you're not there to experience it or be that person that they can go to when they are going through something. They turn into a whole different person and life makes them that way. That was one of the things that I had to learn.

I want everyone to make it. Sometimes I take away from my own situation wanting everyone to make it. If I gave 100 percent to just my situation I would be out the roof. But my heart can outweigh the awareness I have of that. I can easily think, "Maybe I ain't do enough for bro. Maybe I could have done this to help bro." That was and continues to be my biggest thing now. Everybody around me I rock with. But there's a thing that comes from people in the neighborhood that also feel like they were part of the block so we should be rocking. That's the biggest transition. I love Vernon Road. I love where I'm from. But I'm only cool with a handful when we're talking about having true love. That's the disconnect because I still feel at times that even though me and bro aren't the best of friends I let them come rock. I can't keep doing that. It takes away. I'm just learning this now in my life.

For a while I had shows and I would bring people from the block to open up the shows. Mind you, it's taking away from my opportunity but that's my heart. They may not even have a following or anything but I was all in. If your foot's not all the way in the door it's hard to bring that extra baggage. I talk to a dope female rapper and she always tells me, "Bor. You got too much baggage. You got too much baggage." I never really understood what she was saying. She said, "But imagine going on a trip to LA with all that baggage and I ain't talking about luggage. You'll see it soon." And now I'm starting to see it. I had a lot of baggage for real. I'm trying to cut it off layer by layer. You have to drop the bags one by one. You can't drop them all because there are still some bags that you need. That's how I look at it.
---
One of my favorite aspects of what you do well is mixing in the slick talk and the fashion talk. I worked in fashion for a period of time so I'm always tapped in when cats start to really flex that muscle. Where do fashion and style sit in your life now?
---
Kur:

I'm a sneakerhead. I have every sneaker that's hot. I actually like sneakers more than jewelry. I know that's not the game we're in with everyone wearing the sneakers with the jewelry. But I like sneakers. I like calm stuff too. All of my jeans are Saint Laurent. You wouldn't know that unless you're buying them to know. I'm that go. I like being in something calm. I could be in Saint Laurent jeans with a Target flannel and be cool with that. I'm still walking and talking like it's an Amiri flannel. I don't just base it off of brands. I wear a lot of people's stuff from Philly and New York. I love the up-and-coming brands. I like the best of both world vibes.
---
Let's try something a little different. I'm going to go down the tracklist. If you could, give me one word that comes to mind about each of the records. "For My Man."
---
Kur:

Pain.
---
"Shiest"
---
Kur:

Gratitude.
---
"Let's Talk"
---
Kur:

Fierce.
---
"Play It Cool"
---
Kur:

Overwhelmed.
---
That's a great word. "Road To The Riches".
---
Kur:

Content.
---
"A Lot".
---
Kur:

Random. That was just random.
---
In "Play It Cool" you said, "Let left me on my own/ and I made it bloom." That is my favorite line from the entire project. I feel as though it encapsulates what you represent. Somebody who really can make a way out of no way. You figure it out, make it through it, and then when you're on the other side you make it so that people want to feel a part of the journey. Can you speak to a line like that?
---
Kur:

Yeah. When I say that, I could be talking about multiple things. The first thing that comes to mind is the situation with my dad and my stepmom. They didn't like that I moved out at 18. I left. So, even though the bar said they left me on my own, they didn't give me anything at all. They felt like, "If you want to move out, start over!" They took stuff that I needed in life. I was really left on my own with nothing. I still blossomed. It's not me bashing them. There was some good they did. But at that time they felt I needed to figure it out. I say all of that to say, even if I had a chance to do it all again I would. Those lessons taught me so much. Pride is a poor man's disease. I went through all of those trials and tribulations just so we can be on the horn right now. Gotta say that.
---
In terms of that journey and getting to this point, you've shared so much. You've shared about your mom and that period in your life. You shared about your sister–both the good and bad of being able to do this for her but maybe you don't have the time. And of course, your homies and trying to bring people with you but losing some along the way. In terms of this very moment, where do see all of those relationships sitting and possibly bringing them with you?
---
Kur:

Some days I'm there and some days I'm off of it. Some days I try to be on my mom's time and make it work. Then there are days when I don't have time to answer the calls because my mind is somewhere else. There are some days when I want to spend more time with my sister. Then I think spending time isn't going to make any bread. That's part of that balance I'm trying to find. I can say I'm happy that it's an awareness I have now in needing to find that balance. There's also this era and people trying to use other people. It happens so much that it can be hard for to separate. Even if it's my sister. I have to think to myself, "Naw. That's my sister. She doesn't want to use me." The industry we're in can be overwhelming.
---
Last question is… how would you like for this all to play out?
---
Kur:

I have 2 real expectations. As long as I'm cool and there are opportunities for the people around me, I'm cool with that. That's what I'm really into. I want to keep creating opportunities. Even for just where I'm from–Uptown. I would want to open a stu where people know it's the hotspot. Everybody can go there. Outside of my career growth, that's what I see as being next. That's my whole purpose–creating opportunity. I know I won't be hot forever. I know this doesn't last forever. So, while I can do what I can do, I'm going to make the best of it.
---