Meek Mill and Rick Ross's joint album Too Good To Be True is projected to do between 30 and 35K in its first week.
The soft numbers come after Ross and Meek spent the last couple of weeks promoting the project — culminating in an appearance on the Tonight Show Friday night.
Neither Meek nor Ross had released an album since 2021, so there should have been some anticipation for the project.
Here's Meek explaining what went wrong.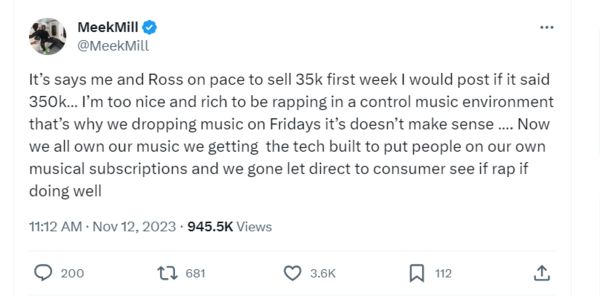 "It's says me and Ross on pace to sell 35k first week I would post if it said 350k… I'm too nice and rich to be rapping in a control music environment that's why we dropping music on Fridays it's doesn't make sense …. Now we all own our music we getting  the tech built to put people on our own musical subscriptions and we gone let direct to consumer see if rap if doing well," he typed.
Feel free to interpret what he is saying.  But this Tweet suggests he's worried his career may be over.
I want an older rich freaky bad cougar ….its my fantasy 😮‍💨

— MeekMill (@MeekMill) November 10, 2023