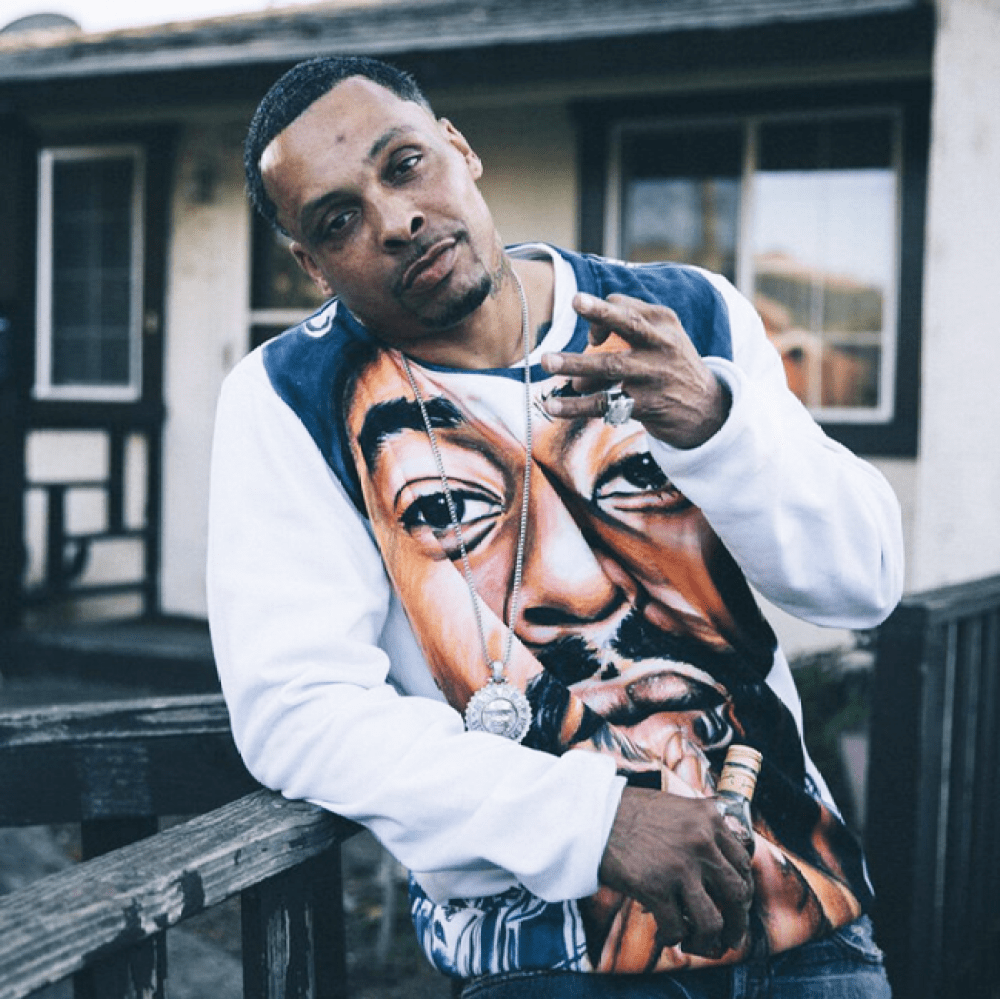 Support real, independent music journalism by subscribing to Passion of the Weiss on Patreon.
---
In the mid-90's while L.A. gained national attention for their G-funk innovations, Bay Area rappers were crafting their own sonic dialect that would eventually come to be known as Mobb Music. It was a sound equally heavy with bass but less reliant on f my BB unk samples, and organically sprinkled with lyrics that referenced local slang and the Bay Area lifestyle.
During this time, Vallejo artists were influential in shaping the sound. E-40 and The Click had Studio Ton and Mike Mosley behind the boards; creating the production that would help propel them to stardom. Khayree, another influential producer in Vallejo, was helping to shape the sound of another group of rappers coming from Vallejo's Country Club Crest neighborhood.
Khayree would co-found Strictly Business Records, and later Young Black Brotha Records, serving as the lead producer on projects like Young Black Brotha, Mac Dre's debut album, Illegal Business?, Mac Mall's debut album, and later Dubee's debut album A.K.A. Sugawolf. For many artists, working with Khayree meant that you were on the cusp of at least regional success. As a producer, Khayree was known for his "mac breakdowns", which consisted of switching the beat right in the middle of a song. After Mac Dre's federal prison sentence, and Mac Mall's debut album, Dubee would be next in line to push their movement forward.
A native of the Crest who was a few years younger than Mac Dre, Dubee was a curious neighborhood observer of the future Ronald Dregan's early Young Black Brotha era ascent. Familial-like ties to Mac Dre's associates through little league football and church would help establish a connection between Mac Dre and Dubee. Later, when Mac Dre was released from federal prison, Dubee would help re-introduce Mac Dre to fans on his debut album in 1995. In 2001 they would release a collaborative album called Turf Buccaneers.
The majority of rap music released by Vallejo artists in the 90's fit into the Bay Area mobb music aesthetic. Other Bay Area rap artists released a bevy of classic "weed anthems" too. The Luniz had 'I Got 5 On it', RBL Posse had 'Bammer Weed', and Andre Nickatina would have 'Smoke Dope and Rap'. All these songs and a few more would eventually enter the sacred Bay Area lexicon of odes to marijuana. However, one overlooked song that is sometimes left out of Bay Area 4/20 playlists is "My Thang" by Dubee, a standout track from A.K.A Sugawolf.
"My Thang" runs long (nearly eight minutes) due to the comedic intro and outro, and a couple of Khayree's signature "mac breakdowns." Dubee and Khayree crafted a song that symbolizes why many people think the 90's were the "golden era" for Bay Area rap. Dubee kicks mack tales, OG game, and exudes a laid back stoner perspective. While Khyaree conjures multiple funk baselines that keep the listener engaged.
Now in his mid-40's, Dubee has released more than ten solo albums, and has appeared on numerous compilation and collaborative albums. Coming off a federal case himself, Dubee finds himself as an elder statesman of Vallejo rap. A feature or music video cameo from him now symbolizes the same stamp of approval for many young artists that he gained early in his career from Mac Dre and Khayree.
I spoke with Dubee on his familial roots, his athletic career, Vallejo rap history, and what lies ahead. – D'Andre Ball
---
---
Your Vallejo and Crest roots run deep. How did your family find their way to Vallejo?
---
Dubee:

My family migrated from the South. My grandpa on my mom's side came from Jackson, Mississippi, and my grandma came from Louisiana. My granddad on my dad's side.. I want to say came from Mississippi. They came from the South and moved to Floyd Terrace, and then to the Crest.
That's why I say my Crest roots run deep because that's all I know. I was never even babysat outside the Crest.
My family got here the same way a lot black families came – they came escaping the South to pursue opportunities to get that Mare Island Naval Shipyard money or whatever. That's how my family got here. I feel like that's 80 percent of niggas from California. They came to California for job opportunities and to escape segregation and all that bullshit they had going on down there.
---
In an Interview, Vallejo native, and MLB legend CC Sabathia said that you were his favorite Vallejo athlete. Not many people know that you had a scholarship offer to play football at Washington State. Why do you think rap eventually won out for you?
---
Dubee:

To be honest, rap was really like the unknown horizon. I felt rap won because it was unknown. I was more curious to see how this was going to go. I had been playing football and sports my whole life. I wanted to know where I would go as a rapper. I had been held back from doing rap, and I wanted to know my potential and where I was going to go.
As far as football compared to rap, at that point in my life, the fire of rap I had inside of me, I didn't have to worry about being lazy. I had a whole lot of energy I wanted to express through that art form. I would have done both if I could – both were my passions
My heart was broken when I had already signed a rap contract, and they told me I had to give the record advance back to the school, and that was the only way I could keep my scholarship.
I mean a scholarship to go play running back in school, and I'll get some money to do this rap shit too? That was a double edged sword. For one second I thought I had all my dreams laid in my lap.Then they told me I had to make a choice. When I thought I could have both – you couldn't have told me nothin'.
---
Do you think it's fair that you had to choose between you giving up your record advance or receiving the scholarship ?
---
Dubee:

I say a lot of times that I don't deal with feelings, I deal with principles. Principles are something that's already set in stone before you add names. The policy was already set before. I wasn't the first person that ran into a dilemma like this. I feel it first hand because it happened to me, but I know there were plenty of people that it happened to before me, and they took it on the chin the same way I had to.
Some of this type of shit don't happen to regular people. So when shit like this happen when you ask for a "not regular life", you are supposed to expect that this is what comes with the life that you choose, when you choose a life that isn't regular. So when a decision like that got thrown at me, that was one of the first curveballs in life that I had to deal with where it was like, I got just what I wanted but it didn't come how I wanted. But what I really wanted, fell right in my lap. So it was more like, be careful what you ask for. Because I got just what I asked for, just not how I wanted.
---
On your debut album, Dubee A.K.A. Sugawolf, you gave Mac Dre a solo spot with "Game I'm Spittin". Why did you feel the need to provide Mac Dre the space to have a solo record on your debut album?
---
Dubee:

I didn't feel the need that I had to, it was just an opportunity. Because this was the nigga I was looking for an oppotunity from, to let the world hear me. Based on circumstances, the Cuddie (Mac Dre) went to jail and I found my way to get heard how it happened.
That was a move for me to be able to poke my chest out, and feel like I was blessing the game that blessed me. Why wouldn't I do whatever I could do… if I'm in a position to do something for my nigga, when I wanted him to do the same thing for me when he was in a position to? When I got in a position to do something, whatever I could do, I was gonna do it. It wasn't that I felt I needed to do this or that. It was only right.
In a perfect world, the Cuddie would have broken the ice and presented me to the public. Ok, I didn't get that. He was gone, and I got presented to the public. Why not add that to my legacy when I'm starting? As soon as the Cuddie came home, where did you hear him first? Right here, on Dubee shit.
As you look back, it's the same thing Dre did for Mall. When Dre put Mall on his shit. He gave Mall room to shine, He didn't say you only get a verse. He broke everything down, and let the world know who Mac Mall was on "My Chevy".
So looking back at that as history. The Cuddie didn't get the chance to debut Sugawolf, and I didn't have the chance to debut the Cuddie, but I'm going to debut the Cuddie back to y'all.
That was a meaningful moment in my career. I needed that meaningful moment in my career. I knew back then what that moment would mean to this day. I knew what it was going to mean back then.
---
---
Khayree handled the production on Mac Dre, Mac Mall, Ray Luv, Young Lay, and your debut albums. How do you think he was able to collaborate with you all, but also maintain a distinct sound for each artist?
---
Dubee:

To be honest, I don't feel Khayree would map out a certain sound based on a particular artist. Khayree had a sound that he was known for. Now whether you as an artist were compatible with that sound, that was the distinct glue.
Khayree's sound, as far as the Crest, goes back to the beginning of our music as far as we know it with The Mac. That was a Crest nigga on a Khayree beat. Same with Mac Dre, another Crest nigga on a Khayree beat. When Mall came, another Crest on a Khayree beat. Young Lay, he's from Oakland, but all his gotdamn family from the Crest, so basically another Crest nigga on a Khayree beat. Dubee, another Crest nigga on a Khayree beat.
So going through Khayree was a right of passage.
Khayree beats, mac breakdowns – you know how that beat switched to a whole other beat shit? All that was like a right of passage. That was the right route you were supposed to be going through to prove that you were official.
It was a time where I didn't want to sign to Young Black Brotha, but based on our financial situation as a crew, and shit that niggas were going through in the street, that was the best move not just for me but for the niggaas that I fucked with. For me to be able to bring something to the table.
Khayree, YBB days that's a staple for a lot of Crest niggas and Crest music history. Whoever story you tell, it's going to go back intertwined with Khayree at some point. Whether that nigga like it or not.
---
---
Talk to me about the making of your song "My Thang".
---
Dubee:

The making of it, that was a Khayree's baby. Khayree had the idea for the song, he laid it out. The breakdown and the beat, and the beat switch. All I had to do was come in and rap the right verse to it. So when I got It, the hook roughly was on there, the beat roughly was there. It wasn't like the beat was going to do something later on that I didn't know it was going to do. All I had to do was compliment the beat and lay them verses in.
---
Do you think it gets proper respect in terms of songs considered to be "Bay Area classics"?
---
Dubee:

I really personally don't get into that. Because who am I to say how much respect something is supposed to get? That's up to the people. It ain't up to an artist to say how much his shit should be felt or respected. Nigga you put your art out there and let the people make a choice. So I'm thankful that it's respected, and renowned as much as it is.
---
The Crest has produced artists like Confunkshun, you, Mac Dre, Mac Mall, and SOB X RBE. Why do you think this neighborhood continues to produce artists who are able to break through?
---
Dubee:

It ain't just the Crest. Ya feel me? It's Vallejo as a whole. Everything that happens on our side of town, happens on the other side of town. For every Mac Dre, Mac Mall, and Young Lay, they got E-40, B-Legit, Celly Cel. You can go all the way down to SOB, and they got Nef the Pharaoh.
I feel it's a Vallejo thing. It's a competitive thing. Deep down the competition started with sports before everything else. That real Vallejo blood is very competitive at a young age. From baseball all-star teams to pop warner football. We play teams in Richmond or Sacramento, and they wouldn't know about Vallejo. At a young age, we had the mindset where we ain't finna take no backseat. We with the competition. So it's not a Crest thing, it's a Vallejo thing.
As far as sports, we really don't see it now as much. I feel sports really ain't in young people's lives, the way it was for us. When we came up, it was t-ball to pop warner, Babe Ruth, high school sports. You wanted your name in the paper; that meant something. You wanted to see your stats in the paper.
That's how we came up. So once we transitioned into music, that's how a Vallejo nigga moved. When you transitioned to street shit, that's how a nigga moved. Everything is competitive. It's certain niggas with the competition.
I have to credit it as a Vallejo mentality. Niggas come from this city with a chip on their shoulder, wanting to show what the city breeds.
---
What excites you about your career in hip-hop now?
---
Dubee:

I take it as a full fledged blessing. To be the age that I am, coming off a federal case. An eight year sentence. A lot of niggas at that age if they come across some shit like that, they kill they career. I was coming into my 40's and caught a case. It's a blessing to come home and still be relevant. That doesn't happen to everybody. That's my motivation. That's God's blessing to me.
---