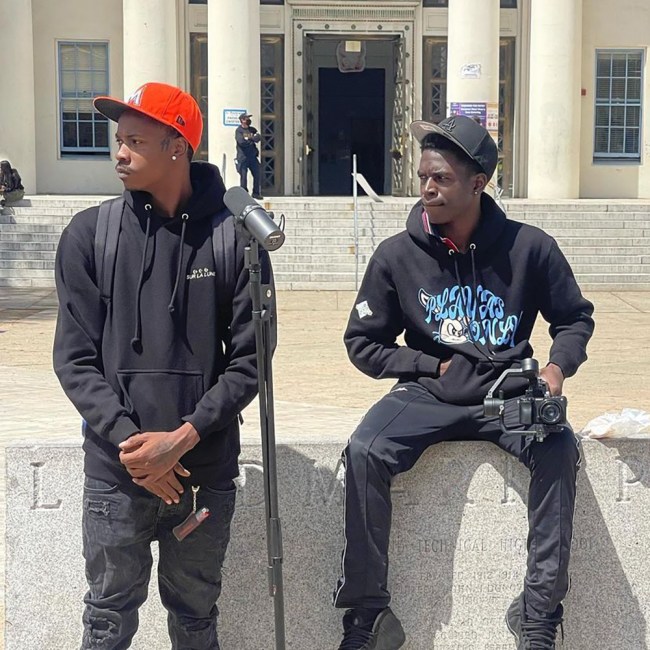 Photo via 1100 Himself/Instagram
---
Straight killer, no filler. Support the realest hip-hop blog for over a decade running by subscribing to Passion of the Weiss on Patreon.
Yousef Srour is campaigning for an undo button on Spotify.
---
"The Set Up (Pt. 1)" plays out like a classic action film. Think "The Art of Peer Pressure" set in the center of Oakland, with self-prophetic egoism replaced with nihilistic confidence. 1100 Himself and Mitchell play our protagonists and they're "riding around with two ARs and some stolen pistols." As the song title suggests, they've been set up by the Feds. The agents have the pair locked in their sight, but our narrators are too far from Lake Merritt to ditch their equipment. Casually trading bars and left without options, 1100 and Mitchell tell a tale of their shootout with the cops.
Just like family, the two move as a unit. Where 1100 is rash, quoted by Mitchell as saying, "Life's Too $hort, we gotta blow the whistle," Mitchell acts as his big brother, backing him up every step of the way. They pass each other their respective tools and right before the guns start blazing, 1100 has a brief moment of futility. "I hear my uncle's voice up in my head saying, "'You should've hooped.'" 1100 aims for the head and leaves the gunfire mildly scathed, and just like that, the two of them leave the scene in a white Prius "like some White dudes."
1100 Himself and Mitchell are dynamic storytellers, a self-described "two-headed goat." Where Outkast illustrated how Aquarius (Big Boi) and Gemini (André 3000) fused to create Aquemini, 1100 and Mitchell join forces to tell tales from their respective blocks of East Oakland, the 50s and Funk Town. This synthesis of two parts is no stranger to Oakland, with the city breeding some of the strongest duos to exist in hip-hop, both in the past and the contemporary Town. Oakland was home to the likes of Luniz (Yukmouth and Numskull) and Zion I (AmpLive and MC Zumbi), and more recently, ALLBLACK & 22nd Jim and Su'Lan (Saunsu and Emahlani). The Warriors' slogan is "Strength in Numbers" so this shouldn't come as too much of a surprise, even if they abandoned Oakland for S.F.
Growing up in the 50s forced Mitchell to hustle. Foster care taught him independence. He's a workaholic, a jack-of-all trades who can't sit still. Born Zirl Wilson, and only two years older than 1100 at the age of 26, Mitchell makes sure that all 1100 has to do is rap. Mitchell produces the music, directs the videos, operates as a CEO for their brand, and only contributes to verses now-and-then because of how popular "The Set Up (Pt. 1)" became.
When he met 1100, Mitchell asked him for just a year of his time – a year for Mitchell to polish the jazzy, nostalgic sound that he needed to cut into his Oakland roots (a reference to the infamous Oaklandish ancestree). Mitchell worked tirelessly. When speaking to him and 1100, they reminisce about the time that Mitchell locked them in the studio for days, rapping until their mouths bled and their bank accounts plummeted from the delivery fee on UberEats.
At the same time, 1100 Himself always had big shoes to fill. Given the name Kobe Bryant at birth and coincidentally 24 years old, he raps with the same effortlessness that Kobe shot with. It takes a lot to impress 1100. His humor is deadpan; his voice borders the monotonous; his rapping is mellow. 1100's flow swings to compliment Mitchell's unquantized rhythms and (purposefully) mistimed bass drum kicks.
1100 Himself and Mitchell's debut tape, Funk Theft Auto, solidified their presence as a (no pun-intended) funkier take on hip-hop, especially within Oakland. 1100 set out to make the "Funk Town Handbook," filled with loose stories of the plugs that tried to overcharge him, the women in his life that have come and gone, and his adolescent days where he couldn't even afford McDonald's. 1100's voice and dry humor comes through with one-liners like "I'm smoking Gelato 31 and it is not October" and "I call this bitch Futurama the way I'm tryna Bender." On the flip side, the project is fully produced by Mitchell. The beats carry a hint of sentimentality, taking you back to the first time your grandma played Roy Ayers Ubiquity's "Everybody Loves the Sunshine" around the house, and memories of your family gathering around the TV to religiously watch "The Parkers" at 5pm on Monday evenings. They may not be related by blood, but 1100 Himself and Mitchell promise you, their music is a family affair.
---
---
What was it like coming up in East Oakland?
---
1100 Himself:

Everytime I say it's like every other 'hood, he don't like that shit. I say it's like every other 'hood because I haven't really been to a lot of other places, but when I started fucking with this nigga, he started taking me to more places and I see that shit ain't like every other 'hood. It's hella janky.
---
Mitchell:

We get love in every other hood. We don't have to deal with their politics, so I look at it like that. I go through it with the perspective of, "Let's see the city," or, "Let me see some shit and duck off real quick because I know what the city has to offer." Even when I do run into bullshit, it be other bullshit because it ain't my people and it's not what I'm used to.
---
Mitchell, being from the 50s, and 1100, being from Funk Town, how did your blocks shape you as people?
---
1100 Himself:

Being from the Funk, it's not a large-ass 'hood, so we took that shit to heart. It was our slice of heaven. If anybody tried to come and do any ill things or any weird shit in the 'hood, we wouldn't allow it and we'd take that shit hella personal. We only got so many streets.
---
Mitchell: It was easy for our 'hoods to clique up in that aspect, especially for business because we're hella lonely. We're on our island. They from where you wouldn't even call it the East. They island is their island and our island is ours, so we don't really affiliate with no other part of the 'hood. When niggas used to come to our cul-de-sac, we'd take it super fucking personal, and that breeds you to only fuck with your ten or less niggas.

Our 'hoods definitely created a small kingdom, a small hierarchy for us, based on the fact that we didn't have to bang anybody else's shit; our 'hood stood on its own. We're just from our sections and our sections hold their own weight, where we don't have to be from a popular 'hood because our 'hood is popular to us. Both of our 'hoods are hella different. Hella family-oriented, protection more than anything, family more than anything. We was all hungry; we was all struggling. Having a friend next door, having his mama, having his grandma, it takes a village to raise that. Everybody's house was the family house.
---
Before you started rapping, what kind of music were you listening to? Were you listening to the Hyphy Oakland shit, Mac Dre and the music coming out of Vallejo, the Andre Nickatinas in San Francisco, what were you drawn to?
---
1100 Himself:

When I didn't have no control, I would listen to whatever the fuck my grandma was playing. That's where all the old-school shit that I try to remix comes from. When I started having control over the shit that I was listening to, I was listening to hella Tyler, the Creator and Earl Sweatshirt and hella off-brand shit that motherfuckas wouldn't think I listen to, but that was the shit I enjoyed listening to.
---
---
Mitchell: Gotta check into the legends brotha. I would say the same shit. Me and this nigga got a lot in common when it comes to how we approach music – too much in common. The jazzy feel, the old-school feel, that comes from being around the OGs who wouldn't let us slap nothing. They got the CD player with a book of CDs, or the cassette tapes, it's the same difference.

We listened to nothing but oldies or what's on the radio; we didn't have no money where we could go to Rasputin and whatever artist's popping. I remember the T.I. King album. When that first dropped, my cousin had it. I remember music being super important to me, but I didn't have access to just go grab that. It was always what somebody else was listening to – heavily influenced by everything.
---
1100 Himself: There was no aux cord [laughs]. You had no privilege. "Don't touch that radio."
---
As kids, were you spending a lot of time at home or were you mainly outside, getting into the streets and that sort of thing?
---
1100 Himself:

I was staying with my grandma for a little bit. She didn't like me outside as a kid, so she would buy me hella video games and shit, making a nigga stay in the house. When I started living with my mom, I started going outside more and I started staying out.
---
Mitchell:

I was in foster care, so I didn't really have any supervision, ever. I was forever outside earliest I can remember. I was outside everyday. That's where I got all my meals at, everything.
---
1100 Himself:

I feel like I came outside too early. I was seeing too much shit as a kid that I wasn't supposed to see and now my memory's burnt. Now, when I see a motherfucka doing something exciting, I'm not impressed.
---
Mitchell:

We did all that shit prematurely. Having beef ain't exciting to us. We don't get a kick out of that because we've done that shit in the streets. I was doing that shit for real, what the fuck do I look like entertaining some internet niggas? That shit doesn't get my blood boiling. Getting some money does, because we're not used to that. We're not used to having millions. Chasing that is like a whole 'nother drive for me, other than your average baby mama drama or some other bullshit that 'hood niggas or people in the middle-class deal with. We're not trying to be there.
---
It reminds me of that one Drakeo bar where he goes, "Do a backflip or sumn." How did the two of you meet though?
---
Mitchell:

I plotted on that nigga.
---
1100 Himself: I was making music, I was just dropping on SoundCloud and I was getting a local buzz; I didn't know anybody yet at the time. I'm dropping shit, people will occasionaly tag me in stories, and this nigga tagged me and he just had the words, "This shit hard." I just reposted it on my story like everybody else. A couple days go by and the nigga messages me again like, "Bruh, I'm coming out there. I live in Calabasas right now." If you live in Calabasas, why the fuck would you come up and fuck with a nigga like me, that doesn't make no sense. I'm feeling iffy about the shit, and he's like, "Just give me a year of your time," blasé, blasé. "Whatever bruh."

He comes out here, I was supposed to tap in with him one day, I catted on him and I'm like, "I'mma come in the next day." I come the next day with my partner – I don't know the nigga so I bring my partner with me. We're just playing around and he's like, "I've got some beats," being hella modest with it. I'm like, "Man, I know I'm not gonna like these beats. This nigga not enthused about it enough," because I be enthused about my shit. I'm like, "Play 'em," and this shit is hard as fuck. I look at my partner, he's nodding his head too, and I'm like, "Stop nodding your head. Play another one." He plays another one and this shit's hard as fuck, he's nodding his head again and I'm like, "Let me record this shit real quick." Ever since then, we've just been fucking with it.
---
Mitchell: I don't even have to explain that part for myself ever because he explains it so perfectly. I remember it like it was yesterday. When I posted that shit about him, that was 2018. I got this [studio] for him. While this motherfucker's working, I grabbed this for four years, so in case this nigga leaves the 'hood, in case he needs to do this or do that, he got a spot that he can just sleep at. He didn't even know. I told this nigga that I'm plotting on him, but I'm really making beats, and this is what he needs. He knew he needed it, but he didn't have anyone making that sound for him yet. He was making hard-ass songs. You could tell this nigga was special.

He had moments where he would make some real player-ass shit. He was sprinkling little Funk Theft Auto vibes. He wasn't making that music yet though, not yet. He wasn't making nothing about bitches every song, caring about topics that ain't clickbait. He knew how to get popular; he knew how to get niggas' face with diss songs and Oakland attention-grabber shit. When it came to curating an album, he wasn't there yet. I was going through that with all the artists I was dealing with in Calabasas; they were showing me how to roll out an album. I'm making all this money and I'm like, "The fuck, I'm not making no residual income." Regardless if I'm making 60,000 this weekend, it don't mean shit when I run out of money and I'm looking at my condo like, "Oh shit. This motherfucka still a million dollars. I can't pay for it."

I'd rather go back to the hood, and my nigga's sitting right next to me and we're both tired, but I say, he was not used to my work ethic yet. That's why I was so modest; it's because I knew all I needed to do was put that fire in him and he was going to make it, guaranteed. Me coming into the situation after already spending 5/6 days at the time being awake with thirty other niggas competing for the same spot as me, they're looking at me like, "You're too raw to be here. What are you doing? Go grab somebody." Make somebody great? What does that mean? How these niggas are making rappers every day in LA, they got the side-by-side DJ Mustard/YGs, they got the side-by-side producer with the rapper. I didn't have that shit, I've got my niggas in the 'hood. I ain't got nobody. I went home.

I took a trip for a week home and all my little niggas is slapping is this nigga. They swore they knew him. "That's brotha." I'm like, "Nigga, lock me in with him then, I'll make that nigga, easy." Nothing. I posted something, he replied, then it worked out organically. I got to ask him later on, "Do you know these niggas right here?" and he said, "Nigga, I don't know none of them." Grease match grease. We have so much in common that our intimidation factor for each other was exactly the same. I never looked at him like he's a little brother. "You're about to be better than me." All you gotta do is rap. That was my whole purpose in this shit, "Give me a year. I'm going to make you great, easily." I sat on his music and I sat on his career and made sure; me rapping is just icing on the cake.
---
---
So why are you rapping?
---
Mitchell:

It just happened like that. I already had hella songs; I stopped making music because we were focusing on him. We just happened to drop some shit together.
---
1100 Himself:

"The Set Up." We were just talking shit together one day; we were playing like, "Matter of fact, let's tell a whole story from beginning to end." Normally, I just write some short shit. He was like, "You can't write no short shit this time. We can't stop." "If we're going to go the whole thing, we're gonna go sixteen-sixteen, that's hella shit, they're not even going to get that. It might sound a little off if we tell both our stories from two different perspectives." That's why we go four-four-four, we're just going to keep interjecting each other and keep going on-and-on. We're just freestyling in this motherfucker.
---
Mitchell:

We're both graphic writers. People didn't know I made music at all, but when I got on that bitch people were like, "Okay, 11 and Mitch," but at the same time, they're like, "Mitch raps?"
---
When I first heard "The Set Up" and went back to the rest of 1100's music, I was like, "Where's Mitchell?" but now it makes sense. Are y'all fans of classic action movies like Juice or Face-Off? "The Set Up," "Plot Twist," and "Civil War" all have that same, classic shoot-out feel to them.
---
Mitchell:

We're always referencing movie bars. I watch more TV and movies so I can get like that nigga. If you really dive into the shit he's saying, most of his shit be references, shit you already understand and that's why you like it.
---
1100 Himself:

We just try to have you be familiar with some shit or picture something in the head like, "Yeah, I can see them riding around with two ARs and two stolen pistols." Wipe the sweat off your forehead and I can picture them niggas in the car.
---
Mitchell:

Niggas know how it feel to be in that jam. Or if you didn't know, we showed you how. That little moment where he says, "I heard my uncle's voice in my head saying 'You should've hooped.'" That was the biggest bar other than, "I'm going to tell you about this one time it was me and Mitchell." When you hear that for one second, a nigga be like, "Fuck, that's hard." Then, "My nigga hopped out the driver and started getting loose." [Snaps] That quick. I thought about that instant and I'll never be that hooper that I was because of this split-second. It's the weirdest shit that people don't think about, how that one second can change your entire life.
---
And it's also crazy because that one bar changes the entire song.
---
Mitchell:

For sure. It ups the ante.
---
1100 Himself: That nigga had a future. [Laughs].
---
Mitchell:

It's like how you said, "My momma let me out too early." He didn't have to be that kid necessarily. He could've been completely sheltered, but who knows who he could've been. In Oakland, it don't look too good.
---
1100 Himself:

You become a product of your environment. I know a nigga that moved from Oakland to down South. He got an accent, I don't even know that nigga like that no more.
---
Is there going to be a Part 5?
---
1100 Himself:

If we do some shit like that, it's going to be way later down the line for the fans that remember that shit down the line. We're plotting a short film next year.
---
Mitchell: Making this shit bigger than rap is the plan. I'm the CEO, this nigga the VP of my label; it's bigger than us. If we make a movie, it's going to be a 'hood movie that everybody can relate to. We can make a series better than Snowfall. Our story right now is hella relevant. All these movies is based on shit that happened 20/30 years ago.
---
People want to hear what's going on right now, in your own community.
---
Mitchell:

Niggas still think we're shaking our dreads. It's fucked up. We're trying to fight our way through not looking like the hyphy movement.
---
E-40's on his 80th album. We're moving past it.
---
Mitchell: We are past it. I respect the legends, salute to them, but we're getting overshadowed. People be like, "If you're not putting in as much work as them, you should be getting overshadowed." I understand how it looks, but I wonder how E-40 and Too $hort was in their 20s and what type of environment it was for them. You had niggas like Rappin' 4-Tay, Luniz, RBL Posse, MC Hammer, you had all of this competition around you and there wasn't no legends in the city. Right now, we're fighting against legends. Stockton and Sac – it's up because they haven't seen that before. That's what I kept telling people. "Stop saying Oakland ain't this, Oakland ain't that," we created all the shit that's popular right now and we been having legends for 30+ years. Congratulations, about time. We been looking at Stockton like, "When y'all gonna have a rapper?" We been looking at Sac like, "When y'all gonna have a rapper?" We need a break to where y'all ain't focusing on Oakland constantly and we gotta be at the top of our game constantly.

Let us build like the Lakers. They can't have Kobe Bryant forever; they have to rebuild. They lost for a lot of seasons after there was the dynasty. Oakland has to do that. Oakland has to recreate its name because we're not at all like what they think we are, and they're trying to hide the fact that we're not like that. They come at us crazy for saying that shit like, "Oakland ain't hyphy." Oakland is dangerous, it's a dangerous place by definition, but if we're talking about the hyphy movement, what the fuck is that? Hyphy is what people were. Me and him were considered the two hyphiest little niggas in our sections. It's a term that a nigga was when you're a street dude, when you're about action, you're probably a problem. Hyphy.

The movement, that energetic fun, that's the Thizz movement – that "Ghost ride the whip," that's all Mac Dre, E-40, that's their vibes. The hyphy movement was in the street outside. To throw that on us is to be like, "We don't exist." The drill movement – this is drill music because we can put a certain term; a drill is when you go do something to somebody, hyphy is not when you go "hyphy" on somebody. Putting a connotation on us is to spit in our face in a way. We built this shit. Who endorsed us in the hyphy movement?
---
---
1100 Himself:

We didn't get anything from any of the legends. Actually, I take that back, one of the legends that fuck with us – F.A.B. fuck with us.
---
Mitchell:

F.A.B. is a person who I wouldn't even call a legend because he's so human.
---
1100 Himself:

Like Lil B. He'll try to come off as a normal person because he doesn't want the seniority.
---
Mitchell:

Everytime we talk to F.A.B., he talks about us. "We control the streets, we control this, we control that." Hearing the positivity and all the uplifting – me and F.A.B. fucked up every club in Atlanta. He just brought this young nigga out there and we're throwing around money like we're two OGs or something. It felt good to be respected in that light. It shows who's a legend and who's not.
---
1100 Himself:

It depends on what makes a motherfucka a legend in your book. Some motherfucka said that a legend gave you a 30-stick and five bands and said, "Do what you do." You thought he was a legend, but he just gave you your death certificate.
---
As far as the beats go, Mitchell, you've got this jazzier sound that brings me back to what Oakland sounded like prior to the hyphy era, with a little nostalgic tint to them. Are you influenced by $hort and Keak Da Sneak, F.A.B. and 40, or where exactly do you find inspiration?
---
Mitchell: I would say that's more of a DJ Fresh, J. Stalin. We're younger; by the time we were getting E-40, he was already in his "Tell Me When To Go" phase. We didn't get to hear [In A Major Way] when it was popular, so niggas was like, "Yeah, that slaps too," but we didn't get to hear it when it was popular. Traxamillion, Messy Marv – people don't know that he made real groovy music too. HD of Bearfaced. The jazzy sound, me and this nigga already listened to that. Me and him both made that together.
---
1100 Himself:

He was the only person giving me this old-school, nostalgic feeling, that old Oakland – what this shit is really supposed to sound like.
---
Mitchell: He the only young nigga in East Oakland that sounds like what Oakland's supposed to sound like, in my eyes. He'll give you a description of, when you come here, exactly what to say, what to do, how the bitches is. Shit's crazy. Funk Theft Auto is a handbook. Being an older nigga, I went through every phase he went through, two years before he went through it; I'm two years older than him. Two years before I met him, I was in his position and I was two years out of that spot. He was still there when I met him, so I knew exactly what he had to do. That nigga could not stop moving and could not stop entertaining the street life.

When he was hidden, I was like, "I'm putting it all on you. I'm dropping all of these other niggas." I had five other artists and they were competing with him for a spot – he wanted to see all of those niggas win, but when you go hard for yourself, you go hard for yourself. 1100 had 100+ songs out when I met him; he was already good without me. I polished it. I came in and just "industry-made" him; I bootcamped him because I saw what it was like to make industry records. I didn't teach this nigga how to rap. That's why I said, "Give me a year." He had 1800 followers when I came back. I wasn't looking to grab the next Drake, I'm grabbing Wheelchair Jimmy and making him great.
---
What did Kobe mean to you? I was looking through the credits of Funk Theft Auto on Spotify and I saw that all of the songs said that they were written by Kobe Bryant?
---
1100 Himself:

A lot of motherfuckas don't know that that's really my real name. When I tell people that, a lot of the white people tend to make basketball jokes; I've heard them all.
---
Do you feel like you embody Kobe?
---
1100 Himself:

Not necessarily. At first, I didn't like telling people my name because I knew the shit that would come with it. It was always extra talking and people would give you extra weird-ass looks. I'm like, "Bro, what the fuck can I do to substitute this shit?" "Call me KO," because I wouldn't respond to that shit. Everybody started calling me that shit, and when I was like, "I'm going to start rapping now," I didn't want to go by KO, that's weak. I wanted to be 1100 – the God of this shit in the flesh; the one and only. I want to be 1100 Himself.
---
What was the experience like making Funk Theft Auto? I feel like that project was really the tipping point for y'all, along with when "The Set Up" came out?
---
1100 Himself:

That's when all his previous training came in handy, because I wasn't ready. I always told motherfuckas that Funk Theft Auto was coming; I told motherfuckas that three years in advance, "Y'all get ready for this mixtape." We dropped the cover and everything. Motherfucka never came out. He's like, "What's up with that tape?" We get started on that motherfucka, I'm used to just recording some shit, come back a couple days later and record some different shit. Especially if I recorded some shit and it's hard, nigga's like, "This is hella hard." I'm like, "I know, I know." I remember I shook this nigga's hand and he's like, "Nah, we're gonna keep going." "Fuck you mean?" and he's like, "Put another beat on, keep going."
---
Mitchell:

You basically can't leave.
---
1100 Himself:

He'll be like, "I got a song for you," and I come the next day and he starts playing "The Parkers" beat and I'm like, "I don't hear it." He'll be like, "Just listen." I was getting ready to leave, but this nigga leaves first for two or three hours and comes back like, "You got some shit?" and I'm like, "I got a whole bunch of shit."
---
Mitchell:

I came back in three hours and that nigga had the longest verse I ever heard. No hook, just bars; three minutes worth of bars. Tripping because that beat was dangerous, it was so aggressive and obnoxious and unorthodox that he didn't understand it at first. He locked in until he heard it. That's the difference between superstar artists. People that make really good music, you hear about them locking themselves in the studio, being in that bitch for 17/18 hours at a time. I used to keep this nigga for days. "You're not even changing your clothes. We're about to work."
---
1100 Himself:

Eyes burning like a motherfucka. I would go home every three days, two days maybe, and this motherfucka is bleeding trying to get the most out of this shit.
---
Mitchell:

I remember times where I was spitting up blood, this nigga's spitting up blood, just from using our mouths too much. Spitting up blood – I remember that shit. Every meal – I remember spending 10,000/20,000 on UberEats. Every meal was here; everything was here. That nigga damn near grew a beard.
---
---
Can you walk me through the genesis of Two Headed Goat? As far as I know, it's the first album that's exclusively the two of you going bar for bar with each other. How did that come about?
---
1100 Himself:

After we made "The Set Up," they came to us like, "We need y'all as a duo," and we didn't even want to do it. "We're just going to do our own thing; we're going to get on our songs," but they're like, "Nah, we need y'all as a duo; we need y'all as a conglomerate," so we came together as a duo and gave them a tape. That's what that was. They said we're a duo, so we're just a duo for that tape specifically.
---
Mitchell:

That's my little brother. Fuck that duo shit, they just like seeing us together. 1100 is the rapper. Mitch just does hella shit, but I rap too. I'm good at what I do – don't discredit my work because I say I'm not a rapper, but I do hella other shit. He is a guru at this rap shit to where that shit halfway overshadows everything he does. I'm just a jack of all trades. I can moderately do everything good. I say shit and he be like, "Damn, I wish I could articulate like that." I'm older than him. I know he's gonna get there in this shit because when it comes to articulating yourself, that's age. Him being a good rapper, that's in you. He has that it-factor. That's why I push him harder than I push myself. I tell motherfuckas to stop looking at me like that. I'm just a nigga that wants to be a CEO, and on top of that I've got a CEO mindset. I like to run analytics, aspects of creativity that don't have to be at the forefront. I'm a people's person in a community-oriented way.
---
Mitchell, when you're making beats, you said you're tapped in with Detroit and you were working amongst Helluva and ENRGY and that rank of producers. How did that end up happening?
---
Mitchell: Detroit and Flint – I was up on that shit so early. BandGang was coming out here heavy, Pablo was coming out here heavy. I was up on the Detroit movement, but I was up on the SoundCloud movement too. The SoundCloud movement was really kicking off for hella artists out here in Detroit, specifically. When I found him, I was already into them. I'm locking in and they weren't getting any views; I'm sending them shit, and the sound started getting crispier and crispier over time, but I was already throwing rims and if you hear "The Set Up" sound, it's not Detroit necessarily.

You don't hear jazzy shit in Detroit like, you hear softer tones, but it's more mystical, Zelda-type shit. They don't make jazz, that's more of an Oakland thing. That's my sound – I'm going to throw in some unorthodox shit and make an unorthodox-ass beat. If you hear Funk Theft Auto, you hear how unorthodox those beats are. They're some "beat on the table"-ass beats. You don't really look at it like, "That's an industry sound." People was looking at it like, "Damn, these beats suck." But the people who did understand it were like, "Woah, this shit is totally different.

I never seen no shit like this before." Then, you see the Savs come out, you see the ENRGYs come out, and I was already making beats way longer than them. It was me coming in and polishing sounds. That's what kind of created the Flint-Oakland hybrid sound, and that's why nobody knows where it came from. I don't take full credit for it because I took part in it. All of those dudes over there are a big part of that.
---
Did you do all the beats for Funk Theft Auto?
---
Mitchell:

Every last one of them bitches.
---
But you didn't put your name on it?
---
Mitchell:

He put my name on it.
---
1100 Himself:

He was like, "You can just drop this whole tape. I don't want nothing from that shit." When I dropped that shit with Thizzler, they asked, "What do you want to do with the splits?" I said, "Split that motherfucka down the middle."
---
Mitchell:

That was his. That's his baby right there. I told him that before he even dropped it. I told him, "Bro, I don't even want nothing from you."
---
Y'all are closer than most brothers I've seen.
---
Mitchell:

We both got brothers. We're both the little brother.
---
1100 Himself:

On my momma, that nigga my long lost brother.
---
Mitchell:

I be saying that shit all the time. We went to the same school, same programs, all of that. Same traumatic accidents. Both cheated death. Too many similarities to where, "How the fuck have I not known you my entire life?" Weird.
---
What do you hope for people to understand about 1100 Himself and Mitchell?
---
1100 Himself:

I want motherfuckas to know that I really started from nothing. I don't care about what you see or what you think, this shit is all organic and a nigga started going from 0. We started from the ground up. We never had no handout or nobody. Nothing was given to us.
---
Mitchell: It's for all walks of life. It's like how you can sit and relate to us in a lot of aspects, even just the grind. The game starts to become colorless in poverty-stricken environments and rural environments – that's a world problem. For me, being in all of these different situations and seeing that it's not a black thing to go through something, it's not a black thing to struggle, it's not a black thing to feel like people left you for dead or left you out or left you hanging in life, we can all be related to in that aspect. We have a lot to offer. We have a lot more for the world to see than just the streets of Oakland or this little part of us. We're just like y'all. Don't just marginalize us as some Oakland street dudes because we're going to be big. Not even a question.
---