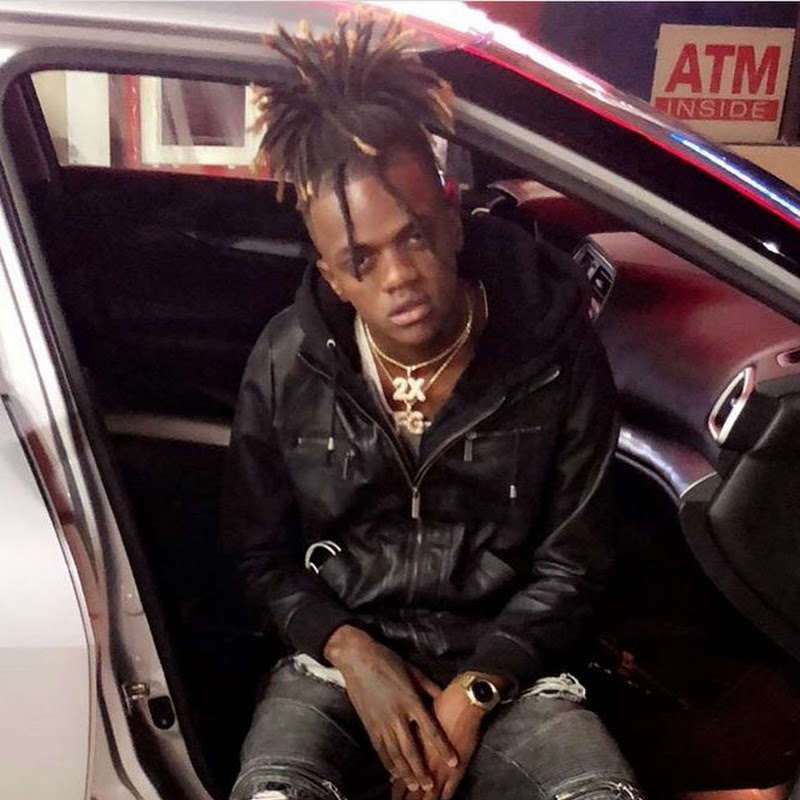 In early 2018, I spent a week in Baton Rouge for a long-form feature on the region's up-and-coming rap stars. The article never ran but in the wake of JayDaYoungan's murder earlier this month, it seemed more appropriate for this excerpt to live online rather than languish in the cloud. I am out of words to eulogize this ceaseless holocaust that has taken too many of the most gifted artists of this generation far too soon. However, I hope JayDayYoungan's friends, family and fans continue to honor his memory in whatever way they see fit. – JW
JayDaYoungan understands the art of the entrance. Moving like he's in chrysalis, he uncurls from the backseat of an inconspicuous four-door compact, slowly and deliberately weighing a doughy wad of hundreds and twenties. They're wrapped in rubber bands, but not very well, so $20 bills keep fluttering away from the stack. His managers dutifully pick up the trail of money, as people stop and stare at the commotion in front of this Waffle House on the outskirts of Baton Rouge.
The first thing you notice about JayDaYoungan, when he finally stops leaking cash, is his hair. It's the trademark of the biggest new independent rapper in Louisiana: dreads twisted into a pineapple tuft that tacks an extra three inches to his height. Coolio by way of Carmen Miranda.
"I'm a trendsetter," he glowers inside the egg yolk light, clutching about 10 racks on the Waffle House table, tall as the Heinz bottle. He's wearing a long-sleeve blue thermal, patent leather Jordan's and designer-shredded jeans. "My clothes, my style. My hair. Everything I did…everybody tried to do that shit."
The second thing you notice about JayDaYoungan is the anger in his eyes. It's a murky rage, a low-simmering seething flame. They're shaded a sunken and menacing coal-brown, consumed by teenage angst and fueled by the jealousy and envy of his peers—the unspoken pressures of being seen as a savior by too many outstretched hands.
"Everything changed when I made music because I got a lot of fake love," he spits, barely picking at the All Star breakfast that he's ordered, grits instead of hash browns. Black coffee.
We're buffered by two managers, his girlfriend, and the money that he clutches like a security blanket.
"I don't fuck with creamer," he retorts to his girlfriend when she gently tells him that he should add some. She's filming everything for her Instagram live.
A tense pause ensues, save for the sound of him tapping his spoon against the ceramic mug. There's a fresh skull and crossbones tattoo on the back of his hand and an outline of lips inked on his neck. 2010-era Rihanna blares loudly.
Over the last 18 months, JayDaYoungan exploded from anonymous contender in the rural backwater of Bogalusa (population: 10,600 and shrinking) to earning at least 10 racks a show. His instantaneous ascent made him a commodity desperately sought-after by most major labels, and those in his hometown.
"I got a lot of money. I ain't used to have shit. Nobody used to give me shit either," he says, eyes like a furnace, a hatred aimed at an unseen, impersonal, but tangible enemy. " I used to not have money to buy nothing to eat. I didn't have nothing to eat. I used to ask for $20, nobody wanted to give me shit. Right now, everybody ask me for shit. Everybody depending on me right now."
"Who is everyone?"
"Everyone? Who is everyone? Everyone! I can't say that it's in a bad way, but shit. Everybody depending on me: my gang, my bros, my family, my momma, my brothers, Everybody. My n**s and bitches that's in jail that need help. They bitches, them that's in jail. Everybody."
Fame arrived as soon as the "Sliding Freestyle' hit YouTube in May 2017. There is Jay in a polyester Cincinnati Reds jersey, barely old enough to buy cigarettes but pointing a semi-automatic at the camera while puffing on a Backwoods and rapping about "lighting your ass up like a lamp." His voice sneers with the nasal Satanic Animaniac twang of Boosie, but combined with the post-auto-tune murder rap melodies of Kevin Gates. There's a hint of Chief Keef too, who represents the third of Jay's personal holy trinity. Directed by David G, it immediately went viral.
Until "Sliding" surpassed its first million views, Jay was just another high school dropout stuck in another rapidly decaying Dollar Stores and Sonic country town with an infamously bloody past. In the early 20th Century, Bogalusa boasted the largest sawmill in the world which put it squarely within the scope of the nascent organized labor movement—at least until Black mill workers attempted to unionize and were slaughtered by the largest private army in Louisiana. During the 1960s, some claimed that Bogalusa maintained the highest per capita KKK membership in America; at night, they wore white hoods and burned crosses, by day they held prominent positions in the municipal government. In 1965, the parish's first two Black deputy sheriffs were shot (one fatally), in a case that was conveniently never solved. Most locals believed it to be the handiwork of Klansman.
Even if Klan activity had mostly abated by the start of this decade, Bogalusa High continued to have a separate Black and white prom, and racial tensions periodically flared. Violence and poverty remain endemic with nearly 40 percent living below the poverty line and statistics of violent crime, burglary and rape running roughly double the Louisiana average. The chief industry is paper products manufacturing and a chemical plant. Until JayDaYoungan, the city had never even remotely produced a great rap hope; it's lone musical export being Professor Longhair, the rumba-boogie pianist who passed 18 years before Jay's birth.
In this barren clearing of Eastern Louisiana pine forest, Jay was born in 1998 to an Army veteran mother who was stationed in Iraq during the first Persian Gulf War. Shortly after Jay's birth, his father was arrested on drug charges and didn't leave the feds until well into his son's adolescence. Music came late—a passion that he'd always quietly harbored but never actively sought out. When his cousin was sentenced to 15 years for armed robbery, it gave him the impetus he needed to finally focus. His first song didn't come out until his senior year, barely two years ago, but it garnered him immediate local renown.
"Everybody was like, 'you got the voice for this. You got the sound for this," he says, glancing at his gold-colored Nixon watch. Rain spatters the Waffle House window. "So I took it from there."
"There" meant linking up with Cinematic Music Group, the management company/indie imprint most famous for breaking Big K.R.I.T., Nipsey Hussle, and Joey Bada$$. In the last year, he's released four mixtapes and roughly a dozen videos, several of which have cracked 10 million views. The two most popular are "Interstate" and "Elevate," which bluntly but melodically convey the themes that dominate most of the fledgling JayDaYoungan catalogue: he's dedicated to decapitating rivals, he'll get money regardless, and there is no time to waste on bullshit.
It's alternately aspirational and deeply paranoid, full of war-ready bravado and disdain for the majority of humanity. At its crux, an existential bleakness scowls: we will all die much too soon, so we might as well hustle to get as much as we can while we're still here. It's not particularly original, but that's not the point. It's struggle music, simply conceived and crudely powerful, resonant because of the searing pain sung-rapped over flanging processed guitars, creeping-on-a-come-up basslines, and dirty scuffed drums.
"There are a lot of versions of the struggle," Jay says. "But a struggle is a struggle. A struggle is when you going through some situations that you feel you can't get out of. It can be a struggle where you might be hurting and you ain't got shit. Nobody want to be you."
In a country where wealth has long been worshipped as the highest virtue, but where income inequality has never been more extreme, the struggle is immensely relatable. It's particularly true to Louisiana, which remains chronically wracked by poverty, violence, and racial inequity a half-century after the civil rights movement. It's only common sense that in a state that has very little, those who win the lottery will immediately face a geometry of unforeseen pressures.
"Before I had fans and fame, people weren't coming at me like they are now," Jay sighs, voice curdling. "Family members weren't treating me how they're treating me now. I got people texting my phone now like 'man, we need to start fucking with each other.' Like that's fake love. I don't feel all that shit. And when you don't want to fuck with nobody, they feel like you changing or acting differently."
He tells me he's already looking for houses in Houston and Atlanta. When I ask him why he wants to leave Bogalusa, admittedly an obvious question, he tells me to go watch any Boosie interview. All the answers are there. By now, the plates are cleared and the bill has arrived.
Before we stand up and exchange parting cliches, I ask Jay one more question. A fairly generic one about what he hopes for in the future.
"I just want shit to get better," he says, eyes still sullen and heavy. "Because right now I feel like it ain't too much else I can do. I ain't saying that there's a lot more shit, you know. But I just pray shit get better.
Right now, I ain't really happy, this shit don't mean nothing. All this shit …"
He pauses and waves his arm around, catching himself before he's about to say something, thinking better of it. Then he politely says goodbye, peels off several large bills from his wad of cash and hurls it at the table, paying for everyone. No one stops to count it.