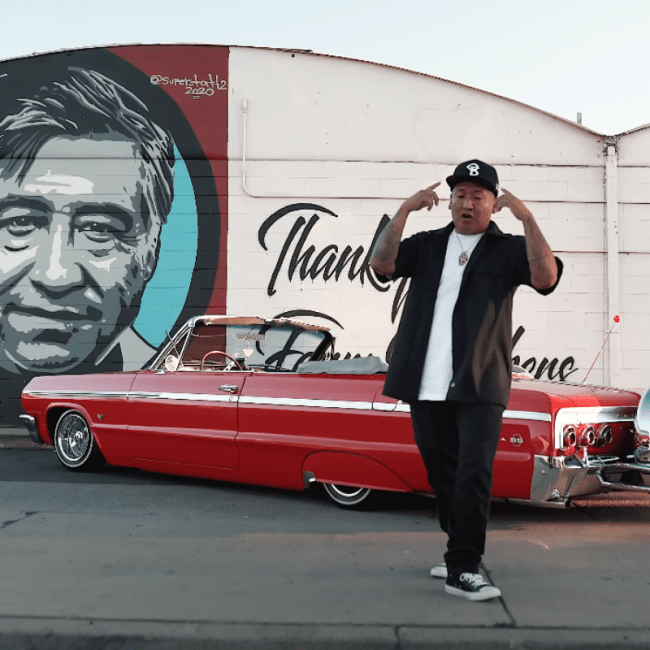 Image via Thizzler on the Roof/ GB
Support real, independent music journalism by subscribing to Passion of the Weiss on Patreon.
The Bay Area doesn't sleep, and neither does Yousef Srour.
---
Welcome to the BAY AREA TYPE BEAT series, a recurring column in which Yousef Srour sheds light on Bay Area artists and Bay Area-adjacent artists. Each week, he handpicks five cuts that are either brand new or have been victims to the Spotify algorithm. Lo and behold, BAY AREA TYPE BEATs:
---
1100 Himself x PayQTheLoot

  – "Matt And Jeff Hardy"
---
Stranger Things – 80's Synthwav…
Please enable JavaScript
Before Sonic became a meme-ified live-action film franchise, the game brought comfort to gamers ready to enter their digital landscape. Here, N3RO's beat lets that unadulterated excitement sink in with a full beat of silence before he rings in a chipmunk soul sample playing alongside the slow bounce of his 808s.
Rapping to each other, 1100 Himself & PayQTheLoot relive those teenage gaming years. 1100 uses his deadpan humor and two grams of shrooms for the pair to play the Hardy Boyz. In a fit of nostalgia, he thinks back to toxic XBOX Live parties and classic Nickelodeon TV shows with lines like, "All these views on my live… I am Carly." That's 1100. Complete with punchlines and emotionless wit, he's the type to come out of nowhere and hit you with a steel chair. In this case, he's hitting his past school teacher with a smug glare after he questions 1100's tardiness even though he just bought weed from him.
Q's a bit more like Jon Jones – light on his feet like a UFC fighter, packing a punch just in case you sell him fake Runtz. Mid-verse, PayQTheLoot asks 1100 Himself, "What them n****s smoking?" just for his partner to respond, "They must be smoking Angel Dust." 1100 Himself was built for tag team-rap, so it's no surprise he enlists Q to sprinkle his nonchalant antics to reinvent another rap duo (other than 1100 Himself & Mitchell): the Hardy Boyz.
---
NoHandOuts Fats x TaxFree Breezy x BroadDay Bam x TearItOff Greezy

  – "Bend a N***a Block"
---
This is the ultimate San Francisco posse-cut. As NoHandOuts Fats raps the hook, a semi-circle of his crew stands behind him, holding the hood of his gray zip-up hoodie while Fats does the smeeze and the cat daddy, leaning back to prove that his brothers will keep him up. The video is an image of camaraderie and friendly competition, as the YouTube comments digress into arguments about who has the best verse on the track – Fats, Breezy, Bam, or Greezy, complete with declarations of pride in The City ("#CitySituation").
Fats lays down a hook that swirls with alliteration and assonance: "Bend a n***a block just to see what he on/Bully with the fully when I cut the gleek on" The cat daddy instantly makes sense. The lyrics match the moves on-screen; the words twist your tongue and bring out your thizz face as your cheeks push out the "ee" sound as the chorus continues.
Where NoHandOuts Fats describes drills so harrowing that he became the reason why his opps needed to upgrade their equipment, TaxFree Breezy issues a decree of indifference, offering a balance sheet as evidence. He was 15 when he touched his first ten bands; "When I saw him running down South I put that nickel on him;" and he marks his antagonists as "5-0, yeah, they're 50 homie."
Speaking in terms of rhetorical appeals, Fats is all ethos: asserting the SF rappers' credibility in the streets with intense imagery. Breezy is all logos: delivering the statistics as to the posse's wealth. This leaves the third appeal, pathos, to BroadDay Bam and TearItOff Greezy. The pair lace the song with humor, overstating their personalities. According to the top comments, Bam allegedly has the best verse. Perhaps he spoke it into existence, accenting the bar: "It's only right I touch cake 'cause I'm a fat boy," with the three following lines ending with that same cutting, "Boy!" said loud and proud to put you right into your place.
When Greezy comes in, hidden behind his balaclava, everyone in the studio yells along with him: "I said, one-body, two-body, three-body, four!" The entire shoot lights up, literally and figuratively, as four censor bleeps amidst four white flashes come on shortly after. Greezy prompts the entire room to clap along to the bleeps before they unanimously yell, "I said 'Hella n****s dumb!'" If Greezy claims to be "the most hated" in his city, he's clearly the most loved in that room before, once again, he starts dancing to Fats' hook.
---
GB

  – "Back 2 Da Hood"
---
Even though GB's from Merced in the Central Valley, this song is worth the showcase because MerkOnDaBeat's 808s bubble like a Bay Area type-beat and the high-pitched lead synthesizer ushers in the swagger of G-Funk that exhibits itself in San Francisco rappers like Andre Nickatina and Larry June. GB rides the beat like his classic, glossy-red Chevrolet Impala SS. It's not just any car – his lowrider bounces to acknowledge his lyrics: "I grab my drank, then I hop in the ride, hit the front and the back, then the side to the side," showing off how his ride hops.
Switching between Spanish and English, GB rides heavily for Merced and the city's culture. This bleeds into his storytelling, referencing specifics within the city, as he travels to McNamara Park for his "partner's GB day." The video gives a glimpse into the city: vendors selling chicharrones, adults playing spades, "peloteros [players] getting paid," and MPD arriving at the scene to stop the friendly celebration. GB's relaxed and suave, unnerved by the fuss because he feels a sense of community within his city, ending each verse with: "After all's said and done, shit, it's back to the hood."
---
Toohda Band$

  – "Chrome Heart"
---
Toodah Band$ could be a Bay Area spin off of Spike from Cowboy Bebop. On a jazzy, lounge beat reminiscent of the show's soundtrack, scored by SEATBELTS, Toohda fires up his Backwood. Just like Spike's long cigarette drags, smoked with existential ennui, Toohda Band$ captures a similar emotional staleness.
Hailing from East Oakland, "Chrome Hearts" is an ode to high fashion and serves as a traveler's diary: "We don't even stay in Cali, we've been on the road." Doing shows and tired about speaking on the same man who killed Lil Ray, Band$ needs "different smoke." The events in his life are blurring together. Dreariness seeps into his pen. Toohda Band$ continues to rattle off a list of vices and eye-rolls as he becomes more and more fed up, weary from fake steppers, whispers that he should quit sipping lean, and having to cut off friends for their insincerity. Toohda Band$ wants you to leave him alone. Synonymic with the space cowboy, Spike, Toohda's a lone wolf with a chrome heart.
---
Drilla Ant x M.M. Kellybo

  – "Street Poem"
---
Drilla Ant and Money Makin Kellybo are standing outside by their lonesome, smoking a blunt behind the Laguna Park Shopping Center in Elk Grove. The spot is bare and quiet, matching Moneybagmont's beat that whispers like the howls of an autumn night. The moon is shaded orange in the first frame of the video, evoking that same eeriness that you hear in the instrumental's hushed choral tones.
As Kellybo raps with watery eyes, "Street Poem" is a soliloquy from two hardened souls. Kellybo's voice is somber, reciting his sparse lyrics with anguish, relieving his audience of any details that would call to mind unwelcome memories. He explains, "I could speak on what you did, but I ain't seen it." He bites his tongue, working through unresolved wounds, but his words masquerade in the form of restrained stanzas that are too coded to be fully understood by anyone but himself. To contrast Kellybo's grim energy, Drilla Ant brings lightheartedness. He opens up about having brothers to fall back upon, but the intimacy is short-lived before he fades out with a course of shit-talking: "These n*****s bitches, they got breasts."