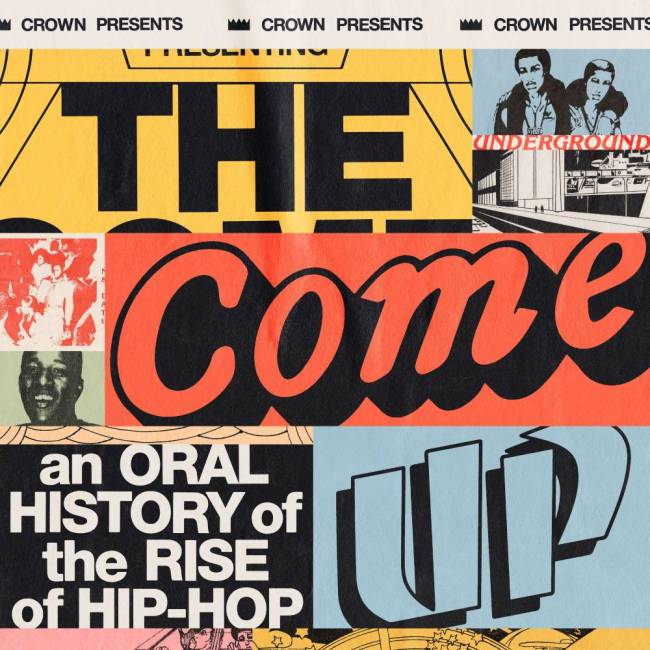 Image via Penguin Random House
Support truly independent journalism by subscribing to Passion of the Weiss on Patreon.
The following is an excerpt from Jonathan Abram's newly published 'The Come Up: An Oral History of the Rise of Hip-Hop' A book that comes as close to Studs Terkel as hip-hop has ever gotten, one that accomplishes a task that sounds absurd on paper: assemble an oral history of hip-hop from the five boroughs to the Bay, Memphis to Miami, the ascendance of G-Funk to G-Unit. But not only does it succeed, it seems effortless and ordained. Brilliantly curated and meticulously reported, it will last for decades as a touchstone of scholarship about the most important art form of the last half century. The stories that you love to hear again and again and the ones that you can't believe that you never knew."
---
In Houston, The Geto Boys shined during an era when few Southern acts did, and DJ Screw presided over a vibrant regional scene. They established a stage for the region to achieve mainstream success in the early 2000s, launched by the success of the Underground Kingz. Hailing from Port Arthur, Texas, UGK members Bun B (Bernard Freeman) and Pimp C (Chad Butler) labeled themselves the Underground Kingz because they thought their music would not land with those out-side the Gulf Coast. The pair made a mark independently before sign-ing to Jive Records in 1992. In playing off one another's strengths, UGK proved that artistic lyri-cism existed in the South through a combination of brains, heart, and talent. Pimp C, colorful and charismatic, was the son of a blues singer and trumpet player. He helped pioneer Southern hip-hop through his creative production and sampling. The group helped lay the framework for a generation of Southern artists and producers. Bun B and Pimp C produced their major label debut, Too Hard to Swallow, in 1991 and 1992, using some material from their EP "The Southern Way." "Pocket Full of Stones," a standout track that sampled from LL Cool J's "Going Back to Cali" and Mellow Man Ace's "Gettin' Funky in the Joint," was featured on the soundtrack for the hood drama Menace II Society.
Bun B (artist, UGK): I had been hanging with [an] MC down here by the name of Rick Royal, Royal Flush from Rap-A-Lot Records, and he was just excelling at lyricism, and I truly wanted to refine my craft. So, we spent a lot of time just freestyling and writing and talking about structure and how to phrase things. When I realized that some of the best rappers were people who had great command of the English language, that's when I really started applying that to the music I was writing, and I started to see a distinct difference and capability about what I was actually able to do. And Pimp was also of the mind frame of like, "I think you're a great rap- per. Keep pushing yourself as a writer, keep pushing yourself in your craft." . . . Being a part of the soundtrack was a big thing for us. To be from such a small town and have our record company be like, "Hey, we're gonna do this movie soundtrack and we want you guys on it." It was an acknowledgment of how far we had come, not just in the culture but within the company.
UGK broke through nationally with their third album, 1996's Ridin' Dirty. Pimp C, influenced by the production coming out of the West, sampled from the Isley Brothers, Bootsy Collins, and Curtis Mayfield in creating a smooth and funk-filled soundscape that would be emulated again and again.
Paul Wall (artist, Houston): Ridin' Dirty, that's the first time I think we might have heard the word "Screw tape," or "Screw," on a national level. But of course, from a fan's perspective, they never got their just due. You'd see the other artists on the label they were signed to get crazy amounts of promotion, and you would never see UGK nowhere.
Big Gipp (artist, Goodie Mob): When they recorded Ridin' Dirty, I was at Pimp's house and he was like, "Yo, Gippy, you want to hear the album?" I said, "Yeah." And he went over and he picked up a VHS tape. And he went and put it in the VCR and I'm like, "Pimp, what you doing?" He said, "Gipp, I record the album on VHS tapes, so people won't steal it, one. And then I can hear the sounds, because of it being taped, it's damn near like listening to it if it was analog in the studio." He also, in that same moment of showing me this, he took the
back off the stereo. And I was like, "What you doing?" And that was the first time that he showed me how they "Screw" records.
Chinara Butler (executive producer, Pimp C's wife): I think he was a master of stealing other productions. I've never seen anybody do so much combining. I've seen him mix zydeco and different genres. I think that's what it is, him mixing so many genres of music—not just rap, but all music in general—made his sounds special. Some people get stuck just listening to certain things. He was everywhere.
Bun B (artist, UGK): [Me and Pimp C] were two absolutely polar opposite people, so we would never have the same construct of rhymes or the same connection with a topic content-wise. So, there would never be any lyrical toe-stepping. And that was the beauty of UGK, Pimp C and I were going from point A to point B, but we had drastically different views of how to get there. Even though our views were not the same, they were never opposing. So there was never any butting of the heads.
Pimp C and Bun B developed a close relationship with Jive ex- ecutive Jeff Sledge, a New Yorker who closely watched the upward trajectory of Roc-A-Fella Records. In 1999, Sledge was excited for UGK to extend the group's fan base by collaborating with Jay-Z on a track produced by Virginia hitmaker Timbaland that included an iconic Egyptian inspired hook. (Osama Ahmed Fahmy, who owned the copy- right for the 1957 song "Khosara Khosara," later unsuccessfully sued Timbaland, Jay-Z, and others for infringement.) Pimp C at first balked at working with Jay-Z, and contributed to "Big Pimpin' " only after coaxing from Sledge and Roc-A-Fella's Kyambo "Hip-Hop" Joshua. Their efforts resulted in a summer party anthem that propelled UGK into new echelons and increased Jay-Z's national reach. But getting Pimp C to appear in the Hype Williams–directed video for the song required a new round of negotiations.
Jeff Sledge (A&R, Jive Records): Bun and Chad are as big of hip-hop fans that I've ever met. Chad listened to everything. He brought up all kinds of shit I'd never even heard of. He'd be like, "Yo, you never heard of this one, man? This shit jammin'." They would tell me about this Screw stuff and the culture of sipping lean [purple drank], how it was so big down there.
Kyambo "Hip-Hop" Joshua (A&R, Roc-A-Fella): I remember being blown away [by the track produced by Timbaland] and I remember Jay not being blown away. It made me move, and I used to go for a beat that's gonna literally make me get out my seat and be like, Oh shit, what's that? But then Jay didn't see it. It was too different, I guess, and when that happens, he basically always gave me the challenge of like, "Come up with a hook for it." And I'm like, "Alright, bet." Before I did the hook, I said, "We gotta call Mama." That was Pimp C's mom [Weslyn Monroe]. I basically was saying, "We need to put UGK on this." So, I hit Mama up. She's like, "Okay cool, I have no problems. Send the song."
Jeff Sledge (A&R, Jive Records): Roc-A-Fella was on an upward trajectory like a rocket ship. It was exciting because Jay, to this day, he's a huge UGK fan. He was extremely excited to do a record with them. Bun flew to New York and did his verse. He came in, pinned his shit up, and knocked his shit out. Bun's a master of the studio, so he don't take no time to do a verse.
Kyambo "Hip-Hop" Joshua (A&R, Roc-A-Fella): Did that shit so fast—boom—and he go back.
Bun B (artist, UGK): Musically, that song was not anything close to what we were doing. Content-wise, obviously, we fit right in.
Kyambo "Hip-Hop" Joshua (A&R, Roc-A-Fella): So, we sent it to Pimp C, and when he first gets the record, he called me like, "Yo, I can't be on a record with another man talking about playing with himself." I was like, "What you talking about, man?" He said, "This man is talking, playing with himself in the truck." I'm like, "Nah, he says, 'Let her play with it in the truck.'" He says, "Oh, okay, now that's understandable. I understand that right there. So shit, I'ma check the record again and see what I can do." And then he come back again, he's like, "Man, this is like a funny record, man. This is a funny beat. You ain't got nothing else?"
Jeff Sledge (A&R, Jive Records): For us, New York was still on fire at that time. It was Roc-A-Fella. It was all the Bad Boy stuff, the Lox, and Puffy was killing it as well, and Ruff Ryders. New York was a hotbed. We were excited to have UGK get on this record, because we knew the exposure that it would give the group. We felt like it was gonna take them from a regional group to a national group. So, when it came time to do it and Chad started bucking back, it was kind of like, "Oh my God, dude. What are you doing? This is a great look for everybody." He felt like, "I don't want people in the South, who I ride for, who I'm so protective of, to feel like, Oh, now you done did a record with the hottest artist in New York. So now you on some New York shit."
Bun B (artist, UGK): That was a big thing for Pimp, not wanting to do the song because he didn't want people who had never heard of UGK to have a distorted view of who we were and what we represented.
Kyambo "Hip-Hop" Joshua (A&R, Roc-A-Fella): I'm like, "Man, I'm telling you this is the one." So I'm calling up all the time to convince him to do it, and I'm like, "Man, trust me." I remember him telling me straight-up, he said, "You know what? I'ma do it for you, Young Hop. You been one hundred with me for the whole time. I'ma figure out what to do with this record, man." Later, he told me, "Man, that shit was so tricky, I had to call Big Gipp and say, 'Man, let me borrow your flow.'" He said, "Man, I took that from Gipp. That's the only one I know who could bounce around like that. Once Gipp gave me the blessing, that's when I called you and told you I got you."
Big Gipp (artist, Goodie Mob): Pimp didn't want to do the record. He was like, "I'm going to use your style." "It's all good." Me and Pimp was that close. Pimp's from the old school. He was a great, great friend of mine. I miss that man so much. Pimp and Bun will always be a part of me.
Kyambo "Hip-Hop" Joshua (A&R, Roc-A-Fella): The video part was tough because they did the video in Trinidad and [Pimp] couldn't leave the country. So, then we had to do another video shoot in Miami just so
he could be in it.
Jeff Sledge (A&R, Jive Records): Chad was very, just, anti. I remember having a conversation with him and him finally doing the verse. And then he told me, "Yeah, you seen I only gave that nigga twelve bars,
though." In his own way, he was rebellious about it until the end, and then he wouldn't go to Trinidad to do the video. He was a car enthusiast. So, when he decided to do pickup days [for the video] in Miami, he called me. We were talking about this car, and he was telling about how he wanted to get it, and "I've got to figure out a way to get the label to pay for it," blah, blah, blah. I had reached out to business affairs, and they made me aware that there was some money in the pipeline. Bun and Chad obviously both got their money. Chad used some of that money to purchase the car. He was all excited about his shit, and I was like, "Cool, man. Are you going to drive down to Miami?" He was living in Atlanta at the time. He was like, "Drive? Nigga, we ain't driving shit. You're gonna ship this shit." He didn't want any dust or any dirt; he didn't want it to get dinged-up on the way. I was like, "What are you talking about? Nigga, I just got you money for the car, now you got me going back to ask them to ship it? Are you crazy? The fuck?" Bananas. But we knew the record was big, so they paid for him to ship the car down, and that's the car you see in the video.
Bun B (artist, UGK): Making the video on MTV, it was a whole other introduction to people, but it came through a Jay-Z lens. Not that we had a problem being associated with Jay-Z, but we didn't want people to get confused that "Big Pimpin'" was the aesthetic of UGK.
Chinara Butler (executive producer, Pimp C's wife): Chad just respected his fans so much, he didn't want to seem like he would do anything just to win, to just work with anybody.
Bun B (artist, UGK): With "Big Pimpin'," I think everything changes—the radio play changes, the calls for shows at different places changes, the price goes up, there becomes a level of awareness that goes from domestic to international. Now we're playing in countries we'd never been to.
Matt Sonzala (journalist, Houston): UGK gained more fans by being on a big song with Jay-Z than Jay-Z did by being on a song with UGK. But shit, there were plenty of people in the South who didn't know who Jay-Z was. It worked both ways on both sides, and to hear that song blow up, and especially Bun coming out super fucking lyrical and just spitting in everyone's face, and then Pimp coming out just straight Houston, it was an incredible moment.
---
From the book THE COME UP: An Oral History of the Rise of Hip Hop by Jonathan Abrams. Copyright © 2022 by Jonathan Abrams. Published by Crown, an imprint of Random House, a division of Penguin Random House LLC. All rights reserved. You can purchase your copy here.
---