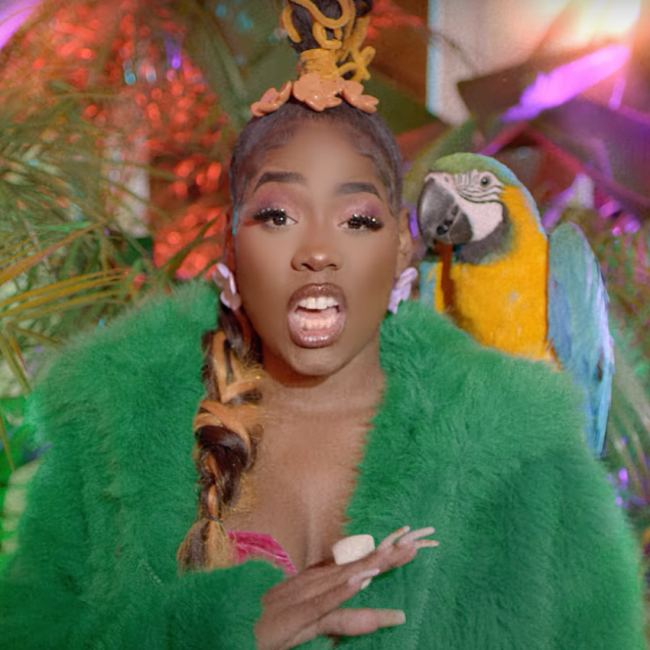 Where else will you find the thoroughly researched rundown of the best up-and-coming artists from the continent of Africa on a weekly basis? At the top it's just us. Support truly independent journalism by subscribing to Passion of the Weiss on Patreon.
African music never sleeps, and neither does Leonel.
---
Soraia Ramos –

"BKBN (Bu ka Bali Nada)"
---
From Cape Verde: One of kizomba's biggest stars is back with a tune that perfectly encapsulates what has made me fall in love with the genre. "BKBN" is a sincere exercise in melodrama, a song about the heartbreak stemmed from a relationship with a manipulative man, but instead of posing as an empowerment anthem, instead of taking the easy "good riddance" posturing that so many similar songs have done recently, it focuses in the immediate pain and stress of realizing who your partner really is — and if you don't speak Cape Verdean creole, the English subtitles in the music video help a lot as well. The production gives Soraia a bopping beat with enough space for her to get all the emotion out of her chest. And that a cappella coda is pure fuckin' beauty. High melodrama done right.
---
AMSKO –

"Adjalakata"
---
From Burkina Faso: My grandfather, who was a percussionist all his life, used to say that "As long as you keep the rhythm and the clave, you can throw all kinds of adornments and drum hits into the mix; anything goes", and that maxim is applied to perfection in the instrumentation of "Adjalakata" by the Burkinabé AMSKO. Patrick Defoule's production throws everything in; organic drums that sometimes play in real time and sometimes are looped and manipulated, a guitar line that fades in and out at pure will, all kinds of synth hits, but the important thing is the way each arrangement creatively builds around the rumba is fascinating. Amsko keeps the energy up like a good MC, but he himself knows that here it's just all about the rhythm.
---
Safi Diabaté feat. Oumou Sangaré –

"Barika"
---
From Mali: There are times when you can't help but recognize when an artist is not only at the peak of their notoriety, but also at the peak of their powers as a musician and performer. In this case there's two; both Diabaté and the mythical Sangaré, the latter still fresh from her collaboration with The Carters, offer us impeccable vocal performances with melodies that faithfully represent not only their years of experience, but family traditions of several generations (in the case of Safi, she is part of the 77th generation of Diabaté musicians through her husband Sidiki). The musical part is just something out of this world; the beat is typical of Wassoulou and Mandé styles, but the modern production builds up as if it were a house song, in which layers of kora, balafons, guitars and keyboards make their entrance little by little, enriching the experience. Now this is an ambitious crossover.
---
Niyo Bosco –

"La Jolie Femme"
---
From Rwanda: At this point, Rwandan wunderkind turned consummate popstar Niyo Bosco can do no wrong. We already talked a few months ago about his sweet tone and his melodic talent in "Ishyano", but this time he has even raised the level with "La Jolie Femme", a sophisticated afropop song with a very riveting composition. In addition to the exuberant soul melodies that Bosco has accustomed us to, here we also witness his proficiency as a guitarist, especially in that double-acoustic intro where he forms a harmonic passage that gives way to the electric guitar. Also, the choruses are pure sweetness.
---
KAYAWOTO –

"Selamin"
---
From Burkina Faso: Rapper Kayawoto is having his best year yet; He has just received the 2022 Artist of the Year award at the Culture Personalities ceremony in Burkina Faso, and he celebrates it with "Selamin", a track that explores the purest coupé décalé, but with synthesizer chords and atmospheres that also hint at early-century electro house (the French influence playing its part here, think peak-era Laurent Wolf). Kayawoto rides the beat with his trademark rapid-fire raps, always in his defense of the national language, Mooré, and with the motivation that his place at the top of the scene in The Land of Upright Men is more than secure. Now he's about to go into expansion mode.
---
More Afro Jams for you this week:
---
Diamond Platnumz – Gidi (Tanzania)
Ethic Entertainment – Bizz ni Bizz (Kenya)
Josey – Accélérer (Ivory Coast)
Dieyna – Dara Xéwul (Senegal)
SlapDee ft Yo Maps – Tomboka (Zambia)
Aki Na Popo – Baby Police (Zambia)
June Freedom feat. Djodje – Si ki min Kre (Cape Verde)