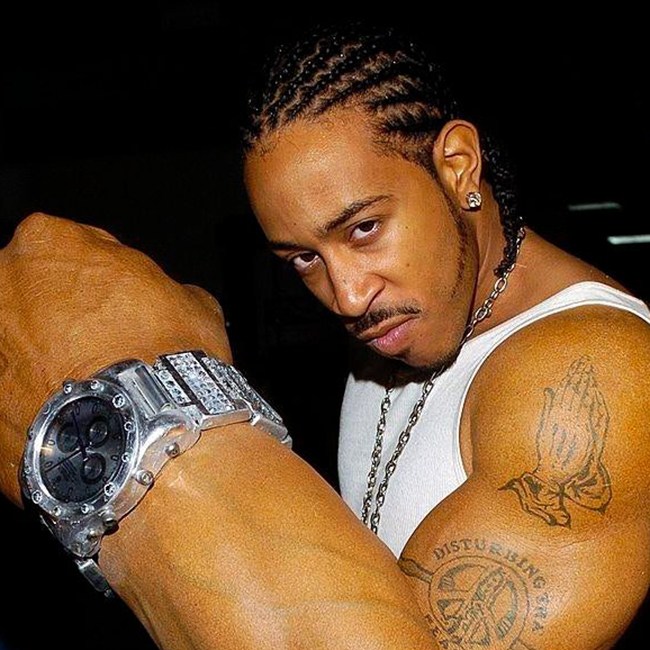 Remember when the internet was larger than just five sites featuring screenshots of the other four sites? So do we. Support truly independent journalism by subscribing to Passion of the Weiss on Patreon.
Will Hagle still makes impromptu purchases based on the power of cover art alone.
---
Around the turn of the century, Ludacris was an inescapable presence. A larger-than-life character whose natural charisma accentuated his hit-making voice and ear. If he wasn't in your Discman, he was on the radio, or TV, or on multiple tracks in your school dance DJ's playlist. By 2001, the artist briefly known as DJ Chris Lova Lova had catapulted from a hustle-minded independent rapper with an expanding local ATL fanbase to a national hero. No one was immune to the infectiousness of "What's Your Fantasy." No one could frown when faced with his eternally-affixed smile, his relaxed confidence, his profane sense of humor.
He was a popular artist—a pop artist—but the industry didn't shape Chris Bridges into Ludacris. Ludacris pushed against the industry, and because of his success, forced them to adapt. He got his start as an intern at Hot 97.5 (now Hot 107.9), where he'd rap promos that played at the end of other DJs' sets, before he became a DJ himself. Jermaine Dupri heard him, wanted to collaborate, and ended up making the beat for "Get Off Me," the first of many Luda songs with shout-along hooks. Timbaland heard him, too, and produced 1998's regional hit "Phat Rabbit," which would appear first on the Timbaland LP Tim's Bio: Life from da Bassment and later, like "Get Off Me," on Ludacris' Back for the First Time.
In 1999, Ludacris released his debut album Incognegro on his own record label, Disturbing Tha Peace. The label was an outlet for himself and other rappers like I-20 (then Infamous 2-0) or high school friend and collaborator Lil Fate to prove they could sell records without industry investment. In an era when the South and Atlanta specifically were just beginning to become the accepted magnetic force in hip-hop they've been for the past two decades, Ludacris was intertwined with the city's most inventive originators. Bangladesh, who produced "What's Your Fantasy" and three other tracks on his debut, moved from Iowa and attended Banneker High School with him. Tity Boi is a lifelong friend who was raised in the same apartment complex he stayed in. Organized Noize, ultimately responsible for "Saturday (Oooh! Ooooh!)" were already working with him on his first LP. In part thanks to Luda hawking albums out of his trunk, Incognegro sold 50,000 copies and brought home an incomprehensible $350,000 check. Def Jam South, whose president was Scarface, took notice and signed him to a deal that expanded his distribution without compromising his artistic vision.
Luda rapped with clear enunciation, but constantly contorted his voice into semi-melodic riffs with over-exaggerated emphasis. He highlighted his punchlines through delivery: twisting his voice upwards, trailing off on an elongated final word, suddenly cutting a word short, or dropping down to a more guttural growl. A Southern answer to East coast vocal stylists like Redman or Busta Rhymes, with less rugged, more pop-oriented sensibilities. He rapped as if he believed he could be mentioned alongside greats like those, despite the derision rappers from the South faced at the time, and he held his own on tracks with legends from different area codes like Three Six Mafia, Mystikal, Missy Elliott, Trina, Twista, and 8Ball & MJG.
In interviews circa 2001, post-blow up, he's loose and fun, constantly cracking jokes. No matter how big he got, he remained grounded, like a rapping Adam Sandler. He wasn't an everyman but everyone, either consciously or not, felt as if they could feasibly hang out with him and have a great time. His lyrics were playful and inviting: Southern Hospitality incarnate. It's easy to forget, for everyone except Fast & The Furious or Crash superfans, but at the dawn of the millennium it was not possible to ever get enough Ludacris.
2022 is not a round number calendar anniversary of a Ludacris album. Twenty years ago, we were still spinning one CD without knowing another would soon follow. November 6, 2021 would've been the twenty year anniversary of his third LP, Word of Mouf. October 7, 2003 will mark two decades since his fourth, Chicken N Beer. Which means 2022 is the 20th anniversary of 2002, a year that (Chris) bridges the release of two undisputed classics. Just like how Ludacris, for anyone my age (celebrating the 20th anniversary of being 10!) (Chris) bridged us from childhood to adolescence. That's the convoluted justification to revisit and celebrate both. Music media publications of the internet, I expect you to all do the same.
Since the anniversary conceit of this article already openly placates the most inane trends of online music writing, allow me to get personal and nostalgic like Luda does on "Eyebrows Down." The current nature of revisionist musical history dictates that the best albums of all time were the albums that came out when the writer or editor was first discovering music on their own. No bucking of that trend here. In 2001 I turned 10. Prime time to swipe Word of Mouf from my brother's unzippable CD case. Two years removed from a fateful trip to Target in which I would convince my mother to throw a sealed copy of Chicken N Beer atop our cart. Young enough to completely ignore Back for the First Time when it came out, but old enough to burn a CD of family PC-procured Napster files that essentially amounted to what the "Greatest Hits" skit on Word of Mouf describes: Ludacris' Greatest Hits, "brought to you by random white people."
The pre-Wikipedia rumor was Luda hailed from the town in which that fateful Target and a young me were located: Champaign, Illinois. This was a point of pride among others from the college town south of Chicago whose local talent in rap and other genres has flourished for decades despite a lack of national recognition or even ambition. 2001 was long before Kanye West pushed Chicago, and therefore (in our minds) Illinois, to the forefront of musical consciousness. We were unaware Mr. West was behind the boards for the Luda-featuring "B R Right" on Trina's album, or "Stand Up" on Chicken N Beer, subtly incepting our brains before anyone would allow him to rap. We didn't care that Luda only ever talked about being from Atlanta. An anti-fighting propaganda cartoon on the classroom wall read "Oh no! The fight's out! I'm about to punch your, lights out!" before detailing the punishment that would ensue. Someone swore they saw Bridges outside in the snow in Champaign with his extended family around Thanksgivingtime, and that was enough. He worked with Shawnna, Buddy Guy's daughter, from Chicago. When he said "In Decatur, where we pack that heat!" on "Saturday (Oooh! Ooooh!)", we ignored our geography lessons, speculating he meant the town of the same name 50 miles southwest that eternally smells like shit due to the corn processing facilities. On "Growing Pains," in fact, he says he's "a child of the corn." Just like us?
My story is no different than any young person who enjoyed Ludacris' music when he was exploding as a superstar in hip-hop and pop music's flashiest era. Ludacris was a voice from the South—of and for the Dirty South—who appealed to the geographical masses. He represented something bigger than himself. Something new. We could see ourselves in him. He was from somewhere else, talking slower and more deliberate, while celebrating his differences. His appeal to younger audiences makes sense in retrospect, now that he's a father who makes children's content for KidNation, the media network he helped launch. Perhaps he (envision the meme, please) "always has been." His voice is as animated as a cartoon character, comfortable impersonating Tony the Tiger and (presumably, seeing as he was the host of Family Feud in 2001) Louie Anderson mid-verse on "Cry Babies (Oh No)." What else do pubescent boys want to hear but a grown ass man say he's ambidextrous because he slaps butts with both hands while you're at home flicking boogers out your nose, which he does on that same track? What's better than hearing him yell "Hard nipples! Colder than icicles!" on the Jazze Pha-featuring, underrated, subversive gospel interpolation "Keep It On The Hush"?
Ludacris was as close to bubblegum pop as his brand of rap could be. His lyrics were relentlessly dirty, but in a strangely innocuous and acceptable way. The beats were simplistic and digestible on purpose, but varied enough to prove Luda could form them into catchy hits.
The hits. Word of Mouf had four. "Rollout (My Business)," "Area Codes," "Saturday (Ooh! Oooh!)" and "Move Bitch." It was Timbaland who reshaped horns to time up with a huge drum kit, but it's Ludacris who followed the melody and staccato rhythm with the unforgettable chorus. His voice is so versatile it could be an instrument in Africando, the Senegalese salsa band which Whosampled says was Timbaland's horn source material (which I don't quite believe, but can't argue with either). The features on these tracks come from other vocal stylists. Nate Dogg is smooth as ever, balancing "Area Codes" with majestic crooning amidst Luda's puns about "Ohiho" and "Northern Exho-sure." Mystikal is frenzied on "Move Bitch," rapping as if he's gasping his last breaths. Organized Noize's beat for "Saturday (Ooh! Oooh!)" flips Motown's Hodges, James, & Smith's "Off" into a beat that lets Luda unleash lines like "System on blast, cops just passed, just seen a big old ass!"
The rest is far from filler, even the skits. You could always count on Luda's skits to be funny in that basic, juvenile way. "Stop Lyin'" finds I-20's mom interrupting him while he's trying to convince a girl to come over. "Howhere," which precedes "Area Codes," hammers the puns even more than the subsequent verses. Other songs also started with little jokes, like the preacher's "reading from the Book of Hush, verse 69" on "Keep It On The Hush" or Faizon Love's dedication leading into Jagged Edge's chorus on "Freaky Thangs."
Word of Mouf was a massive success. By the time Chicken N Beer would come out, it was three times platinum. Consequently, Ludacris was already moving beyond his distinction as pure musical artist and label founder. The playfulness and humor that came across on his albums had translated to something larger. He became an entertainer. A celebrity. With that came his entrenchment in the American mainstream. With that came confrontation with the misunderstanding, Bush-aligning enemies of the early millennium. By 2002, Bill O'Reilly was campaigning for people to boycott Pepsi because Bridges was in their commercials.
"I'm calling for all responsible Americans to fight back and punish Pepsi for using a man who degrades women, who encourages substance abuse, and does all the things that hurt particularly the poor in our society," O'Reilly said on his show, which thousands of nincompoops perceived as gospel until 2017, when O'Reilly's karma came back and he was fired from the network due to the sexual harassment allegations against him.
Bill's words then, of course, were futile. Ludacris fired back on Chicken N Beer with a couple shots at the big dumb bozo, including a hilarious punchline at the end of the slightly-cringe-in-retrospect storytelling song with Snoop Dogg "Hoes in My Room" (Spoiler: it was Bill who let all the ugly women in). Ludacris and PepsiCo would both eventually be fine in their respective corporate manners. Even at the time, despite Pepsi dropping Luda in response to pressure, the intelligent majority of the public remained behind Bridges. Chicken N Beer surpassed Word of Mouf on the charts, debuting as a Billboard number one.
Chicken N Beer doesn't have as high of a hit rate as Word of Mouf, although the strength of "Stand Up" and "Splash Waterfalls" negate the lack of two other radio smashes. As a whole, though, the album let Ludacris push his rap ability to new heights, with more of an edge, while somehow still retaining its lighthearted nature. In that sense alone, it's criminally under-remembered.
Every rapper who becomes a superstar is forced to reckon with their newfound fame on follow-ups to the albums that make them. Word of Mouf was that album in some senses, given its successes and the repackaging of earlier singles on Back for the First Time. Luda addresses this immediately on the first track after the "Southern Fried Intro," "Blow It Out": "In one year I got rich now life's moving so fast / But being broke with no food is just a thing of the past / Plus I'm the new phenomenon like white women with ass / Ya'll praying that I flop? / BLOW IT OUT YOUR ASS!"
Like any great rapper or comedian, Ludacris has a knack for mixing the harsh truths about life's struggles with jokes that alleviate some of the pain. Chicken N Beer finds him more cognizant of how his lyrics are being perceived, from saying "fuck you" to people who don't understand him on "Screwed Up" to the shots at O'Reilly and the restraint he shows in comparison to Word of Mouf. This ultimately works to the album's advantage. The punchlines are still there, there are still skits about T Baggin, but Luda's more attentive to his serious side.
Even "Stand Up" is just a demonstration of Luda's pure MCing ability that happened to become an enormous anthem. The beat is more hypnotizing and fuller than anything on Word of Mouf, with echo and reverb on the looping sounds created in part by Ye. The video has what Luda would describe as "absuuuuuurd" elements in it, from flying beer bottles to animated cutaways. A crazy visual style that would come to define him in the coming years.
The other hit, "Splash Waterfalls," is a continuation of the sexual energy on "What's Your Fantasy." And yes, there is still something captivating about the way Sandy Coffee punctuates Luda's lines with "Fuck! Me!" Not even in a creepy way, but a musically intriguing one (I swear).
"Diamond in the Back" was marketed as a single, with a beat from DJ Paul and Juicy J that flips William DeVaughn's "Be Thankful for What You Got." It flopped commercially, failing to break the Billboard charts, but it's a rare showcase of Luda's cool, relaxed side, as he employs a softer flow while discussing his past and his future ambitions. "Screwed Up" features Lil' Flip and is an homage to the chopped and screwed sounds of Houston as much as it is Luda's predilection for cannabis and a "Move Bitch"-like hook that's enjoyable to yell along with. The last two tracks feature Tity Boi, which at the time was Luda letting a true friend and collaborator shine rather than a tracklist-boosting high-profile guest spot. The aforementioned "Eyebrows Down" lets Luda wax nostalgic to close out the LP's hour, showcasing a more subdued introspective side.
The most complete example of everything great about Chicken N Beer is "Hip Hop Quotables." It's a bar-by-bar punchline heavy over a throwback beat produced by Erick Sermon. No hooks, no ostentatious effects. Just three minutes of straight rapping. There to make you laugh and marvel at the unrelenting consistency of his unique skill. I loved it as a kid as much as I do now, which is more than I can say about Rugrats, or any of the media I consumed that wasn't created by Ludacris.
There's so much more to celebrate in Ludacris's life and career. In 2003, the same year as Chicken N Beer, 2 Fast 2 Furious came out. In 2004, he dropped The Red Light District, which featured "Number One Spot," "Get Back," "Blueberry Yum Yum," and "Pimpin' All Over The World." Insane. On "Blow It Out," Luda said he's "just a few albums away from filling your disc changer." In 2022, disc changers don't exist but his eight LPs still do, and all are worth revisiting on your disc-changing streaming service of choice. Ludacris remains a presence in modern American life, though not as encompassingly so. Word of Mouf and Chicken N Beer will always be his most legendary back-to-back run. For those of us who were there, don't let it slip out of rotation in the disc changer of your mind. For all the 11 year olds reading this, stop flicking the boogers out your nose and give this old shit a listen.
At age 44, with IMDB credits lengthier than his streamable discography, Chris Bridges has transcended his delineation as Ludacris the Rapper. No need, any more, to say "the rapper." Now you can say, "the entertainer who launched KidNation, a media platform that features 'hundreds of wholesome, high-quality and kid-safe songs and videos.'" By 2008's Theater of the Mind, which incorporated Rakim's "move the crowd" definition of MC in the hook, Ludacris had proclaimed himself the last of a dying breed. Then, it seemed defiant. Now, it feels prescient. The artist he was 20 years ago no longer exists. Except the recordings preserve that artist the way he sounded then. What an artist that was.