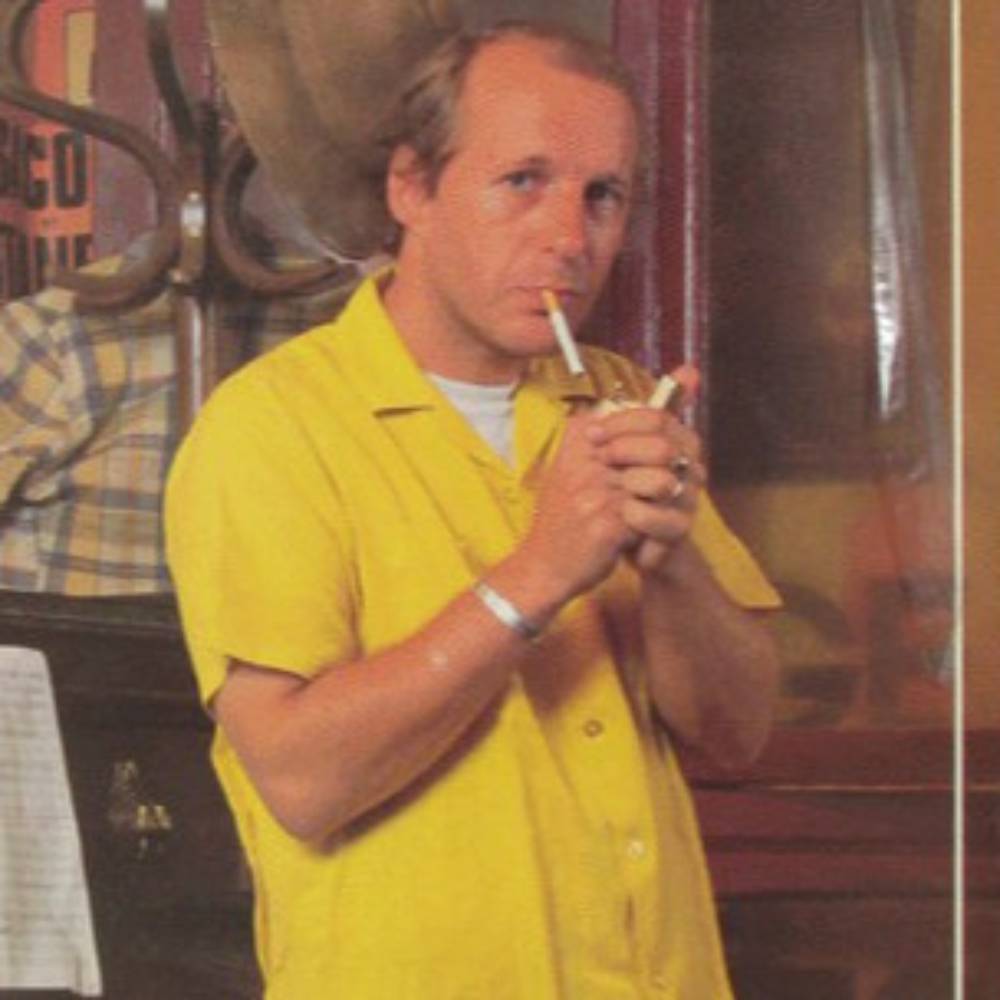 Image via Alain Mion/Discogs
Support real, independent music journalism by subscribing to Passion of the Weiss on Patreon.
Matthew Ritchie believes that F1 is the most hilarious casual sport because it's really just various French people getting upset.
---
Being simultaneously anonymous and legendary in the music industry is a curious existence. It doesn't make sense on paper: somebody who's integral to the fabric of both jazz and hip hop should have their name ring out in the cultural lexicon. Even so, this is the perception that surrounds Alain Mion. In the annals of music history, it's impossible to step through hip hop's countless samples without interacting with Mion. Yet when you search his name on Google, all you really get is a barebones Wikipedia page, links to online records of his discography, and the occasional interview sprinkled over a 50-year career. The French pianist, born in 1947 and who started pounding the keys at the age of six, is the brain trust behind the jazz band Cortex, the founder of the group whose dreamy blues and jazz melodies have acted as a treasure trove to rap producers for decades.
It'd be borderline impossible to tell stories of modern rap without Cortex's 1975 release, Tropeau Bleu. The intricate five-piece jazz band compositions, toeing the line between serene and frantic, provided a wide range of source material for rappers to mine. Add in the haunting vocals of the late Mireille Dalbray, and tracks like "Prélude à Go Round" and "Huit octobre 1971" become instantly recognizable to a music listener with a beating pulse. When you get sampled officially 164 times (according to WhoSampled) by the likes of MF DOOM, Madlib, and Rick Ross, there's a certain aura surrounding your artistry. And that's just for the band's first album: Vol. 2 in 1977 and Inedit 79 in 2006. Each has been used extensively as samples, even as group members left and joined up over the decades. Through it all, Mion's been the singular constant. The Parisian jazz scene, rich in both history and romance from years of artistry before him, owes much of its continuation to Mion's genius (which he sheepishly denies when mentioning his own impact).
Even as Cortex went on an extended hiatus, Mion continued to make music under his own name, venturing out into the world of easy-listening jazz with elite precision. And before Cortex, Mion was active, attempting to find footing within the halls of French music through trios and quartets. His most famous venture was far from his first, spending time rubbing shoulders with jazz legends, honing his sound until it was his time to create his own direction. Everywhere his piano playing took his career, beauty and a love of the core elements of blues and jazz music propelled him forward.
That's why 48 years after starting Cortex, Mion is back on the road with a new set of band members to tour the United States for the first time with Jazz is Dead. Jumpstarting the sound with Loic Soulat on alto saxophone, Cedric Affre on drums, bassist Mohamed Ouaraz, and vocalist Maeva Borzakian, the suites remain as fresh as they did half a century ago, with Mion somehow capturing the fountain of youth to prove that jazz simply cannot die.
In the face of a changing world, with genre boundaries smashing together and breaking apart, Cortex and its main sonic elements remain unaltered. Their performances are a revelation, a special moment to hear a band that was shrouded in obscurity for much of its existence. There are no stumbles or missteps: Borzakian's ethereal wails on "Tropeau Bleu" and Mion's crashing solos on "Mary et Jeff" feel exactly the same as the first time you discovered Cortex. You can tell what each moment in front of the fans means to the group – from Mion and the band basking in the applause before and after each track, to a beautiful, heartwarming tribute song to the original members of Cortex that passed away to close the show.
It's a full-circle moment for Mion, an underappreciated legend that deserves his day in the sun. He's cherishing each moment that he's able to perform and see the fans who love his compositions: At the end of the first performance in Los Angeles, he shared that he suffered a stroke a year before that briefly paralyzed the right half of his body. I spoke with Mion briefly over the phone and after the first show in Los Angeles to hear about the beginning of his love of music, how he began to learn the piano, and what brought him back to Cortex to the point of wanting to travel again to tour and perform.
---
---
How are you doing today? How is everything?

---

Alain Mion: Oh it's good. Even though the flight is very long to New York, and then out to Los Angeles, it's very exhausting.

---

How does it feel to be performing and traveling again?

---

Alain Mion: It's not a problem for me. I'm physically in good condition, I can come back with no problem at all. The best thing is the applause from the audience.

We've been very tired from traveling and very busy. But it's been very nice to go everywhere and have the people cheer for us. We were in New York and people were going, "AHHHH."

---

Take me back to the beginning. When did you learn how to play the piano?

---

Alain Mion: I think I began at six or seven years old. But, it was annoying for me, you know. I didn't like it. When I had been in school classes that were more interesting, I said to my parents, "Oh I have to stop the piano because it's too much. It's too much work." So, I stopped the piano when I was maybe nine or ten. After, I began again when I was 12 or 13. At this time, I was a self-made man. Yeah, I don't like masters. I don't like teachers.

---

So you're pretty much self-taught?

---

Alain Mion: Yes yes. The only thing that I looked up to was genius. The only people who were my masters were on record: It was Bobby Timmons. It was the man who composed "Moanin'." And for me to listen, it was a revelation. Him and Ray Charles. After that, I did all the work by myself.

---

How did you come into contact with their music, the American forms of jazz?

---

Alain Mion: You know, at school, sometimes I'd have friends at school show up. One of them had a father who was an air pilot. He was coming back from the USA very often. He came back with records of Ray Charles. For me, it was not just a prize. It was more than that. It was the heart of it. I was in love with Ray Charles' music as a child.

I'm thinking that I'm originally constructed by my parents as a blues man. And even though Tropeau Bleu is not blues, it's something completely different, but I stay a blues man in my head.

---

You sound just like me.

---

Alain Mion: Well, nice to meet you, brother.

---

Where does beauty come from the music you make?

---

Alain Mion: It's so easy because I am a genius, you know [laughs]. I'll just have an idea and boom!

No, I listened to a lot of different music when I was younger. Jazz, blues, rock, pop music, Latin music. It created a kind of mix in my head. It's all inspiration. My idea is that a good composer is a good listener. I suppose that's the base of it. I am a man who knows how to listen. I have a taste in melodies. I love melodies. For years, my favorite melody was "Autumn Leaves." I am just a man who is in love with jazz, with the music of Ray Charles. There was so much genius to draw from.

---

So did your career start with Cortex, or did you have other bands before?

---

Alain Mion: I had a lot of them before Cortex. I was playing generally in trios. I had the chance to meet saxophonist Hank Mobley: To play with him one time, you know, it was a great experience. I also played with Daniel Humair in France, who is a very nice, very well-known drummer. Also Hal Singer, who was the saxophonist with Duke Ellington, as well as "Philly Joe" Jones, who is a great drummer. Kind of nice experiences.

After, I began to compose my own music. Very quickly, it was the kind of music of Cortex. I think that my first composition for Cortex was when I was 24. I hope to be a centenary man one day.

---

How did you meet the original members of Cortex back in 1974? How did your career progress?

---

Alain Mion: Ah, it was very strange. I have to begin with the very beginning. We had, at this time, in Paris, this place called "Centre Américain," meaning American Center. It was for Americans in Paris. There were "annoces," like a bulletin, two American men wanted to find anybody to play music with them in Paris. I met them, and we began that trio. It was a guitarist and a bassist, and so we began to do a repertoire between jazz, funk, and bossa nova. It was the beginning of great sounds like "Tropeau Bleu" or "Chanson d'un jour d'hiver, " the two very well-known songs by Cortex, you know. After that, these two men are gone from Paris. So, I have decided to find other people.

Principally, I met Alan Gandolfi, who was the original drummer. With Alan, we had formed the more interesting part of Cortex. And then, Alan decided to stop the music. He wanted to do other things, he wanted to be a sound engineer.

And so, I decided to do music by myself. I've got several records under my name. As you know there is a very good album that I have done in New York, it's very very original. The title is very very original, it's called Alain Mion in New York [laughs]. It was with a great bassist, who is Marc Johnson, and he plays with all the greats, Frank Sinatra and Stan Getz, like that. After that, I think it was 2010: one of my producers said, "you have to come back with Cortex," and things like that. Of course, I say, "oh no no, it's not time now for that." After, I finally accepted and began again to make the revival of Cortex. And this has been with two current musicians, Loic Soulat on alto sax, and Cedric Affre, who is the drummer. And then we met Maeva Borzakian, and my new bassist, Mohamed Ouaraz. He is a very good bassist, you will see that for yourself. At the same time, he is my friend and my neighbor. We are living in the same quarter, in the same street, he is living in front of my house. It's very easy to connect with him and to work when we are together.

---

Wow, thank you for taking me through that.

---

Alain Mion: No no, thank you. That's me. You give me honor. You know, I'm not a great musician, like Bob Marley. I am just somebody who is doing what he is loving. Since I was young, it's been a great thing for me to do something with love. To be happy to do it.

---