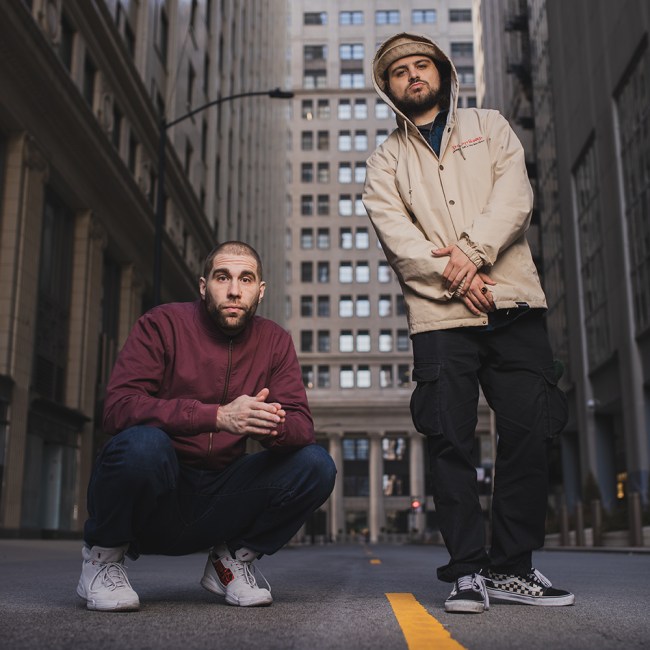 Image via Jonathan "KAYODIDTHAT" Jagiello
---
Support real, independent music journalism by subscribing to Passion of the Weiss on Patreon.
Kevin Crandall will miss Rudy Gobert in a Utah Jazz jersey.
---
The Malice at The Palace is the most infamous brawl in NBA, and possibly American sports, history. The video of Indiana Pacers' small forward Ron Artest (now Metta Sandiford-Artest) rushing into the stands to confront the fan who had just thrown a plastic cup at him is one that is seared into the minds of every NBA fan who was alive then or who has seen the footage since. Chicago-bred rapper Defcee remembers that night with a different level of intimacy than most, having been with his brother and dad seven rows up from where Artest confronted his assaulter.
The emcee was about fifteen when he was pulled off the stairs to avoid being trampled by Charlie Haddad, whose night would end being clocked by Pacers star Jermaine O'Neal in the jaw. He's never written about it in his rhymes, but Defcee swears he is in the footage of the frame-by-frame showing of the nastiest punch ever thrown on an NBA court.
While his brother committed to the court after that night, playing pro ball in Israel, and even meeting Artest during a between-pros pickup game, Defcee found his place in writing. The Chicago emcee, born Adam Levin, spent his youth attending Youth Chicago Authors writing workshops and Louder Than a Bomb poetry slams, spaces he shared with some of the best rappers and writers Chicago had to offer (Chance, Noname, Saba). His time within these organizations, as well as his undergrad experience within the University of Wisconsin's scholarship program for producers and rappers, helped cultivate the well-structured rhyming and commanding delivery that punctuate his rapping capabilities.
He might not have the popularity of his former peers, but Defcee has slowly etched out a space for himself within the Chicago scene, becoming a prominent feature in the underground with his writing striking a balance between East Coast inspired boom-bap and politically-tinged abstract hip hop. Last year he teamed up with billy woods' Backwoodz Studioz and affiliate producer Messiah Muzik (whose credits include Mach Hommy's Pray for Haiti and most every Armand Hammer record) to deliver Trapdoor, a scathing critique of the American dream and a country that promotes self-sufficiency and individualism while smothering access to its advertised upward mobility.
This April, the Chicago emcee released For All Debts Public and Private, which sees Defcee address struggles of perception and lack of recognition in the Chicago scene, his own demons of alcoholism and financial mismanagement, and love for his Wu-Tang and UGK inspirations. The project was dropped via Closed Sessions—a Chicago-based hip hop label that prides itself on being a creative oasis and starting block for up-and-coming artists in the windy city—and features production filled with renovated '90s era soot-stained beats from BoatHouse, one of the label's in-house producers and an old friend of Defcee's from his time at UW.
Made largely in Closed Sessions' Chicago studios, For All Debts Public and Private actively showcases the years-long rapport the producer-emcee duo have built since their college days. BoatHouse provides plenty of room for Defcee's booming voice to ruminate, as the emcee carefully balances his boasting and self-reflection. The project feels like a listen in on a therapy session—the patient undulating between arrogance and self-doubt while It Was Written instrumentals play out. It's a heavy experience, and Defcee's transparency in his rhymes is aspirational for those of us who struggle with openly discussing guilt and emotional trauma.
While Defcee and BoatHouse were celebrating the release and nascent buzz off The Fader premiere of For All Debts Public and Private, I hopped on a zoom with them to chat about the record. We talked the making of the album, their beginnings as collaborators, and the importance of trust for the creation process.
---
When did y'all first meet?

---

Defcee: Man, I couldn't even tell you. It probably would've had to have been in Madison though. I went to the University of Wisconsin. Aidan (Boat) had artists he was already working with in the same scholarship program that I was in. The University of Wisconsin has a four year paid-tuition scholarship program for rappers, poets, producers called First Wave. I was in the first cohort of that. Then, a few years later, CRASHprez was in that program as well, and an artist who now goes by the name of Groupthink as well, and Groupthink was at one point danny leonard, Lord of the Fly. He put out a mixtape and Boat had done a couple of beats on there I really fucked with. From there I think somebody connected the dots, but I remember he and I got along pretty famously right away. Although I don't know who would not get along with Boat, to be honest. He's one of the nicest people I know.

---

BoatHouse: It had to be somewhere in Madison. I feel like it was at one of the shows at The Sett?

---

Defcee: Ohhhh was it the Black Milk show?

---

BoatHouse: Could've been the Black Milk show. I remember I was coming out to Madison a lot to work with those artists who were friends of mine I knew before college. There would be a Saba show at The Sett, and Groupthink—who was then Lord of The Fly—or CRASHprez would be opening for them and I would DJ or something like that. KennyHoopla was around there too; he was poppin around Madison at the time. It's kind of crazy. I can't remember the exact moment that we met each other but before we met each other we knew of each other and were fans of each other. Ask RTC, my manager, the president of Closed Sessions. He'll tell you he's got demos of BoatHouse and Defcee stuff from years ago and he would always say he's the only one who likes them or whatever. But yeah, we just became friends quickly and then it was like an "I'll see you when I see you" kind of thing. Then this past year it seemed like it might be the time to do something. We both started cooking in our own right and getting stuff rolling. Me producing SZNZ by Mother Nature and having some nice success with that, and then Defcee with Backwoodz Studioz and the Trapdoor project and some stuff before that, getting his own recognition. So it was a "let's do that thing we always talked about but never did."

---

When you all started that conversation for this project, did you start recording in person or were you mainly sending shit over email?

---

Defcee: I think it started as a text message conversation, and then it progressed to getting beat packs from Aidan. I listened through the first one, picked a couple I liked, and told him to send more. This is around either end of the second trimester or beginning of the third trimester of my wife's pregnancy, and so I knew in terms of time I was only going to have the capacity to do so much. So, initially it was a five song EP, and then the first studio session that we had together in person we knocked out joints that we really, really liked.

---

BoatHouse: I think we recorded the first five tracks.

---

Defcee: Oh we did, in one session?

---

BoatHouse: Yeah because I had sent you those beat packs. I think I probably sent you about 14-18 beats, something like that, and you picked a couple from each and then you wrote to them and then it hit me when you were ready to go to the studio. We got in the studio and it was just *snaps fingers* knock 'em out. You came in ready to go, verses written, done. So, it was just a matter of recording, getting them out of the way. I don't think I really rough mixed anything, but anytime I'm in the studio and recording or doing engineer duties, I'm always like "can we make a beat today too? Can we have some fun today?"

Engineering is great, but it's just a skillset that I have. I really like producing and making a beat with an artist in there, and me and Adam hadn't done that in a while anyways, so we just started cooking up. We made a couple more in these studio sessions—came back and did edits on some of the recorded stuff and all that. But that five track EP became a seven, then became an "oh let's get three more and make it a nice ten." Then, right down to the wire of getting everything mixed and having to turn in the album tomorrow, I was in the studio going over the final tracklist, and lining everything up how I wanted the album to go, and I was like, "it needs an intro." It can't just kick off like this with "Ragnarok." So, I whipped up an intro the night before, sent it to Adam, and I was like "what do you think of the tracks now?" and I put it at the top. He said "I super fucks with this but it needs bars." He just wrote the intro verse probably the morning of having to turn it in, sent it to me back in the studio, quick mix on it, zip it up, send it to RTC and then that was it. So a mix of in person and emails, just making shit shake.

---

Defcee: All of that is facts, and I had COVID for a few of them. So I was at home for "Bubble Coat," "Moving Targets," and "Dunk Contest." I think those were all written and recorded while I was quarantining in the basement, and I just cut the vocals on my home studio setup and sent them over.

---

Were you symptomatic?

---

Defcee: Yeah. I'm a teacher, so I was double vaxxed and everything. I think it was Omicron or one of those app updates of the virus, and I was in the basement for like ten days quarantining. It was surreal in a lot of ways because I have this urgency: I need to write these songs, we need to turn this in, we need to get this done. Then, at the same time, am I gonna have the lung capacity to get these done? Especially a joint like "Dunk Contest." Fortunately, I was able to get this stuff done and turned in on time, and Boat and RTC were very patient with me while I was wrapping up these joints. But yeah, that's how it all got put together.

---

So song-creation-wise, was it more collaborative with the in-studio sessions, writing and creating the beat with each other, or did you use lyrics from the vault?

---

Defcee: I would say most of it was just as simple as I got a beat from Boat and wrote to it, and then the collaboration came into play when we would be in the lab together. He would be building something and then we'd kind of fuck around in a bunch of different directions, and then the exchange would be if there was something I heard that I really liked just trying to keep him on it and see it through. Also, if there was something about my take that needed to be fixed just touching it in the studio. I was very nitpicky about how each bar sounded and how the flows worked out, and Boat was really helpful with that. I think it was the first time that I took vocal arrangement, which is a weird thing to say but that's kind of what it was, and Boat was a really helpful voice in the room in terms of making sure that everything we had was 100% of what it could have been.

---

BoatHouse: I'm an engineer as well, so I deal a lot with clients where it might be their first time in the studio, so I've learned what type of coach people need, if any at all, when they're recording. How to convey "yo, you should do that take differently" and that sort of thing. But, when it came to us working together, I trust him as an emcee and a writer so I know that he's gonna figure out what he wants to say, how he wants to say it, and what needs to be conveyed. I'm dealing in sonics essentially. So, if he's losing breath or he misses something or there's a line where I have to ask "yo, what did you say here? What was this word?" we can figure out, "okay, let's touch this one up."

Adam went away with a lot of these rough mixes and was like, "I wanna punch in this line different." So, we'd come back to the studio and it would be like a rewritten version of what he said. There was definitely a lot of "I know you're gonna do your thing and I'm not gonna step on your toes" and vice versa, but here we are creating something together as well. I'm a firm believer that the song isn't finished until it's out. There's steps to it: get the beat, get the lyrics recorded, fix what needs to be fixed, tighten the screws up. Then I like to take everything after we get the lyrics on it recorded and arranged, and I like to sit with the beat and see what that sample I have on it has to offer. "Summer 06" is a perfect example. There was a ton more guitar and little jazzy vocals in that sample than was originally used. So, once it was all recorded, I made sure the transitions were cool and the verses grow the way they do now.

---

Within that collaborative process, how do you guys work in features and that input?

---

Defcee: It's kind of a combination of things. So ahead of time we would hear different people on different things and then we would throw out different ideas of who we wanted to get on those joints. SLLIME and SolarFive have been friends of mine for over a decade. Those two are incredibly gifted so I knew that putting them on a song on the album was gonna be something that I wanted to do. And Mother Nature—that's one of the best rap groups out right now if you're talking about trying to find the best pockets of the beat. Just pure rhyming ability and rap IQ. There are certain basketball players that you talk about their basketball IQ—that's Mother Nature. They're always gonna pick the most interesting pockets in the beat and they're gonna say cool shit, so that was really dope. As far as Kipp, that was Boat's idea. I think you heard Kipp right away on that "Ragnarok" beat, right? Or I'm buggin.

---

BoatHouse: Maybe. It all starts with that list at the beginning that you get once you get songs laid out. Like, "man you know it would be tight if we could get so-n-so" or "how much you think so-n-so is going for these days?" You know, just these conversations in the studio like that, really shooting for the stars. The names like Solar, SLLIME, Mother Nature, Kipp—all we got to do is have a song ready for them and be like, "what do y'all think of this? You got a verse for it? You wanna hop on it?" And it's pretty much a no-brainer after that. So a couple people just locked and loaded, ready to go when we're ready. But Armand Hammer was an interesting one because Adam has a relationship with billy woods and ELUCID and the Haram album was crazy and killin it. We wanted to see if there was somewhere they could fit and we knew that there's got to be a song that can be a home for those dudes. We wanted to put that together and shoot for that. And with "Rossi," it was like let's see if we can get them on it.

Woods came to town and pulled up to the studio. RTC had set this up, woods was coming to the studio and I was gonna help him record some verses for some other songs, and then I'm gonna play him "Rossi." And after we got done recording his stuff, I looked the beat up and he just wrote to it right there; he had his notebook and stuff. Then I just recorded him on our song. Watching some people that are at a certain level of the way they craft their lyrics and the way they write, it's really astonishing as a producer who deals mostly with drums and samples, to see someone take the same level of intricacy that I might have when chopping up a hi-hat loop or something like that, and put that into writing and then be like, "nah I wanted to drag that bar a lil this way." It's just crazy to see that translated so perfectly. It was very interesting. And then ELUCID, he came through the studio and I helped him record some stuff, and he's like, "let me hear this song." So, I played him the song and I played him woods' thing and he was rockin' with it. He was like, "this is hard and yeah I'll get a verse on it." So he walked out the studio with that song then shot the verse back.

---

Do y'all feel like your trust with everybody on the album really allows you to craft your best shit with them? Like you do with each other?

---

Defcee: Yeah of course. I think trust is one of the most foundational parts of any collaborative process. I would even go so far as to say trust on a human level, beyond the music. I think there are some albums where you can hear the work-for-hire energy in the music. Then there are albums where you hear there is clearly rapport between the two humans who made the music together and it sounds like a natural meshing of styles. Not to get too esoteric with it but you have two people who are in a free flowing stream of communication together and it works out perfectly. So yeah, trust is a major part of what made this album what it is.

---

BoatHouse: There was a Freddie Gibbs/Madlib interview where they're asking Madlib kind of similar questions like, "how do y'all cook this up?" Madlib—he's a man of very few words—he's just like, "it's like my cousin. I made a beat and he rapped on it." Those two dudes are the perfect example of masters of their respective crafts. I would never refer to myself as a master I suppose, but I feel like I know what I'm doing over here and he knows what he's doing over there and exactly what Adam said: we're two nice, respectful people. Easy to get along with. It's the same way with Nature and SLLIME and Solar too. I met those dudes years ago and they're just fans of music and great, hard working people to be around.

---

For sure. So Def, on "Moving Targets" you have that line "debut older than my students." What were the emotions going through you when you wrote that? That feels like a pretty significant line.

---

Defcee: Yeah, yeah. This year is gonna be the 15th anniversary of my first album, which I put out when I was 17. So a bar like that, I mean that whole song is basically my take on Pimp C's verse on "Knockin' Doorz Down," where Pimp was just calling a whole bunch of people in Houston to account for a bunch of beefs people had with each other that didn't really need to be as serious as they were for the sake of pushing the scene forward as a whole. That's where I was coming from. We're constantly having these generational debates and I have an album that is as old as the students I teach, if not older than a few of them, so my word on certain things can only go so far. I'm complicit in the same generation gap nonsense that a lot of people are pushin', or I have been. It wasn't necessarily an emotional thing—emotional in the sense that it wasn't nostalgic, but more so to make a point and stake a claim that I've been around for a long time and I'm still doing not only work as a teacher, but I'm doing my best work as a rapper too.

---

So basing that off the Pimp C track, and the name-dropping of Supreme Clientele and Only Built 4 Cuban Linx… on "Bubble Coats"; do you feel an importance of paying homage within your raps to those that came before you? In terms of your influences.

---

Defcee: Yeah, for sure. But, I never want to pay homage in a way that those people won't respect or won't appreciate. For example, the way I look at homage or the way I understand homage is through film. So, someone like Scorsese, in a lot of his movies there's so much of that. I think about The Departed and how it was adapted from Infernal Affairs, which was a movie from Hong Kong. The way that he paid homage was not to copy the film shot for shot, but to utilize some of the same techniques in what was shot, or how the scenes were shot, or the structure of the film. He was also paying homage to a bunch of other films that really had nothing to do with it, but it never got in the way of the story he was trying to tell, or the way he was trying to tell that story. For me, I never want this shit to be heavy handed. Supreme Clientele and It Was Written, I was checking those CDs out of the library. [chuckles] I wasn't copping those yet. I didn't really have the opportunity to or the financial resources to. So just to be able to remind people who is largely responsible for why I rap today or why I rap the way I do. That's important to me. It's important for me to be able to give people their flowers while they can still smell them.

---

Boat, in a similar fashion with your beats and production, do you feel like your influences show through the producing and production you do?

---

BoatHouse: Definitely. I think for me, the sample chopping and the allure of older music and what can be done to reconstruct something new from something old is definitely a huge influence I've gotten from Premier, Alchemist, Dilla of course, and Madlib. Beyond that, just being around people in the past decade being in the studio and the spaces I've been fortunate enough to be a part of. I've seen DJ Rude One, for example. He's been a regular at the studio I work at and dude is an incredible DJ and producer. Just getting to pick someone like that's brain about "yo, I'm trying to get back into physically digging for records again instead of getting something off YouTube like I normally do, you got any spots I should hit up?" And him being nice enough to be like "yeah, check this spot out!"

Getting the respect from people who, for lack of a better term, I put on a pedestal—that's a huge influence for me. Just getting people to share their knowledge with me. The sampling is one thing and that's always from those types of guys, but drums and all the other elements of production, 808s, I get a lot of influence from pop music. Charli XCX and people you wouldn't even loop in with the type of sound we have on this album at all. If there's one thing to be gained for a producer, a student of music, from popular music that's out is that those drums gotta fucking slap. You gotta take that and live by that and that's something I always do. You pick up little things along the way like that, and as you get better your influence starts to become just something that's part of the fabric. Just like Adam said, it's not overtly like, "we made this type of beat," it's just that the ones that came before us and that gave us the love to do the stuff that we do live in the DNA of what we're making.

---