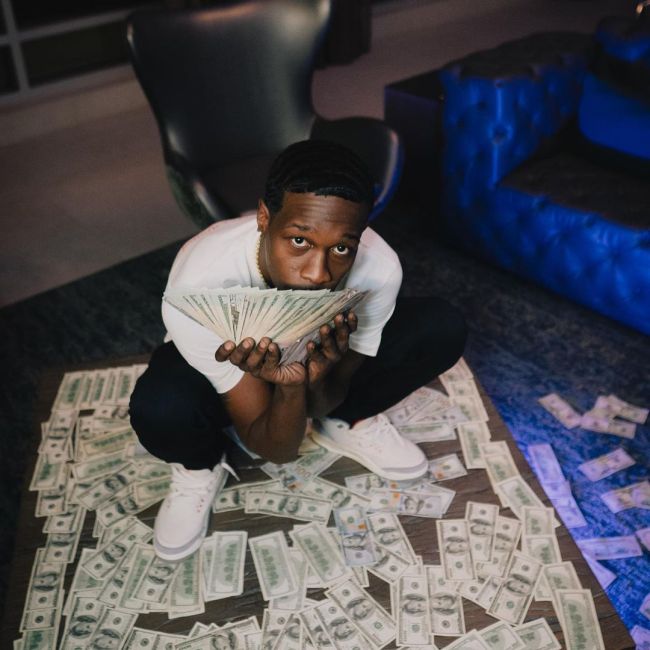 Image via Casper Inc/Allstar JR/ Instagram
The Rap-Up is the only weekly round-up providing you with the best rap songs you've yet to hear. So support real, independent music journalism by subscribing to Passion of the Weiss on Patreon.
Donald Morrison is always casually late to the NFT silent disco.
---
Allstar JR

  – "Run Through It"
---
The video for "Run Through It," by Allstar JR begins with a faux infomercial for "Junkies Gone Wild," a spoof on popular mail-order series' from the early 2000s that looks like a mix of Girls Gone Wild and Bumfights. The commercial promises, "Now you can party with the wildest junkies ever caught on tape," noting that these junkies are real and appropriately found at the Detroit Greyhound station. I attempted to call the number on the infomercial and was given a busy dial tone.
It's an interesting way to begin a song that samples D'Angelo's "Lady," but it ends up being one of the Detroit rappers smoothest tracks in recent memory. The production has a bouncy appeal that reminds me of recent singles from artists like Shootergang Kony and DaBoii, who have begun to choose brighter and more melodic beats. The rapping is relatively low-stakes and the video shows Allstar JR dancing at a gas station with the same fiends from the earlier infomercial.
It reminds me of fellow Michigan rapper Rio Da Yung OG's "Fiend Lives Matter" campaign. Although a tad bit exploitative and potentially insincere, it's nice to see Michigan rappers showing love to the downtrodden, assuming their love for the fiends goes beyond the average dealer-user relationship. The video ends with an ad for the Recovery Bag Rehab Center, where JR reminds users "you may love the bag, but the bag may not love you." I called this number as well, another busy dial tone.
---
GakTrizzy

  – "Nightmare in Miami"
---
GakTrizzy has more than 137,000 subscribers on porn website Xvideos and is currently ranked the 23rd top American model on the site. The East Oakland rapper also known as "Ding a Ling" is a larger-than-life presence, with big, dangling braids and a body and face completely scuffed with tattoos. He's released a handful of street singles on TheThizzler's Youtube channel over the past year, but none compare to the gut-wrenching "Nightmare in Miami," where Gak realizes that he can't outrun his traumas with a geographical move. Gak thought he'd be happy with a move to Florida but the nightmares remain. "Good weather, nightmares in Florida," he bemoans, before describing his reality, "they killed my cousin, I was young like Bambi." There's a real emotional heft to his voice, beginning with his initial yells as the beat picks up steam. The writing is ironic and funny in a way that lends itself well to the serious nature of his belting melodies. Gak is one of those rare artists who can't easily be placed into a single box, easily outstretching any attempt at categorization.
I can't think of any pornstars who have successfully pivoted to rapping, although it's probably not unheard of. The truth is usually an artist has to release a hit song before their sex tapes leak to any kind of positive or negative attention. There are of course instances of artists hosting adult movies, with 50 Cent and Snoop Dogg coming to mind as examples, the latter of which was sued in 2003 by two underage girls who appeared on the cover of a Doggystyle-themed Girls Gone Wild DVD. (An undisclosed settlement was reached the next year.) More recently, Young M.A. even directed her own erotic film, The Gift, which premiered on Pornhub in 2018. If Gak can keep making painstaking music like "Nightmare in Miami," he may be primed to break the cycle, opening a rare pathway for adult film stars seeking to escape one exploitative industry for another.
---
Desto

  – "Free Slatt"
---
On "Free Slatt," LottaCash Desto sounds like a mix between Pooh Shiesty and Valee, combining a menacing Southern drawl with a slippery lyrical dexterity that bleeds one line into the other. The beat, produced by SoMuchSauce Productions, features the type of simple, piano-heavy loop that first endeared listeners to artists like Jimmy Wopo and the aforementioned Pooh Shiesty. It's hard not to be hypnotized by her rapping as she mumbles "If I don't slow down, you don't gotta get me, I keep pouring 4's on my kidney," while flying through her home state of Tennessee in a lime green Lamborghini. Desto was tragically killed earlier this week in Houston. Not much is known about the incident, but it's safe to say it's a huge loss for the hip-hop community and it's tragic to see such a bright artistic light dimmed at a pivotal moment in her career.
---
BigXthaPlug feat. Maxo Kream

  – "Safehouse" (Remix)
---
BigXthePlug standing next to Maxo Kream kind of looks like a before and after photo with one rapper having already achieved mainstream success and the other on his way up. The Texas-based artists complement each other musically as well. The remix to "Safehouse" elevates what was already a certified street single into another realm with a rejuvenated Maxo Kream offering deadpan alliterations and violent flexes. But it's BigX that steals the show, with lines like "Been going too fast with this shit, Ricky Bobby, I'm strapped like it's part of my body," and "that hustling' shit in my body, but if I ain't flipping that pack then I'm robbing the party."
---
Big Sad 1900 feat. Sauce Walka

  – "Gang Members" (Remix)
---
Sauce Walka joins Big Sad 1900 for the official remix of his regional hit, "Gang Members," which he likely recorded during his now infamous trip to Los Angeles this month. Sauce is the perfect feature for one of Big Sad's more poignant singles, with the original taking an unsparing look at the sacrifices and danger of joining a gang. Big Sad's prideful nature and nuanced understanding of his story prevents his music from sounding repetitive and shallow. Sauce fits right in with bars about the unfair sentences handed out to felon's caught in possession of a weapon. "I never got a bond, that's that shit that happens when a felon touches guns, probably never see the sun." Even if you have a nonviolent felony, being in possession of a weapon will likely net you at least five years of prison time with no option for bond or bail due to being on probation. It's one way lawmakers can keep the revolving door of justice moving and recidivism rate high.