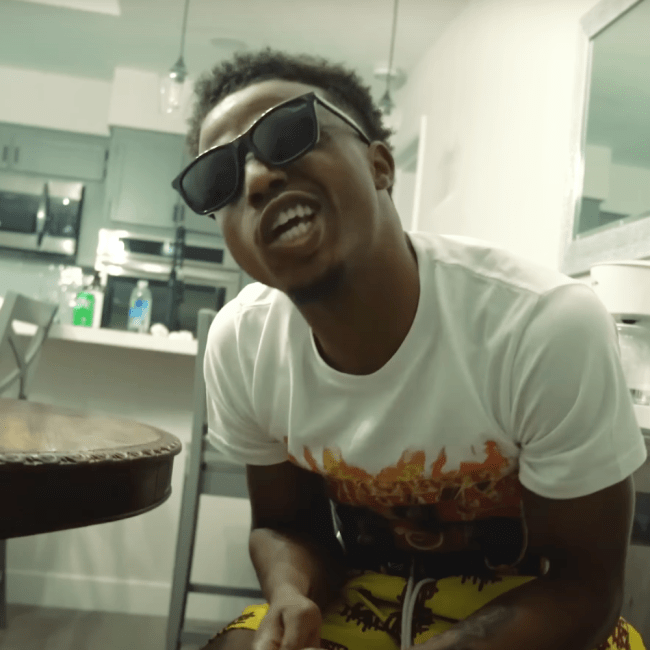 Image via Baby Stone Gorillas/YouTube
The Rap-Up is the only weekly round-up providing you with the best rap songs you've yet to hear. So support real, independent music journalism by subscribing to Passion of the Weiss on Patreon.
These days Harley Geffner will tell you that T9ine is the best rapper alive.
---
Baby Stone Gorillas

  – "Knock It Off"
---
I don't know why, but there's something endearing about the fact that this video starts with a low quality performance clip. Cutting to 5 hours later, the guys are invigorated and rapping with a fiery gusto that's typical of the group, but still head and shoulders above most other rap groups operating right now. E Killa jumps in the song waking up off the couch with a cup of lean in his hand, and spits "I just woke up screaming fuck the law" as a follow up right hook lands with an adlib from Top5ivee "the n****s hoes, fuck 'em," before the two continue their cat and mouse game with bars and adlibs for the rest of the verse. Some of the ad libs even complete the thoughts initiated by E K, like when he raps "she said she took a pill and she ain't high, guess why," and Top5ivee responds, "Because that's tylenol!" That type of back and forth is spell-binding and pulls you deeper and deeper into the electric beat; by the end you're running back the E K verse before you even hit the next two.
---
That Mexican OT

  – "Azul"
---
Hailing from Dallas, That Mexican OT raps like a mix of Paul Wall, Sauce Walka, and Kevin Gates. He's on the chubby side and slurs his raps through a diamond grill, rolling his words one into the next as if full words or even sentences can be treated like the spanish r. It's an almost completely unique style, and he blends his Mexican heritage into his music with a mix of beats, languages, and looks. His hooks are repeatable, as he raps over the mariachi inflected beat in this song, "Imma sneeze with the choppa like I say salud / rockin' outta the block with the gang wearin' azul," with a vocal lilt that makes it feel like he's drunk at a block party. All of his music has that fun gangster uncle at a block party vibe, and he's signed to Interscope, so definitely someone we should be expecting to be hearing more from soon.
---
Dopeslang Jr. ft. OTM

  – "Enormous 2"
---
Even matched up with the Stinc team on the remix of his song Enormous, Dopeslang Jr.'s swag still carries the song. He revs up the engine, layering his mutters to himself about being geeked up, before launching his signature "whooooeee" to start the song. You're fully immersed before he even spits a single bar. The Drakeo influence is clear enough, but Slang tops it off with his own stylistic touch. It's not as dark as Drakeo, but evil Batman vibe is still there in the tenor of his voice as he rips off bars about his style (Air Forces, not Givenchy), the strength of the drugs he's bagging up (it'll have you singing like Whitney), and threats against the fake flexers. And the OTM guys bring their typical sardonic raps and invented language, putting Ling Ling in a chokehold, flu flaming, and stacking uchies until they're enormous. As powerful as Drakeo's music is, it wouldn't be surprising to see in 5 years that his lasting legacy is the way his style has opened up into a fully fledged genre itself.
---
AK Bandamont

  – "Tales of Bandamont"
---
Whenever AK Bandamont raps, it sounds like his voice is more scraping against the beat than blending into it. His voice rides up against the rails of the beat, and his bars pierce right through the heart of it. "Tales of Bandamont" tells of, well, the tales of Bandamont. A typical day for AK, as told in just under 90 seconds of rapping, probably entails more action than a typical 50 years for most. At 11, he had fiends asking him where to find dope because he had the connect, but now he's banging on their doors at 10 AM for money. To make it out the hood, he first tried ball, then he tried to own a prison. He does drugs in the woods to see things from a science fiction movie. The details of how he cuts his dope are way more detailed than one could invent without having done it. Come enter Bandamont's world, and try one of his testers while you're at it.
---
DaBoii

  – "Built"
---
Nobody has more bounce to his style than DaBoii – you can feel the way his head must be bopping when he records his music. He loves these repetitive piano beats where you can feel someone's hands bouncing on the keys to make them. This one has a little bit of extra electricity coursing through it though, as he raps incredulously about other people's claims: "You gon' do what over where?" he raps as if giving someone the Nick Young question mark meme. Extra points for any rapper who talks about switching his flow in a bar, then goes right back to the same flow.
---
Emptying the Chamber
---